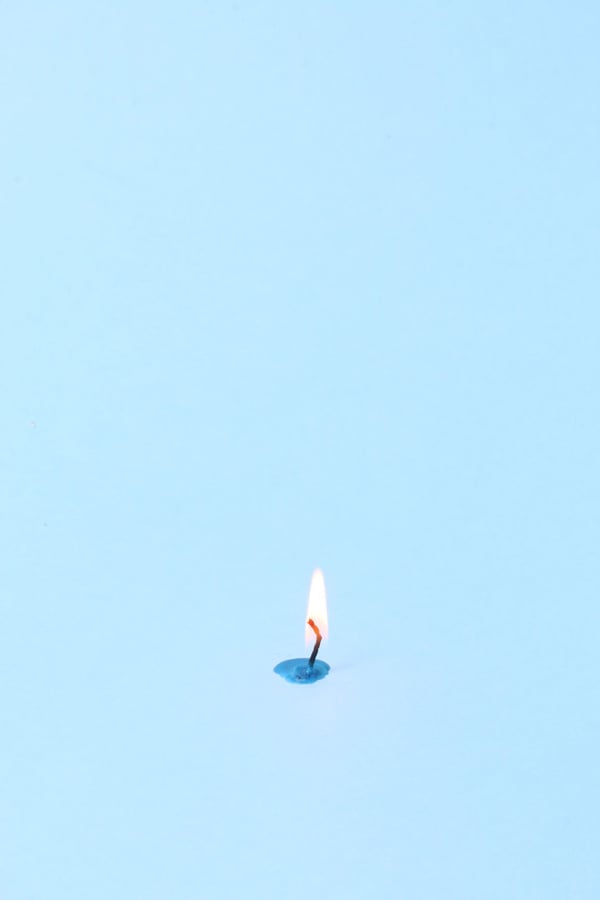 I wanted so much to sit down and write something very thoughtful and reflective today, as I have in past years on my birthday. The last twelve months have certainly given me plenty to say; they've been full of interesting insights and realizations, lots of renewed human connection, and important steps toward coming home to myself.
When I wrote last year's birthday post, still in the shadow of the great breakup of 2017, I was wounded and bewildered. I've let a lot of that go. I've stopped feeling resentful about the fact that things went differently than I thought they would. I no longer feel a sense of injustice about what happened; it's just what happened. And I'm at peace with the fact that I'm mapping out a new life and new direction for myself. It's still hazy and uncertain, but the future is always uncertain. I'm starting to appreciate how much freedom I have, which is overwhelming at times, but is its own blessing.
These things aside, I'm short on words today. I'm still feeling sick—now with an ear infection too, which I'm fortunately being treated for. I'm not feeling as anxious or fearful as I was on Sunday, but I'm conscious of being tired and turned inward. I have a strong, clear sense that my only priority right now is to take care of my body, which is what I'll do more of today. My blogger's instinct is to say more or share more—to process my feelings in greater detail or to search for lessons beneath them—but sometimes it's important to say only what's true and not say any more.
I said something akin to this to a very dear friend over email the other day—I told her that I was short on words, and also that I was feeling discouraged and weary. She said that my words were perfect; they were the truth. I was surprised at how directly her email touched my heart; I began to cry as soon as I'd read it. I didn't realize how badly I must have wanted, or needed, for someone to remind me that being honest is enough.
So this is where I am, honestly, on my thirty-sixth birthday: a little wiser, I think, and apprehending the interesting, unknown future that stretches out before me. Still a bit lost; still paused at a life crossroads and wondering which way I'll go. Time will tell. And time is the true birthday gift: another year added to the journey.
In the past few days, when I've felt overwhelmed, I've gone to sit in the park near my apartment, breathing in fresh air and listening to the springtime symphony of birds chirping in the trees. There's been a lot of cool breeze this week, which has been soothing.
It's gotten me thinking of how important it is to be with nature in moments of uncertainty, fear, or doubt. And it brings to mind a Wendell Berry poem I've always loved, "The Peace of Wild Things." I thought I'd share it today, for myself but also for any other person who might need it:
When despair for the world grows in me
and I wake in the night at the least sound
in fear of what my life and my children's lives may be,
I go and lie down where the wood drake
rests in his beauty on the water, and the great heron feeds.
I come into the peace of wild things
who do not tax their lives with forethought
of grief. I come into the presence of still water.
And I feel above me the day-blind stars
waiting with their light. For a time
I rest in the grace of the world, and am free.
The birthday wish I make for myself this morning is to have a year filled with moments like the one Berry describes: moments of grace, wonder, and faith in the rhythms of life's unfolding.
I wish it for all of you, too. Thank you for celebrating another year with me, and I'll "see" you on Sunday for the usual roundup.
xo
Smoky Butternut Squash, Tofu & Apple Breakfast Hash
I'm almost embarrassed to admit how often, when I'm midway through making a recipe, I need to do a little Googling in order to confirm that I know what the recipe is actually supposed to be. What can I say: no matter how much I cook, I'm always a student in the kitchen.
Anyway, that's how it was with this smoky butternut squash, tofu & apple breakfast hash. I was about to plate it when I realized that my definition of hash was slightly hazy. A breakfast dish with chopped ingredients, usually involving potatoes?
I was pretty close. According to Wikipedia:
Hash is a culinary dish consisting of diced or chopped meat, potatoes and spices that are mixed together and cooked by themselves or with other ingredients such as onions. The name is derived from the French: hacher meaning "to chop".
I've only ever made vegan hash, but any time I try my hand at the dish I try to include a vegan meat or another hearty protein source, preserving the meat portion of the original recipe. And while I've often made hash with sweet potatoes, this time I wanted to try it with another root vegetable, butternut squash, and some onions and apples for one of my favorite, seasonal sweet/savory combinations.
The big liberty I took with this recipe was to roast the squash and apples, rather than cooking them in a skillet, which is the traditional way with hash. I like this because it's slightly more hands-off, and also because the squash gets crispier when I cook it this way than it does when I make it on the stovetop.
I still use the stovetop, though, to sauté other ingredients. Shaved Brussels sprouts for a little green, onions for savoriness and flavor. And Super Firm Cubed Tofu from Nasoya, which may be one of my favorite new meal hacks.
For all of my years supporting Nasoya products, I haven't yet tried these pre-cut, super convenient cubes. They're the perfect size for hash, and they fit nicely into this recipe, but I'm also so happy to have them on my radar for stir fries, sheet pan meals, and more. I don't mind cubing tofu, but these cubes are super uniform and smaller than the ones I usually cut. They'd be perfect for tofu egg salad!
I roasted the squash and apples first, and then—while the squash was getting nicely crispy on the outside, tender on the inside—I sautéed the tofu cubes with smoked paprika and coconut aminos. I added onion and Brussels sprouts, and by the time everything was tender, the squash and apples were practically ready. I folded everything together, added a pinch of salt and a splash of apple cider vinegar, and voilà—a beautifully autumnal, simple, flavorful breakfast dish.
It doesn't have to be a breakfast dish, of course. I've been serving it with toast or a sprouted English muffin and a little Earth Balance in the mornings, but I've also had it with brown rice for dinner. The dish is rich in protein (something I've noticed really does make a difference in my morning energy levels) and easy to customize with different or additional veggies. I'd love to try it with parsnips, rutabaga, or the addition of some collard greens.
Making it so far, I've kept the hash mild, which is what works for me at breakfast. If you'd like to kick up the spice with a nice pinch of cayenne or a drizzle of hot sauce, I'm sure that would be delicious, too. Here's the recipe.
Print Recipe
Smoky Butternut Squash, Tofu & Apple Breakfast Hash
Prep Time10 mins
Cook Time35 mins
Total Time45 mins
Servings: 4 generous servings
Author: Gena Hamshaw
Ingredients
2

tablespoons

neutral vegetable oil

such as grapeseed or refined avocado, divided

1-1 1/4

lbs

butternut squash

peeled, seeded, and cut into 1/2-inch cubes

1

large or 2 small apples

any variety, cut into 1/2-inch cubes

8

ounces

Nasoya Organic Cubed Super Firm Tofu

3/4

teaspoon

smoked paprika

1

tablespoon

coconut aminos

substitute low sodium tamari

1

white or yellow onion

chopped

12

ounces

about 3 cups shaved Brussels sprouts

1 1/2

tablespoons

apple cider vinegar

Salt

Black pepper or cayenne pepper

to taste

For serving

optional: Toast, an English muffin, a whole grain, hot sauce
Instructions
Preheat your oven to 400F and line a baking sheet with parchment or foil. Toss the squash and apple with 1 tablespoon of the oil. Transfer the mixture to the baking sheet and add salt and pepper. Roast the squash and apples for 35 minutes, or until tender and crisping at the edges.

Meanwhile, heat the remaining tablespoon oil in a large, deep skillet over medium heat. Add the tofu cubes, smoked paprika, and coconut aminos or tamari. Cook the cubes, stirring frequently, for 5-6 minutes, or until they're getting crispy. Add the onion. Continue to cook for 5 minutes, or until the onions are tender. Add the Brussels sprouts and cook for 5 more minutes, stirring frequently, or until the sprouts are crisp tender.

When they're ready, fold in the roasted squash and apples. Add the vinegar. Stir everything well, then taste and add salt and pepper (black or cayenne, depending on how hot you want the hash to be) and additional vinegar as needed. Serve with toast, a grain, and hot sauce if you like.
I've been relying a lot on baked oatmeal lately for portable/quick breakfasts, but making this dish reminded me of how lovely it is to have a great, savory breakfast at the ready. Savory breakfasts used to register as a weekend brunch treat for me, but I've warmed up to them a lot in recent years, relying on them as often as I do the sweet options. This hash is a nutritious new favorite, and it keeps well for up to 4 days in the fridge, which means it's perfect for advance meal prep.
As always, so glad to have convenient, healthful plant-based products available these days, so that cooking something tasty can feel just a little more accessible, even when life is moving fast. Hope you enjoy this smoky, sweet, savory meal—and wishing you a wonderful rest of the week.
xo
This post is sponsored by Nasoya. All opinions are my own, and I love this go-to brand of tofu and other creative soy products! Thanks for your support.
My Five Recovery Affirmations | The Full Helping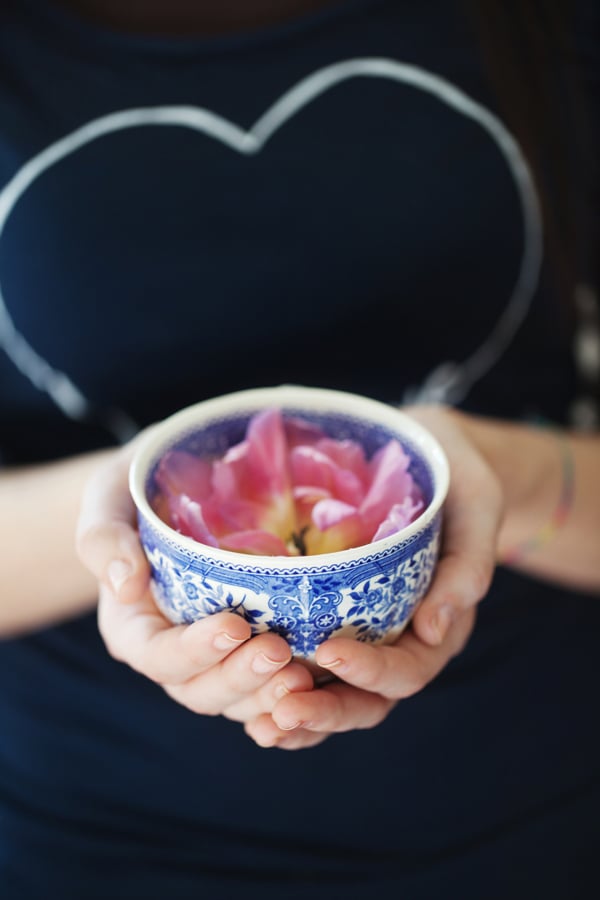 Happy Monday, everyone, and happy first day of NEDA week. For the last couple of years I've used NEDA week as an opportunity to celebrate the recovery process. This year gives me special reason to do it: I spent much of 2017 navigating loss, and as I did, I called upon the patience and sense of resilience that anorexia recovery has taught me.
The theme of NEDA week this year is "Let's Get Real," and the goal is to expand our collective dialog about eating disorders and how they show up in real life. This means challenging preconceived ideas about how eating disorders might look or whom they impact, breaking through stigma, and being more radically honest than ever about the complexities of recovery. You can read more here.
I love this theme. I love any effort to create a more open, accommodating, reality-based dialog about disordered eating. Because the topic this year resonates so strongly, and because I'm celebrating the lessons of recovery in such a personal way right now, I've made the choice to gather a little support for NEDA—the National Eating Disorders Association—this week. More about that in a bit. First, I want to honor the start of this week by sharing some of the affirmations that have guided me through recovery.
What becomes clear to me as I move deeper into recovery is that the struggle with food can recede, but the old demons might continue to show up in other, sneaky ways. In my life, they tend to emerge as arbitrary rules and deadlines, unnecessarily strict boundaries, binary thinking, and other means of resisting and avoiding uncertainty. They urge me to remain guarded when I could be generous, to withhold my creativity when I could express myself, to dwell where it's safe instead of allowing myself to take risks.
This is one of the realities of recovery that I didn't expect. Redefining my relationship with food set me free, but I've learned that I need to protect that freedom by remaining mindful of the many and varied ways in which I tend to keep myself contained.
I've written a lot about affirmations this year and the ways in which they've helped me to cope with depression and anxiety. I haven't said much about my recovery affirmations, but they're worth sharing, especially today:
Keep it real
Take up space
Break your rules
Be love
Keep faith
I'll elaborate on each one as the week continues. "Keep it real" aligns with NEDA's "Let's Get Real" theme, and it seems like the right place to start.
Keeping it real, for me, means doing the opposite of what I did when I was sick, which was lie to myself and to everyone around me, all the time. I lied about my motivations for the food choices I made. I lied and said I was OK. I lied to myself in thinking that I was better than everyone, that I had a special claim to self-control. I lied and said I'd eaten when I hadn't; I lied and said I wasn't hungry, then ate in secret. I lied about my rituals, my habits, my compulsions.
It's easy to look back on all of the dishonesty and denial and feel ashamed, and sometimes I still do. But shame doesn't get me anywhere. What moves me forward is to hold myself to a different standard now—one of radical honesty. I examine my motivations with food carefully, I check in when I feel distanced from my appetite, and I don't eat furtively or deny when I'm hungry. I openly talk about the food anxieties that have stuck around (and I've still got plenty: anxiety when mealtimes get delayed, anxiety about sharing my food, anxiety about travel and limited food options—I could go on.)
I don't succeed all the time, which is OK. I still strive to stay real with myself and the people who love me. That intention is what matters most.
"Keeping it real" also means not glossing over how confusing and complicated recovery can be. Recovery is so good, and sometimes it's so baffling. I said a moment ago that I didn't anticipate the ways in which ED compulsions would show up outside of the actual disease. Here are some of the other recovery realities that have taken me by surprise:
● Physical recovery is often the first step. Maybe it feels like a blessed restoration; for me, it felt like disfigurement. It was a battle that waged for a long time, and watching my body change was a continual affront to my sense of identity. I'm not sure it was the hardest part of recovery, but it's the part of the process that most often made me want to quit.
If this is where you are, try not to quit. It doesn't last forever. At some point, maybe when you least expect it, you'll start to feel at home in your body again.
● As you move through the journey, people who care about you might express how grateful and glad they are that you're healing. Maybe you'll see these comments as the expression of love that they are.
If you're like me, you'll greet them with rage and shame; you'll be angry to be given reminders that the disorder no longer distinguishes you. Peoples' support may even sometimes make you want to dig in your heels and stay sick, as if healing is a concession to something or someone you'd rather not please.
This is a lonely experience. Part of you wants to bask in peoples' support, while another part of you wants to reject it and stay where you are, or where you used to be. Don't force things. If you continue to do the work of loving yourself, it will become easier and easier to accept love and well wishes from other people.
● There will be days when it seems as if food will always be a big, bad deal. You fear that you'll never figure it out, and you wonder why the business of eating seems to be so much harder for you than it is for other people. Instead of feeling struggle or pain, you'll just feel tired—tired of the process and tired of yourself. At these moments all of the recovery talk about self-love and self-acceptance will ring particularly empty.
Then some time will pass—maybe a day, maybe two, maybe a whole week—when food isn't such a big deal. Maybe you're still a little preoccupied with it, but suddenly there's something else you'd rather be thinking about. It's hard to put into words how sweet these days will feel. Cherish them. Celebrate them. They're a big deal.
● At some point you might go weeks or months or even years feeling that sweet sense of freedom. And then there might come a day when something or someone triggers you and you find yourself restricting, bingeing, purging, chewing and spitting, or eating in secret. Or maybe you think seriously about one or all of these behaviors.
This is a good moment for an accountability check: a phone call to a friend, some real talk in therapy, using an app that supports mental health, journaling. But please, don't let these moments talk you into thinking that you've failed at recovery.
Being recovered doesn't mean that you never again struggle with an ED impulse or do something strange around food. It means living by the intention to nourish yourself and treat your body with respect. That intention sometimes lives alongside old tendencies and impulses. It can be confusing, and it's reason to be vigilant, but it's OK. It really is. Just be sure you have a toolkit for dealing with these moments and supporting yourself through them.
● You might sometimes run across someone who seems to be wearing the signs of an ED or disordered behavior, and in spite of yourself, you kind of envy him or her. You don't want to admit that you feel this way, but you do. You envy the semblance of control, or you envy something about having a single, all-encompassing preoccupation, a pursuit that seems to give life purpose and shape.
Forgive yourself. It's OK to miss the memory of the illness and who you were within it. If you're like me, pondering this very issue might make you realize that there were many years of your life in which your ED was your closest friend, the best company you had, and isn't it normal to miss the presence of someone we've lost?
I miss "her"—a word I sometimes use in therapy to denote my ED itself, sometimes to denote my anorexic self—sometimes. I missed her a lot last year, when I was feeling blinded by anger and heartache and didn't have a coping mechanism that felt even remotely satisfying to deal with it. Therapy gave me a safe space in which to admit that I was longing for my ED the way I'd miss a now-absent friend or lover, and to acknowledge that the ache was OK. It's a part of my growth.
If you find yourself feeling this way, you might spend some time thinking about what you've gained in recovery. Maybe you're more social. Maybe you get out and explore the world more than you used to. Maybe you're more open, less secretive; maybe you're braver. Perhaps you've found a sense of spontaneity and adventure you never thought you had, or you're quicker to laugh. Perhaps you've relaxed some of your critical thinking, let some judgment go.
All of the above is true of my recovered self. She's got a lot of imperfections; as I said yesterday, she's messy in ways that my anorexic self wasn't. She makes judgment calls she regrets, plans she's not able to follow-through on, decisions she sometimes wishes she could take back. But she's loving and engaged and interested and curious, and if I had to choose, I'd much rather spend time in her company than in the company of the frightened and painfully self-contained person I used to be.
The whole point of the "let's get real" theme is to acknowledge that there is no defining ED narrative. The experience is bound to be different for each person who's been through it. Maybe none of the above realities resonate with you, but if you've been through recovery, you no doubt have your own realities to consider. Perhaps NEDA week can be an invitation for you to reflect upon them and what they've taught you.
Back to the gathering of support I mentioned at the top of this post. It feels like the right year for me to show my appreciation of organizations and people who are working to raise awareness about eating disorders and the toll they take. So, I'm gathering contributions for NEDA, which is the organization that makes NEDA week a reality. NEDA supports individuals and families affected by eating disorders, serving as a catalyst for prevention, screening, and facilitating access to quality care.
If you'd like to join me in showing a little support for NEDA and the work it does, I welcome you to check out my GoFundMe page—I even made a little video to help explain the campaign and why it matters to me (speaking of stepping outside of my comfort zone!). If the message resonates , perhaps you'll consider a contribution. Anything you give will help to keep NEDA's hotlines, referral system, public resources, and legislative advocacy going.
And of course, if this type of support doesn't work for you, there are so many other ways to give back this week. Maybe you can let a person who's struggling with an ED—or other mental health challenges—know that you care. It might feel like the right time to volunteer with a local organization that does mental health or food-related work. Perhaps you find a way—gently and intuitively—to speak up about your experience. The more we share our stories, the more able we are to create a vibrant, dynamic, stigma-free conversation about recovery and all of its gloriously messy realities.
Perhaps at some point this week you'll do something especially kind for yourself. That's a great way to honor the spirit of NEDA week, too.
I'll be back tomorrow with another one of my affirmations on offer. For today, sending out love and strength—along with my tremendous gratitude—to you.
xo
Weekend Reading, 1.23.16 | The Full Helping
I'm publishing this post as a blizzard shrouds New York City in wind and snow. There's already plenty of accumulation outside, and more to come. We have frozen soup a-plenty and are ready for a long day indoors–and I'm ready to get some of my coursework done, along with some meal plans for my January clients and a bit of batch cooking for next week. It's already clear that this semester will be more work-intensive and challenging than last, so I'm trying to use these early weeks of class to get into a productive routine.
With that said, I did take some time this morning to catch up on weekend links and recipes, and as always, there was plenty to take note of.
Recipes
Traci's ribollita with warm croutons is just about the perfect cold weather comfort food: hearty, rustic, and though I'm sure it tastes as though it's been simmering for hours, it comes together really quickly.
If you should happen to find yourself with half of a head of green cabbage lying around (for example, if you make my rustic cabbage, chickpea, and wild rice soup), then you may find yourself in the same position I did a few weeks ago, wondering what to do with it aside from slaw. These roasted cabbage wedges with garlic tahini and toasted pepitas from Beth of Tasty Yummies are your answer.
Mashed celery root, potatoes, and apples is one of my favorite wintertime treats, and for some reason I've been slow to prepare it this year. I'm feeling inspired now, by Lisa's celery root puree with balsamic roasted beets and pearl onions.
Another recipe with tahini drizzle, yet more proof that tahini dressing is the way into my heart. But in this case, the tahini is only a complement to some delicious looking sweet potato and apple latkes from Maya of Spice + Sprout.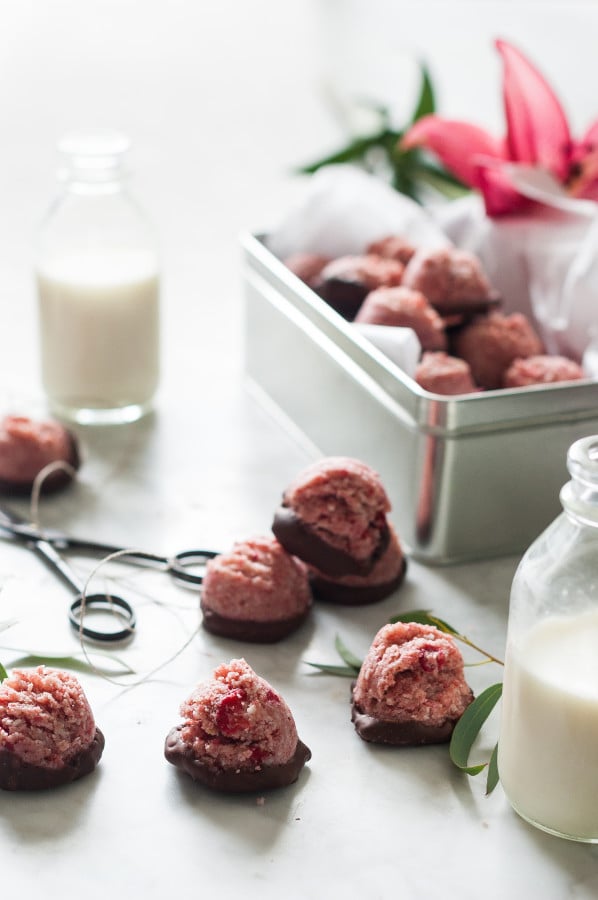 I would like for these chocolate covered strawberry macaroons to magically appear on my kitchen countertop for Valentine's Day. Or any day. A beautiful, no-bake recipe from Kayley of The Kitchen McCabe.
Reads
1. Outside magazine has been doing a lot of cool stories about sustainability lately, with a big focus on food choices and a very positive spotlight on veganism. I really loved this story from Tim Zimmerman, which touches on so many of the big questions when it comes to diet and the environment. And I was happy to see that the article underscores veganism as a part of the solution.
2. Some of you may already have heard this story, as it was co-produced with This American Life. It's a fascinating tale of how an olympian sprinter and a muscular dystrophy patient shared the same genetic mutation — and a look at how their shared gene led to muscle development at opposing ends of the physiological spectrum.
3. Krista Langlois takes a look at the culture of the Marshall Islands, which is now under siege as those islands become increasingly uninhabitable due to climate change. Many inhabitants are emigrating to the US, and often to the midwest–a landscape that is entirely foreign and unlike the seascape that has defined their perspective at home. This begs the question of how their culture can and will be preserved over time. Langlois sensitively profiles the lives and experience several immigrants in an attempt to answer it.
4. I loved this article on rewilding landscape from Robert MacFarlane. It's a preview of his new book, Landmarks, which will be published in March. It is essentially an ode to lost language, to words in various local dialects that are being eroded over time and in relation to the disappearance of wildness. MacFarlane makes incredible connections between shrinking biodiversity and our increased alienation from nature, and the loss of the words and phrases that have emerged over time as a way of capturing place. "Why should this loss matter?" he asks.
"It matters because language deficit leads to attention deficit. As we deplete our ability to denote and figure particular aspects of our places, so our competence for understanding and imagining possible relationships with non-human nature is correspondingly depleted. To quote the American farmer and essayist Wendell Berry – a man who in my experience speaks the crash-tested truth – "people exploit what they have merely concluded to be of value, but they defend what they love, and to defend what we love we need a particularising language, for we love what we particularly know."
5. When you begin to explore a vegan lifestyle, you give plenty attention to diet, and often great attention to clothing and personal care. But what about interior design? I admit, it wasn't a question I'd ever given much thought to–until I read Lila MacLellan's new article about vegan dwelling spaces in Quartz.
And that's it for now. I hope that you're all safe and warm, and that you enjoy a restful weekend ahead. See you for a new vegan dinner menu plan on Monday!
xo