Lemony Bulgur Chickpea Salad | The Full Helping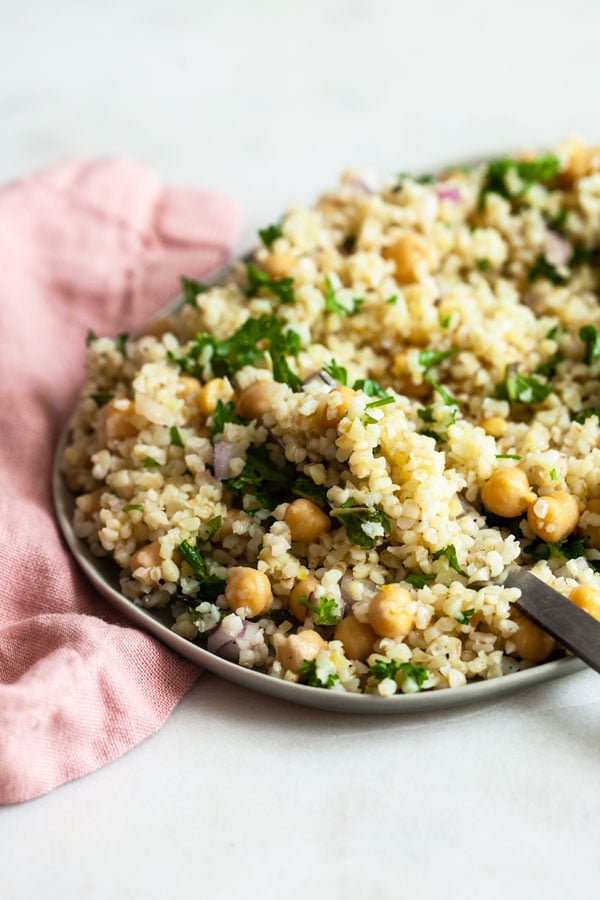 I'm so tired.
I've been tired plenty during the internship, but how I feel right now is special. It is, as they say, next level. And, with a final on Thursday, four assignments to finish, and almost two weeks left in my current rotation, the feeling doesn't promise to let up soon.
I've been at something of a loss for what to cook/eat. Dinner toast has happened (at least?) three times in two weeks. But I've always believed that it's possible to make homemade, good-tasting food even when time, energy, or both are very, very short. And that belief hasn't been challenged yet by the DI, in spite of ups and downs in my energy to make food.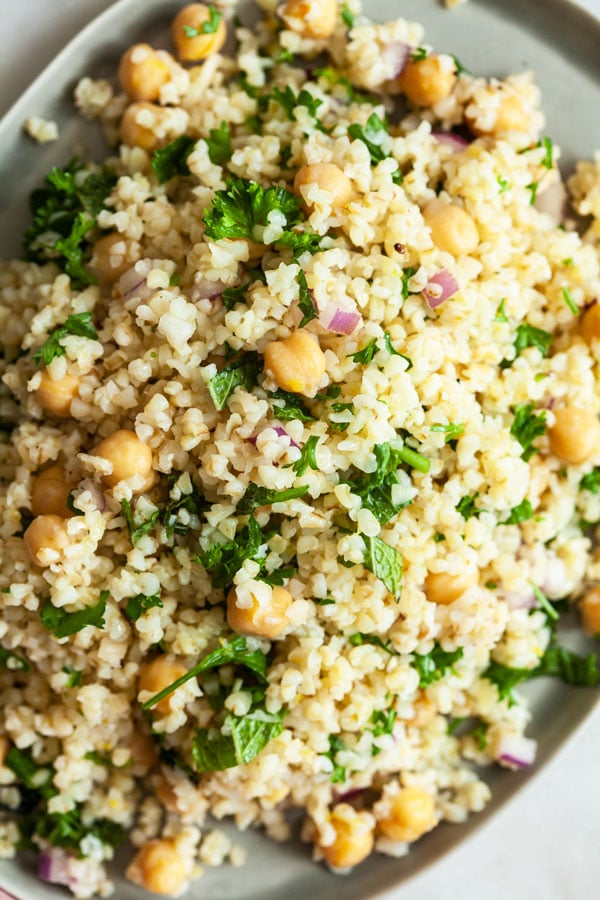 This grain salad is a little piece of proof. It came together last week, on a particularly hot-for-late-May night, when I wasn't quite in the mood for a cooked grain bowl and not quite in the mood for a dinner salad, either. That's thanks in part to the quick-cooking nature of bulgur, and in part to the fact that, no matter what's going on, I always have a can or a frozen container of chickpeas at home.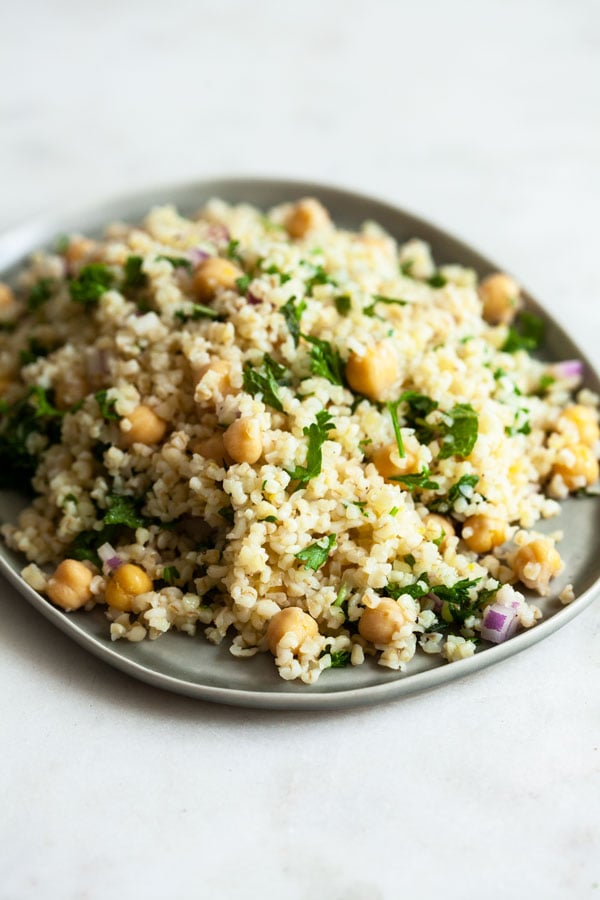 And so, this. A mix of cooked bulgur, zesty lemony vinaigrette, chickpeas, and herbs. I thought of it on my commute home from work, so I had a chance to pick up the mint. But if you don't have mint, parsley (or parsley + basil, parsley + chives, parsley + dill) will be just fine. And in that case, this meal really is made up of ingredients that many of us are likely to have in your fridge and pantry already.
Because of a few, small, additions that make a significant difference—the fresh herbs, lemon zest, the nice texture contrast of creamy chickpeas and grainy bulgur—the salad registers as a little more special than it sounds. And, as always, it does well with modifications. If raw red onion is too pungent for you (I used only a little for the recipe), you could try chopped green onion tops instead. Once they're in season, add sun gold or grape tomatoes. Or chopped cucumber. Or, if you've got some in the freezer, green peas.
You get the idea. Whatever you do, however you serve this simple gem, I hop you enjoy it.
Lemony Bulgur Chickpea Salad
Servings: 4 servings (3 if you're extra hungry)
Ingredients
3/4

cup

dry bulgur wheat (substitute quinoa for a GF version)

1 1/2

cups

cooked chickpeas (1 can, drained and rinsed)

1/4

cup

finely chopped red onion (optional)

1/3

cup

chopped parsley leaves

1/4

cup

finely chopped mint leaves

1

tablespoon

lemon zest

2-3

tablespoons

olive oil (as needed)

2

tablespoons

lemon juice

1/2

teaspoon

fine salt

freshly ground black pepper to taste
Instructions
Cook the bulgur according to package instructions. Allow it to cool to room temperature.

Place the bulgur, chickpeas, onion, parsley, and mint into a mixing bowl. Add the olive oil (start with two tablespoons, and add a little more if you like), lemon juice and zest, salt, and freshly ground black pepper to taste. Toss ingredients and adjust lemon and salt as needed. Serve at room temperature or cold, over fresh greens or with a vegetable side. Leftovers will keep in an airtight container in the fridge for up to 4 days.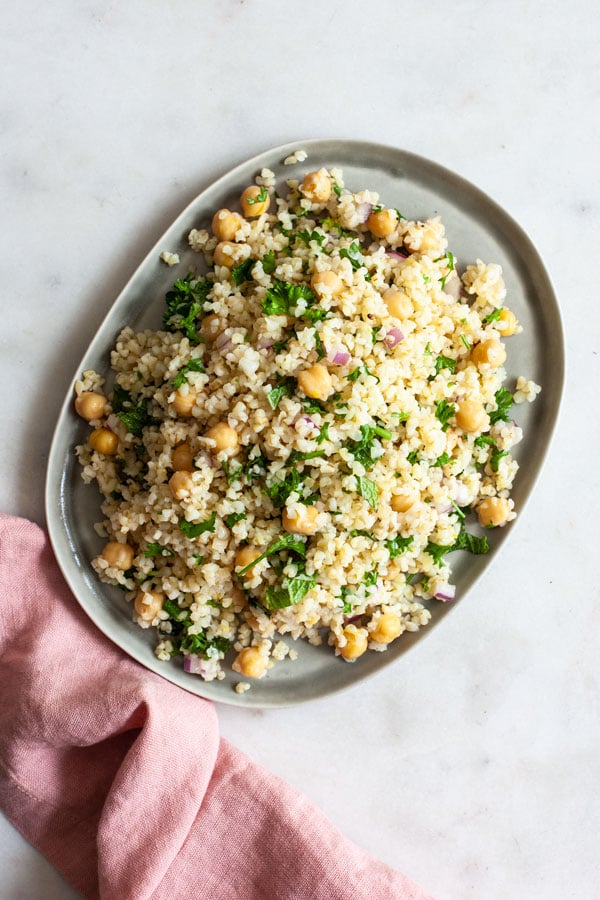 Alright, friends. One thing I learn more and more lately is how to conserve my energy, and how important it is to do that when I can. No extra words tonight—but some coming your way on Friday, and then over the weekend. For now, good night.
xo
Simple Baked Bulgur & Chickpeas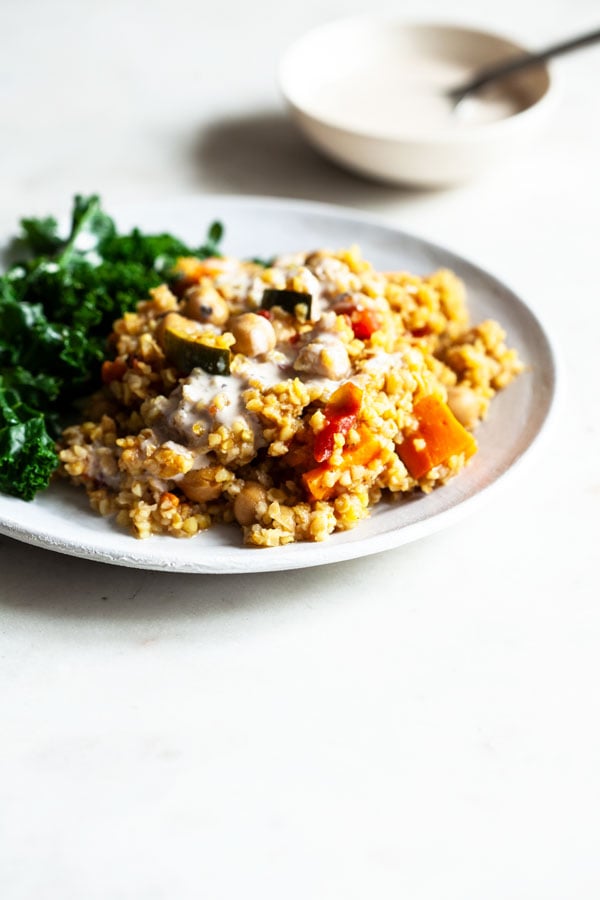 I'm debating whether I should keep including "simple" in my recipe titles, since simple food is the name of the game lately, and really since my internship year started. But I guess it never hurts to call it out.
Anyway: this bulgur chickpea dish is indeed very simple, as the name implies. There's some cooking time involved (though it's worth saying that it can be shortened if you tweak the recipe ingredients a little), but the dish involves almost no active work. It's as easy as mixing ingredients up and slow cooking, but in this case the oven does the work for you.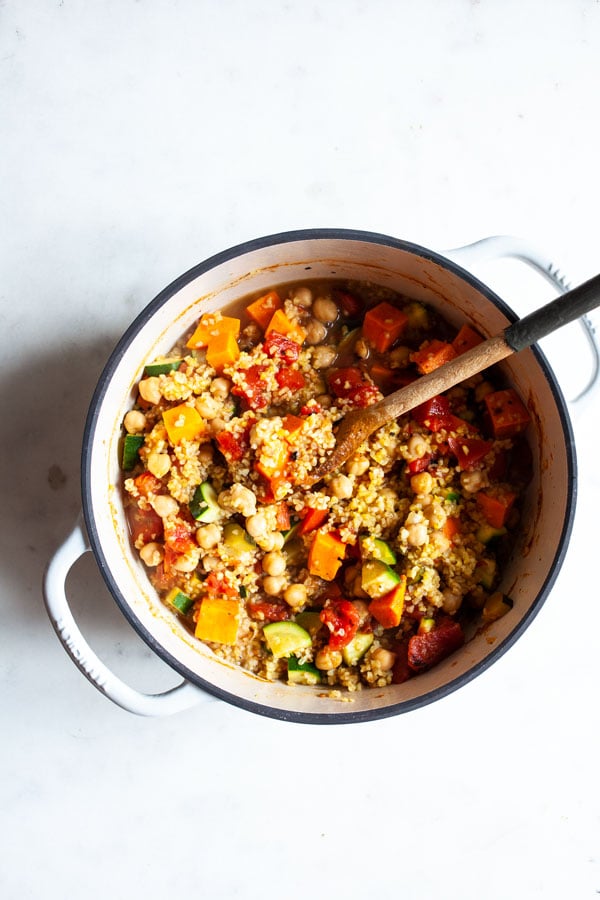 Beyond that, the recipe is full of nutrition—fiber, protein from the combination of bulgur and beans, adjustable on sodium and naturally low in fat—and incredibly easy to customize. I've been using a combination of chickpeas, sweet potatoes, canned tomatoes, and the un-seasonal addition of zucchini. Broccoli, cauliflower, green beans, and cabbage would all be great additions or substitutions.
Speaking of that: I've tried the recipe with butternut squash in place of sweet potato and without either. The cooking time can be reduced to 25 minutes without the sweet potato or winter squash; with one or the other, it needs a full 45 minutes in order for those vegetables to be cooked through. So if you'd like to make this in a pinch, you could try another, faster-cooking veggie instead.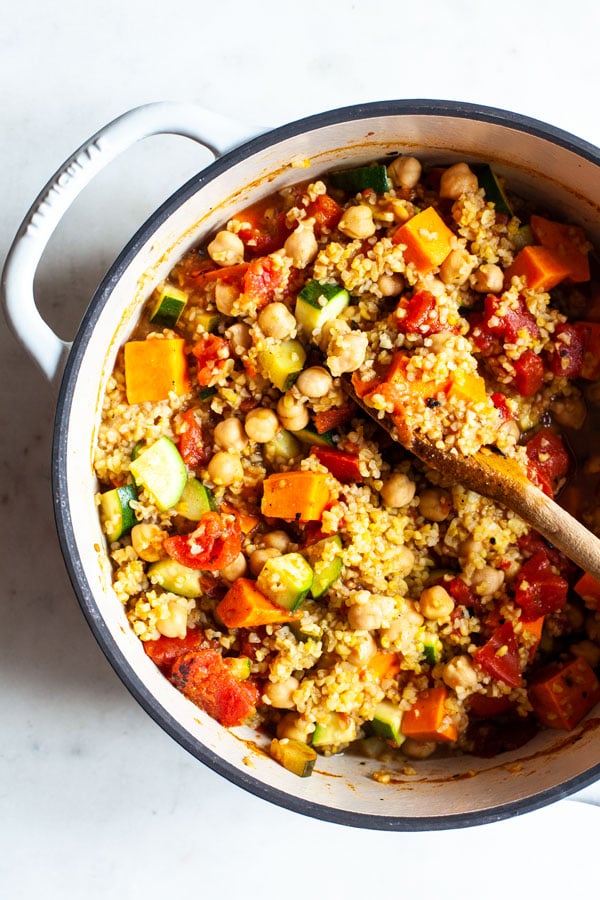 I kept the seasonings simple, but as I've been saying often these days, customize with what you have. Plenty of spices would be lovely in the recipe, including crushed red pepper flakes, which I didn't add only because I tend to be conservative with spice. I don't recommend skimping on the everyday lemon tahini dressing that's linked in the recipe below; it gives the dish a touch of acid and creaminess that really enhances the experience of eating it! But if that dressing isn't your thing, yum sauce or delightfully green tahini dressing would be great, too.
Here is the nourishing, hands-off, and simple indeed recipe.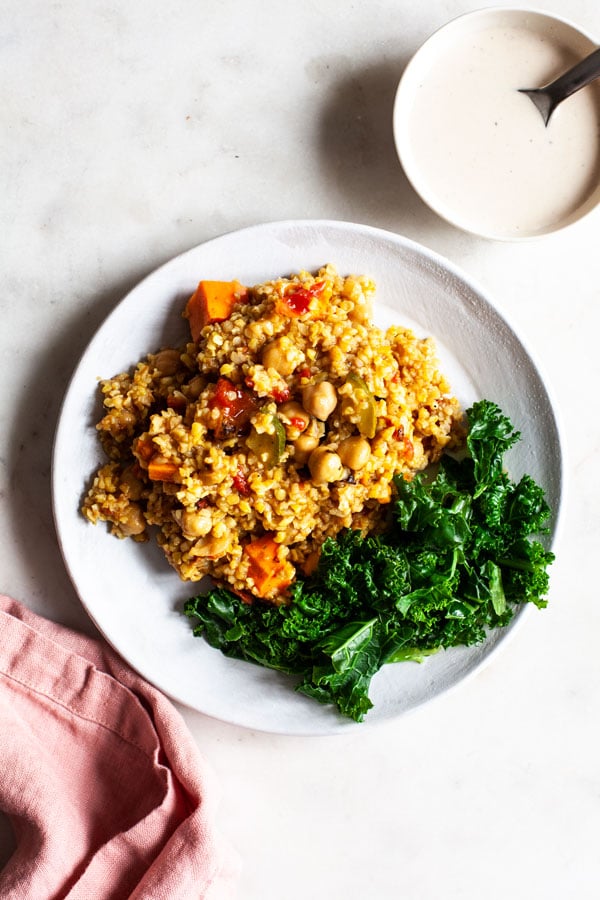 Simple Baked Bulgur & Chickpeas
This dish of simple baked bulgur & chickpeas is rich in fiber, protein, an array of phytonutrients, and it's easy to prepare. Served with a bright, creamy tahini dressing! 
Prep Time10 mins
Cook Time45 mins
Total Time55 mins
Ingredients
1

cup

bulgur wheat (dry)

1 1/2

cups

cooked chickpeas (1 can, drained and rinsed)

1 14.5

ounce

can fire-roasted, diced tomatoes

1

small zucchini, chopped

1

medium sweet potato, scrubbed or peeled and chopped (substitute 1/2 lb cubed butternut or other winter squash)

2

cloves garlic, finely minced (substitute 1/2 teaspoon garlic powder)

1

teaspoon

ground cumin

1 1/2

teaspoons

ras el hanout (substitute 1/2 teaspoon coriander, 1/2 teaspoon ground ginger, 1/4 teaspoon cinnamon, and 1/4 teaspoon cardamom)

1/2

teaspoon

fine salt

pinch

freshly ground black pepper

2 1/2

cups

low sodium vegetable broth

1

batch

everyday lemon tahini dressing
Instructions
Preheat your oven to 375F. Mix all ingredients together in a Dutch oven, a cast iron baking dish with a lid, or any other casserole dish with a lid. Cover and bake for 35 minutes. Remove the lid and bake for another 10 minutes. 

While the bulgur bakes (or ahead of time) make the everyday lemon tahini dressing. To serve, drizzle the bulgur generously with the dressing and enjoy!
Notes
To shorten cooking time to 25 minutes covered and 5 uncovered, omit the sweet potato or replace it with a faster cooking vegetable (like cauliflower or green beans).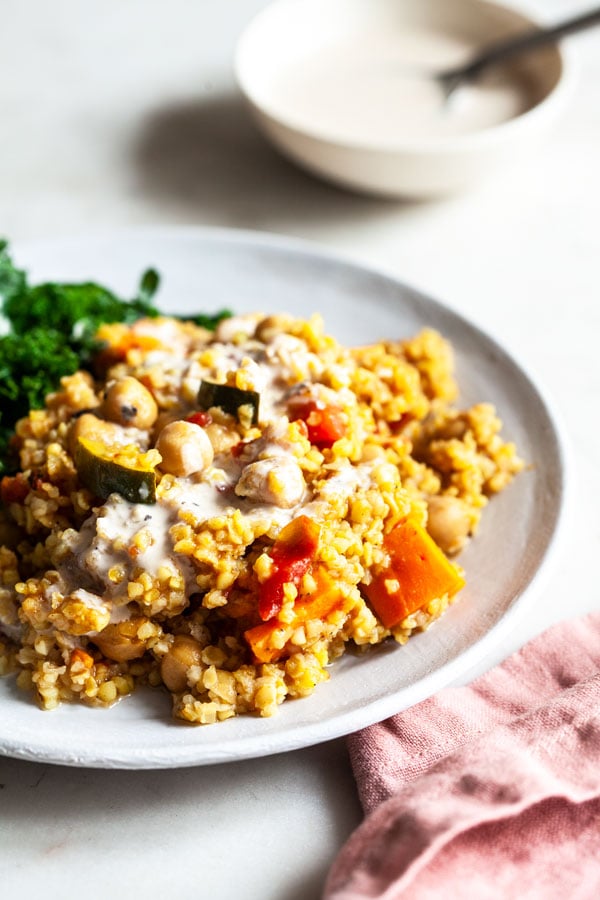 This recipe is a truly perfect option for meal prep/batch cooking, since it can simmer away in the oven while you do or prep anything else you need. And it makes generous portions: enough for four hearty dinner components (I've been serving it simply, with steamed greens and lots of the dressing) or six portions if you're using it as a side dish with something else that's substantial. No matter how you serve it, I hope it saves you time and gives you pleasure.
This week has been busy so far, with a nutrition workshop/conference yesterday and my final week at my current internship site. I've used my evenings to get grounded as best I can and my mornings to reflect on things during my commute. It's all a work in progress…but it's progressing. Happy Wednesday, friends!
xo