Weekend Reading | The Full Helping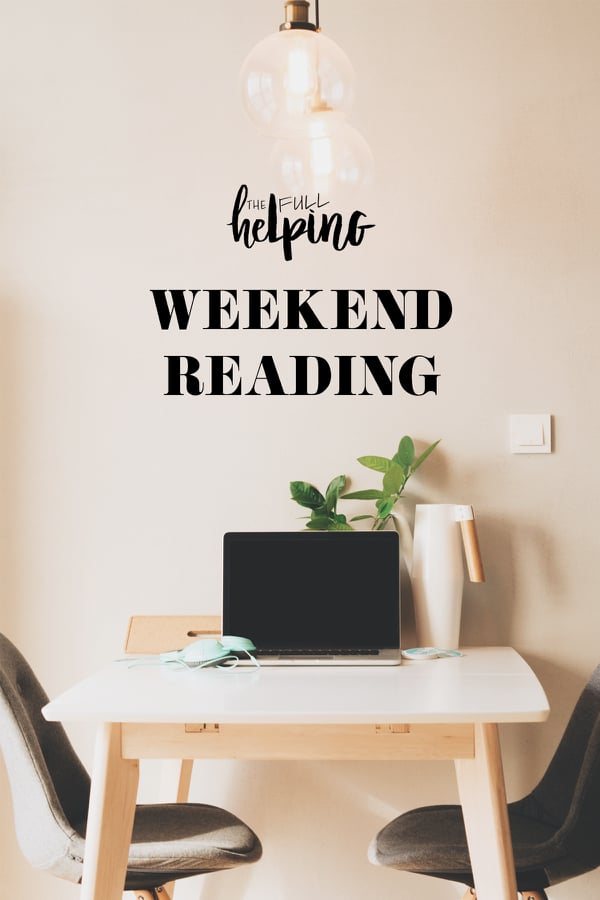 This past week in yoga, my teacher quoted a verse from a poem by Rumi. Some of you might know it already; the title of the poem is "On A Day":
When the wind is perfect
The sail just needs to open and the world is full of beauty.
Today is such a day.
I wasn't surprised at my teacher's timing. We New Yorkers had just had two of the warmest and most beautiful days of an otherwise cold, rainy spring. The gleeful mood that settles on the city when the weather finally becomes warm had finally emerged, and it was impossible not to notice it.
My teacher wasn't quoting Rumi in order to underscore the beautiful weather, though. He had something more thoughtful to say. When it's beautiful outside, metaphorically and literally, he told us, "it's easy to live our practice." He reminded us that, no matter how much we give thanks for days of loveliness and light, the yogi's real work is to practice gratitude, equanimity, and generosity when it's cloudy and cold. Both without and within.
Victor's words couldn't have resonated more. In spite of the beautiful weather and that first, sweet taste of summer, I wasn't living my practice that morning—or anytime this past week. Because of challenges related to this leg of the internship, I was finding it next to impossible to practice gratitude, to avoid irritability, or to participate in the seemingly universal lightness of mood. Instead, I was feeling glum and short-tempered. I wasn't even glad to be at yoga, honestly; I'd dragged myself there in the wee hours, driven only by the hope that I'd face the day with more goodwill if I went.
Getting myself to class was a good instinct, thought. It allowed me to receive Victor's wise, compassionate words. He wasn't telling us that the cloudy days wouldn't happen; he was reminding us that they always will, and that they'll challenge us to keep our capacity for celebration alive and well.
His message reminded me of something another teacher of mine once shared. She was raised Catholic, and in spite of the fact that she no longer identifies with that faith, she's never forgotten a piece of advice that her mother gave her: "don't only pray when you're desperate or afraid. God wants to hear from you when things are good, too."
This may seem like the opposite what Victor was sharing, but the messages are intertwined. Practice gratitude when there's a lot to be grateful for. Practice gratitude when it seems as though there isn't. Do what you can, as you can, when you can. Or—to bring another piece of guidance that I've gotten from a yoga teacher, one of the many who have blessed my life—"it will never be easy, but there's always something to celebrate."
I've spent most of my life grouping things into binaries: good/bad, desirable/undesirable, healthy/unhealthy. It's a natural impulse for us to place experiences and ideas on a spectrum of positive and negative feeling, but I suspect that these categories have a special kind of power for those of us with histories of perfectionism and extremes.
In recent years I've learned to soften my vision of life experience, to spread it out across a spectrum in which things don't always have to be good or bad; they can all be opportunities to learn and grow. Or they can simply be. Victor's dharma talk reminded me to keep this in my heart. I couldn't help feeling discouraged and gloomy this week; it's just where I was. But I did what I could do to live my practice—at least insofar as it means treating other people kindly, taking deep breaths, re-centering whenever I could—anyway.
On Thursday, just as I was pondering all of these things, the balmy weather plunged into scattered T-storms and predicted hail. Hail! In May! I had to chuckle; we just never know what's coming. It was an adventure getting from work to my evening class. On the cramped and damp subway ride uptown, I closed my eyes and asked myself if I could practice gratitude. My conscious mind could of course list many things I was grateful for, but it felt a little more like an intellectual exercise than something I was feeling in my heart.
I took a step back, and instead of asking myself to be grateful, I asked if I could simply be unresisting—the kind of surrender I was feeling last week. That I could do. And in many ways I see this as my own entry point to gratitude and appreciation of life: not fighting it, not problematizing it, not believing that it should be other than what it is.
I wish you a week of gratitude when it's accessible, acceptance when it's not, and joy if you can swing it. And a good Memorial Day, too, if you've got the day off and celebrate it. Here are some recipes and reads.
Recipes
Watermelon really isn't my favorite, but I'm always trying to warm up to it. This simple and vibrant salad may just be my ticking to enjoying it this summer.
Another beautiful summer salad: Shelly's cucumber salad with strawberry yogurt and za'atar. The recipe calls for Greek yogurt, but you could easily use an almond or coconut yogurt instead.
Speaking of strawberries, it's strawberry season! Heidi recently posted her roasted strawberry recipe, which looks wonderful. I'd love to try these on toast or over oatmeal.
Need a hearty vegan option for your Memorial Day celebrations? I'd bring Alissa's teriyaki tempeh burgers to any cookout.
Finally, I have yet to try chocolate chip cookies made with tahini, but I sure do love tahini in brownies. Can't wait to try Amanda's recipe—her creations are always stellar.
Reads
1. Healthcare reporter Alexandra Glorioso was only 31-years-old when she was diagnosed with stage 2 breast cancer. In this interview with Stat, she opens up about how her illness and treatment has changed her understanding of the healthcare system, among other major shifts in perception.
2. Also on the topic of cancer and cancer treatment, HealthDay reports on the alarming rise of colon cancer among young adults.
3. I felt very validated—since I'm always freezing at work—when I read Olga Khazan's article on how super cold offices are lousy for women and their professional productivity.
4. Taste reports on how social media has driven a resurgence of interest in—even love for—so-called "ugly" produce.
5. Since we're on the topic of memorable advice today, it's worth sharing this NY Times assemblage of good advice on parenting, work, and love. Touching and thought-provoking.
Alright, friends. Have a wonderful Monday. I'll be back around here very soon.
xo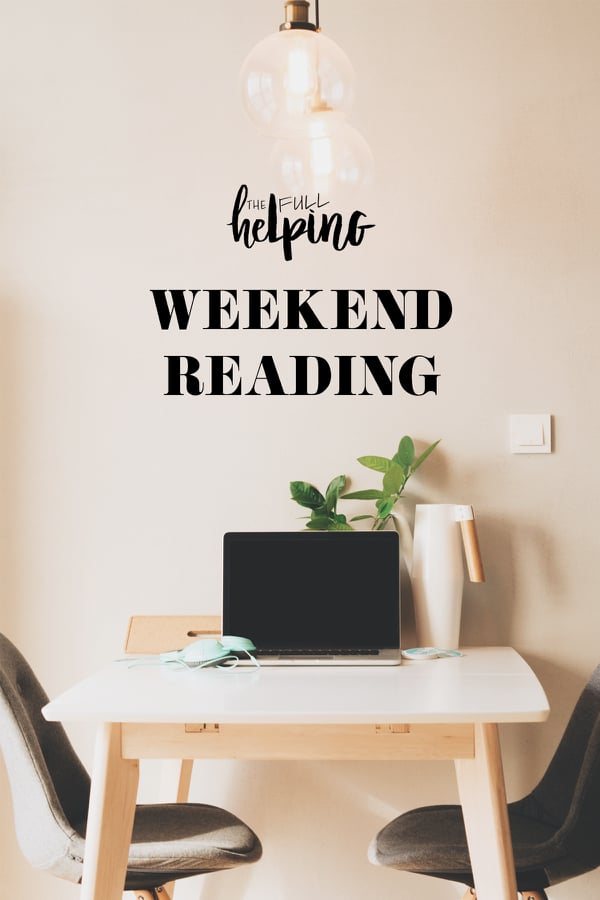 This year has been more extroverted than I'm used to, but also more solitary. On the one hand, I've been in busy workplace environments each day, constantly exposed to new colleagues and new patients. This is a far cry from the quiet, work-from-home life that I've been living as a self-employed graduate student for the last many years. It's been invigorating at times, draining at others; if nothing else, a big adjustment.
On the other hand, I haven't had the energy to spend much time around friends this year. I do my best to keep up with people and prioritize high-quality friend time when I can. But I've often been too tired to make plans in the free time that I get, when I'm not trying to catch up on schoolwork and the blog. And the last few months have been trying in ways that I haven't really felt like talking about. Catching up with most friends means answering the question of how I'm doing, and I just haven't wanted to get into it.
I always assumed that the DI would draw to a close and that I'd gradually rest up and start reconnecting with people. I didn't expect to make a new friend in the midst of it—certainly not a close one—but that's what's happened. At one of my two elective sites, I've been blessed with the company of a co-intern who is quickly becoming a new, dear friend.
I say "blessed" intentionally. This last stretch of my internship hasn't been what I expected and has been difficult all around, personally and professionally. To have a colleague and an ally has been incredibly comforting; it reminds me of what it used to feel like to have close coworkers, which is something I was fortunate to find in my first career.
My co-intern and friend is already a dietitian abroad, shadowing here for the sake of her professional development, and we share a love of food as well as nutrition. We grabbed dinner this week, and it was full of laughter and fun; we traded stories and shared impressions as if we were old friends rather than recet ones. I was reminded of how important friendship is, how much it gives meaning to everything.
I'm glad I've indulged the need to keep to myself lately. Sometimes socializing really doesn't feel good, which is something I've been reminded of from time to time this year when I push myself too hard to make plans, more out of a sense of duty or guilt at being out of touch than a real desire to listen or share. Yet it's important for me to keep friendships healthy even when my bandwidth is low. And what a nice surprise to be given this new camaraderie at exactly the moment when I thought turning inward and forging ahead was the only thing I could do.
I've got one week of rotations left, and I'm so tired that I haven't really processed the reality of being this close to done. By the next time I check in on a Sunday, though, it will be very real indeed—and I'll be able to tell you how that feels.
Here are some recipes and reads.
Recipes
Love this creamy, yet light summer cabbage salad from the ever-talented Heather.
A perfect tabouleh? Yes please! Katie has a knack for Middle Eastern inspired cuisine, so I trust her when she says this is the one.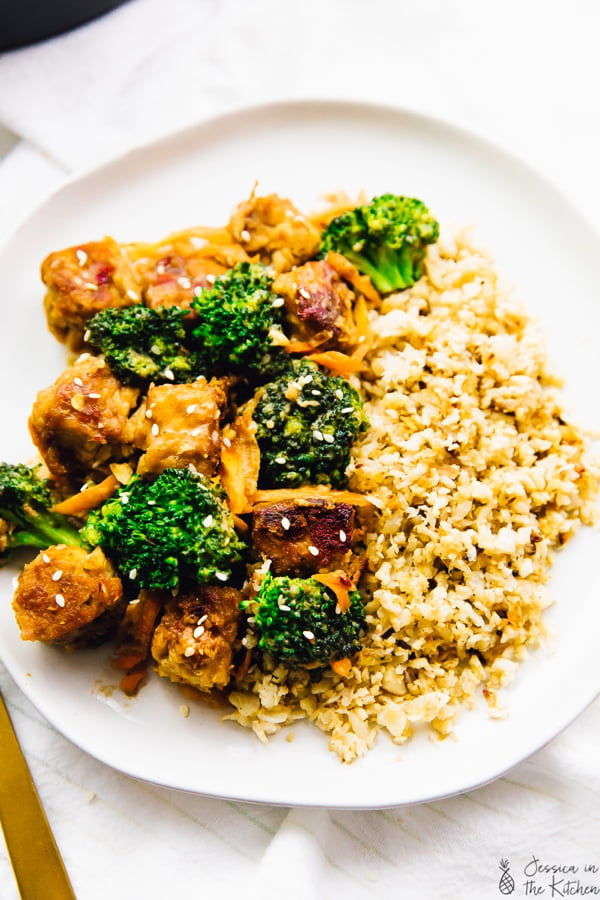 No one makes hearty weeknight supper recipes like Jessica, and this tempeh stir fry with ginger peanut sauce is no exception.
I love the looks of Erin's olive pesto pasta. I often end up with a half bottle of olives in my fridge and a lack of ideas about how to use them other than in salads. This recipe would be the answer.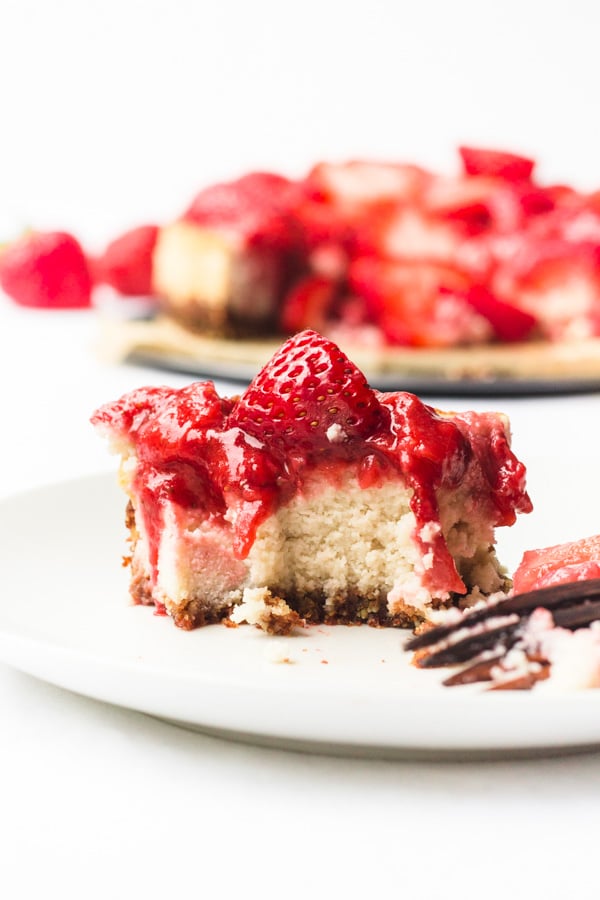 And finally, dessert. This strawberry cheesecake from the talented folks at Sprouting Zen eats looks so good, not to mention super wholesome.
Reads
1. Scientific American brings some awareness to postpartum anxiety, which is distinct from the more familiar postpartum depression.
2. Leaky gut syndrome (also known as intestinal hyperpermeability) is incompletely understood in medicine so far, and like many diagnoses for which we lack a lot of knowledge, there's unfortunately a lot of misinformation about it online. It may be some time before we have enough evidence to develop an understanding about it and clarify the contention that exists among practitioners about its very existence. In the meantime, I'm so glad that Food & Nutrition is making an effort to explain and explore this syndrome and its potential nutritional implications.
3. Some good, practical suggestions of inexpensive foods to buy when shopping on a budget. I'm a huge fan of frozen vegetables, and I liked the focus on everyday plant-based ingredients, like oats and legumes.
4. The New York Times reports on developments toward more gender equality in the sciences.
5. Finally, if you struggle with self-forgiveness as I do, a quick reminder: of course we mess up!
On that note, it's time for me to wrap up what I hope will be my last working Sunday for a little while. Have a good night, friends.
xo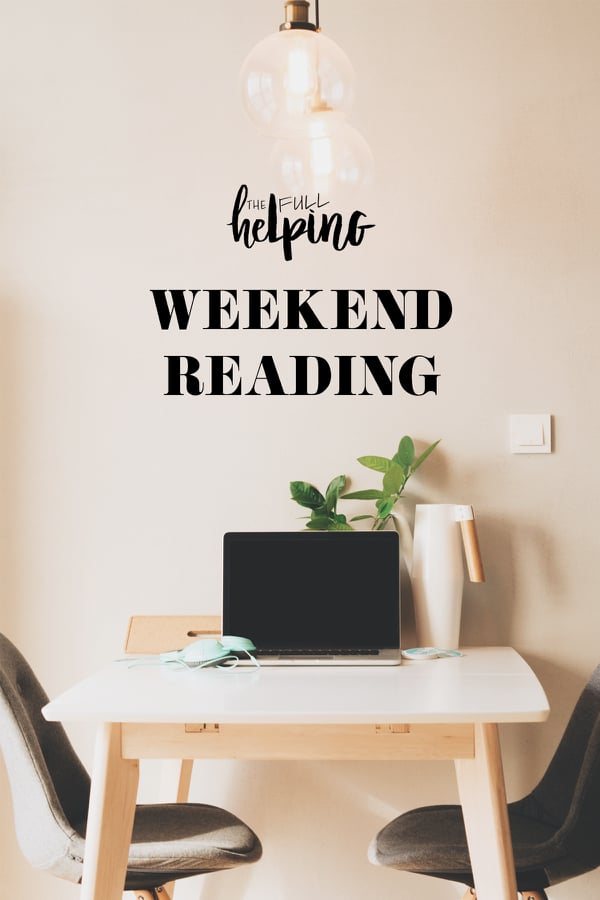 It's interesting, what gets unearthed during stressful times. It was a long week, in spite of the July 4th holiday, thanks to my internship wrapping up and my mom's knee replacement surgery. She's doing really well, but these moments are fraught and trying for everyone. I haven't exactly been a picture of equanimity or grace over the last seven days.
What I have been, though—and it's been interesting to notice this—is honest. I've honestly expressed my needs (which included asking for help last week) and honestly communicated my feelings. Those feelings have been all over the map this week; they've included anger, frustration, resentment, fatigue, and anxiety. But I've allowed them to be what they are, and I haven't edited myself around either loved ones or strangers.
I didn't use to think of myself as being overly contained; after all, I share a lot of myself online, and I have no trouble opening up about seemingly intimate topics. The older I get, though, the more I realize how contained and controlled I can be. It's not withholding of information so much as editing the narrative or the delivery in such a way as to make things sound a lot prettier than they've felt.
There's much to be said for discretion and a health degree of privacy. But I'm always conscious of my impulse to control things, myself included. It's important for me to close up the distance that I sometimes create between my inner experience and my outward behavior—a distance I maintain in order to make myself more palatable and pleasing—in the interest of giving others access to a more honest self.
This work, if you can call it that, includes being a little more impulsive, expressive, and not thinking so hard before I utter a word or give a response. It can mean stating boundaries when I sense that they've been trampled on or having the guts to articulate discomfort when I feel it. It means relaying sensations of vulnerability or hurt, rather than trying to maintain a posture of toughness around them.
None of this is easy for me, no matter how "in touch" with my feelings I consider myself to be. In many ways, the intensity of the last few months has exposed my nerves a bit, and while I dislike being irritable (which I am right now!), it's not a terrible thing for me to in touch with a less edited, much messier self.
She's interesting, this self; she's pretty good at saying what she needs without stopping to worry about how she'll be perceived. And in making a little space for her, I'm learning that my impulses and instincts are more trustworthy than I give them credit for being. My intuition endures a lot of cross-examination by my hyper-analytical, questioning mind; maybe I should spend more time listening to it.
I certainly haven't found a way of communicating that's a perfect balance of honest and conscious—both thinking and feeling, I guess. Maybe the deeper truth here is that a "perfect" balance is as much of an illusion as any kind of perfection is. My attempts to chart new territory, one exchange at a time, is the best that I can do.
Starting a fresh week with the intention of staying in touch with my experience—whatever that means and however it leads me. Wishing you a good one, too. Here are some recipes and reads.
Recipes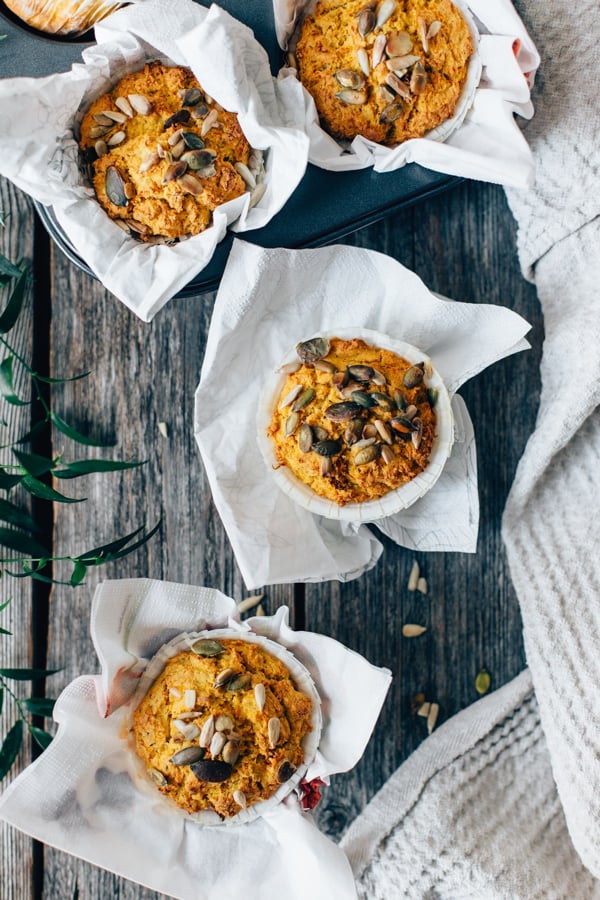 I love the looks of Tuulia's savory carrot and zucchini muffins. I almost never make savory muffins, but I always appreciate what a good snack they are when I do.
A hearty, versatile vegan lentil ragu from the wonderful Izy.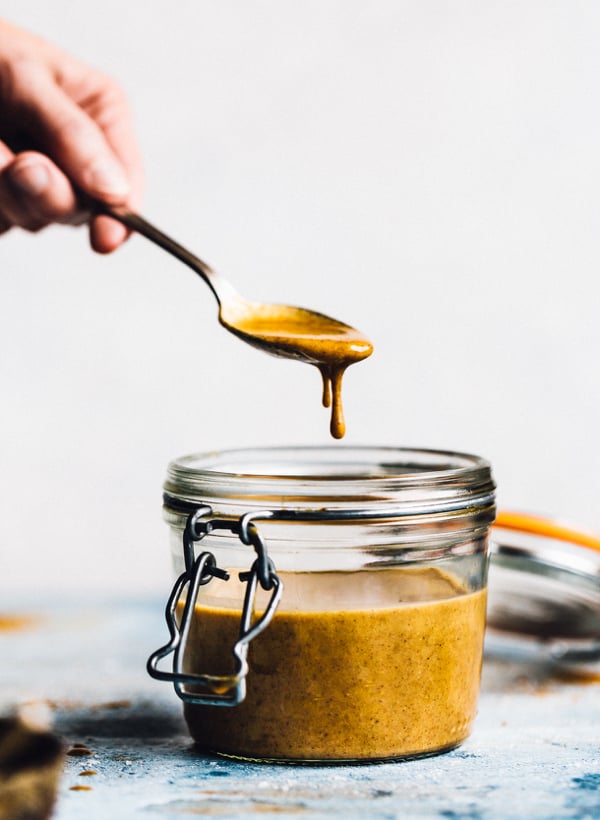 How scrumptious does Amanda's homemade walnut butter look?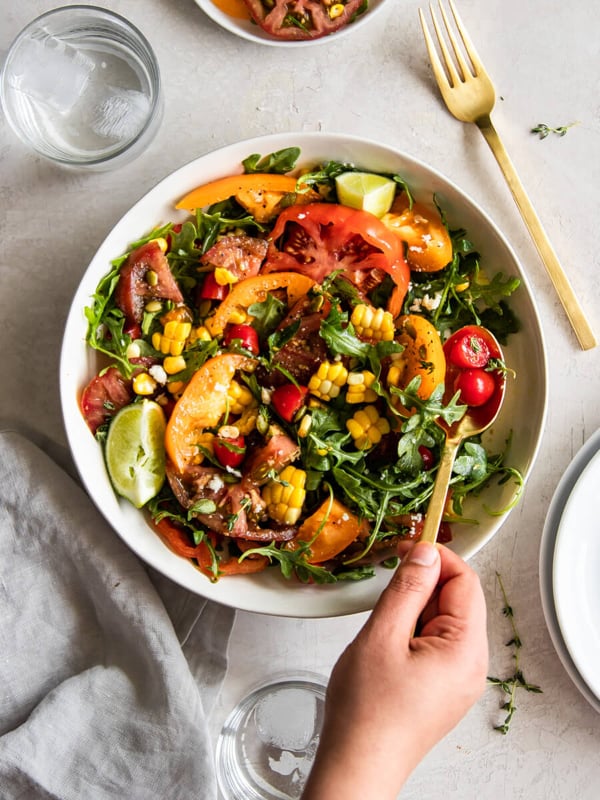 Tomato season is in full swing where I live, and I'll be soaking up every second between now and October. This simple heirloom salad looks like a perfect way to celebrate.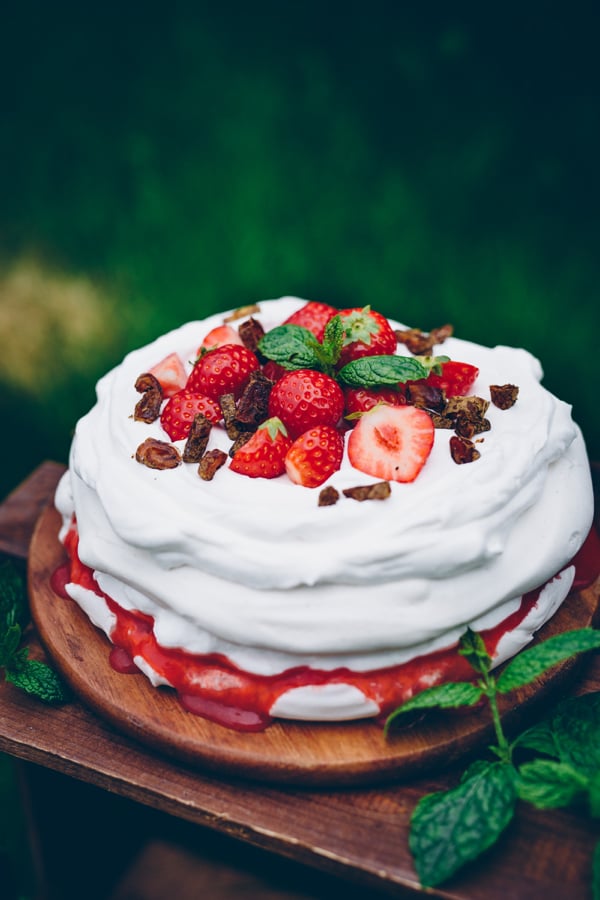 And finally, a breathtaking vegan pavlova, thanks to the magic of aquafaba—and Agnes' talent. (I used the translate function in Chrome to access the recipe.)
Reads
1. This carb champion never doubted the value of the macronutrient! But I was glad to see Carrie Dennett address one of the benefits of carbohydrates, which is gut health. Dennett accessibly covers new research into the disease-fighting potential of microbiota-accessible carbohydrates, or MACs. This is fancy terminology for the type of carbohydrates that feed healthful microbiota in our large intestine, thereby lowering inflammation and helping our bodies to fend off pathogens.
2. Via the New York Times, a second HIV patient has been reported to be cured of the infection.
3. Hospitals are loud! It's one of the sensory experiences of working in clinical settings that I've noted most often in the past year. I'm pretty sensitive to sound, so I've wondered if it was just me. But this article in The Atlantic suggests that it's not.
4. A look into the promise and potential of virtual reality as a form of therapy.
5. I've become a fan of Caroline Wright's writing through Food52, and this essay is a reminder of why—so human and touching. Caroline writes about how her cancer diagnosis changed her relationship with tiramisu and with her parents (how's that for zeugma?). Among other things, it's a lovely expression of what it means to get older and to reconcile one's ideals about how life should be with the reality that each one of us gets. It was a very good thing for me to read this week.
I'm signing off to gather up the last few hours of Sunday. Love and appreciation to you all.
xo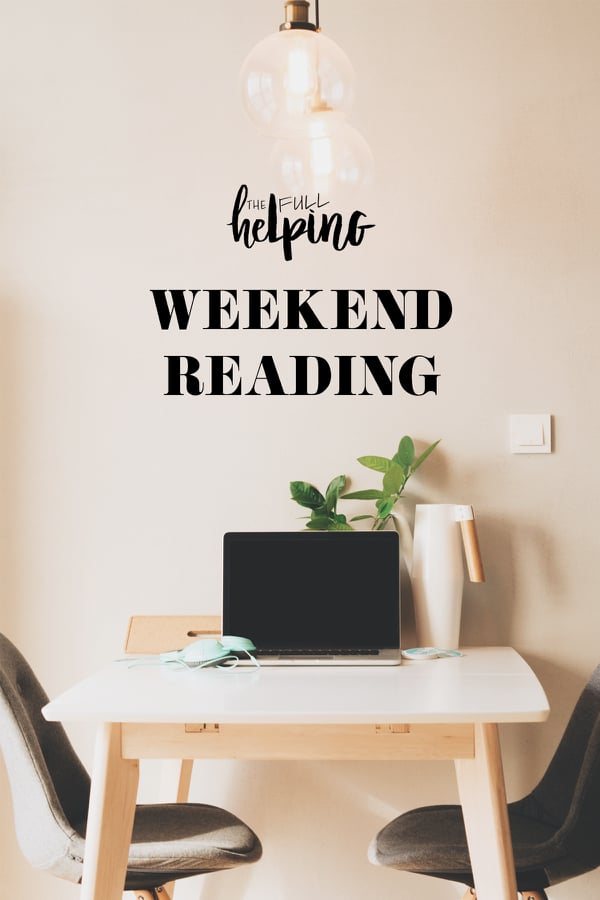 Years ago, a yoga teacher of mine said something in class that sounded obvious, but wasn't: "when it can be easy, let it be easy."
I've mentioned her words on the blog before, so in the spirit of the quotation I won't overanalyze it. But I will tell you that her advice has helped to guide me through this period of anxiety. It's been especially helpful in the last week.
On Sunday evening, after I vented about my overwhelm here on the blog, I spent some time thinking about what could be simplified or made easier in the week ahead. Work projects couldn't be, but there were lots of other things that could.
I reached out to a close family friend and asked whether she could help out with some of the care-taking after my mom's knee replacement surgery on Monday. I ordered my mom some meals from Veestro, so that she wouldn't have to worry about food during her recuperation, and I threw in a bunch for myself, so that I can spend a little less time on cooking and meal prep during this busy stretch.
I cancelled some work calls that didn't need to happen right away and extended the deadline for a job that had snuck up on me. I asked a peer to walk me through an assignment I'd been struggling with. I delayed making plans with friends, explaining that it would be better to catch up when my rotations were winding down. I sent emails that were shorter and more to-the-point than mine usually are; I turned in a couple projects that I gave about 80% of my effort to, but not more, trusting that they were good enough as they were.
I asked my closest friend here in the city to keep me company at the hospital on Monday; I didn't ask for company during my mom's last knee replacement, and it turned into an unnecessarily lonely, tense day. I spent much of it looking around the waiting room at the hospital watching partners and families band together, feeling pangs of envy and sadness. Those feelings were (and are) honest and OK. But I don't have to go it alone all the time, either, and I'm glad that I asked my friend for a little companionship during the wait.
It's my tendency to take charge of things and then give them my all. I'm not ashamed of this; it's part of how I work, live, and love. But I'm learning as I get older the profound truth of the observation that no man—or woman—is an island. It takes courage and wisdom to ask for help, to choose against things being harder or more onerous than they need to be.
This past week wasn't easy, and the week ahead won't be, either. Things will feel challenging until my rotations are over, and my RD journey won't stop there: there's an RD exam to take, and then planning what comes next. One lesson I learned as a post-bacc student is that it's easy to live in constant anticipation of an easier, smoother, less demanding moment in time, telling oneself that the business of being at peace can be delayed until then.
It really shouldn't be, though. There are always upswings and downswings in life, including periods that feel either especially stressful or especially sweet. But very rarely do the clouds part entirely, which makes it important to cultivate calm no matter how hectic things are. I'm beginning to understand that it's almost always possible to simplify something, to put down an unnecessary burden or two.
That's the spirit with which I'm looking ahead to tomorrow, anyway. And I'll continue to issue myself a gentle invitation to let go of what I can and ask for help with what I can't. Fingers crossed. Here are some recipes and reads.
Recipes
I love broken lasagna, and I'm so intrigued by Lindsey's tomato free version with vegan ricotta and pesto.
A great recipe for July 4th get-togethers: Sarah's vibrant, layered bean dip.
These crispy, Indian-inspired vegetable and red lentil balls look like the perfect addition to salads, pitas, and grain bowls. You can use the Google translator function to check them out on Susann and Yannic's page.
Lily's oat seed crackers look like a perfect, portable snack for me as I wrap up the last few weeks of my internship, and her impassioned tribute to Joy Harjo's work is as lovely as ever.
Finally, a perfect, all-American banana cream pie for Independence Day! Marly's vegan version looks amazing.
Reads
1. The New York Times reports on the growth of Charley—now seventeen months old—who had a groundbreaking surgery in utero to correct spina bifida. Harrowing and inspiring.
2. Hypercholesterolemia, or clinically high levels of blood serum cholesterol, are improving but still far from ideal among American kids and teens. I like RD Keri Gans' tips for prevention, which include increasing fiber, focusing on whole grains, and limiting fatty foods. To her suggestions for boosting omega-3 fatty acid intake, I'd offer a focus on chia, flax, hemp, walnuts, soy, and vegan DHA/EPA supplements.
3. I'm a big believer that all emotions, even those that feel most threatening, have something to teach us. I appreciate Amanda Mull's reporting on their importance and validity.
4. Until I read this article I hadn't given enough thought to the need for low-cost care for companion animals. I'm glad that New York City's resources for vulnerable animals is growing.
5. Finally, happy Pride. The celebration in NYC has been inspiring so far. While I was thinking about the Pride March today and its meaning, I stumbled on Eric Kim's article for Food52 about coming out to his parents. Kimchi fried rice plays a pivotal role in the family's shared story—Kim is Korean American—and his compassion shines through every word.
In the spirit of compassion, connection, and celebration of who we are, happy Sunday, friends. I'll be looping back soon with a new summer salad recipe.
xo