Grain Free Vegan Coconut Pistachio Lemon Cake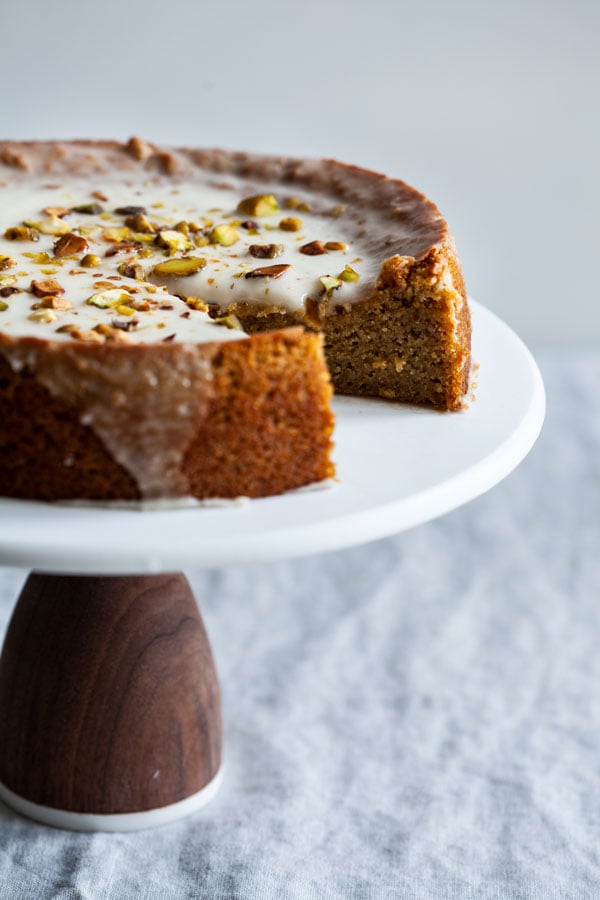 Happy Monday, friends, and I'm so glad that you enjoyed my thoughts on the mini-trip home.
On Friday, I'll be celebrating Passover with some chosen family: my closest friend from college, Jordan, his parents and his siblings. I felt close to Jordy's family even back as an undergraduate, in spite of the fact that I only met them a few times. They were warm and kind and easygoing with invitations and overnight stays. I was young enough and only child enough that the fact of Jordy's having two siblings seemed kind of wonderful to me—three kids under one roof! Over the years I've been lucky enough to become close to his sister and brother, too.
Jordan's parents feel strongly about welcoming, hosting, and building family. Over the years they've had me in their home for countless holidays and gatherings, and now they include my mom, too. As someone who has a small nuclear family, the generosity of spirit never goes unnoticed, and it means more than I can say.
An added bonus of holidays with Jordy's folks is the fact that I'm usually not the only plant-based eater present (his sister-in-law's family is plant-based), and Jordy's mom is especially curious and open-minded about preparing dishes that can suit a wide variety of eating styles. She always welcomes me to contribute a vegan recipe to holidays. At Rosh Hashana, this means a crown-shaped loaf of Isa Chandra's challah. And at Passover, it means the challenge of something plant-based and also grain-free.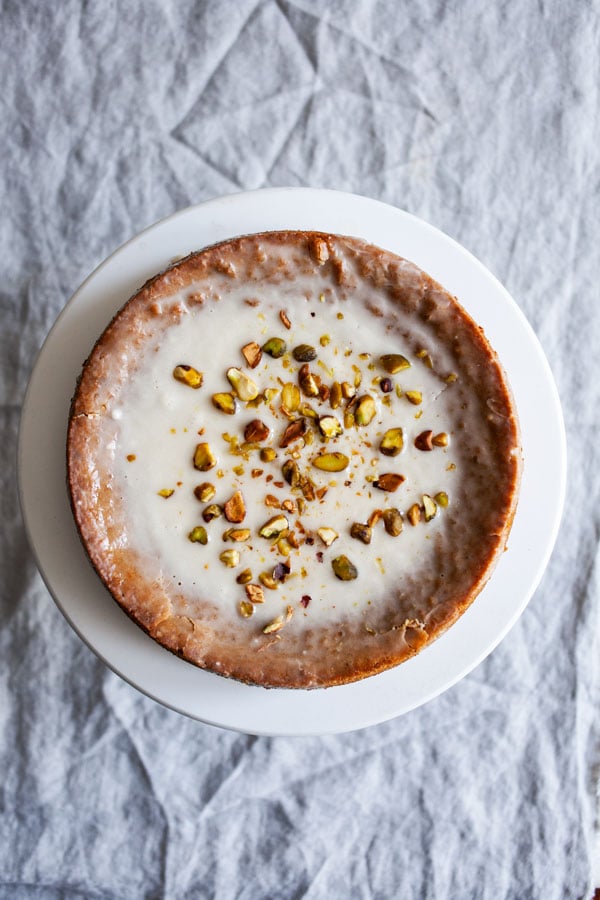 Grain free baking is hardly my specialty; I'm a grain-loving gal, and in spite of being pretty dextrous with gluten-free baking, nut and other grain-free flours aren't my favorite. Still, my love of dessert is much more powerful than my lackluster feelings about baking without grains. I've been experimenting in preparation of the holiday this year, and this grain-free vegan pistachio coconut lemon cake is the result.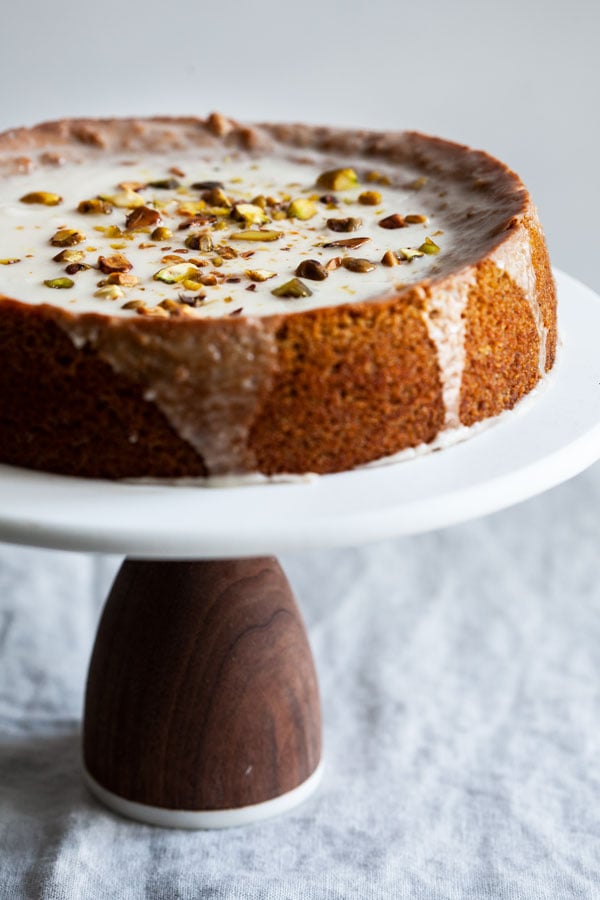 I owe this recipe—pretty much all of it—to the wonderful Lindsay of Cotter Crunch. She's one of my go-to resources for recipes that work for a wide variety of specialized eating styles: hers are always gluten-free, but they're often grain-free and/or plant-based, too.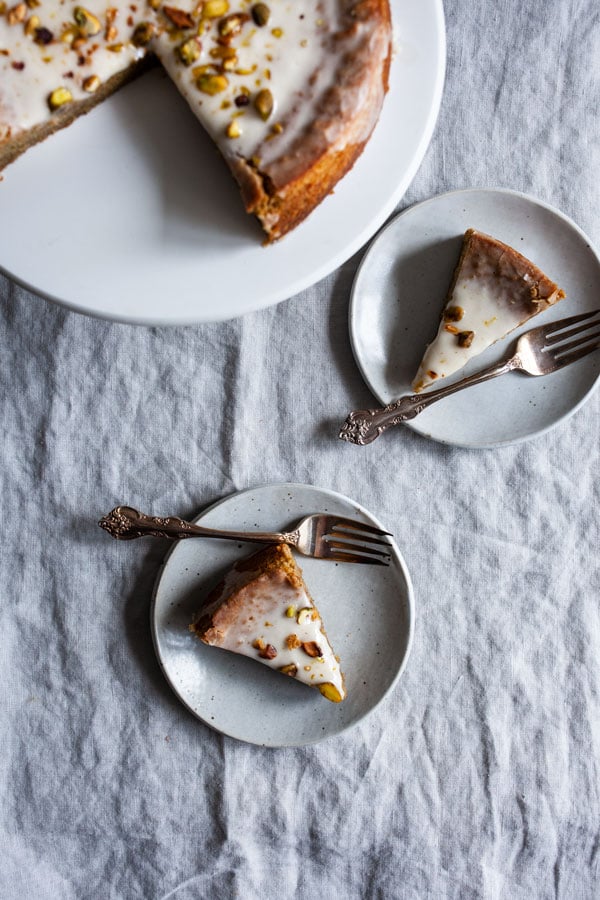 Not too long ago, Lindsay posted a grain free vegan white cake recipe. As someone who has had very little resounding success with grain and egg-free baking, I was super impressed with how fluffy and delicious it looked.
A couple weeks ago, my preceptor and I were chatting about Passover recipes, and she mentioned this pistachio cake by Julie Powell. It looked beautiful, but I knew I'd need to tweak it considerably to make it vegan. I thought back to Lindsay's cake, and I wondered if I couldn't create some sort of amalgam of the two.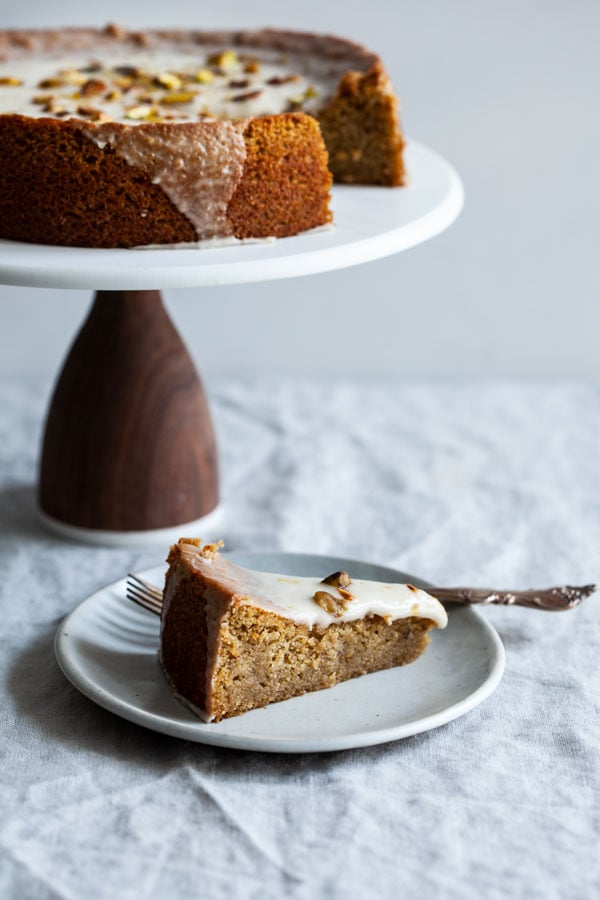 In spite of my limited track record with recipes like this, I'm really happy with how the cake turned out—happy enough that I plan to bring it to the seder this week. Yes, it's got a dense texture, just as I suspected it would. But it's still light and tender enough to work—not gluey, as some of my vegan grain-free experiments have been. The lemon glaze gives it just the right added layer of sweet tartness, and the flavor of both nuts and coconuts really does shine through. Here's the recipe.
Grain Free Vegan Coconut Pistachio Lemon Cake
Ingredients
3/4

cup

sifted coconut flour

3/4

cup

fine almond flour

2/3

cup

very finely ground pistachio nuts (or pistachio flour)

1/3

cup

arrowroot or potato starch

1

teaspoon

baking powder

1/2

teaspoon

baking soda

1/4

teaspoon

fine salt

2/3

cup

coconut or cane sugar

1/4

cup

vegetable oil (such as grapeseed, olive, or coconut)

1/4

cup

freshly squeezed lemon juice

1/4

cup

maple syrup

3/4

cup

cold water

1

teaspoon

vanilla extract

1

cup

confectioners' sugar

2

tablespoons

lemon juice

chopped pistachio nuts, if desired
Instructions
Preheat your oven to 350F and line an 8″ square or springform round pan with parchment.

In a large mixing bowl, whisk together the flours, pistachio nuts, arrowroot, baking powder and soda, salt, and sugar. Separately, whisk together the oil, lemon juice, syrup, water, and vanilla. Add the wet ingredients to dry, and whisk together till the batter is smooth. Immediately pour the batter into the baking dish and transfer to the oven. Bake for 45-50 minutes, or until golden brown.

When the cake is ready, allow it to cool for a few hours on a wire rack. When it's room temperature, whisk together the lemon juice and confectioners' sugar. Pour the glaze over the cake and spread it gently with a spatula, if needed. Top with chopped whole pistachio nuts. Transfer the cake to the fridge and allow it to set for another 2-3 hours (or overnight). Cut and serve!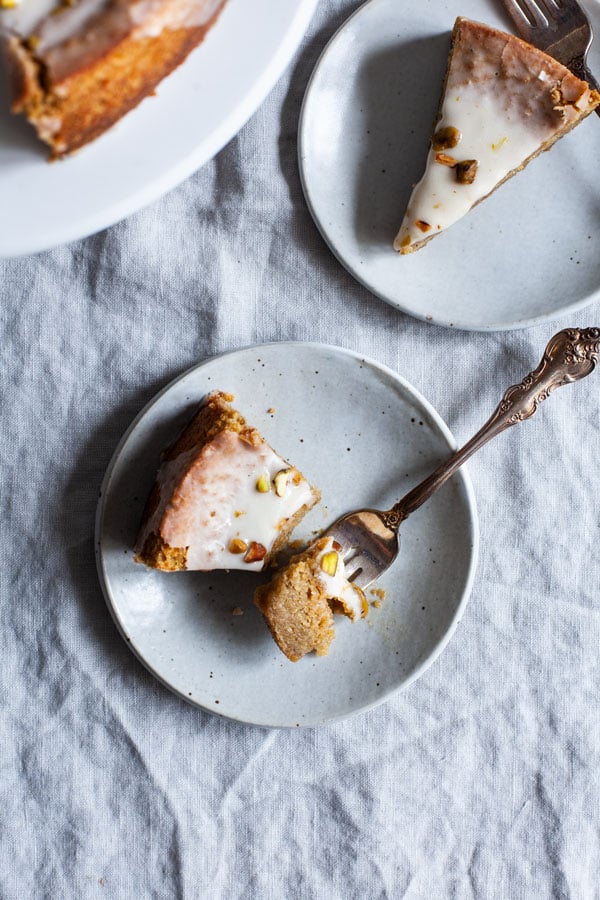 My recipes have been pretty loosey goosey this year, with lots of invitations to modify as you like. I tend to be more precise with baking, but for this recipe—given the considerations of no gluten, egg, or grain—I'd definitely encourage you to follow the recipe precisely if you make it. The one exception is that you can definitely substitute all almond flour for almond+pistachio if that's what you'd like to do, turning it into a coconut almond lemon cake.
And of course, this is a Passover cake for me, but it would be a lovely Easter offering, too, or a good contribution to any spring gathering: shower, brunch, whatever.
In the spirit of chosen families and holidays, I wish you a wonderful week ahead. And if you make this one, happy baking!
xo
Vegan Golden Milk Cake with Coconut Frosting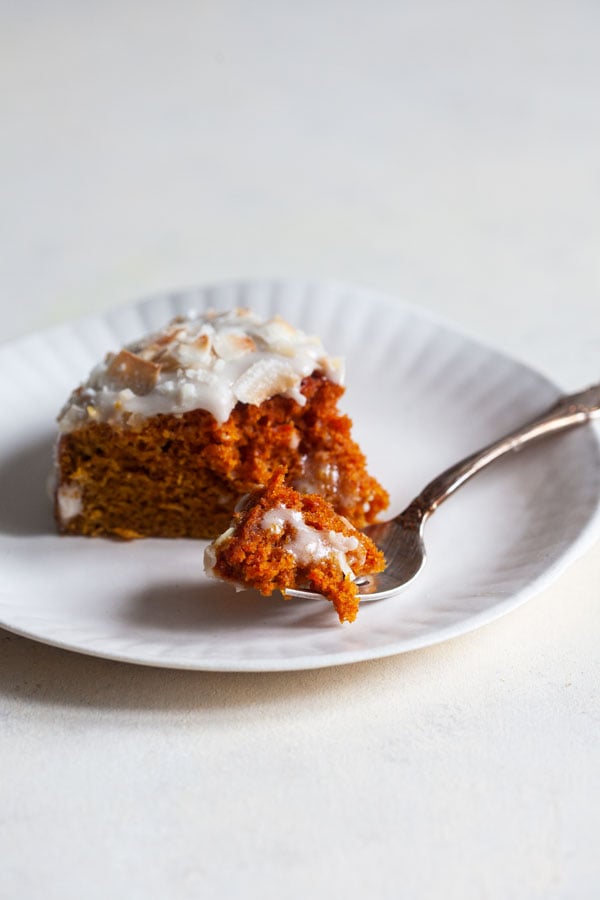 Sooner or later I should post a dessert recipe that isn't cake, right?
I guess I just can't help myself. Placed in a room full of every vegan dessert imaginable, cake would be my first choice every time. But give me time: once the internship eases up I'll be baking more treats, and they can't all be cake. For now, I hope you can forgive another one. If it sweetens the deal at all, it's really tasty.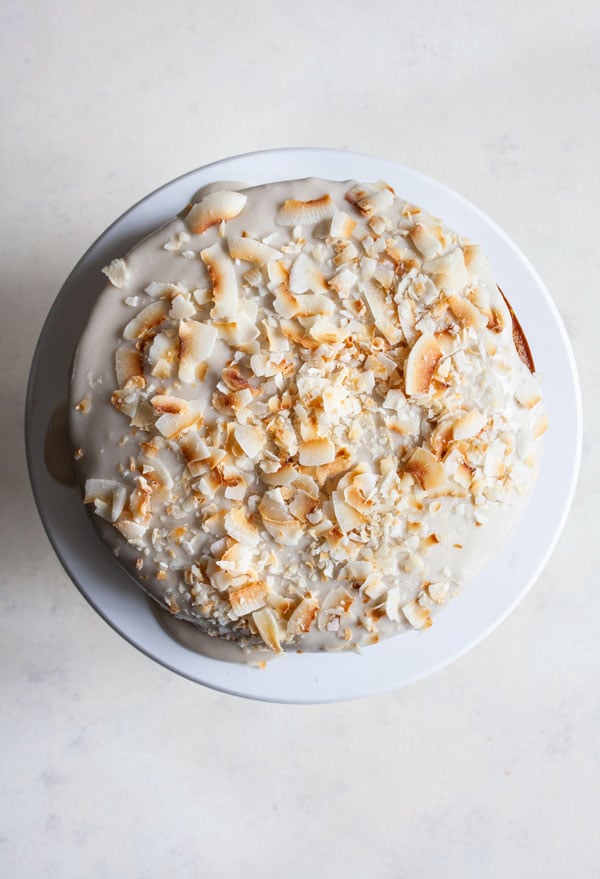 Beneath the glaze and the toasted coconut flakes (which are a perfect garnish), this cake is a beautiful, ruddy orange color. This is thanks to the addition of turmeric to the batter. The batter is golden before baking (the same color as a turmeric latte) and reddish after. This is because curcumin, which is the active ingredient in turmeric, turns red when it comes into contact with bases (like baking soda or baking powder). It's not the flavor of red velvet cake at all, but the color isn't too far off.
The flavor is inspired by golden milk, which is to say that it's got turmeric, a little pinch of black pepper, and cinnamon. It's a similar formula and ratio of ingredients to many other cakes I've baked, but I was surprised at how much richness the spices give it.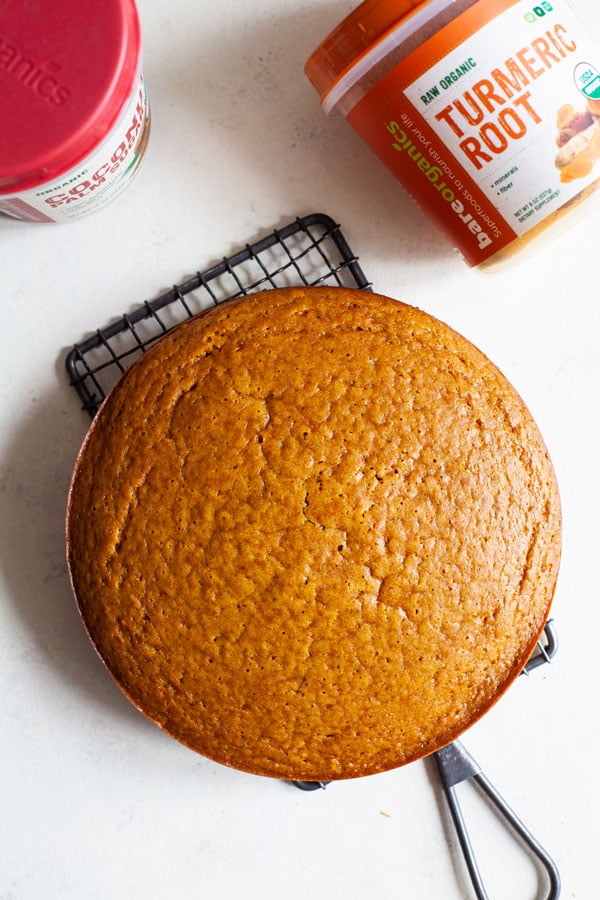 The turmeric and coconut palm sugar that help to flavor the cake are provided by the folks at Bare Organics. Bare specializes in superfoods—foods that are exceptionally nutrient dense, like chia, flax, beets, and turmeric—that can be used in everyday cooking, snacking, and baking. The brand's turmeric is perfect for cooking, for medicinal beverages, or for smoothies, but it works beautifully in this recipe and would be great in other baked goods. The coconut palm sugar provides the caramel-like sweetness that only palm sugar does (I bake with cane sugar often, but it's not quite the same), and it's low glycemic to boot.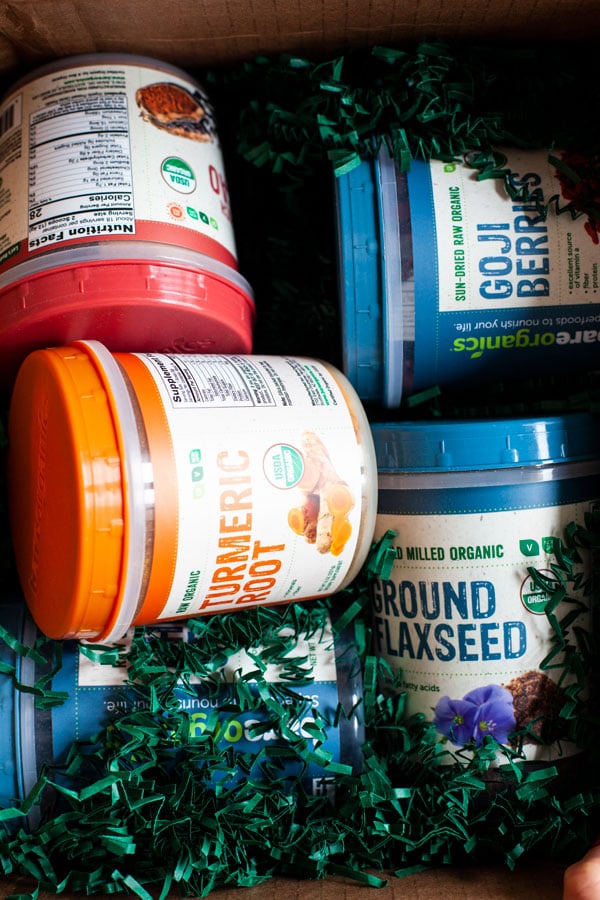 I'm a big fan of Bare's flax, chia and goji berries, all of which make regular appearances in my oatmeal and oatmeal bakes. But it's worth mentioning that the brand has an entire baking line! It features cacao and cacao nibs, the coconut palm sugar, and powdered coconut milk, among other goodies, and I'm excited to explore more of it. I've already made a fun batch of acai beet muffin's with the brand's beet and acai powders.
I make vegan frosting in all kinds of ways: with cashews, with Earth Balance, and even with pumpkin. This time, I whipped up coconut cream with confectioners' sugar and vanilla. I loved how it turned out: it's someplace in between a rich buttercream frosting and a lighter glaze. You can use any frosting you like for the cake, or if you're not in the mood to make frosting, you can enjoy the slices plain, as more of a snack cake than a dessert cake.
So many wonderful varieties of cake. Here's the recipe.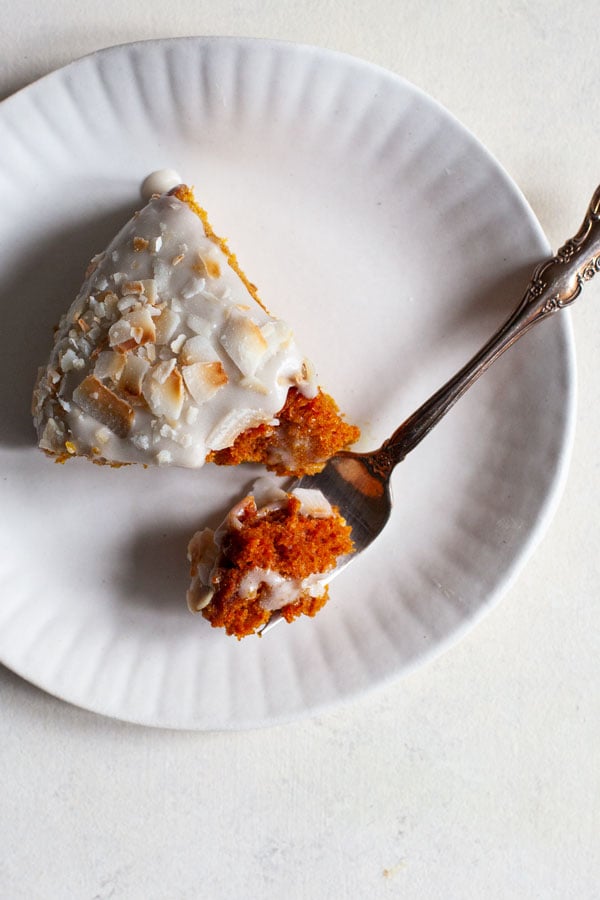 Vegan Golden Milk Cake with Coconut Frosting
Servings: 10 slices
Ingredients
1 2/3

cup

all purpose or whole wheat pastry flour

3/4

cup

BareOrganics coconut palm sugar (substitute cane sugar)

1

teaspoon

baking powder

1/2

teaspoon

baking soda

1

teaspoon

ground cinnamon

2

scoops

BareOrganics turmeric root powder (or 2 teaspoons ground turmeric)

1/4

teaspoon

fine salt

1

pinch

freshly ground black pepper

1 1/4

cups

non-dairy milk of choice

1

tablespoon

freshly squeezed lemon juice

1

teaspoon

vanilla extract

1/3

cup

vegetable oil (such as grapeseed, refined avocado, or canola)
Coconut Frosting & Decoration
2

cans

coconut cream, chilled overnight in the fridge

1

pinch

sea salt

1

teaspoon

vanilla extract

2

cups

confectioners' sugar

2/3

cup

toasted coconut flakes, if desired
Instructions
Preheat your oven to 375F and line an 8-inch round, nonstick cake pan with parchment.

In a large mixing bowl, whisk together the flour, sugar, baking powder and soda, cinnamon, turmeric, salt, and pepper.

In another mixing bowl, combine the non-dairy milk and lemon. Allow it to sit for a minute, then stir in the oil and vanilla. Add this wet mixture to the dry ingredients. Whisk the batter together until only very small clumps remain.

Pour the batter into your prepared cake pan. Bake for 40-45 minutes, or until the center has set and the edges are golden. Allow the cake to cool completely before frosting.

While the cake bakes, make the frosting. Pour any excess liquid out of the coconut cream cans. Transfer the solid, cooled cream to a stand mixer fitted with a whisk attachment (alternately, you can use a handheld beater for this). Add the vanilla, salt and sugar. Beat for a few minutes on high speed, or until the frosting is light (it'll be more liquidy than regular buttercream, but thicker than a confectioners' sugar glaze made with water).

When the cake is cool, cover it with frosting. Garnish with coconut flakes, slice, and serve.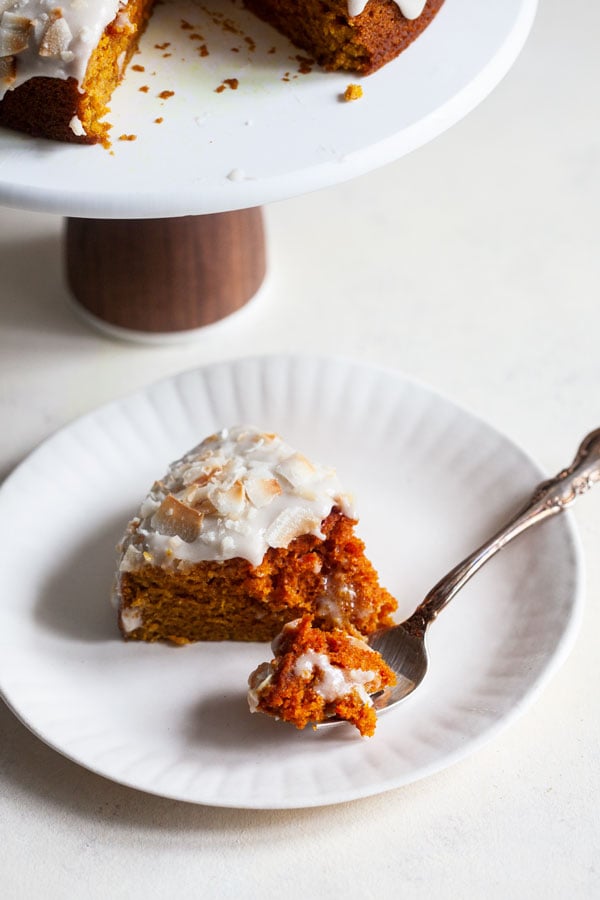 If you plan to make the frosting with the cake, don't forget that the coconut cream needs to chill overnight (an oversight that I made the first time I was planning to frost the cake). Trying to speed the process up in the freezer doesn't work as well.
Much as I don't need an excuse to bake cake, it's always nice when I can sneak something special—in this case, an anti-inflammatory spice—into the mix. I love the color and flavor of this cozy dessert, and I can't wait to make it again. If you try it, I hope you'll enjoy it every bit as much.
Happy Monday, friends. This rotation is demanding, but I'm keeping my eyes on the prize. See you around here soon.
xo
This post is sponsored by BareOrganics. All opinions are my own. Thanks for your support!
Whole Grain Vegan Banana Chocolate Chip Oatmeal Cookies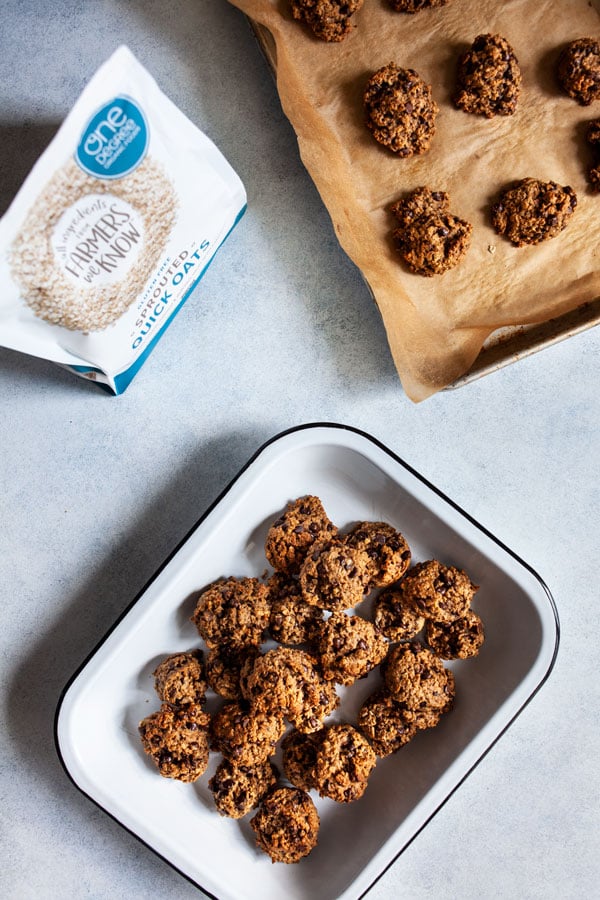 Baking tends to get a lot of attention in the weeks leading up to the winter holidays, yet it's often overlooked in January. Perhaps this is because the holidays are regarded as a time to celebrate and indulge, while the arrival of a new year prompts a lot of focus on healthful eating. In my mind, though, baked treats are a part of the balanced picture that constitutes a healthful diet. And it's easy to craft baked goods with quality, wholesome ingredients.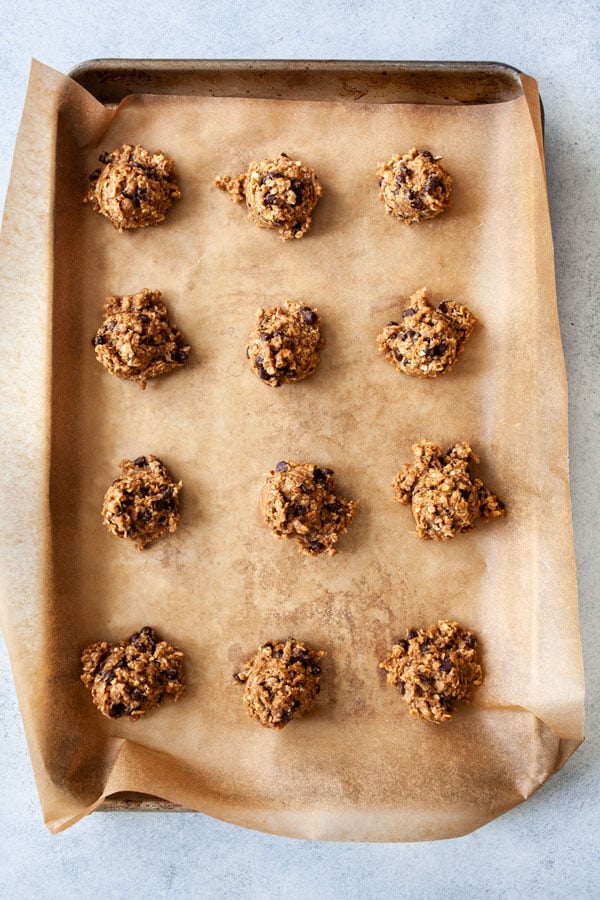 These cookies are the best of both worlds: sweet, chewy, and studded with dark chocolate, yet also created with One Degree Sprouted Spelt Flour and Sprouted Quick Oats for fiber-rich, whole grain goodness.
Banana, along with ground flax meal, replaces egg, so the cookies are easily dairy-free and vegan. They're kid friendly, easy to prepare with everyday ingredients, and absolutely delicious. In the past year, my schedule has shifted to necessitate packed lunches every weekday. Including a few of these cookies as afternoon snacks or lunchtime desserts has brought a lot of brightness to otherwise long afternoons.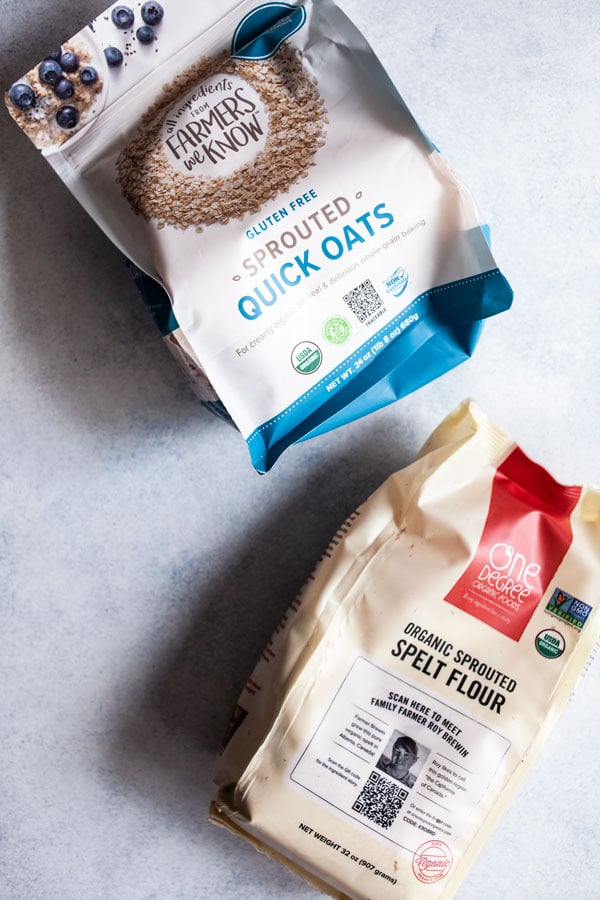 There's no collection of baking ingredients I'd rather use and support than One Degree Organics; I love the brand's commitment to supporting local farmers and sustainable agriculture, and its breads and cereals have been favorites in my home for years. The Sprouted Quick Oats thicken these cookies perfectly, and of course whatever's left in the bag can be used in future wholesome breakfasts. You can substitute rolled oats if that's what you have, though I think the texture of quick oats is better for a chewy, tender cookie.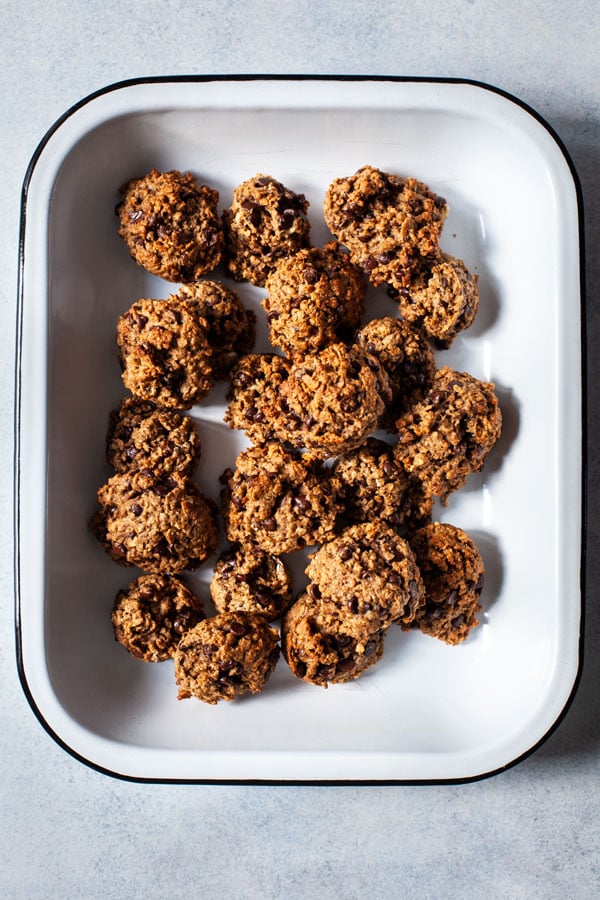 I've had mixed luck with spelt flour as a baking ingredient; typically I need to use light spelt to get the tender crumb and lightness I'm looking for in muffins, cookies, and the like. The One Degree Sprouted Spelt Flour worked every bit as well as light spelt usually does, which is a happy new discovery for me. I can't wait to try it in cakes and quick breads. For now, I'll savor it in cookie form—maybe with a glass of soy milk for dunking.
You can check out the full recipe on the One Degree Organics website by clicking here.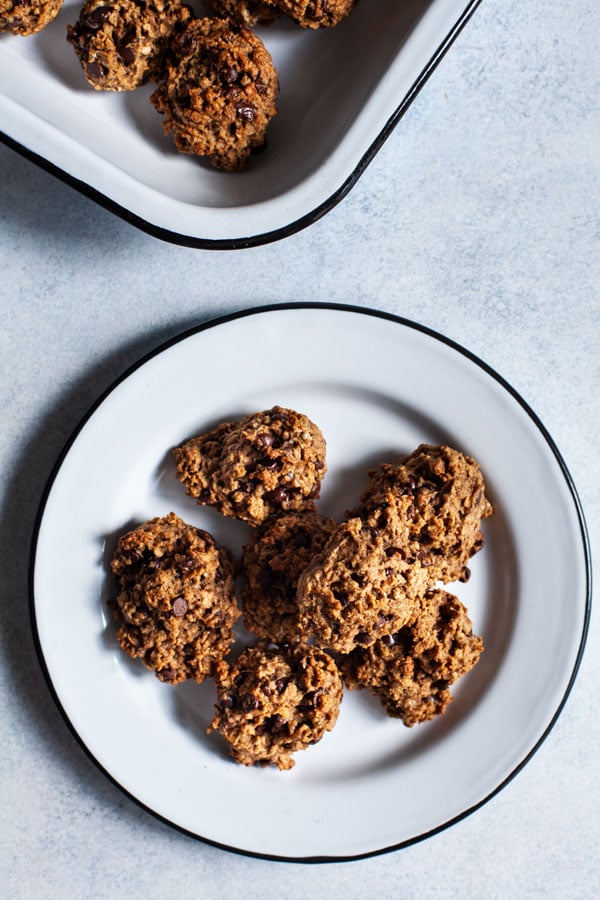 Enjoy, friends! And I'll be back later this week with a new non-recipe recipe: this time, an easy, hearty vegan pasta supper.
xo
Apple Berry Baked Oatmeal Cups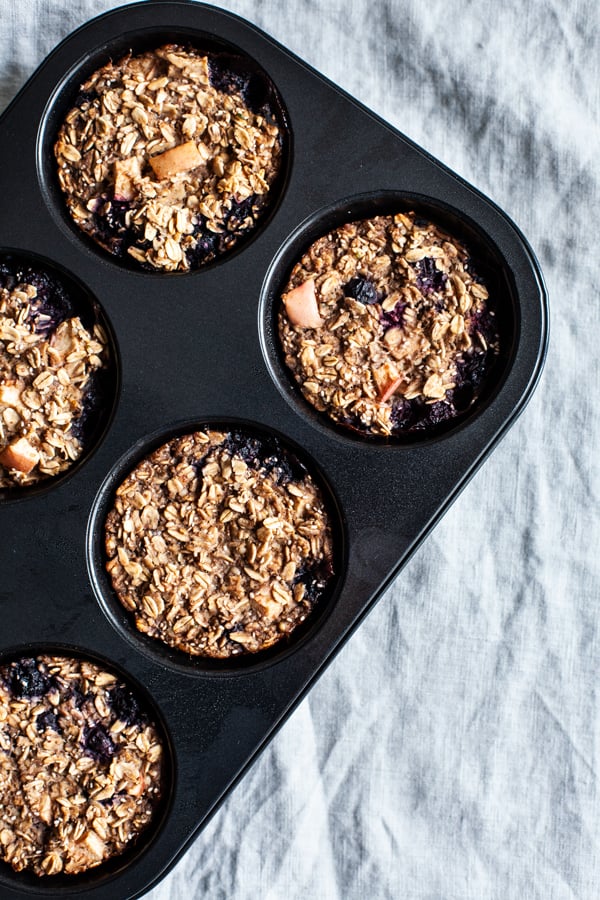 It's no secret that baked oatmeal is one of my favorite, make-ahead breakfast options. I love warm oats, and for most of the last few years it's been no trouble to cook them on the stovetop, traditionally. When I'm rushing out the door, though—and lately, that's how mornings seem to go—simmering even rolled oats can feel time consuming (plus, there's the saucepan to wash).
During my post-bacc, I relied on overnight oats nearly all of the time. In recent years, overnight oats haven't been my preference except when it's very, very hot outside: I'd nearly always rather have oats that are warm and a little denser than overnight oats. So, baked oatmeal to the rescue.
Last weekend I planned to make baked oats as usual, but with a twist: baking them into muffin tins, rather than a baking dish. This makes meal prep all the easier because everything is portioned out and ready to go. And the apple berry baked oatmeal cups look really cute, too 🙂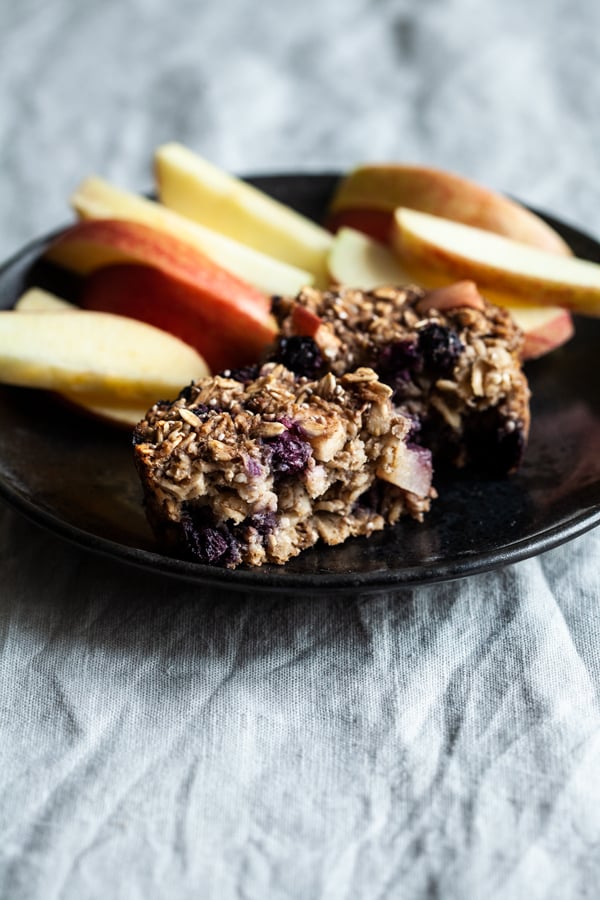 I love muffins and anything shaped like a muffin, but one of my challenges with muffin baking is that the muffin size always feels a little stingy. Lately I've been on the hunt for a larger sized muffin tin, which is why I'm happy I found McDonald Paper Company. It's a local supplier that sells restaurant equipment, but also  cutlery, cookware, baking supplies, parchment, kitchen and food prep tools, stainless steel food pans, storage items, and much more. And the site just happens to feature a six-cup muffin pan that's roomier than usual. It's a win-win for me: bigger portion size, fewer muffins (living on my own, having a dozen usually means shuttling extra to the freezer).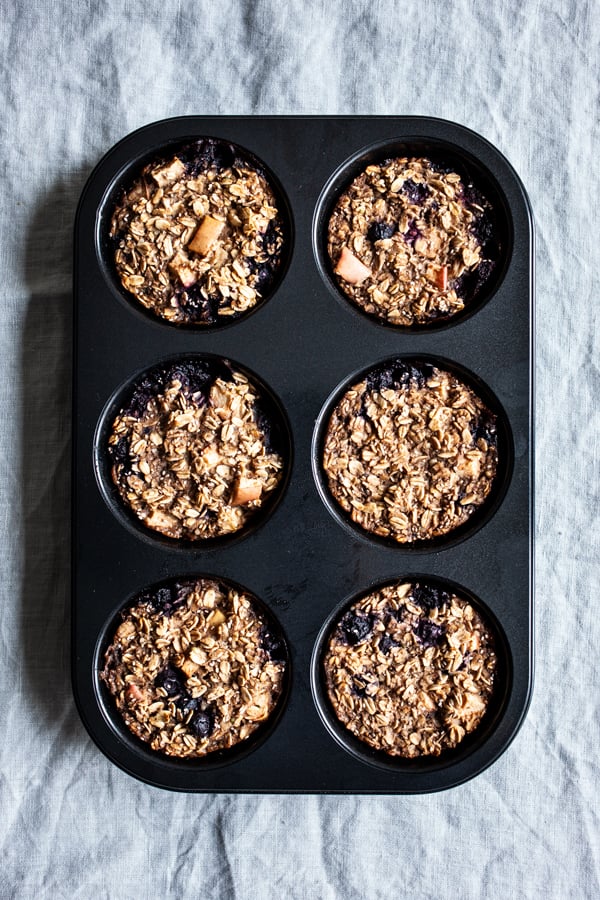 Years ago, when one of my closest friends was in culinary school, she advised me that restaurant supply stores are one of the best places to find a huge array of bakeware and cookware at great prices. I've visited a few here in NYC, often when I'm looking for a kitchen tool that's offbeat, and now it's great to know of an online option. In addition to the muffin pan, which I love, I got some of McDonald's parchment paper for baking and for the many batches of roasted veggies I've been batch cooking each weekend!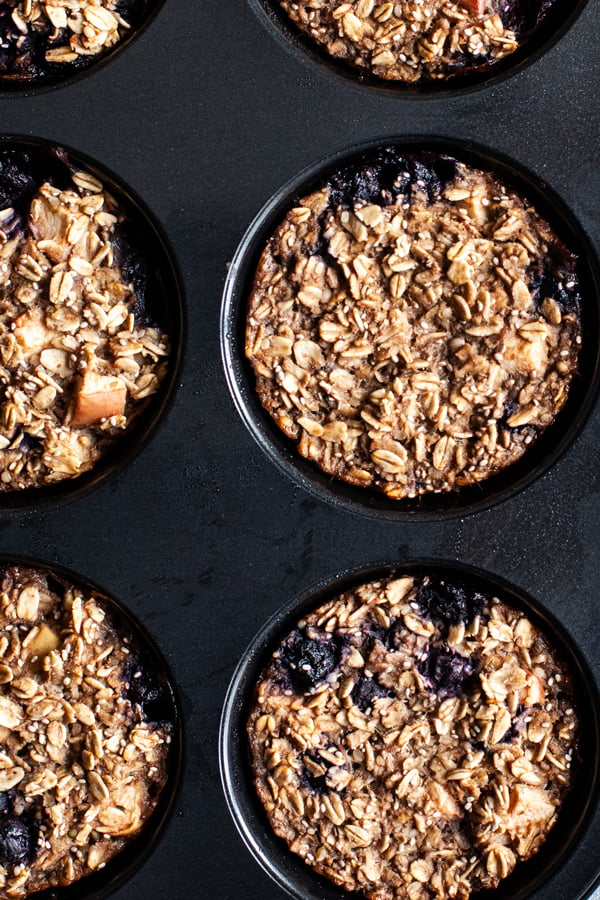 As for the baked oatmeal cups, they're stuffed with all of my favorite breakfast-y things: fresh fall apples, frozen blueberries, hemp seeds, flax, chia. They're sort of a hybrid of this blueberry banana oatmeal bake and these oatcakes. They're more portable than the former, less dense and dry than the latter, and probably my favorite recipe of this kind to date. Here they are.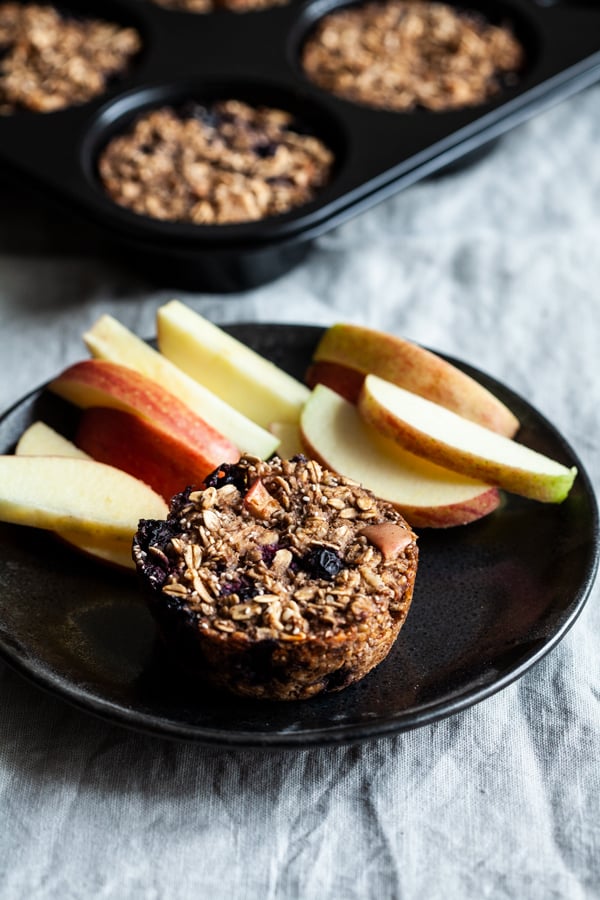 | | | |
| --- | --- | --- |
| Apple Berry Baked Oatmeal Cups | | Print |
Recipe type: breakfast, snack
Cuisine: vegan, gluten free option, no oil, soy free option, tree nut free
Author: Gena Hamshaw
Prep time:
Cook time:
Total time:
Serves: 6 large oatmeal cups
Ingredients
2½ cups rolled oats (certified gluten free if needed/desired)
¼ teaspoon salt
1 teaspoon cinnamon
1 tablespoon ground flax
1 tablespoon chia seeds
2 tablespoons shelled hemp seeds
1 large apple, chopped (about 1 heaping cup)
1 cup fresh or frozen blueberries
1½ cups soy milk (or a non-dairy milk of choice)
1 cup applesauce
Instructions
Preheat your oven to 350F and spray or lightly oil a muffin pan (6 large cups is great if you have one like this, but you can also make smaller cups in a 12-cup pan—you'll probably get about 10).
Mix together the oats, salt, cinnamon, flax, chia, hemp, and fruits. Whisk together the milk and applesauce. Mix dry and wet ingredients. Scoop the mixture into your muffin pan, filling the cups all the way to the rim (these won't rise). Bake for 35 minutes*, or until firm on the top and browning slightly at the edges. Allow oatmeal cups to cool before serving.
Notes
*If you use a standard muffin tin and have about 10 muffins, I recommend baking for about 20-25 minutes instead.
3.5.3251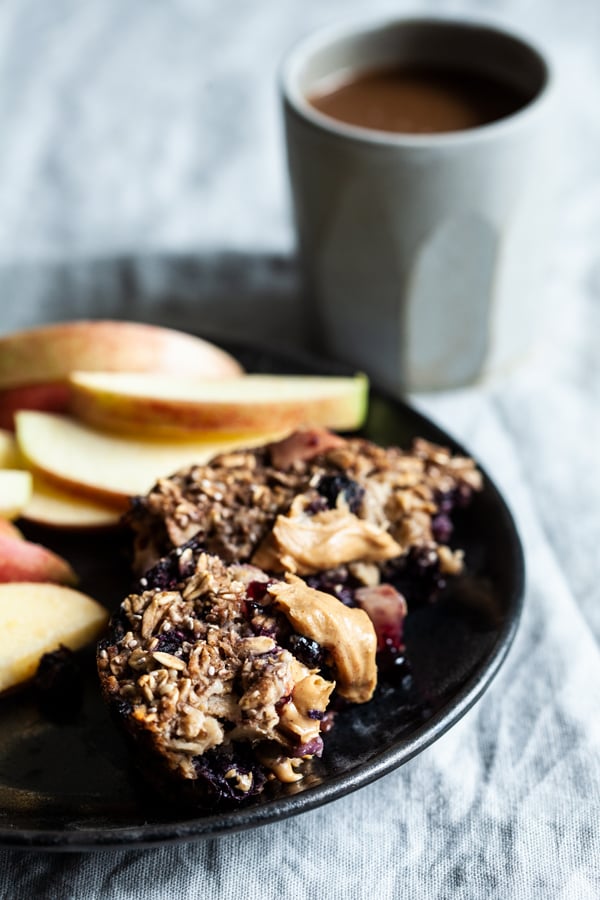 I've been serving the cups with some peanut butter and sliced apple, as you can see. They're great with a banana and a squeeze pack of peanut and almond butter if you're on the go (I confirmed that yesterday, when I had a particularly rushed morning). They're also a great, filling snack option. If you're especially hungry, a double portion is nice and hearty.
I'm sure I'll be making these throughout the year, using different kinds of fruit and different seeds/nuts. Nowadays, with all of the schedule change that's underway and all of the adjustment, having a comforting and familiar breakfast feels sweeter than ever. Enjoy—and happy almost Friday!
xo
This post is sponsored by McDonald Paper Restaurant Supplies. All opinions are my own. Thanks for your support!