Weekend Reading, 3.31.19 | The Full Helping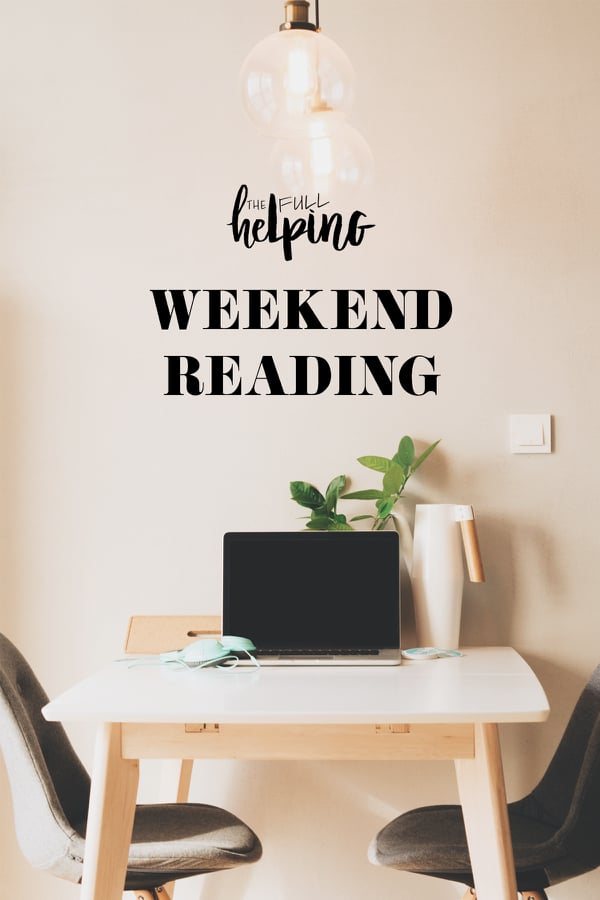 On Friday I wrapped up my very short but incredibly meaningful two-week rotation at the John Theurer Cancer Center in Hackensack, New Jersey. The commute wouldn't have made it sustainable for me to stay any longer, but I wish I could have. I valued pretty much every moment of the experience.
One of the things I was told about the dietetic internship before starting was that I'd probably be surprised by what I loved and what I didn't. Having had some counseling experience before starting my rotations, I wasn't sure how much this would apply to me, but it has. Not across the board, of course: there are some rotations I've suspected wouldn't be for me, which turned out to be true. And I'm reasonably sure that I'll love my GI rotation, which starts tomorrow.
I could never have guessed how much I would love working with seniors, though—a passion that emerged only as I was completing my rotation in long-term care. And while I thought oncology would be meaningful to me for personal reasons—having watched a loved one go through chemo and radiation therapy years ago—I didn't expect to enjoy the work in as many ways as I did.
It was intellectually stimulating and deeply interesting. I loved observing how teams of practitioners—doctors, nurses, social workers, researchers, and dietitians—came together in patient care, especially when handling a complex case. Most of all, I loved getting to know the patients and their families.
The big downside of this rotation, my commute aside, was feeling crummy for most of it: both the cold I started with and the seasonal allergies and fatigue that plagued me for the rest of my time at JCTT. I was so tired after my last day that I fell fast asleep on my commute home. It was an easy rotation insofar as my engagement goes, but it was difficult physically.
Over the years I've gotten good at recognizing traces of body judgment or body dysmorphia in how I relate to my appearance and shape. In recent years I've become aware of a related tendency, which is to feel easily exasperated and frustrated with my body when it's not at "peak performance." I've always been prone to stress, digestive troubles, allergies, and picking up bugs, which makes it easy to judge. And since I'm not twenty-five anymore, peak performance looks quite different than it used to. My energy reserves get depleted a lot quicker than they did even five years ago.
I have a ways to go with accepting my body's energetic limits. I know my boundaries, but I resent them; there's always a part of me that wishes I could do more. Illness can feel oddly triggering, the way fluctuations of the scale used to. Working in the health/wellness space, where boundless energy is often presented as an ideal, doesn't always help.
I've developed a lot of strong muscles when it comes to avoiding self-comparison about the way I eat. It's important for me to exercise that same strength in resisting the temptation to compare my health and stamina to other people's. My body is its own quirky, lovable entity. Sometimes I wish I'd given it an easier time when I was younger, rather than pushing its limits with overwork and self-starvation. I often wish it weren't as sensitive and responsive to triggers as it is.
But if my time at JCTT has reminded me of anything, it's the supreme importance of meeting our bodies where they are, both in sickness and in health. I'll continue to encounter physical challenges as my life goes on. Some will be irksome, others more serious. In those times body respect and self-care will matter more than ever. I can cultivate those capacities right now, by choosing not to dwell on the fact that I've been strung out. Instead, I can rest and give thanks to my body for getting me through another rotation, which is exactly what I've been up to today.
Giving thanks for this body of mine, and celebrating your bodies, too. Happy Sunday. Here are some recipes and reads.
Recipes
Dreena Burton's recipes are always no-fail, and I love the looks of her new sweet potato pasta sauce.
A simple recipe for spicy, garlicky broccoli steaks.
Laurel's chipotle sofritas bowls look so colorful and tasty—not to mention they're packed with plant protein.
Isa's garlicky white bean and asparagus soup is on my spring cooking list.
I think I'm going to celebrate getting to my final community rotation by making Kathy's irresistable glazed donuts.
Reads
1. I'm guessing that a lot of you are familiar with the basic lifestyle patterns observed in the world's so-called blue zones, but if you're not, here's a good recap.
2. The New York Times examines the link between pain perception and anxiety.
3. If I've ever appreciated simple and intuitive recipes and cooking, it's been throughout the last eight months. But I do like to have my hand held by a cookbook author, too—especially if it means I'm less likely to mess something up—and I could understand some of JJ Goode's case for long recipes. Even if I'm unlikely to re-enter that mode anytime soon.
4. Many religions ask for periods of abstinence or other special considerations around food. This topic can be under-discussed in our dialog about eating disorders, though in the last couple years I've seen many more personal testimonials about having an eating disorder during Ramadan. Likewise, I love Kimberly Robins reflections on reconciling eating disorder recovery with kashrut, or Jewish dietary law.
5. Undark takes a look at the difficulties associated with patient-matching, or matching patients with their appropriate medical records.
I had a delicious and lightly sweetened treat to share last week, but my rotation took priority in the last seven days. The good news is that I'll have it ready to share with you tomorrow. Till then, be well.
xo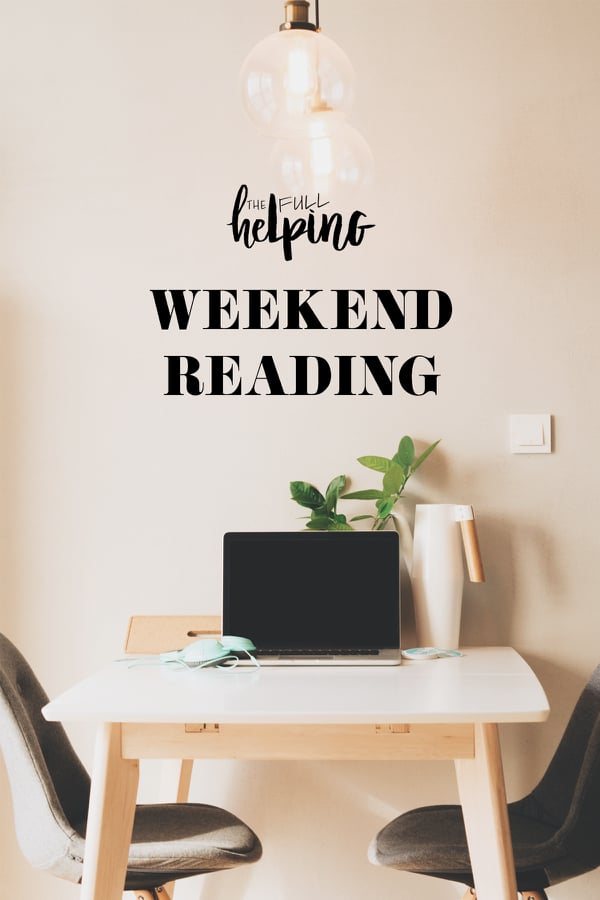 Happy Sunday, friends. It's been…a week. Nothing insurmountable, just a pile-up of a lot of things at once. They all had one thing in common, which is that they were largely outside of my control.
It started last weekend. A relationship that I'd actually been hopeful about (the first in a long time), came apart. Its unraveling felt as sad and mysterious as its beginning had felt bright and surprising. I guess it's a mark of some sort of progress that I understood all along that I couldn't really change the outcome.
As the week got underway, I was surprised to find myself in a particularly challenging professional/academic situation. This, too, lay outside of my control. "They" say—and I tend to believe it—that we can't control what happens to us, but we can control how we respond. Even trying to control my responses felt like a lot of work. By the end of the week, all I could do was acknowledge that things were difficult and I was doing my best to get through it.
Through all of this, I was waiting on health-related test results. They were fine, thankfully, but the experience was a humbling reminder that our bodies are vulnerable, and there's really only so much we can do to take health into our own hands.
There were other things, too. Small reminders that, no matter how hard I try to create a life that is safe and bounded and peaceful, I can't fashion a cocoon for myself. Life has other plans. Work intrudes. Other people have intentions and needs that vie with mine.
By Friday, I'd entered a state that's pretty foreign to me, which a kind of passivity. Or perhaps a better word would be acceptance. I wasn't fighting anything that was happening. I wasn't trying to change it. I wasn't even trying to manage things with particular elegance or grace; oftentimes when I'm struggling, I try to wrestle back control by crafting the most "admirable" response I can, whether it feels genuine or not. This time, I gave myself over to everything: to the fact that things were hard, the fact that I was struggling, and the fact that I didn't have the energy to pretend otherwise.
I can think of times in my life when resistance felt important and useful. I'm thinking especially of moments in my life as a graduate student, which has been marked by a lot of discouragement. It's been very important for me to fight against the impulse to give up; I'd never have gotten through my post-bacc or my masters program if I'd allowed the discouragement to get the better of me.
For the most part, though, I tend to overestimate how much conscious control I have over things. This is especially true in relationships, but it can also be true at work and in life as a whole. There are forces at play that have little to do with me. I can craft responses to my circumstances that feel healthy, honest, and kind. And—as I learned this week—I can also let go, stop trying to come up with the "right" responses all the time, and simply allow things to be. Which means allowing myself to be, too.
This shift in perspective has happened quietly, internally, and, until now, pretty unconsciously. No matter how subtle, it feels significant. I wonder how things would be if I allowed myself to feel this way—not indifferent, but unresisting—more often. I guess there's only one way to find out, right?
For now, happy Sunday. Here are some recipes and reads.
Recipes
I love the looks of Sarah's brown rice and sweet potato sushi.
A great, all-purpose plant protein option: sesame tempeh crumbles.
Not sure how I missed these in December, but Sophie's cauliflower steaks with pine nut salsa are so beautiful.
I've got a bag of whole wheat couscous that I've been wonderful what to do with. I think these FOK bowls just gave me an answer.
Finally, the vegan paella of my dreams.
Reads
1. A new study shows reduced risk of breast cancer death with a low-fat diet.
2. Interesting: the Guardian has changed its style guide to introduce language that accurately represents the environmental crises facing our planet. "Climate change" will now be "climate crisis," or "climate emergency," and "global warming" will be "global heating."
3. Would you see an AI doctor for diagnosis of a routine illness?
4. I've had the Sunday Scaries all year long, and they're particularly bad right now. Maybe Joanna's strategy of ending the weekend with a bang will work?
5. Finally, I love my friend Erin's essay about why she and her partner whipped up biscuits and gravy on the morning of their wedding. Here's a sneak peak:
…[T]here was no moment more perfect than our breakfast together. We sat in comfy chairs in front of our fireplace wearing regular clothes, eating piping hot food we'd made ourselves. It could have been any other day of our lives up to that point—and that's really what was so special about it. This day wasn't the day, or the only day. It was just a day.
Here's to a week full of everyday breakfast. Have a wonderful rest of the day.
xo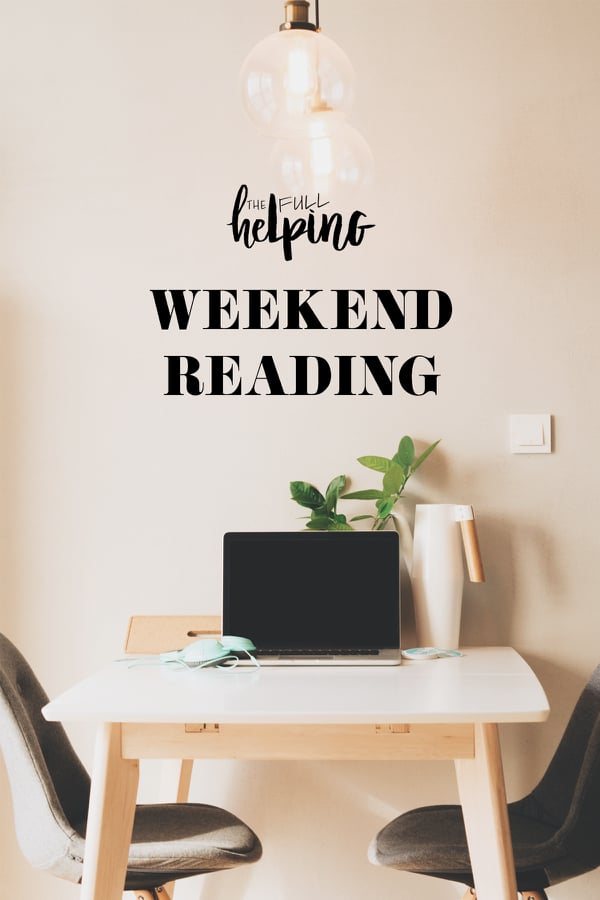 Happy Sunday, all, and Happy Mother's day to those who are celebrating it. I'm bringing my mom vegan cake, among other treats, and taking her to dinner. She was honored for her career in teaching this week, and I'm glad that she's being appreciated on so many fronts.
Few family relationships are uncomplicated, at least in my experience, but I'm blessed to have a pretty special relationship with my mom. Still, a skill I've picked up as an only child with a small nuclear family is to create family in as many dimensions as possible. Today has me thinking about all of the women who've mentored and nurtured me outside of my relationship with my mom.
Many of these mother figures have been yoga teachers. They've taught me how to respect my body, how to communicate my needs, and how to let care in. One teacher, who's still a good friend, demonstrated this to me with particularly poignancy a few months after a tough breakup two years ago. I'd been limping through her class, spending most of my time in child's pose because it's all I could do at that time.
One day, when she was instructing us on an inversion, she had us all gather along one part of the wall of the room. I inched myself as far away as I could from the other students, hoping that I could curl up on my mat and go unwitnessed. "Gena, please join us," Christine said. When I dutifully joined the rest of the class, she placed a hand on my shoulder and whispered to me "you need to be around people right now."
It was OK for her to say this because we were close and she knew what was going on. And she was right. I'd been hiding in my apartment for weeks by then, and I did need to be reminded that I could be suffering and held in a community at the same time.
Other mother figures have been professors who took the time to challenge me when I needed it most. I'm thinking of my genetics professor at Georgetown; after the first exam of the semester it looked as if I was at risk to flounder in the class, as I had in so many others. I visited her office hours with an air of defeat. She looked at me across her desk and said, "I don't think this is about ability, Gena. Right now, your discouragement is your worst enemy." I dug in my heels, worked harder than ever, and I've never been prouder for ending up in the center of the curve.
I'm thinking, too, of my undergraduate thesis advisor, who's still a friend. I remember arriving at her office hours in the middle of my senior year and announcing that I wasn't going to write a thesis at all. I was coasting by easily that year, suddenly a lot more interested in my social life than in school, exhausted of trying to exceed expectations.
Amanda paused and told me very directly that if I didn't write a thesis, I'd wrap up my entire undergrad experience with yet another 8-10 page paper—one I could probably write in my sleep at that point. It was my choice to do that, she told me, but wouldn't it be more interesting to tackle one more big puzzle before I graduated? She went on to explain how we could put it together in such a way that it wouldn't be too much of a burden.
I didn't love writing the thesis, and I'm not sure how good it actually was. But printing it five minutes before the deadline and sprinting across campus to turn it in on a spectacular spring afternoon is actually the most vivid and happy memory I have of my last few weeks at school. It felt like a culmination, something to commemorate my experience with, and I've never been sorry that I wrote it.
Before I started working in book publishing, I heard lots of stories about how women could be competitive and unkind to each other in the workplace. I don't doubt that it's true, but it's not the experience that I had. I had two female colleagues at the publishing house where I worked. Both took the time to mentor me, support me, and share work with me. They taught me a lot about professional graciousness, among other things.
Nowadays, a lot of my relationships with women who are a little older and wiser than me take the form of camaraderie that also holds space for mentorship and the gentle passing along of wisdom. I have a few yoga friends who I can relate to in this way, and I've formed these kinds of bonds through blogging, too. It is such a gift, and it gives me a sense of how I might befriend and nurture women younger than me in the future.
Today I'm sending gratitude to all of the women who have taken time to be generous, loving, and supportive with me. I'll pay it forward in good time. Here are some recipes and reads.
Recipes
I'm drooling over Joy's roasted cauliflower plantain tacos (and the lemony pesto that accompanies them).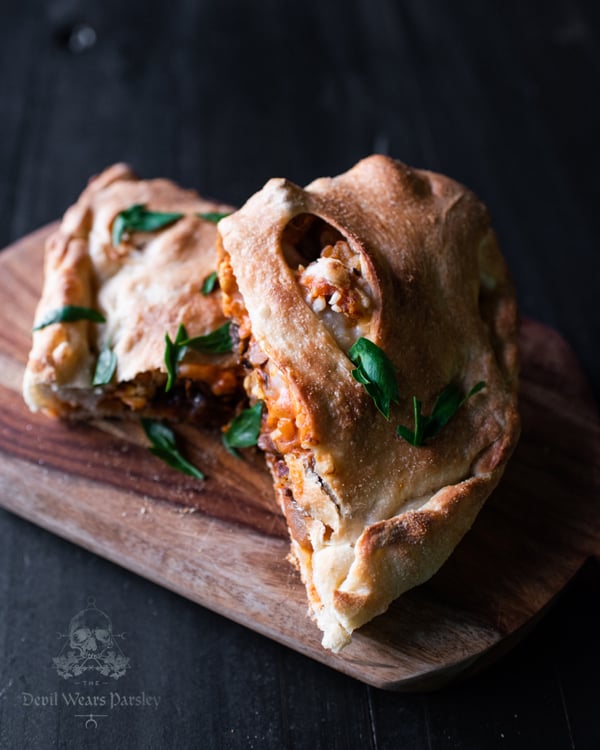 I've never made a vegan calzone, and these tempeh calzones are the place I'd like to start!
Kate's recipes are foolproof, and I can't wait to try her version of mujaddara.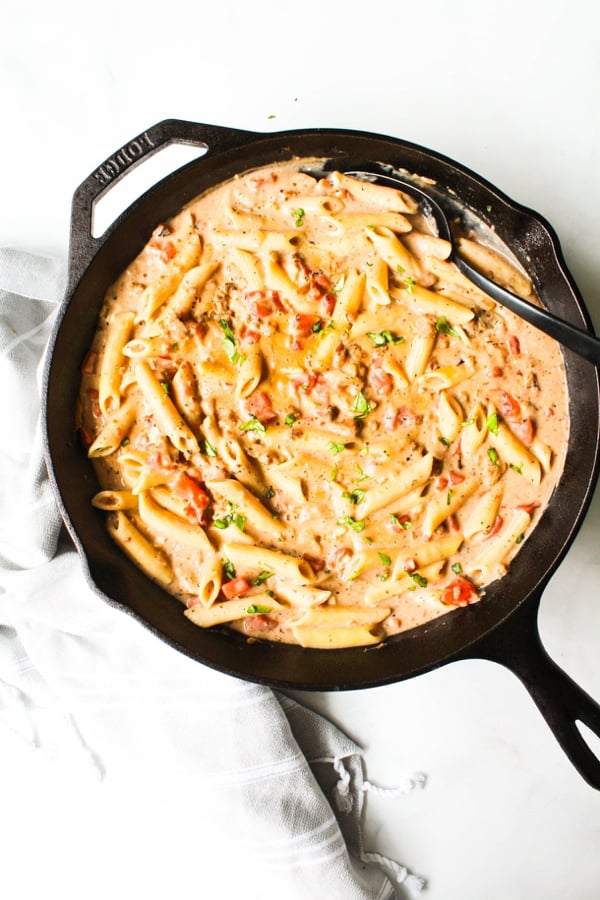 This creamy vegan sausage pasta skillet is most definitely my kinda comfort food.
For dessert—and as the temperatures rise—I can't wait to try Jessica's frozen peanut butter & jelly bars!
Reads
1. One of my coworkers is observing Ramadan, and she has taught me a lot about the month and her experiences each year. This article includes helpful information about how to communicate questions and curiosity about Ramadan or fasting in the workplace.
2. The Atlantic reports on new types of software that can measure brain volume. Coupled with MRIs, they may be able to help neurologists to better screen, diagnose, and formulate treatment plans.
3. An interesting look at what happens when good things become ruts—or rather, the whole life cycle of a good thing. (I liked the tie-in to "second acts" of relationships.)
4. I loved this article, which details how an art therapy project in an Alaska Native village helps teens talk about suicide in their community.
5. If I learned about anything in my long-term care and acute care rotations, it was dysphagia. Still, dysphagia—which is difficulty swallowing—receives relatively little mainstream attention in spite of how common it can be in clinical settings, and how significant its nutritional implications are. This Mosaic article isn't new, but it's detailed, and it explains more.
Have a wonderful Sunday, friends. A new recipe is on the way this week.
xo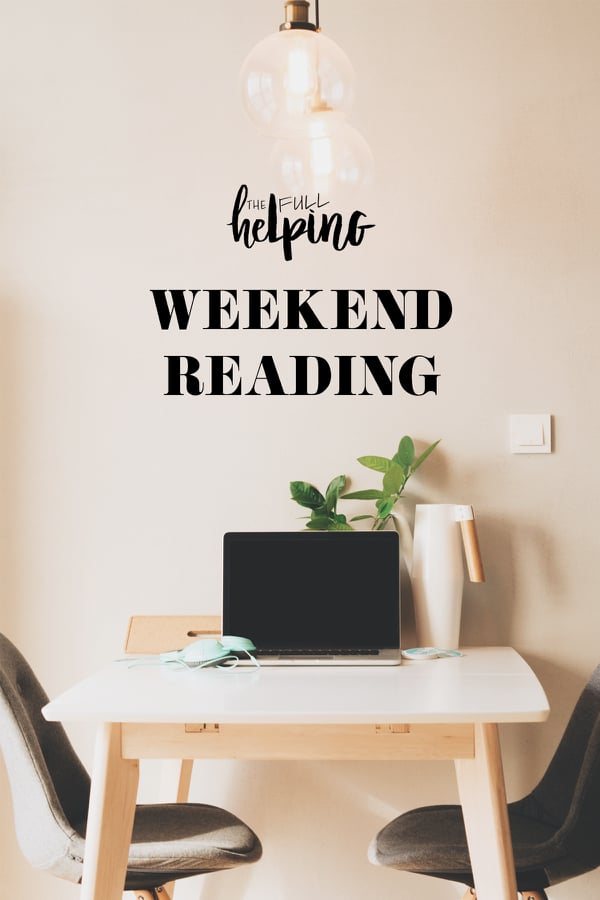 My voice is hoarse from singing, and lots of it. I was at a kirtan last night at my yoga studio, basking in that awesome community and the friendships I've made within it. The kirtan featured mash ups of Vedic chants and contemporary songs: the Beatles, Magnetic Fields, Madonna. The kirtan purist in me was a little affronted when I heard that the program would work this way, but I'm glad that I kept an open mind. It was wonderful.
Kirtan and yoga: two experiences that make me feel both light and joyous. I emphasize this fact because this month, May, is mental health awareness month, and because lightness in particular is not a sensation that comes easily to me. I've struggled with depression, on and off, for a long time. Even when it's distant, which it often is, I have a melancholy temperament. I've had it for as long as I can remember, and with it the tendency toward excessive rumination, seriousness, and sadness.
You probably wouldn't realize this meeting me for the first time. I tend to come across as confident and upbeat. It's not an affect; I'm both of those things in many ways. But, like many people with melancholy temperaments, I've learned to keep my sadness bounded. The sunny disposition is something that I cultivate consciously, for myself as much as for others, working against the pull of dark moods.
This is a hard thing to admit to in the age of Instagram, with all of its glossy imagery and carefully curated narratives. It's especially hard to admit when you spend a lot of time on social media, by choice and by necessity. It runs against the "positive vibes only" trope, which seems more and more predominant these days.
I don't take that imperative too seriously (and I don't actually dislike it, depending on the context), but how to make sense of it when your positive vibes share space with a whole lot of not-so-positive ones? I often hear that we "choose our thoughts," but is that the case when thoughts are both repetitive and intrusive? And, while "happiness is a choice" feels spot-on to me sometimes, how true is it, really, when you have depression?
I've been writing about eating disorder recovery for a long time: naming it, owning it, disclosing the little, unsavory details. That, combined with the softness and self-compassion that recovery teaches, has allowed me to release pretty much all of the shame that surrounds the disease. It doesn't trouble me to talk about it, even when that means talking about the messiness and non-linearity of my recovery.
I'm not sure I feel this same lack of shame when it comes to talking about other mental health struggles. I'm getting used to naming my depression and anxiety, but there's still a moment of hesitation when I do it—less when I'm here than when I'm out in the world. It's not hard for me to admit that I'm anxious—heck, so many of us are—but admitting to having had panic attacks is a little different. And it's hardest of all to talk about the fact that I've self-harmed in the past, though that's an honest part of my story, too.
When one's culture is heavily oriented toward the conscious cultivation of a positive mindset and a happy posture, difficulty accessing happiness can feel like failure. Mental health struggles, no matter how hard we're working to de-stigmatize them, can feel like failure, too.
As I was writing this post, I asked myself a question that I've asked about my eating disorder: would I take it back if I could? It's a trick question, of course. The disorder, like everything else, is part of who I am. Wishing that I could erase it would be akin to wishing I weren't myself, and—the obvious quips aside—that's not actually what I want. ED recovery, with all of its lessons, is part of who I am, too.
I don't pretend to regard my mental health struggles as blessings. That feels too pat, and it's not exactly the truth. I often wish I could feel contented more easily, that I didn't obsessively overthink things, that negative thought patterns weren't so often my default. I wish that sadness didn't sometimes descend on me without warning, like stormy weather. But these patterns aren't active choices; they're tendencies that are built into my foundation, so to speak. I have do a degree of choice about how I manage them, and I've developed a toolkit that invites me to challenge them when I can.
In the meantime, I do my best to make peace with myself and my history, which is another skill that recovery has gifted me with. I take comfort in the fact that happiness may be a little elusive for me, but I have steady access to a wide spectrum of feeling. It includes joy, awe, pleasure, and love. It also includes grief, anger, and loss. Anyone who has experienced depression as a kind of numbness and absence of feeling—which is how it has felt to me at its very worst—might understand when I say that experiencing true feeling, both painful and pleasurable, registers as a gift.
Depression and anxiety have taught me a lot, just as anorexia did. They've taught me to give thanks for what's sweet. We read a lot about practicing gratitude these days. It always sounded like a worthy exercise to me in the past, but depression is actually what has taught me how to do it. Without fearing pain or despair, I give thanks for every moment of gladness.
Depression and anxiety have also taught me to stop sweating the small stuff. This isn't to say that I don't get agitated about work, relationships, and family—who doesn't? But the little things—annoying encounters, train delays, boring errands, crummy weather—they don't bother me the way that they used to. It's not because I'm an especially calm or sensible person. It's because I remember how deeply unhappy I was a few years ago, and when I remember that, life's little irritations stop mattering quite so much. Having fought for happiness, I'm eager not to squander it.
A couple years ago, at Maria's suggestion, I read Naomi Remen's Kitchen Table Wisdom. In it, she writes "wounding and healing are not opposites. They're part of the same thing. It is our wounds that enable us to be compassionate with the wounds of others . . . I think I have served people perfectly with parts of myself I used to be ashamed of. "
These words capture the best way I have of understanding my own struggles with mental health. As long as the struggles are there, and they probably always will be, I consider the ways in which they've made me stronger, more resilient, more empathic. I ask myself whether they've enriched my perspective on life or made me more appreciative of love and kindness. The answer to both questions is yes.
Mental Health Awareness month or not, I'm glad for any opportunity to create a real, non-judgmental, and compassionate conversation about the mental illnesses that affect so many of us. If you've got one, or a couple, know that we're all in it together. Today and always.
Happy May. Here are some recipes and reads.
Recipes

Kathy's easy blueberry sauce is perfect for topping waffles, pancakes, oatmeal, French toast, and all of the other breakfast things. I've been making a similar one with frozen blueberries this winter, but I'm going to take her advice and add some cornstarch for a little thickening!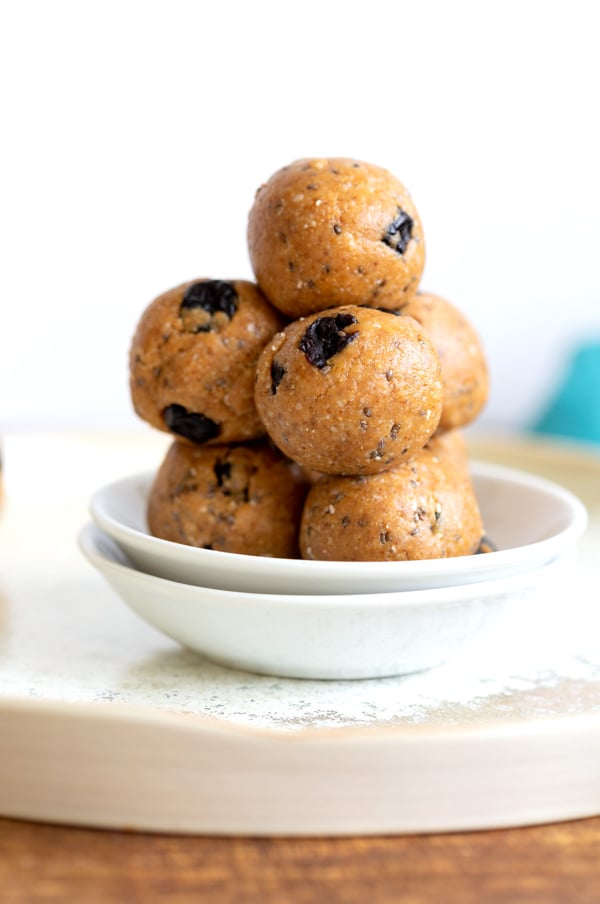 Speaking of blueberries, Richa's blueberry muffin energy bites will be perfect fuel for my upcoming food service rotation.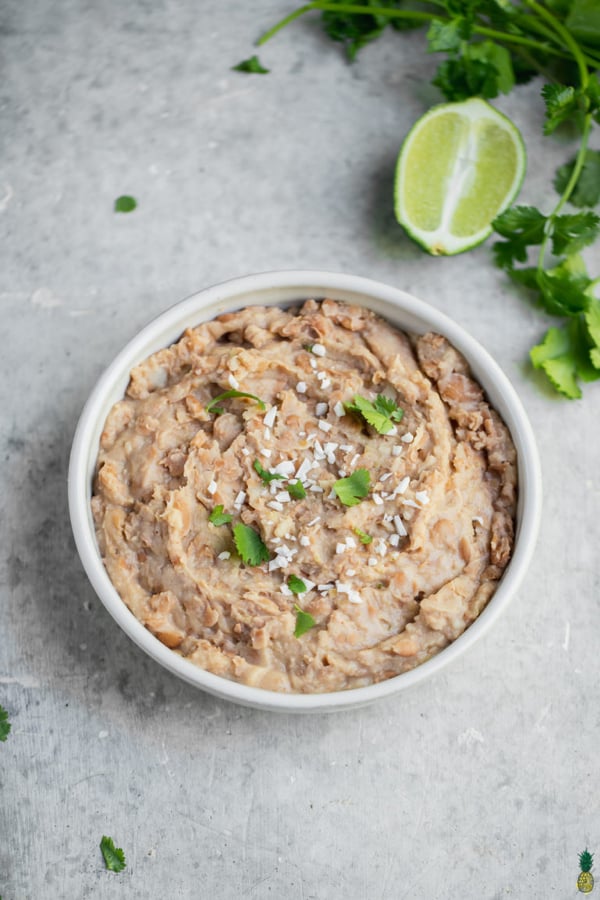 I eat a ridiculous number of breakfast tacos. I think Jasmine and Chris' vegan refried beans may need to become a new staple ingredient.

For the olive lovers out there, a simple, elegant, briny spring pasta.
Finally, my sweet friend Jessie May is launching a vegan cookbook club, and she kindly chose Food52 Vegan as one of the first selections! She's sharing the book's muesli now on her blog (and reminding me to cook more from this one, which has gotten a little neglected since Power Plates came out).
Reads
1. Lots of good news about the mainstreaming of vegan meats this week.
2. Julie Kim has written a brave and beautiful essay about her daughter's congenital genetic disorder how it has changed her experience of parenting.
3. I think Erika's baking experiments are mesmerizing, and I loved this Taste profile of her work.
4. A new study finds that girls who have serious or repeated infections in childhood are at higher risk for developing eating disorders in adolescence. It's unclear whether anti-infective agents or psychological factors (stress and trauma associated with serious illness) explain the association, but it's interesting. The New York Times reports.
5. Not a new article, but I just found and loved Robert Sietsema's ode to NYC's last standing hippie cafés—places where a macro plates are in abundance and TVP and seitan continue to take starring culinary roles. This is the way I love to eat, and it always will be, no matter what other plant-based trends pop up. Reading the article reminded me of my own farewell tribute to the late, great Angelica Kitchen. Thank goodness that a few of these old-school treasures are still around.
Tomorrow morning I begin my food service management rotation. I don't have a schedule yet, so I'm not entirely sure what to expect, but I'm taking a second to acknowledge that I'm only two rotations away from completion of the internship (it'll be done mid- or late July). My stamina is waning a little, but I'm still going. Sending you love, and see you around here this week.
xo