Simple Baked Bulgur & Chickpeas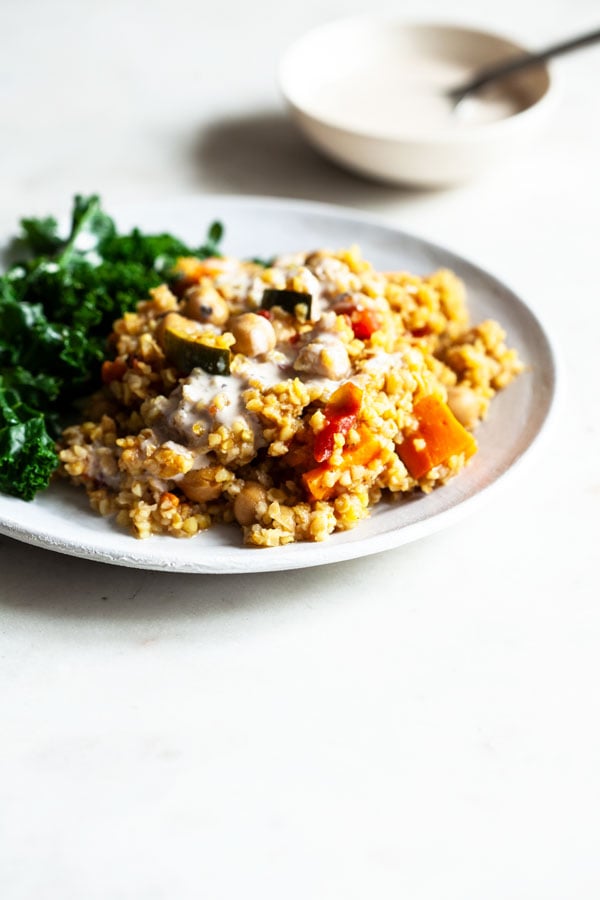 I'm debating whether I should keep including "simple" in my recipe titles, since simple food is the name of the game lately, and really since my internship year started. But I guess it never hurts to call it out.
Anyway: this bulgur chickpea dish is indeed very simple, as the name implies. There's some cooking time involved (though it's worth saying that it can be shortened if you tweak the recipe ingredients a little), but the dish involves almost no active work. It's as easy as mixing ingredients up and slow cooking, but in this case the oven does the work for you.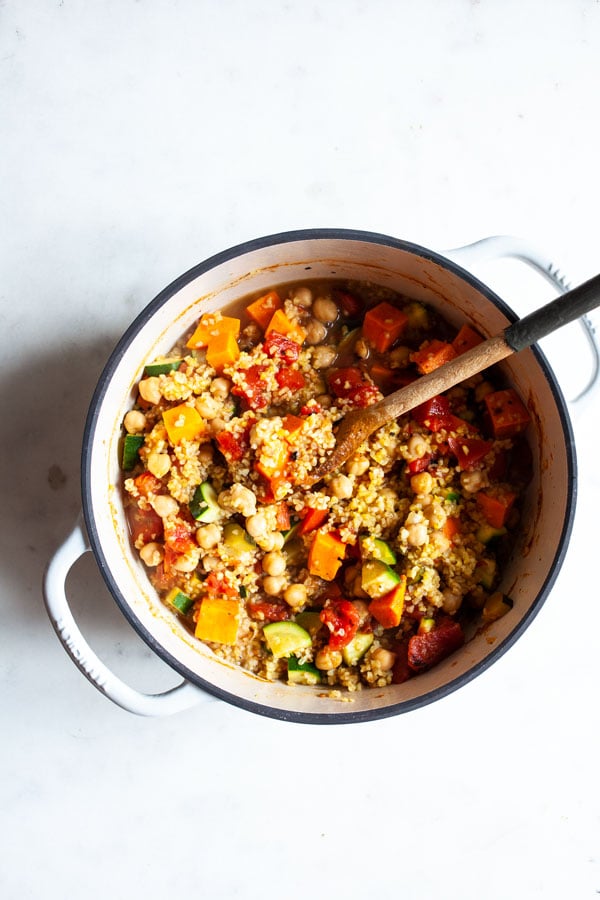 Beyond that, the recipe is full of nutrition—fiber, protein from the combination of bulgur and beans, adjustable on sodium and naturally low in fat—and incredibly easy to customize. I've been using a combination of chickpeas, sweet potatoes, canned tomatoes, and the un-seasonal addition of zucchini. Broccoli, cauliflower, green beans, and cabbage would all be great additions or substitutions.
Speaking of that: I've tried the recipe with butternut squash in place of sweet potato and without either. The cooking time can be reduced to 25 minutes without the sweet potato or winter squash; with one or the other, it needs a full 45 minutes in order for those vegetables to be cooked through. So if you'd like to make this in a pinch, you could try another, faster-cooking veggie instead.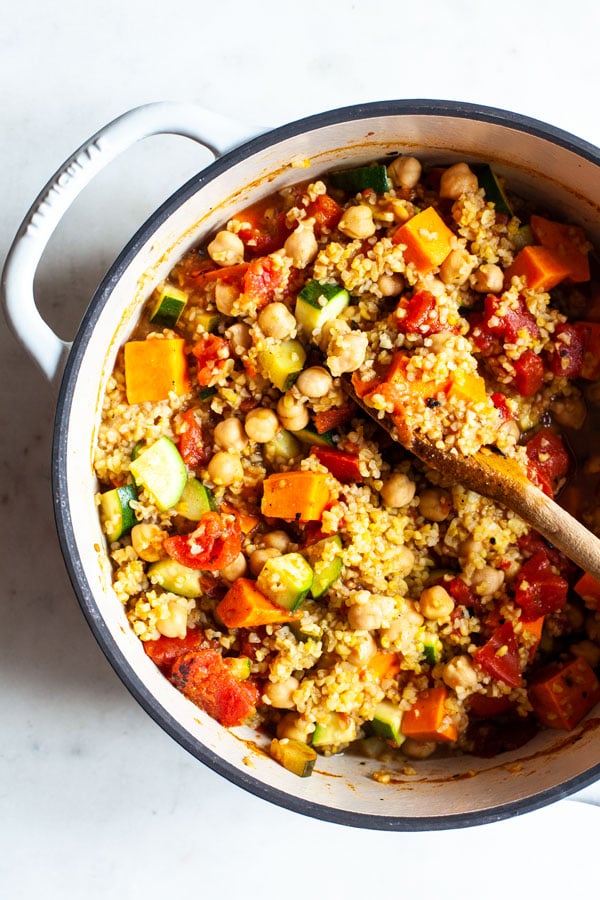 I kept the seasonings simple, but as I've been saying often these days, customize with what you have. Plenty of spices would be lovely in the recipe, including crushed red pepper flakes, which I didn't add only because I tend to be conservative with spice. I don't recommend skimping on the everyday lemon tahini dressing that's linked in the recipe below; it gives the dish a touch of acid and creaminess that really enhances the experience of eating it! But if that dressing isn't your thing, yum sauce or delightfully green tahini dressing would be great, too.
Here is the nourishing, hands-off, and simple indeed recipe.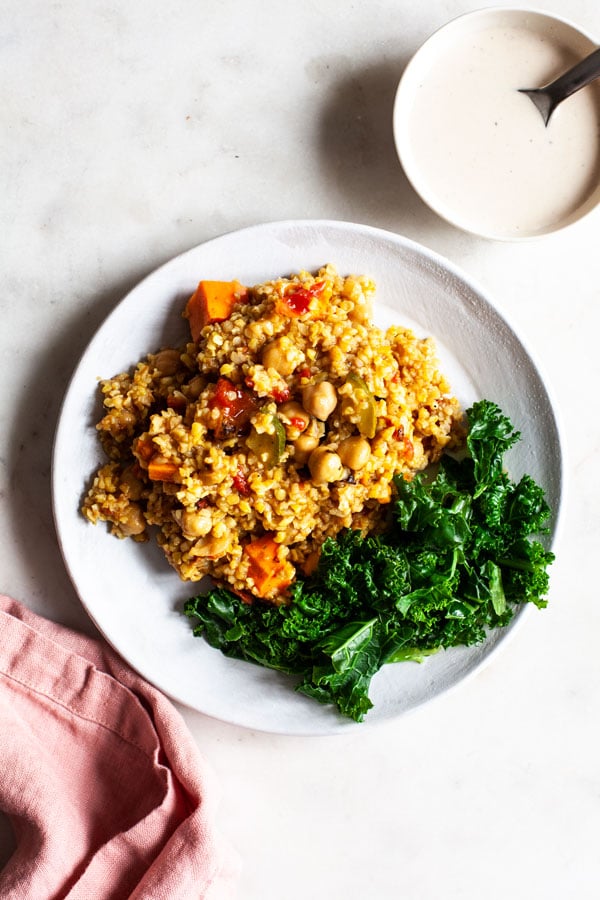 Simple Baked Bulgur & Chickpeas
This dish of simple baked bulgur & chickpeas is rich in fiber, protein, an array of phytonutrients, and it's easy to prepare. Served with a bright, creamy tahini dressing! 
Prep Time10 mins
Cook Time45 mins
Total Time55 mins
Ingredients
1

cup

bulgur wheat (dry)

1 1/2

cups

cooked chickpeas (1 can, drained and rinsed)

1 14.5

ounce

can fire-roasted, diced tomatoes

1

small zucchini, chopped

1

medium sweet potato, scrubbed or peeled and chopped (substitute 1/2 lb cubed butternut or other winter squash)

2

cloves garlic, finely minced (substitute 1/2 teaspoon garlic powder)

1

teaspoon

ground cumin

1 1/2

teaspoons

ras el hanout (substitute 1/2 teaspoon coriander, 1/2 teaspoon ground ginger, 1/4 teaspoon cinnamon, and 1/4 teaspoon cardamom)

1/2

teaspoon

fine salt

pinch

freshly ground black pepper

2 1/2

cups

low sodium vegetable broth

1

batch

everyday lemon tahini dressing
Instructions
Preheat your oven to 375F. Mix all ingredients together in a Dutch oven, a cast iron baking dish with a lid, or any other casserole dish with a lid. Cover and bake for 35 minutes. Remove the lid and bake for another 10 minutes. 

While the bulgur bakes (or ahead of time) make the everyday lemon tahini dressing. To serve, drizzle the bulgur generously with the dressing and enjoy!
Notes
To shorten cooking time to 25 minutes covered and 5 uncovered, omit the sweet potato or replace it with a faster cooking vegetable (like cauliflower or green beans).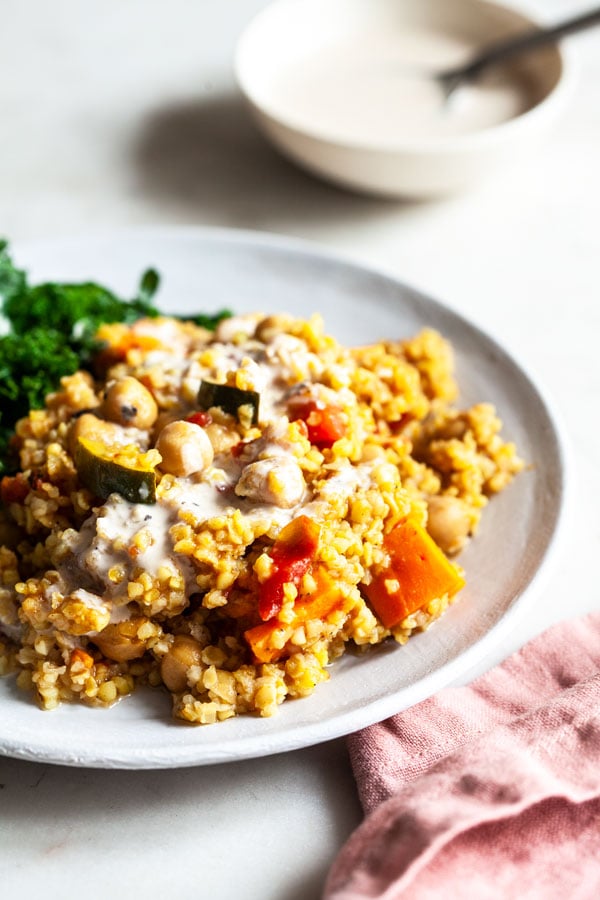 This recipe is a truly perfect option for meal prep/batch cooking, since it can simmer away in the oven while you do or prep anything else you need. And it makes generous portions: enough for four hearty dinner components (I've been serving it simply, with steamed greens and lots of the dressing) or six portions if you're using it as a side dish with something else that's substantial. No matter how you serve it, I hope it saves you time and gives you pleasure.
This week has been busy so far, with a nutrition workshop/conference yesterday and my final week at my current internship site. I've used my evenings to get grounded as best I can and my mornings to reflect on things during my commute. It's all a work in progress…but it's progressing. Happy Wednesday, friends!
xo
Longer Lasting Meal Prep with FoodSaver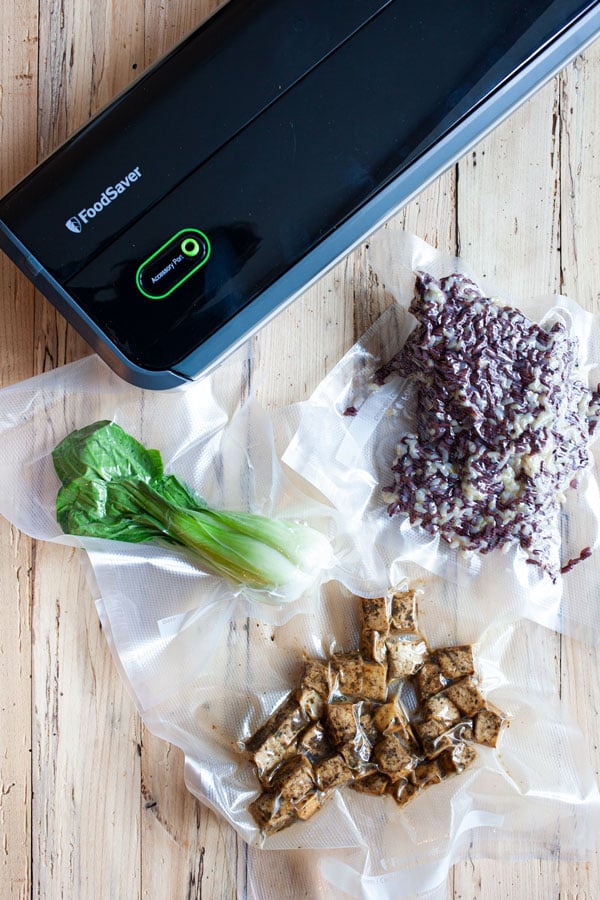 This isn't a recipe post, but it touches on something that has been near and dear to my heart this year, as a dietetic intern: leftover storage.
During my clinical rotations, half of every Saturday and Sunday were dedicated to meal prep and batch cooking. Yes, it was a lot of time, and yes, I often wanted to be doing other things with my weekend afternoons, but in that period I got home pretty late each evening. Cooking after a long day of acute care and commuting wasn't an option, and I still wanted to enjoy homemade meals. Batch cooking and freezing was the solution. Below you'll see a typical week's Sunday bounty.
Now that I've moved into community and food service I have more leeway, either because my schedule is more lenient (which was true in my last rotation) or because I have less cooking to do (this is true at the moment because I get complimentary lunch and breakfast at work). Still, I batch cook my weekly dinners, and the need for efficient storage is as real as ever.
When the folks at Foodsaver offered to send me one of their FoodSaver® FM2000 Vacuum Sealing System, I was intrigued but unsure: I've never used this kind of storage system, and I figured maybe I didn't need another appliance in my little NYC kitchen. Now that I've had a chance to get to know the machine, I'm so glad to have it, and it's getting plenty of use.
The advantage of the Foodsaver is that it reduces oxygen in stored food. Less oxygen means that food is less susceptible to bacteria and other pathogens growing. This means that food leftovers can be stored safely for longer—I'll get to that in a second—and that the quality is stretched for more time, too.
Foodsaver's real super strength is in freezing. Whereas food can usually be kept in the freezer for 3-6 months, food that's been vacuum sealed with the Foodsaver can be stored for 2-3 years. When I first read this, my reaction was to think that nothing would ever want or need to hang out in my freezer for a matter of years. But then I asked myself whether or not I've ever pulled food out of my fridge that's at least 6-8 months old, and the answer is…yes. Definitely yes. And wouldn't it be great if I could eat that slice of bread, those tortillas, or those frozen chickpeas?
Freezing aside, Foodsaver extends the life of fridge and pantry leftovers, too. The life of most produce (including the baby bok choy you see above!) can be prolonged to 2 weeks, rather than the usual 3-6 days. Even berries can be extended to 1-2 weeks—much longer than their usual fridge life (I feel as though berries in particular often go bad before I've been able to use them). If you're curious, you can check out this chart on the Foodsaver website to check approximate storage times for various foods, as compared to conventional storage time.
I often bake a block of tofu over the weekend for use in salads and bowls through the week, but it's not uncommon for me to have a half or a quarter of the batch that sits in my fridge for too long. Cubes can be vacuum sealed beautifully with the food saver, as can my cooked grains and beans; you can see that I vacuum sealed some black and short grain brown rice together (rice is another grain I tend to make a lot of and sometimes waste).
The appliance is super easy to use—it would have to be, for me to figure it out as quickly as I did! You simply insert the open end of a bag into the device and turn it on. The machine removes air on its own and creates an airtight seal. To re-open the leftovers, you can simply cut the bag open.
My machine came with a roll that could be shaped into bags and pre-shaped bags. So far I've been relying on the bags and would probably opt to keep doing that, but the roll is good for larger items. It comes with a five-year warranty, is ETL safety certified, and I wasn't at all surprised to learn that Foodsaver is the leading vacuum sealer brand in the country.
When you live alone and cook a lot, it's easy to misjudge and waste food. I do this as seldom as I can, but it happens, and this machine is allowing it to happen less often. As I said, I know this isn't a recipe post, but storing food is as much a part of being a home cook as everything else. I've had a great time using the FM2000, and if you do a lot of freezing and storing of your own, I suspect you might have a similar experience.
On that note, it's time for me to wrap up my second week of food service management and to think about what I'm cooking this weekend. Happy Friday, friends!
xo
This post is sponsored by Foodsaver. All opinions are my own, and I love this means of extending the life of my food. Thanks for your support!
Jeanine Donofrio's Baked Red Lentil Falafel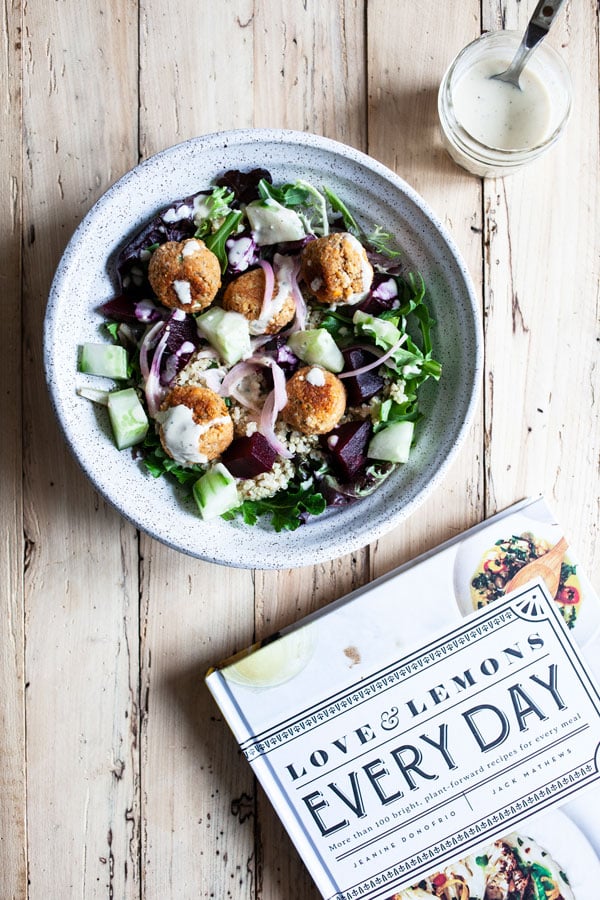 I've always espoused an "everyday" approach to cooking. I'm a home cook, not a chef, and I doubt I could pull off gourmet cuisine if I wanted to. Even when I eat out, I gravitate toward food that's simple and filling; fancy (and fussy) preparations are never for me.
This isn't to say that I don't get lured in by showy meals or ambitious kitchen experiments. This was more true when I started blogging than it is now. Sometimes I read older recipes from the blog, or peek at recipes from my first two books, and I marvel at the fact that I had the time and patience for as many steps and ingredients as were called for.
Sometimes more is more—a little extra cook time or that one specialty condiment or spice really can make a big difference in a dish. But maintaining a home cooking routine over years and decades means constantly adjusting the process to fit the reality of one's life. This year in particular has shown me that less can be more; with the DI, I haven't had the time or the patience for recipes that are ambitious. And I'm less interested than ever in recipes that have a high risk to reward ratio. Trying and failing at recipes is a great teaching process, but right now I need recipes to work, if only because I don't have the time to fix them.
All of this means that I've spent this year focused on recipes we might call "foolproof." I've never liked that word as a recipe descriptor; it sounds so definitive, and cooking isn't a perfect science. But you know what I mean. I've been turning to some of my favorite, old-school cookbooks (everything from Laurel's Kitchen and the Moosewood books), and I've loved cooking through Power Plates again, focusing on the dishes that I know come together the most easily.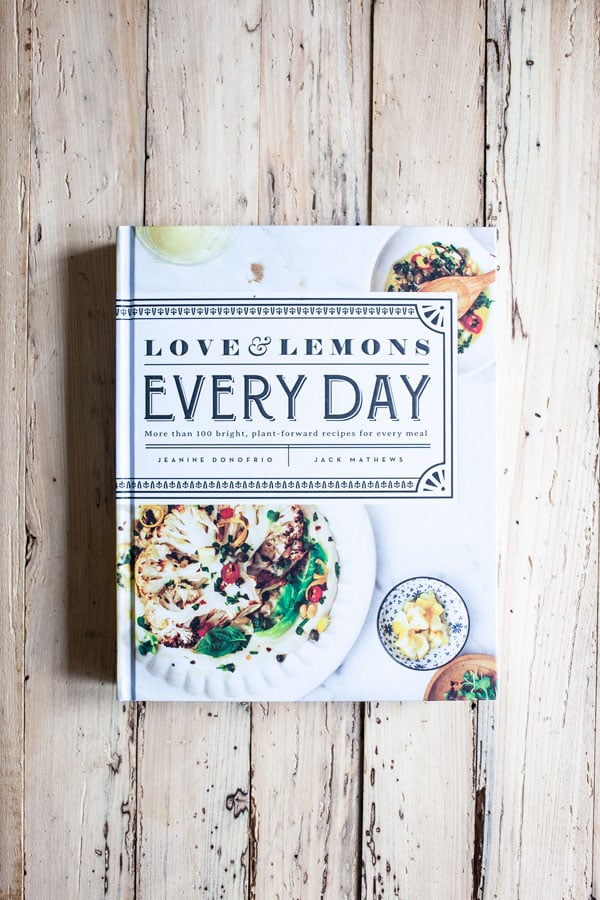 It's a perfect time for me to have gotten my hands on a copy of my friend Jeanine's beautiful new cookbook, Love and Lemons Every Day. It's an extension of Jeanine's popular blog, Love and Lemons, and her first cookbook, both of which are beloved for their simple, bright, wholesome recipes. Jeanine has a way of creating food that feels classic (and classy!) with short lists of ingredients and a cheery, welcoming approach. I can always turn to her work for a light, vegetable-driven pasta dish, a stellar salad, or a crowd-pleasing appetizer.
Love and Lemons Every Day is just what it sounds like: a collection of the recipes that Jeanine relies on in her own life, day in and day out. What I love most about this book isn't only the emphasis on simplicity, but also Jeanine's wizardry with vegetables. The book focuses on finding ways to use vegetables creatively: butternut queso, broccoli rice, sweet potato frosting. Sometimes using veggies as a base for everything (pasta, rice, sauce, etc.) strikes me as an attempt to keep calories low. In the case of this book, and Jeanine's work in general, these sleights of hand feel like a genuine, enthusiastic celebration of fresh produce. And Jeanine includes a lot of tips on reusing vegetable scraps and avoiding food waste.
As I was flipping through the pages of the book, there were so many recipes I wanted to try, from Beet Muhammara Dip to Broccoli Rice Burritos, Zucchini Verde Enchiladas to Vegan Date Brownies. The book isn't 100% vegan, but it's close, and nearly all of the vegetarian recipes can be easily modified to be vegan.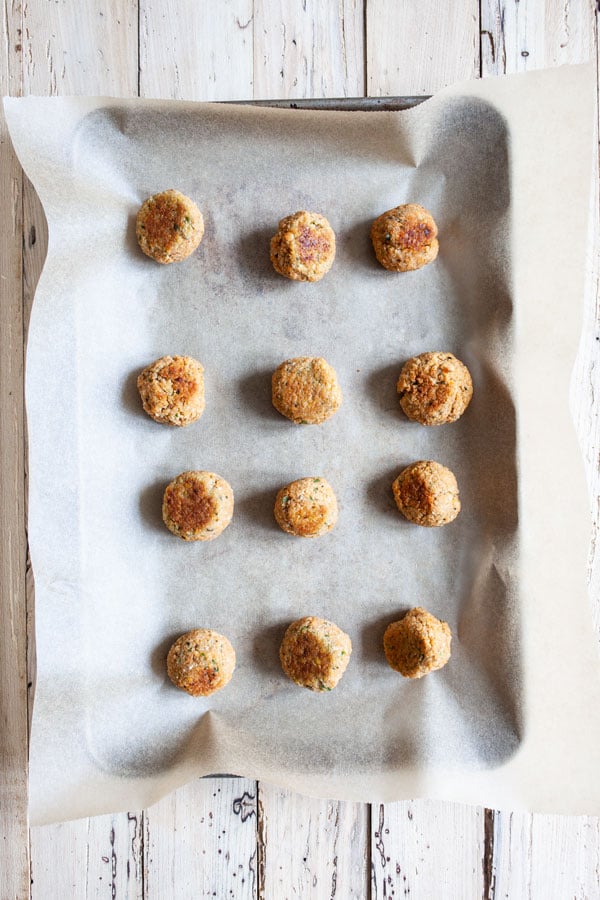 In the end, what I settled on was Jeanine's red lentil falafel. Part of this was sheer curiosity about the technique: Jeanine gives lentils an overnight soak rather than boiling them, then adds them to the food processor (along with herbs and hemp seeds). I'd never thought to try this, but it works perfectly.
I also loved the idea of making these falafel because I knew they'd be easy to batch cook and freeze. And they are. I whipped them up late last week and am still making my way through them—plus I've got a bunch in the freezer for next week's packed lunches. They're savory, protein rich, and—thanks to garlic, parsley, and cilantro—full of flavor. Here's the recipe!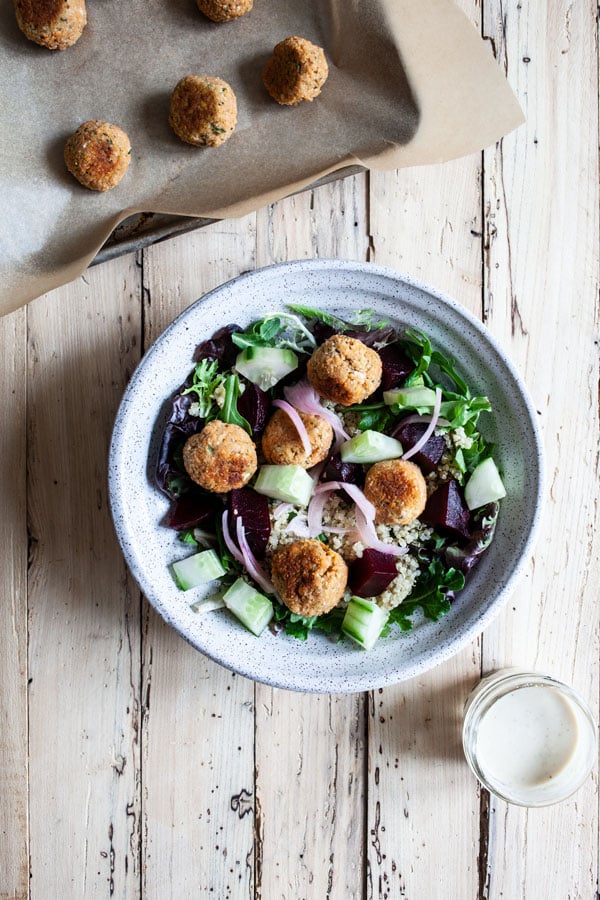 Jeanine Donofrio's Baked Red Lentil Falafel
Servings: 4 servings
Ingredients
1

cup

uncooked red lentils, soaked overnight, drained and rinsed

1

medium shallot, chopped (about 1/3 cup)

1/4

cup

shelled hemp seeds

3

garlic cloves

1

teaspoon

ground cumin

1

teaspoon

ground coriander

1/4

teaspoon

cayenne pepper

1

teaspoon

lemon zest

1

teaspoon

sea salt

1/4

teaspoon

baking powder

1

cup

chopped fresh cilantro leaves and stems

1

cup

chopped fresh parsley leaves and stems

1

tablespoon

extra virgin olive oil, plus more for drizzling

1/4

cup

panko bread crumbs
Lemon Tahini Sauce
1/4

cup

tahini

2

tablespoons

fresh lemon juice

3

tablespoons

water, plus more as needed

1/4

teaspoon

sea salt
Instructions
Preheat the oven to 425F and line a large baking sheet with parchment paper.

In a large food processor, place the soaked lentils (they'll be plump but still raw at this point), shallot, hemp seeds, garlic, cumin, coriander, cayenne, lemon zest, salt, baking powder, cilantro, parsley, and olive oil. Pulse until well combined but not pureed. Use a spatula to scrape down the sides of the bowl as needed. Transfer to a medium bowl and stir in the panko.

Use a 2-tablespoon scoop to form the falafel mixture into 18 balls (be careful not to pack the balls too tight or your falafel will be dense). Place the balls on the baking sheet and gently press to form thick patties. Drizzle the patties with olive oil and bake for 10 minutes. Flip and bake for 7 minutes more or until golden brown and crisp on the outside. 

Meanwhile, make the lemon-tahini sauce: In a small bowl, whisk together the tahini, lemon juice, water and salt. Thin with more water as needed for a drizzleable consistency. 

Serve the falafel in pita, over a salad, or however you like, along with a big drizzle of the sauce!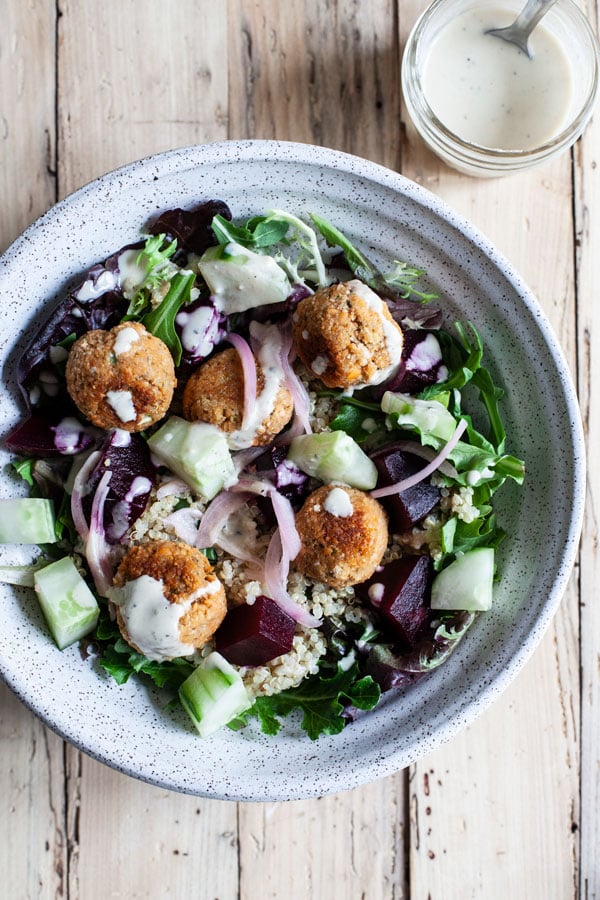 In the book, Jeanine recommends serving the falafel in pitas with chopped romaine, pickled onions, diced cucumber, radish, and herbs. I love this idea and can't wait to try it: I didn't have any pita on hand when I made the falafel, so I piled them over a quinoa salad with cucumber, beets, and pickled red onion—along with plenty of Jeanine's tahini dressing—instead. It was great, and it's a testament to the versatility of Jeanine's recipe that this worked out so well.
If you're curious about this colorful, seasonal collection, then you can enter the giveaway below to win a copy for yourself! US entries only please. I have a feeling that many of my readers will love the book as much as I do 🙂
a Rafflecopter giveaway
I'll announce a winner here in a week. Good luck, friends, and happy Tuesday. Later this week, a protein rich, easy new vegan lunch spread.
xo
Stuffed Acorn Squash with Garlicky Beans & Greens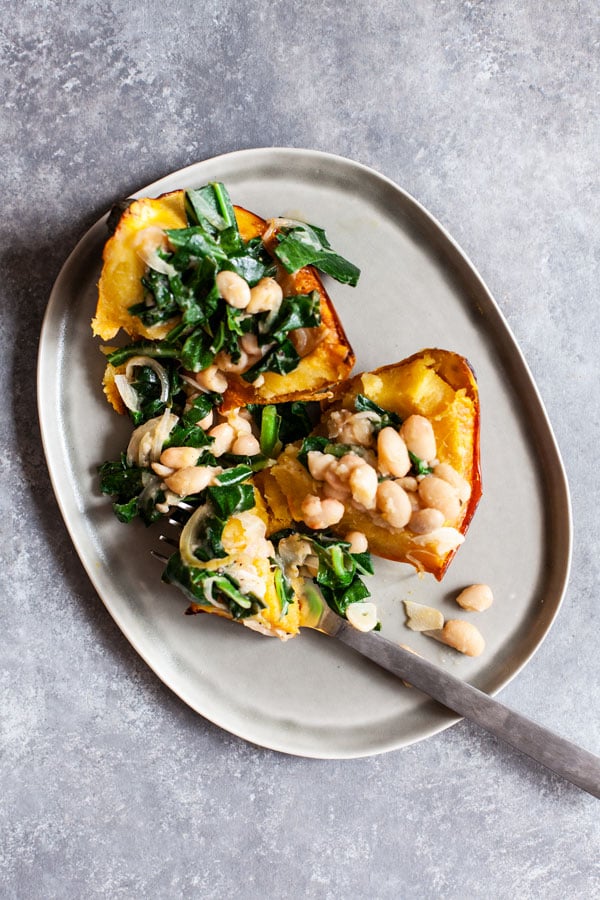 There's no shortage of winter squash in my diet at this time of year (at any time of year, actually), but I tend to eat the same ones over and over again: butternut, delicata, kabocha. I forget about good 'ole acorn squash, which is actually the first winter squash I ever tried.
This week, I saw some adorable, petite acorn squash—each the perfect size for one person—at my health food store, and I figured it was time to revisit this too-long overlooked vegetable. I'm so glad I did. This stuffed acorn squash with garlicky beans and greens is a new, easy option for wintery weekend batch cooking.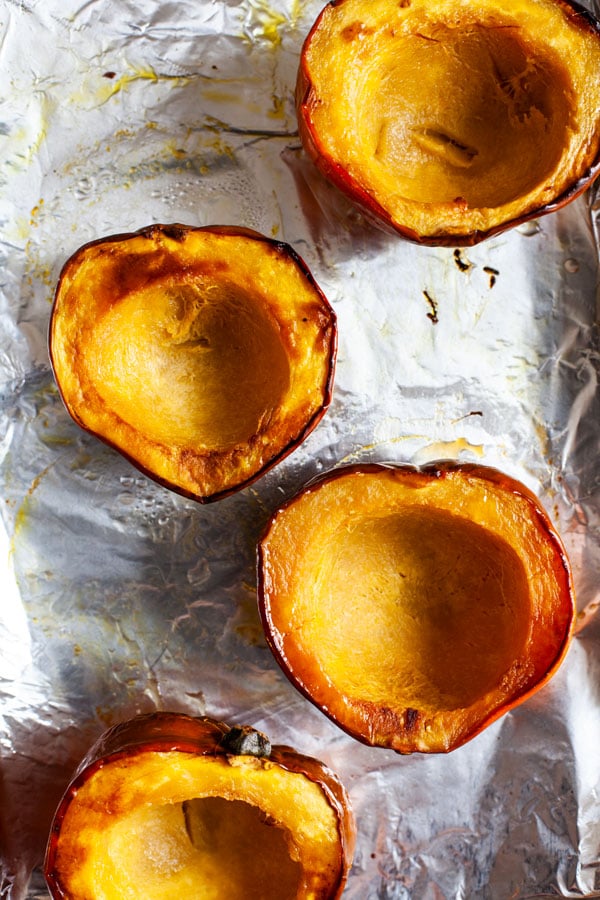 Cooking the squash for the recipe takes a little time: forty-five minutes, give or take. But it's a totally hands-off process, and while the squash is roasting up nicely, you can prepare the beans and greens, which is really just a matter of minutes.
Once the ingredients are ready, you can stuff the squash and enjoy them right away for a dinner that looks deceptively fancy, given how simply it comes together. Or, if you're doing the batch cooking thing, you can store the squash and beans separately for instant weeknight meals. I actually stuffed mine on the spot and placed them in a large glasslock container, which worked just fine.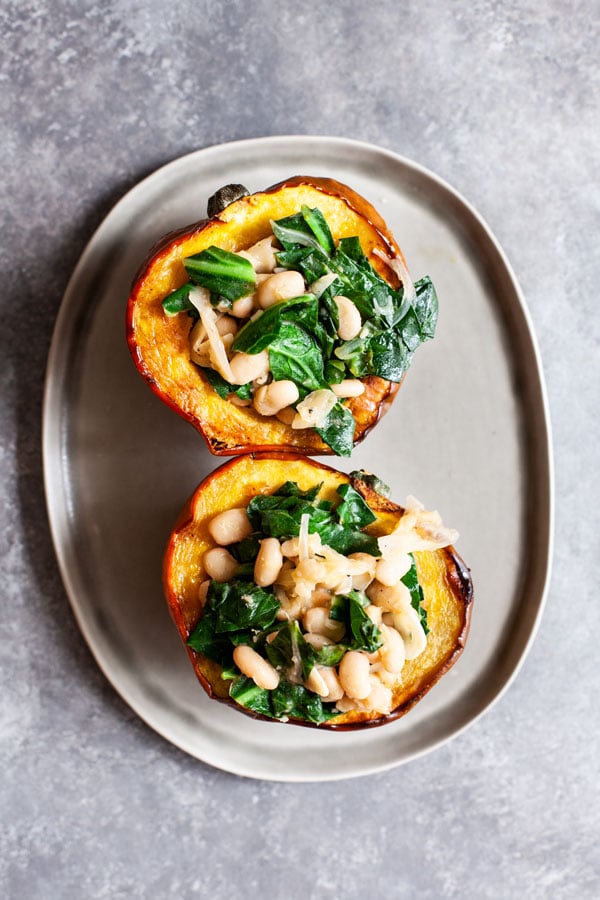 As is the case with most of the recipes I've been making during my internship, this one is flexible. I used collards and Great Northern beans, but chickpeas, navy beans, and even lentils would be perfect in the filling, and the greens are variable as well. I can't wait to try this with broccoli rabe, which is a personal favorite! And while the acorn squash I got were the very ingredient that inspired this dish, it would be pretty awesome with delicata squash, too.
Here's the recipe.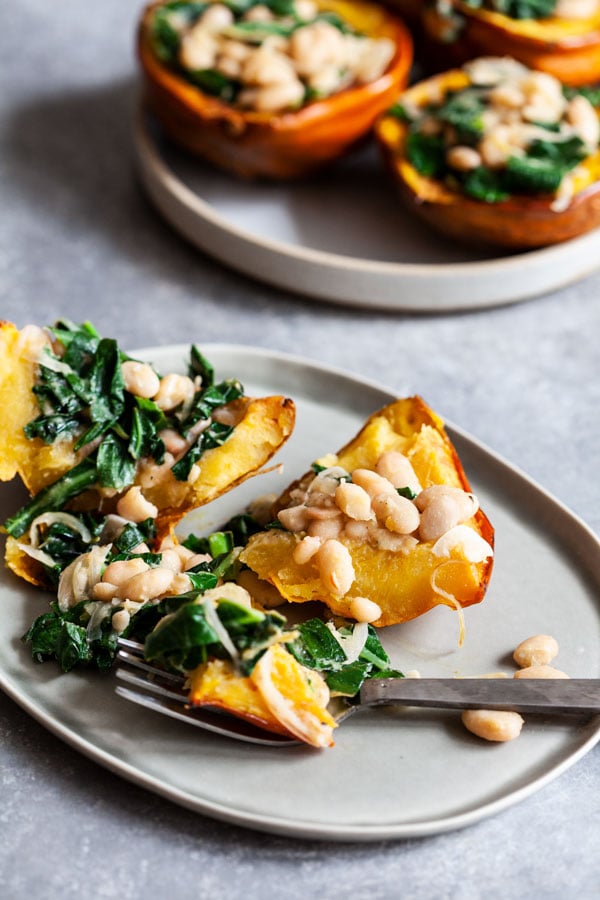 Stuffed Acorn Squash with Garlicky Beans & Greens
A hearty, nutritious stuffed acorn squash dish that looks fancy, but comes together with minimal work!
Prep Time10 mins
Cook Time45 mins
Total Time55 mins
Servings: 4 servings
Ingredients
vegetable oil spray or a few teaspoons neutral flavored vegetable oil, such as grapeseed or refined avocado

2

large (or 4 small) acorn squash, cut in half from stem to bottom and seeds removed

1

tbsp

olive oil

2

large shallots, thinly sliced

4

cloves garlic, thinly sliced

1 1/2

cups

cooked white beans (1 can beans, drained and rinsed)

1

small or medium bunch collard greens, thick stems removed and sliced into ribbons (about 4-5 cups after preparation; substitute another chopped green of choice)

1-2

tbsp

lemon juice (to taste)

salt and freshly ground pepper, to taste (I used 1/2 teaspoon salt)

vegan parmesan, for serving (optional)
Instructions
Preheat your oven to 375 F. Place the squash, cut side up, in a foil or parchment lined baking dish. Spray the squash on both sides with your oil spray, or use your hands to lightly rub/coat the squash with your cooking oil. Bake for 40-45 minutes, or until the edges of the squash are golden and the squash is tender when pierced with a fork.

While the squash cooks, heat the oil in a large, roomy skillet over medium heat. Add the shallots and garlic. Cook for 3 minutes, or until the shallots are tender and clear. Stir in the beans. Next, stir in the collard greens. Cook, stirring often, until the collard greens are tender (about 5 minutes). Add the lemon juice and salt and pepper. Taste and adjust seasoning as desired.

To serve, stuff each squash half with the bean mixture. Top with a sprinkle of vegan parmesan, if desired.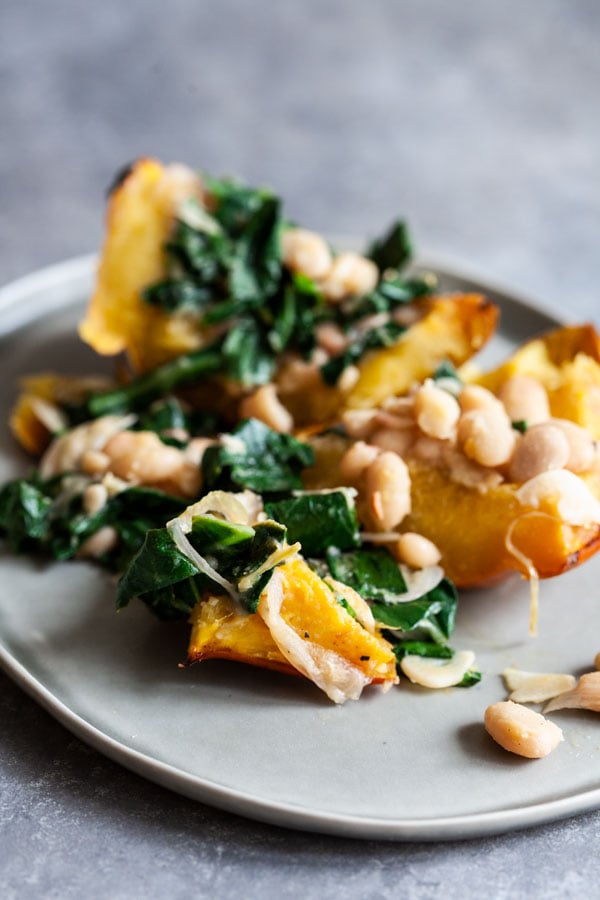 A lot of my batch cooking amounts to big, one pot dishes, especially soups and stews. I could eat those dishes forever, honestly, but each time I batch cooking something different, I'm relieved to have more variety in my routine. This week so far, I've had leftover enchiladas and these stuffed squash halves for my dinners, and it's a really nice break from bowl after bowl of stew 😉
Enjoy this pretty, yet easy dinner, friends. And thank you so very much for the lovely, wise comments on last Sunday's post. I've been sitting with them and feeling grateful for all of you, which is a pretty excellent place to be in as we head into NEDA week 2019! I don't have quite as many posts lined up as I did last year (#DIproblems), but as always, I have some words and feelings to share, straight from the heart.
Till soon.
xo