Tofu Scallion Black Bean Scramble
As I mentioned in Sunday's post, baked oatmeal was my breakfast mainstay for the first four weeks of my current rotation. I have a few weekdays with long commutes, which means that a pre-cooked,
ready-to-eat breakfast was a lifesaver. Plus, it was often freezing in NYC, and something warm and sweet hit the spot.
I foresee plenty of baked oatmeals (or baked oatmeal cups) in my future before the winter is over, but I'm officially getting tired of the repetition. And I'm missing savory breakfast, which is, as most of you know, one of my favorite things.
A new tofu scramble to the rescue. It's not actually new, because I was making it a lot this past fall. But it's been a hot minute since I whipped up a new batch. There are countless tofu scramble recipes that I love and rely upon, but this one has moved pretty quickly to the top of the list. It's super fast, super easy, and, because it features black beans and kale as well as tofu, it's especially high in protein (around 20 grams per serving).
A protein-rich breakfast, as I'm continually telling (or hearing my preceptors tell) patients these days, can help to keep one fuller longer. Not something I have to give too much thought to when I'm working from home and can easily reach for a snack whenever I get nibbly. But it's a serious consideration for me this year, with a schedule that includes long commutes, packed mornings of patient appointments, and not always being able to eat when I planned on eating.
The other special feature of the scramble, aside from the beans, are the scallions. They replace onions, which I usually add to my scrambles, and they're perfect for my busy weekends of batch cooking because they cook through faster than onions do.
You'll see that I also add a bit of tahini to the scramble; it sounds a little odd, but it's a trick I learned from this scramble recipe years ago. It makes the scramble ever-so-slightly creamy (imagine soft scrambled eggs, vs. drier ones). And the healthful fat makes the scramble extra satiating, too. Here's the recipe.
| | | |
| --- | --- | --- |
| Tofu Scallion Black Bean Scramble | | Print |
Author: Gena Hamshaw
Prep time:
Cook time:
Total time:
Serves: 4 servings
Ingredients
2 teaspoons neutral flavored vegetable oil (such as grapeseed or
refined avocado)*
1 small bunch (about 6-8) scallions/green onions, tops and white parts, chopped
1 15-ounce block extra firm tofu
1 tablespoon tahini (or cashew butter)
1 tablespoon freshly squeezed lemon juice
2 tablespoons warm water
½ teaspoon ground turmeric
¼ teaspoon fine salt (more as needed)
2 tablespoons nutritional yeast
1½ cups cooked black beans
2 cups raw kale (or another leafy green of choice), chopped
Freshly ground black pepper to taste
Instructions
Heat the oil in a large, roomy skillet over medium high heat. When the oil is shimmering. Cook for 3 minutes, stirring frequently, or until the white parts of the scallions are tender.
Whisk together the tahini, water, lemon juice, turmeric, and salt. Crumble the tofu into the skillet, breaking it into bite-sized pieces or smaller (this can be up to you: some folks like a chunkier scramble, others don't—I'm in the latter camp!). Add the tahini mixture to the skillet, followed by the nutritional yeast, and mix well to incorporate. The tofu will turn a nice, golden color.
Fold the black beans and kale into the scramble. Continue cooking for another 3-5 minutes, or until the kale is tender. Season the scramble to taste with extra salt and freshly ground pepper as needed. Enjoy!
3.5.3251
This scramble is pretty simple, in so far as seasoning goes, but feel free to add garlic, smoked paprika, cumin, or other spices to your liking. The black beans can be exchanged for chickpeas, pinto beans,
kidney beans, or another legume, and if you're running short on leafy greens, another chopped green vegetable will work well. I often use whatever frozen, chopped vegetables I've got at home in a breakfast
like this.
Sure, baked oatmeal is a fabulous make-ahead breakfast, but so is this: I usually make it on Sunday and enjoy it for the first three weekdays of a new work week. To serve, you can pair it with whole grain toast, an English muffin, corn tortillas, a whole grain, sweet potatoes or regular potatoes—plenty of serving options. If you've got some extra veggies to add, even better.
Wishing you a new week full of nourished mornings. I've got two weeks left at my current rotation; change is really the only constant this year! Thank goodness for grounding breakfasts.
xo
Simple Ginger Cinnamon Baked Apples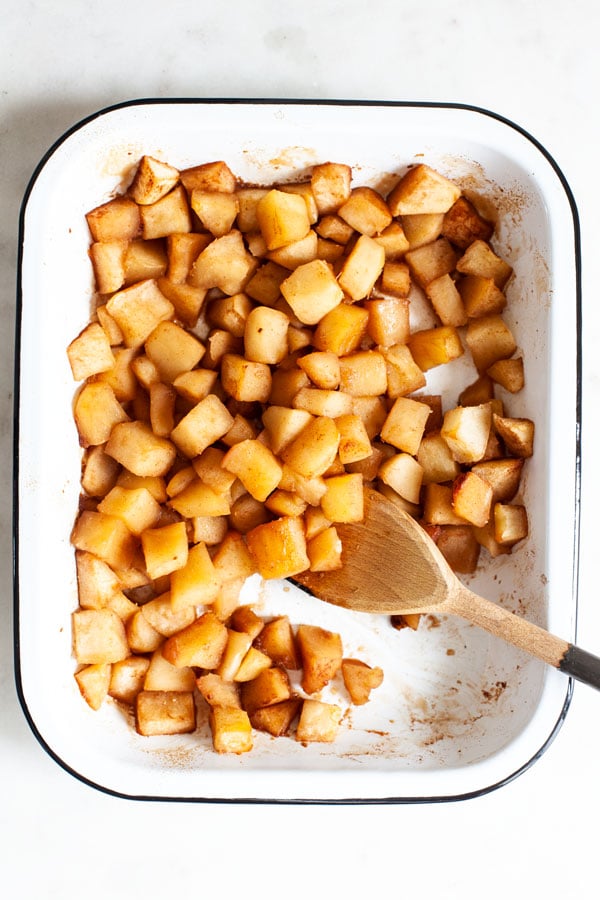 It is still very much winter here in New York, which means that warm and cozy breakfasts are the name of the game. At the moment, cooked fruit is very appealing to me (baked bananas, warm blueberry sauce…you get the idea). These simple, baked gingery apples are my new favorite topping for oatmeal and toast, and they're versatile enough to serve as a healthful dessert, too.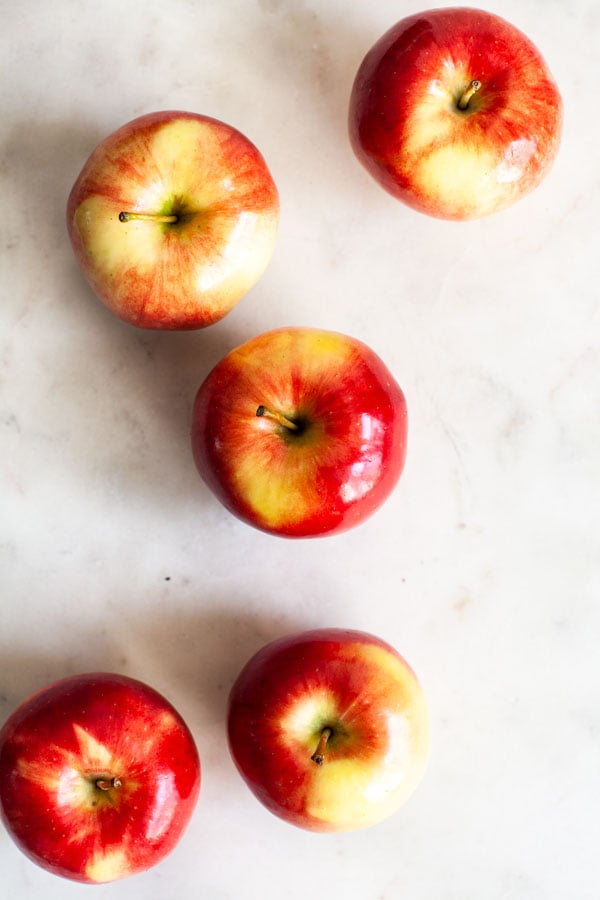 You can use any type of apples to make this recipe, but I was lucky enough to try Ambrosia apples for the first time. Ambrosias are quickly becoming prized for their sweetness, crispness, and beautiful bi-color exterior. They've got a honey-like flavor and aren't very tart, which makes them especially nice for sweet recipes and treats.
Even though the Ambrosia apples are sweet, crisp and great to eat fresh out of hand, they're also perfect for this baked apple recipe, which isn't so different from making baked applesauce. I'd imagine it's easy to make the recipe more or less complex: you could add a ton of different spices, add a little cornstarch to thicken it up, make it more or less sweet.
I've been using a ridiculously simple formula of 1 1/2 lbs peeled and chopped apples (you could leave the skin on if you wanted more fiber from the dish), a tablespoon of coconut sugar, a pinch of vanilla, a pinch of cinnamon, and two teaspoons of freshly grated ginger root. The ginger is adjustable: more or less would be just fine.
When I first made the apples, I used cornstarch, but I've found that the texture is just right without any thickener; I start by baking them with foil, so that they get nice and juicy, and then I bake them uncovered for 10-15 minutes so that they thicken up. In the end, they have a perfect texture: thicker than applesauce, softer and more spoonable than a whole baked apple would be. Here's the recipe.
Simple Ginger Cinnamon Baked Apples
These simple, ginger cinnamon baked apples are so easy to make and so versatile. They're perfect on oatmeal or with a scoop of dairy free ice cream for dessert!
Prep Time10 mins
Cook Time45 mins
Total Time55 mins
Servings: 4 servings
Ingredients
1 1/2

pounds

Ambrosia apples, peeled and chopped into 1-inch pieces

1-2

tablespoons

coconut sugar (or cane sugar)

2-3

teaspoons

grated fresh ginger

1

teaspoon

ground cinnamon
Instructions
Preheat your oven to 350F. Lightly oil a medium sized square or rectangular baking dish (mine was 7 x 13 inches; 8 x 8 or 9 x 9 square is fine, too). 

In a large mixing bowl, toss all ingredients together. Transfer the apples to your baking dish. Cover the dish with foil. Bake for 30 minutes. Give the apples a stir, then remove the foil. Bake for another 15 or so minutes, or until the apples are tender, golden, and the juices have thickened up a bit. 
The apples are just perfect with warm oatmeal; that's how I've been eating them the most often. But they also make for a nice, wholesome dessert, especially if you have a hankering for baked fruit but don't particularly feel like making pie, crisp, or crumble. I like to serve them with a nice big scoop of vanilla vegan ice cream–yum!
If baked fruit isn't your thing, or isn't what you're craving, the nice thing about the Ambrosia apples is that they naturally take longer to oxidize, so the freshness can be maintained for a while after the apples are cut or sliced. They're great for fruit salad, or for serving to kids, who can be sensitive to the color of foods. You can learn more about the apples and how to enjoy them here!
I'm happy to have an easy, healthful way to sweeten and jazz up my breakfasts, desserts, and snacks. Speaking of which, a new week of my DI is in full swing, and I'd best get back to it. Till later this week!
xo
This post has been generously sponsored by Ambrosia Apples from BC Tree Fruits, home of the original. The opinions and language are my own and in no way do they reflect BC Tree Fruits. Thanks for your support!
Apple Berry Baked Oatmeal Cups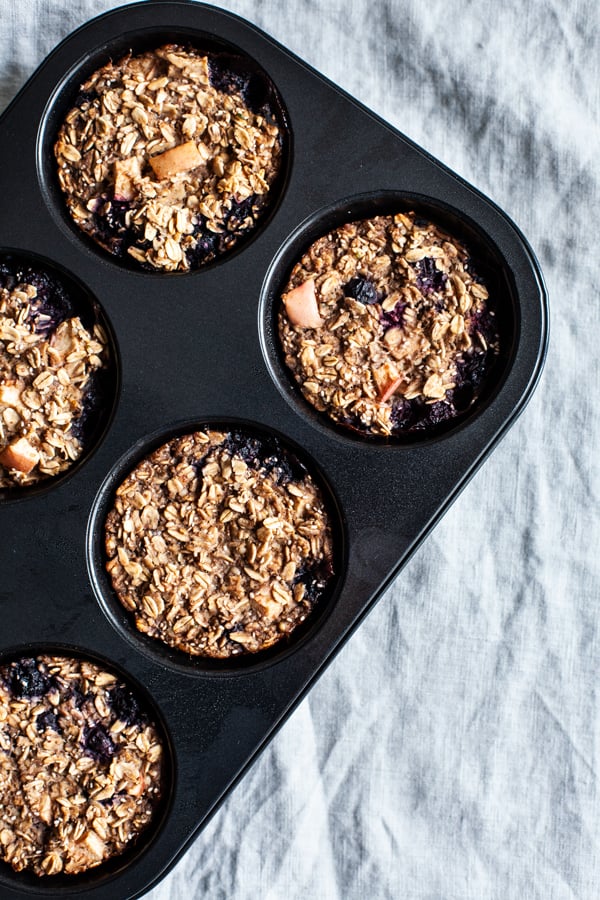 It's no secret that baked oatmeal is one of my favorite, make-ahead breakfast options. I love warm oats, and for most of the last few years it's been no trouble to cook them on the stovetop, traditionally. When I'm rushing out the door, though—and lately, that's how mornings seem to go—simmering even rolled oats can feel time consuming (plus, there's the saucepan to wash).
During my post-bacc, I relied on overnight oats nearly all of the time. In recent years, overnight oats haven't been my preference except when it's very, very hot outside: I'd nearly always rather have oats that are warm and a little denser than overnight oats. So, baked oatmeal to the rescue.
Last weekend I planned to make baked oats as usual, but with a twist: baking them into muffin tins, rather than a baking dish. This makes meal prep all the easier because everything is portioned out and ready to go. And the apple berry baked oatmeal cups look really cute, too 🙂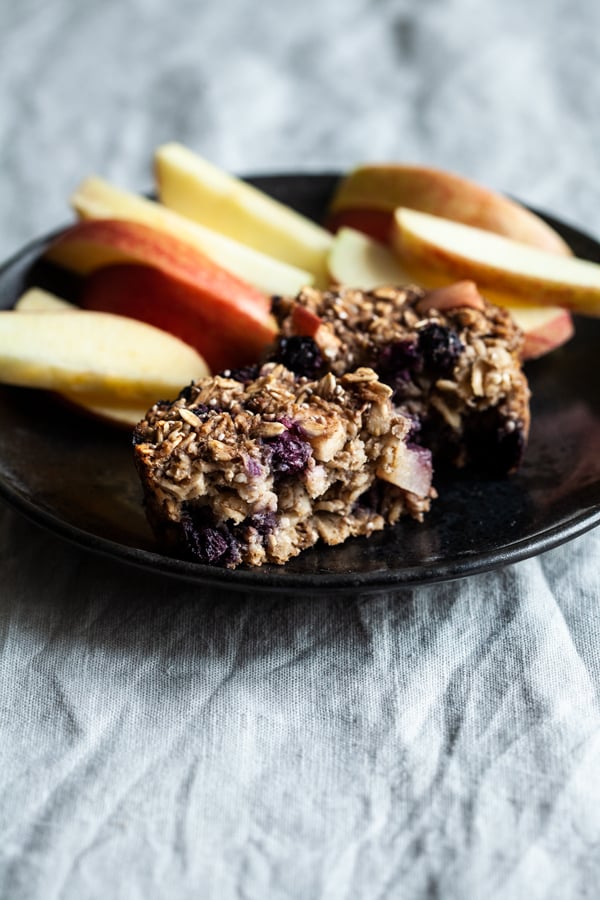 I love muffins and anything shaped like a muffin, but one of my challenges with muffin baking is that the muffin size always feels a little stingy. Lately I've been on the hunt for a larger sized muffin tin, which is why I'm happy I found McDonald Paper Company. It's a local supplier that sells restaurant equipment, but also  cutlery, cookware, baking supplies, parchment, kitchen and food prep tools, stainless steel food pans, storage items, and much more. And the site just happens to feature a six-cup muffin pan that's roomier than usual. It's a win-win for me: bigger portion size, fewer muffins (living on my own, having a dozen usually means shuttling extra to the freezer).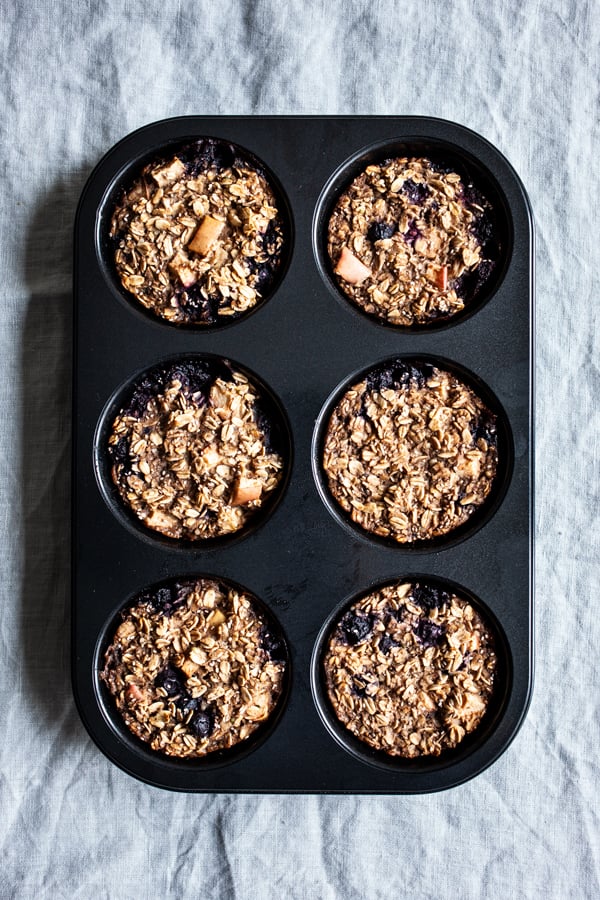 Years ago, when one of my closest friends was in culinary school, she advised me that restaurant supply stores are one of the best places to find a huge array of bakeware and cookware at great prices. I've visited a few here in NYC, often when I'm looking for a kitchen tool that's offbeat, and now it's great to know of an online option. In addition to the muffin pan, which I love, I got some of McDonald's parchment paper for baking and for the many batches of roasted veggies I've been batch cooking each weekend!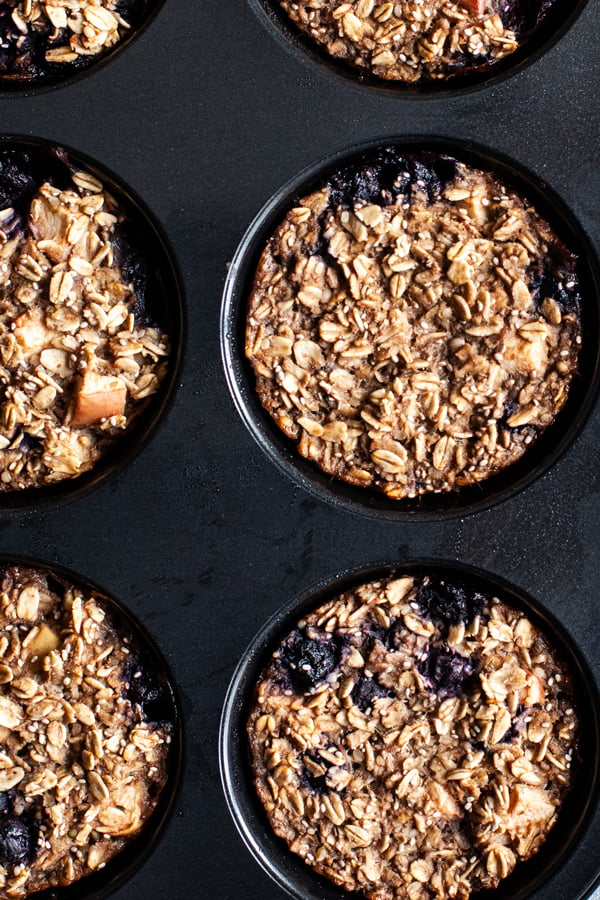 As for the baked oatmeal cups, they're stuffed with all of my favorite breakfast-y things: fresh fall apples, frozen blueberries, hemp seeds, flax, chia. They're sort of a hybrid of this blueberry banana oatmeal bake and these oatcakes. They're more portable than the former, less dense and dry than the latter, and probably my favorite recipe of this kind to date. Here they are.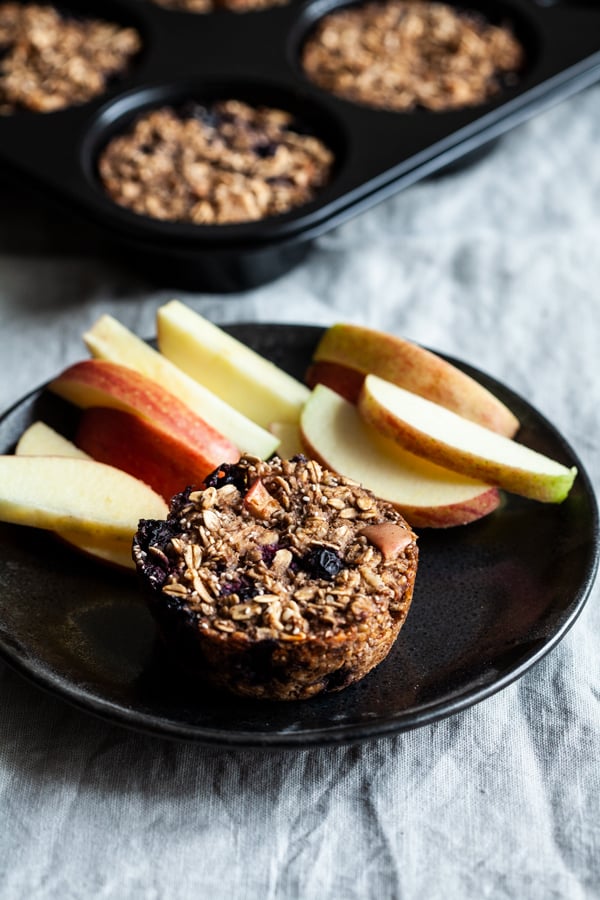 | | | |
| --- | --- | --- |
| Apple Berry Baked Oatmeal Cups | | Print |
Recipe type: breakfast, snack
Cuisine: vegan, gluten free option, no oil, soy free option, tree nut free
Author: Gena Hamshaw
Prep time:
Cook time:
Total time:
Serves: 6 large oatmeal cups
Ingredients
2½ cups rolled oats (certified gluten free if needed/desired)
¼ teaspoon salt
1 teaspoon cinnamon
1 tablespoon ground flax
1 tablespoon chia seeds
2 tablespoons shelled hemp seeds
1 large apple, chopped (about 1 heaping cup)
1 cup fresh or frozen blueberries
1½ cups soy milk (or a non-dairy milk of choice)
1 cup applesauce
Instructions
Preheat your oven to 350F and spray or lightly oil a muffin pan (6 large cups is great if you have one like this, but you can also make smaller cups in a 12-cup pan—you'll probably get about 10).
Mix together the oats, salt, cinnamon, flax, chia, hemp, and fruits. Whisk together the milk and applesauce. Mix dry and wet ingredients. Scoop the mixture into your muffin pan, filling the cups all the way to the rim (these won't rise). Bake for 35 minutes*, or until firm on the top and browning slightly at the edges. Allow oatmeal cups to cool before serving.
Notes
*If you use a standard muffin tin and have about 10 muffins, I recommend baking for about 20-25 minutes instead.
3.5.3251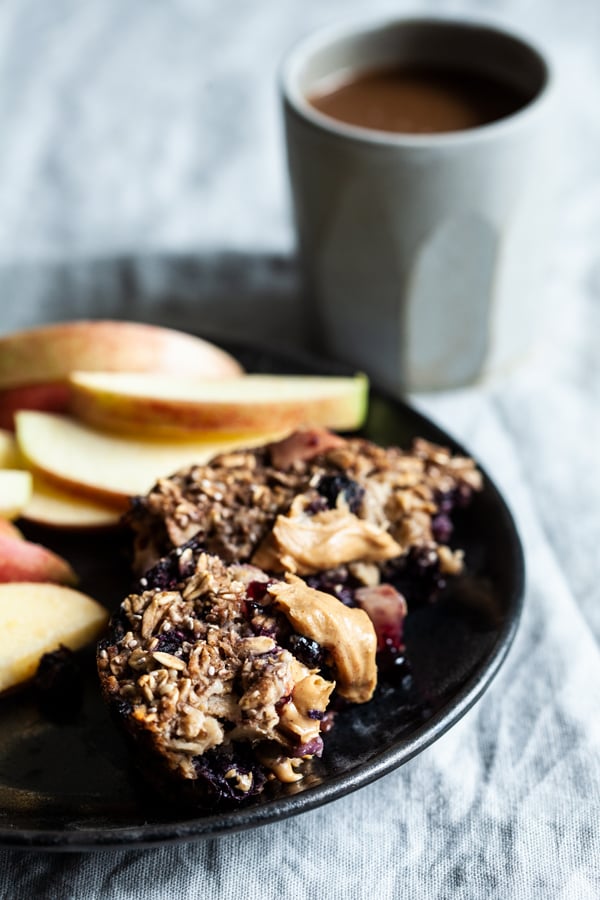 I've been serving the cups with some peanut butter and sliced apple, as you can see. They're great with a banana and a squeeze pack of peanut and almond butter if you're on the go (I confirmed that yesterday, when I had a particularly rushed morning). They're also a great, filling snack option. If you're especially hungry, a double portion is nice and hearty.
I'm sure I'll be making these throughout the year, using different kinds of fruit and different seeds/nuts. Nowadays, with all of the schedule change that's underway and all of the adjustment, having a comforting and familiar breakfast feels sweeter than ever. Enjoy—and happy almost Friday!
xo
This post is sponsored by McDonald Paper Restaurant Supplies. All opinions are my own. Thanks for your support!
Smoky Butternut Squash, Tofu & Apple Breakfast Hash
I'm almost embarrassed to admit how often, when I'm midway through making a recipe, I need to do a little Googling in order to confirm that I know what the recipe is actually supposed to be. What can I say: no matter how much I cook, I'm always a student in the kitchen.
Anyway, that's how it was with this smoky butternut squash, tofu & apple breakfast hash. I was about to plate it when I realized that my definition of hash was slightly hazy. A breakfast dish with chopped ingredients, usually involving potatoes?
I was pretty close. According to Wikipedia:
Hash is a culinary dish consisting of diced or chopped meat, potatoes and spices that are mixed together and cooked by themselves or with other ingredients such as onions. The name is derived from the French: hacher meaning "to chop".
I've only ever made vegan hash, but any time I try my hand at the dish I try to include a vegan meat or another hearty protein source, preserving the meat portion of the original recipe. And while I've often made hash with sweet potatoes, this time I wanted to try it with another root vegetable, butternut squash, and some onions and apples for one of my favorite, seasonal sweet/savory combinations.
The big liberty I took with this recipe was to roast the squash and apples, rather than cooking them in a skillet, which is the traditional way with hash. I like this because it's slightly more hands-off, and also because the squash gets crispier when I cook it this way than it does when I make it on the stovetop.
I still use the stovetop, though, to sauté other ingredients. Shaved Brussels sprouts for a little green, onions for savoriness and flavor. And Super Firm Cubed Tofu from Nasoya, which may be one of my favorite new meal hacks.
For all of my years supporting Nasoya products, I haven't yet tried these pre-cut, super convenient cubes. They're the perfect size for hash, and they fit nicely into this recipe, but I'm also so happy to have them on my radar for stir fries, sheet pan meals, and more. I don't mind cubing tofu, but these cubes are super uniform and smaller than the ones I usually cut. They'd be perfect for tofu egg salad!
I roasted the squash and apples first, and then—while the squash was getting nicely crispy on the outside, tender on the inside—I sautéed the tofu cubes with smoked paprika and coconut aminos. I added onion and Brussels sprouts, and by the time everything was tender, the squash and apples were practically ready. I folded everything together, added a pinch of salt and a splash of apple cider vinegar, and voilà—a beautifully autumnal, simple, flavorful breakfast dish.
It doesn't have to be a breakfast dish, of course. I've been serving it with toast or a sprouted English muffin and a little Earth Balance in the mornings, but I've also had it with brown rice for dinner. The dish is rich in protein (something I've noticed really does make a difference in my morning energy levels) and easy to customize with different or additional veggies. I'd love to try it with parsnips, rutabaga, or the addition of some collard greens.
Making it so far, I've kept the hash mild, which is what works for me at breakfast. If you'd like to kick up the spice with a nice pinch of cayenne or a drizzle of hot sauce, I'm sure that would be delicious, too. Here's the recipe.
| | | |
| --- | --- | --- |
| Smoky Butternut Squash, Tofu & Apple Breakfast Hash | | Print |
Recipe type: main dish, breakfast
Cuisine: vegan, gluten free, tree nut free
Author: Gena Hamshaw
Prep time:
Cook time:
Total time:
Serves: 4 generous servings
Ingredients
2 tablespoons neutral vegetable oil, such as grapeseed or refined avocado, divided
1-1¼ lbs butternut squash, peeled, seeded, and cut into ½-inch cubes
1 large or 2 small apples (any variety), cut into ½-inch cubes
8 ounces Nasoya Organic Cubed Super Firm Tofu
¾ teaspoon smoked paprika
1 tablespoon coconut aminos (substitute low sodium tamari)
1 white or yellow onion, chopped
12 ounces (about 3 cups) shaved Brussels sprouts
1½ tablespoons apple cider vinegar
Salt
Black pepper or cayenne pepper, to taste
For serving, optional: Toast, an English muffin, a whole grain, hot sauce
Instructions
Preheat your oven to 400F and line a baking sheet with parchment or foil. Toss the squash and apple with 1 tablespoon of the oil. Transfer the mixture to the baking sheet and add salt and pepper. Roast the squash and apples for 35 minutes, or until tender and crisping at the edges.
Meanwhile, heat the remaining tablespoon oil in a large, deep skillet over medium heat. Add the tofu cubes, smoked paprika, and coconut aminos or tamari. Cook the cubes, stirring frequently, for 5-6 minutes, or until they're getting crispy. Add the onion. Continue to cook for 5 minutes, or until the onions are tender. Add the Brussels sprouts and cook for 5 more minutes, stirring frequently, or until the sprouts are crisp tender.
When they're ready, fold in the roasted squash and apples. Add the vinegar. Stir everything well, then taste and add salt and pepper (black or cayenne, depending on how hot you want the hash to be) and additional vinegar as needed. Serve with toast, a grain, and hot sauce if you like.
3.5.3251
I've been relying a lot on baked oatmeal lately for portable/quick breakfasts, but making this dish reminded me of how lovely it is to have a great, savory breakfast at the ready. Savory breakfasts used to register as a weekend brunch treat for me, but I've warmed up to them a lot in recent years, relying on them as often as I do the sweet options. This hash is a nutritious new favorite, and it keeps well for up to 4 days in the fridge, which means it's perfect for advance meal prep.
As always, so glad to have convenient, healthful plant-based products available these days, so that cooking something tasty can feel just a little more accessible, even when life is moving fast. Hope you enjoy this smoky, sweet, savory meal—and wishing you a wonderful rest of the week.
xo
This post is sponsored by Nasoya. All opinions are my own, and I love this go-to brand of tofu and other creative soy products! Thanks for your support.