Weekend Reading | The Full Helping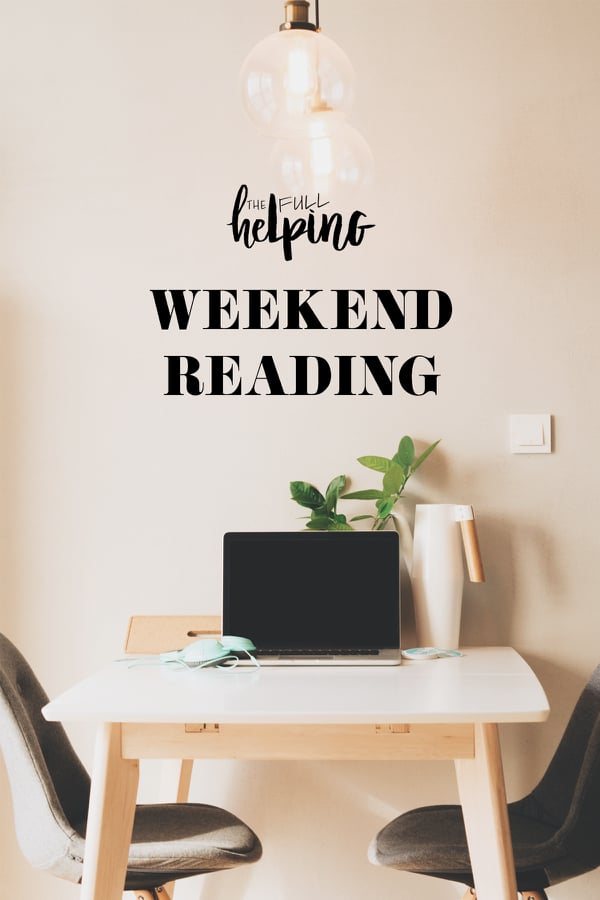 My current internship rotation is a pretty big departure from the last one. It's outpatient nutrition counseling at a community health center with multiple locations around the city; I'm splitting my time between Harlem, Chelsea, and the Bronx. The work is nearly all diabetes management, with some weight management and general nutrition guidance thrown in.
The work often feels repetitive, and in some ways I miss the intensity and variety of intellectual challenges that I had working in the hospital this fall. But this rotation brings me back to counseling, which is my passion; it's the very thing that made me pursue the RDN in the first place.
Nutrition counseling is a funny thing. In some ways, it underscores how incredibly different each person's food story is. It definitely affirms the fact that there's no "right" eating style or nutrition formula for everyone; in many years of working one-on-one with people, I've yet to see an approach that didn't have to be tailored sensitively to the individual.
Yet at the same time, I'm continually struck by how much shared terrain there is in peoples' experiences with food. The internship year has given me an opportunity to work with new, and extremely diverse, populations of patients. In spite of how many cultures, ages, lifestyles, and stories I've crossed paths with, so much of what I hear echoes what I've heard from clients in my own practice for years. Every patient finds a way to communicate to me a fundamental desire to preserve good health. Most people say that they know how they "should" be eating, but that everyday life often vies with their intentions. Nearly everyone feels a little better when they move and eat vegetables.
And then there are the shared struggles. In nearly every nutrition counseling environment I've worked in, I've heard people admit to deep shame surrounding how and what they eat. People spend a lot of time apologizing, for the food choices they've made, for the things they crave, and especially for their bodies. Too big, too slow, too weak, too small—I hear so many apologies for shape, size and ability. Many people carry around good/bad binaries surrounding food; oftentimes, their conceptions were shaped very early in life, by caretakers or peers and the way their appetites were criticized.
I'm both heartened by how much we share in our experience of food and saddened by how universal these issues of shame, regret, and struggle are. I feel sorry that eating is so often complicated, be it for practical, socioeconomic, or psychosocial reasons.
What motivates me in the work is the fact that, at least once in each counseling session, I see a patient or client's face light up in describing something positive about eating. It might be a memory of something delicious, the happy surprise of discovering that a healthful food is much tastier than was assumed, the pride and reward people feel when dietary changes lead to health improvement, or the relief they express when their experiences are acknowledged and validated.
In any of these cases, I feel deeply lucky to be present and to bear witness. This rotation is reminding me of how difficult and tricky nutrition counseling can be, but it's also giving me daily reminders of why I love to do it. And it's making me excited for next fall, when I'll be doing it on my own again.
I'll be taking my meals with a sense of appreciation for our shared experiences with food this week. Wishing you some good eats. Here are my recipe picks and reading links!
Recipes
Green apple in guacamole! I'd never have thought of this, but I love the idea.
Pretty much drooling over Cadry's vegan reuben. It looks so authentic, right down to the marble rye!
If I didn't already love falafel enough, here's a version that's stuffed with vegan feta (made with Violife cheese, which is pretty great).
An umami-packed vegan miso mushroom bowl from the talented Ania.
Finally, and just in time for Valentine's Day, the prettiest vegan chocolate cupcakes.
Reads
1. New research suggests that vegetarian diets might boost insulin sensitivity.
2. A really interesting article on the science that underlies loneliness. It's a topic that hits close to home for me, and I like the author's suggestion that loneliness is part of life, but that there are ways we can choose not to be crippled by it.
3. A very interesting new study points to links between metabolic factors and the risk of developing eating disorders. This is news to me, but I was interested to read that prolonged low body weight/BMI in childhood may be linked to higher rates of anorexia nervosa. I'd be curious to see more research on this, but the findings definitely help to explain why and how EDs can develop very early in life (before social pressures to diet would be prevalent).
4. I enjoyed this essay on the power and meaning of rituals. Especially this line: "Tiny, everyday rituals are a hand-crafted prayer to domestic order, beckoning the divine to step inside a moment."
5. Perhaps I'm biased—rutabaga is one of my favorite vegetables—but I loved Alicia Kennedy's tribute to the humble root (and the recipe that accompanies it).
Most of my breakfasts this winter have been in the form of baked oats, which I prep over the weekend and enjoy with fresh fruit and/or nut butter before leaving for work. This week, though, I'm returning to my savory breakfast roots with the leftovers of a favorite tofu scallion scramble. I'm sharing the recipe (long overdue!) in a couple days. Till then, be well.
xo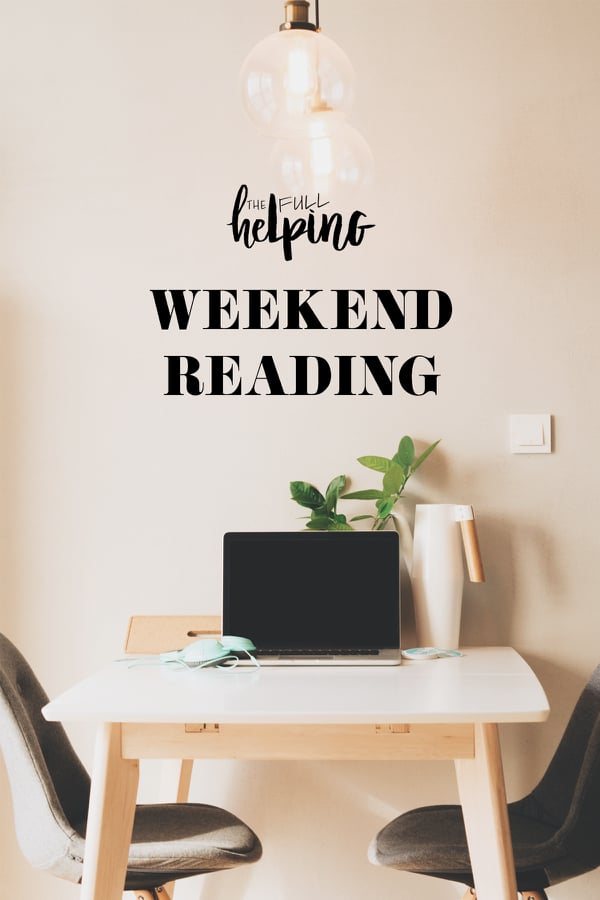 I've been thinking a lot this week about the tug-of-war between knowing when to persist with something and when to let go.
Years ago, I wrote a post about not getting into med school. When I was writing it, I thought that I was telling a story of failure, of things not going the way that I had wanted them to go. As is so often the case, readers pointed me to a different, underlying meaning in the post. It wasn't about failing so much as the choice to let something go—in that case, medical school. I could have kept applying, but I chose not to. I'd come to the end of the road with that particular dream. Choosing to let go isn't quite the same as enduring an uncontrollable loss, though in my experience both processes entail their own kind of mourning.
Since my post-bacc experience, I've learned to let go of things far more peacefully than I once could. I've taken to heart the saying of "if it comes, let it; if it goes, let it." Fighting for something important is one thing, but clinging to it is another.
Last week I wrote about life's seasons. The approach that works beautifully for one situation or one phase of life may be totally maladaptive for others. I think this may be true for perseverance and surrender; there's a time and a place for each.
I'm at a moment when persistence is what's called for. This is often true when I'm being visited by depression: I need to accept that it's with me and I can't control it. But I usually fare a little better when I can sustain a kind of stamina about small, everyday things. Sticking to routines, getting out of the house, staying connected, not allowing my responsibilities to languish: these require effort and determination when I'm depressed. But they help, more than anything else does.
This past weekend, I got stuck on a recipe. It just wasn't turning out the way it should (it was a baking recipe, and those often require fine-tuning). My first instinct was to throw my hands in the air, turn off my oven in this muggy heat, and lie around feeling disappointed about it.
Instead, I dug in my heels and embarked on a truly comical 48 hours of testing and retesting, batch after batch. In the end, the recipe did turn out beautifully, and I felt happy that I hadn't given up on it. I remember this feeling from testing recipe for Power Plates: some of the recipes that gave me the most trouble when I first made them have become my favorites, and the favorites of readers, too.
It was just a recipe. But my experiences in the kitchen often mirror what's going on in my inner world, and this felt significant. It felt like a declaration of not wanting to be easily defeated. It felt like an act of resistance against apathy and exhaustion and wanting to give up. I need that kind of tenacity right now, on numerous fronts. And if baking cupcakes gave me an opportunity to practice it…well, I guess that's a very delicious form of practice.
Tonight, I'm grateful to have found steadfastness at a moment when it was difficult to muster. There will be times when I need to back off from further effort, but right now it feels good, and important, to persist. And I'll keep doing that in the week ahead. Wishing you good days to come. Here are some recipes and reads.
Recipes
I'm all about comfort food this week, starting with Hannah's picture-perfect vegan version of traditional stovetop mac.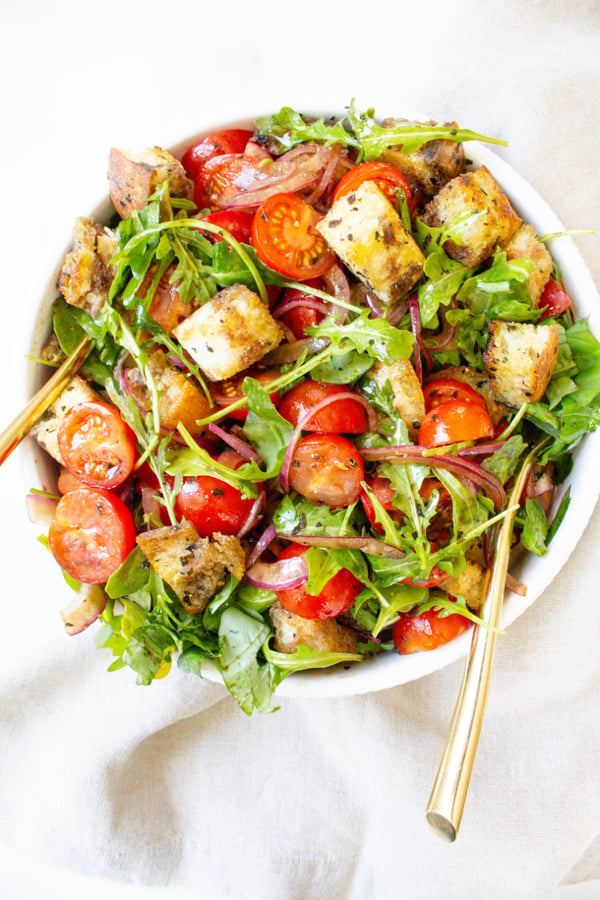 A simple, classy vegan panzanella for summer.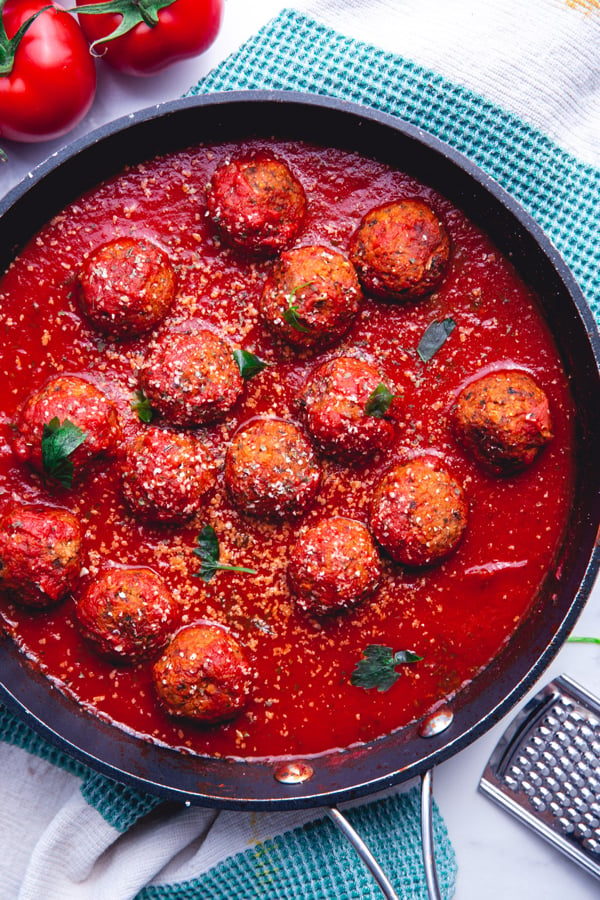 These tempeh meatballs look incredible—perfect for adding a nice dose of plant-protein to pasta dishes.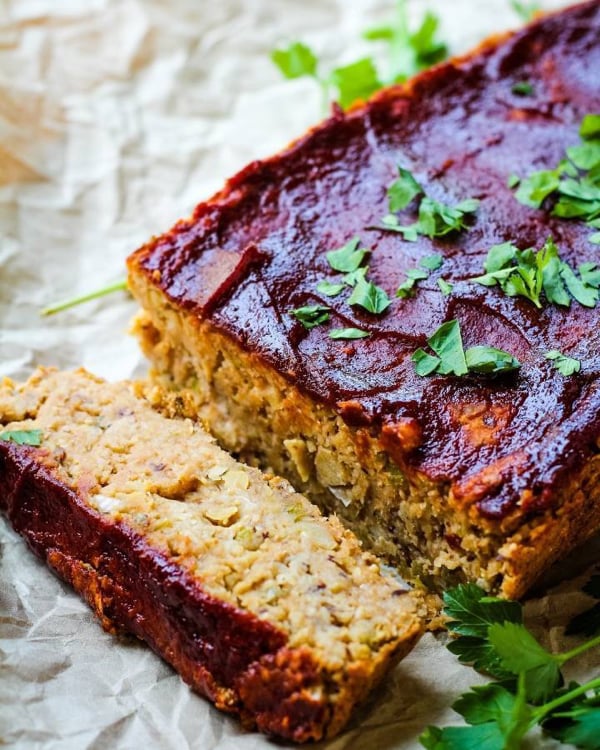 A stellar looking vegan meatloaf (bookmarking it for cooler weather in particular, but I'd devour this at any time of year).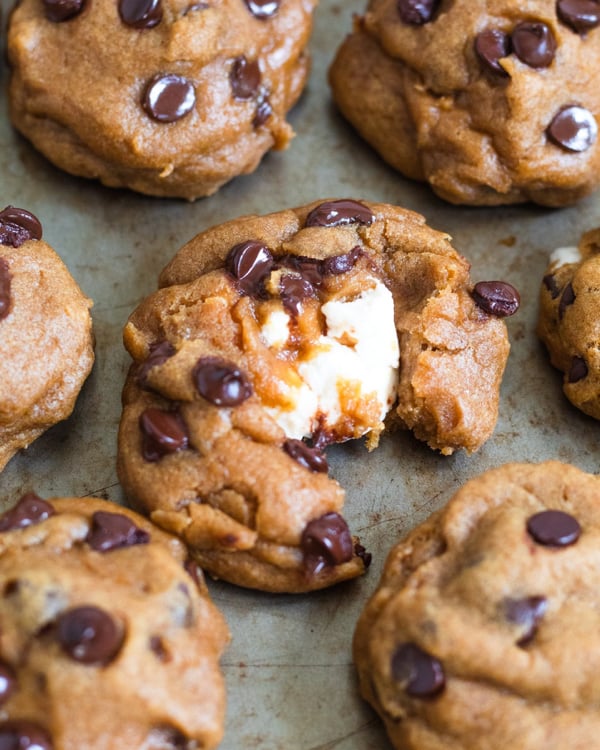 Finally, a gorgeous batch of vegan smores stuffed cookies. I'm super excited to try these.
Reads
1. When I was in grad school, one of my advanced nutrition professors felt strongly that Type II diabetes may be a lipid disorder. He thought that the disease's origins may be traced to excess fat consumption, even if carbohydrate intake becomes the dietary variable most in need of regulation over time. He was clear about the fact that this proposed etiology was theoretical, but he thought that the evidence was persuasive.
I think about him every time I read about the success of Type II Diabetes patients on low-fat, whole foods, plant-based diets. This article made me think about him, too.
2. An interesting video and article on the possibility of mindfulness as an approach to alleviating depression.
3. Via the NY Times, a new treatment for one of the deadliest strains of TB.
4. I think it's OK to acknowledge and nurse disappointment when things don't work out, and this definitely includes career opportunities. But there's much to be said for resilience in the face of professional rejection, too, and Blair Braverman is writing about it this week in Outside.
5. An interesting look at the effort to understand why some patients who go into cardiac arrest in the hospital fare better than others, and what can be done to close the gap.
Getting this post up later than usual, but glad to be doing. Sleep well, friends, and see you with a new recipe this week.
xo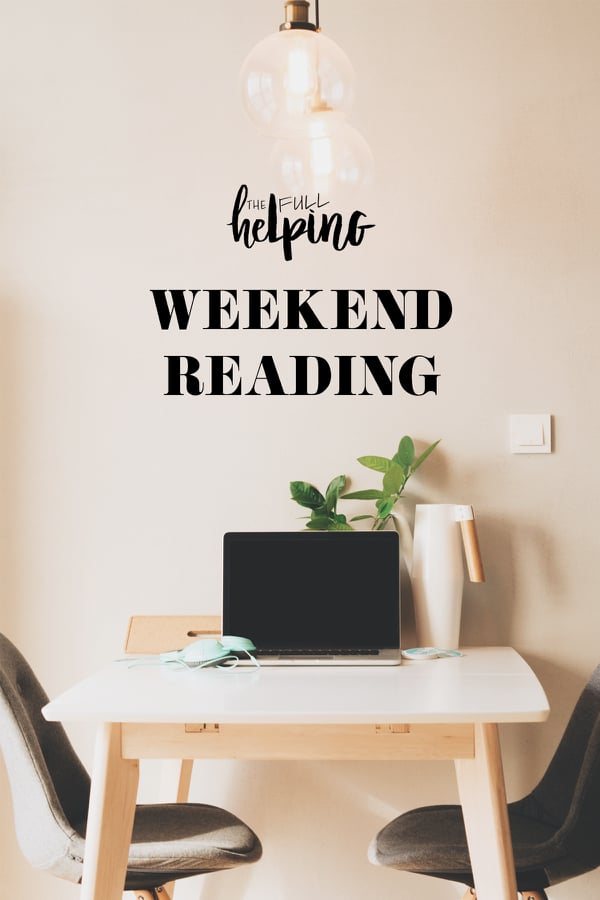 In the last few days, New York has transitioned from hot, muggy weather to a cool, dry, and breezy climate that portends September and October to come. Everywhere I go, people are talking about it. I think we all feel grateful for the tiny glimpse of fall, even if no one is ready for the hustle of back-to-school season.
So much of life, at least here in the Northeast, revolves around the rhythms and patterns of the seasons. They organize our experiences powerfully, giving us cues for change and shifts that we can look forward to.
This week, I've been giving some thought to seasonality outside of the weather. Just as the year takes us through periods of cold and hot, wet and dry, long and short, life takes us through seasons of its own. There are times to turn inward and times for directing our energies outward. There are seasons of sadness and joy, endings and beginnings, productivity and rest. Sometimes the fluctuations between these states are quick, and sometimes they turn over almost imperceptibly.
Since my internship ended, I've been suspended in an odd state of stillness. It's been incredibly hard to do anything, even little things. I've been responding to texts sporadically and slowly, working at a snail's pace, walking around as though I have no place to be, even when I do. There are people I'd like to catch up with in theory, but when I think about making plans, it's the last thing I want to do. The only thing that feels really good is quiet.
Not shockingly, slowing down means more time to feel my feelings, and mixed in with the languid pace has been some considerable sadness. Running around all year meant not having to contend much with my loneliness, which was a relief, however temporary. I'm being reacquainted with it now, and while it's tempting to try to wriggle away, I don't really have the energy to do that. And the confrontation itself feels important, no matter how painful.
Something is shifting, though. My drive is coming back to life after a short spell of complete dormancy. This week I finally checked off all of the important stuff on my post-internship to-do list: finances, organization projects, cleaning projects. I haven't studied for the RD exam yet, but I finally cracked open the study guides and started to make a plan. I'm (sort of) catching up on email. I haven't quite felt the urge to cook again, but I'm excited to get back to blogging with more energy this fall, and recipe development will be part of that.
I'm no fan of forcing anything, productivity included. There's wisdom in waiting for seasons to shift and embracing things in their own time. But it can feel empowering and energizing to tend to one's responsibilities, one by one. It feels good to be getting things done again, however incrementally and in spite of the haziness that still surrounds me. When one lives with depression, as I do, the ability to take care of everyday business isn't casually assumed; it's something to give thanks for, however it ends up looking.
I wish you all a week of doing what you need to do, however briskly or slowly as is necessary. Here are some recipes and reads.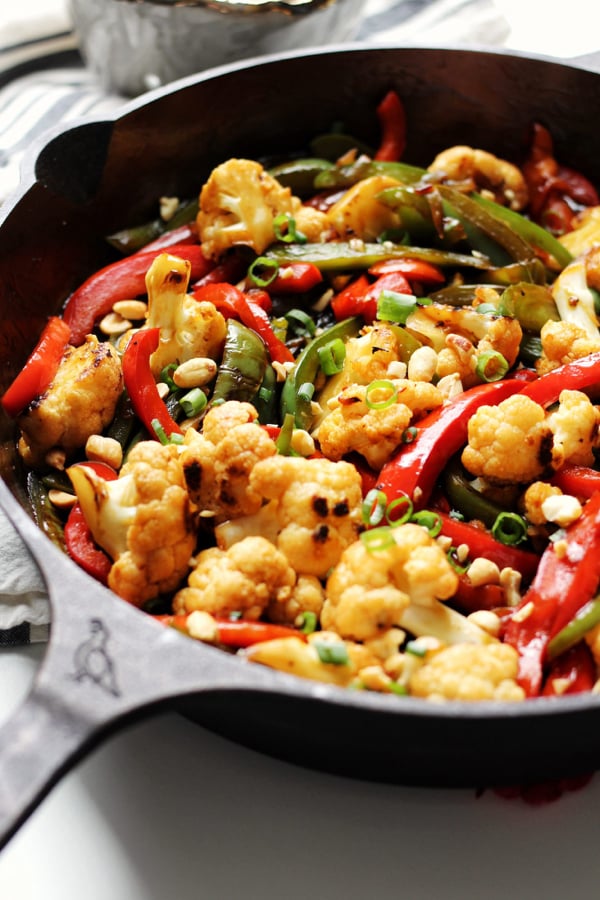 This skillet meal of Kung Pao cauliflower looks so flavorful and vibrant.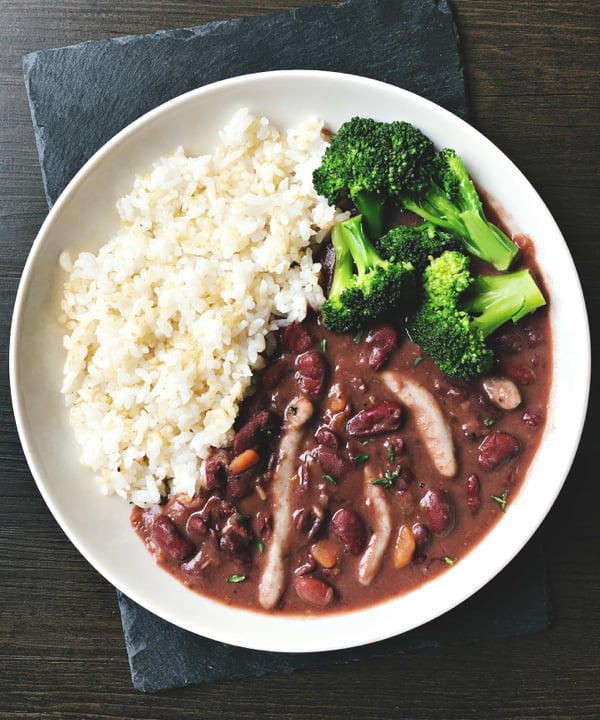 I'm loving Jhanelle's hearty Jamaican stew peas with dumplings (gluten free, no less!). This is just my kind of meal.
An easy vegan grilled flatbread recipe for summer lunches and entertaining.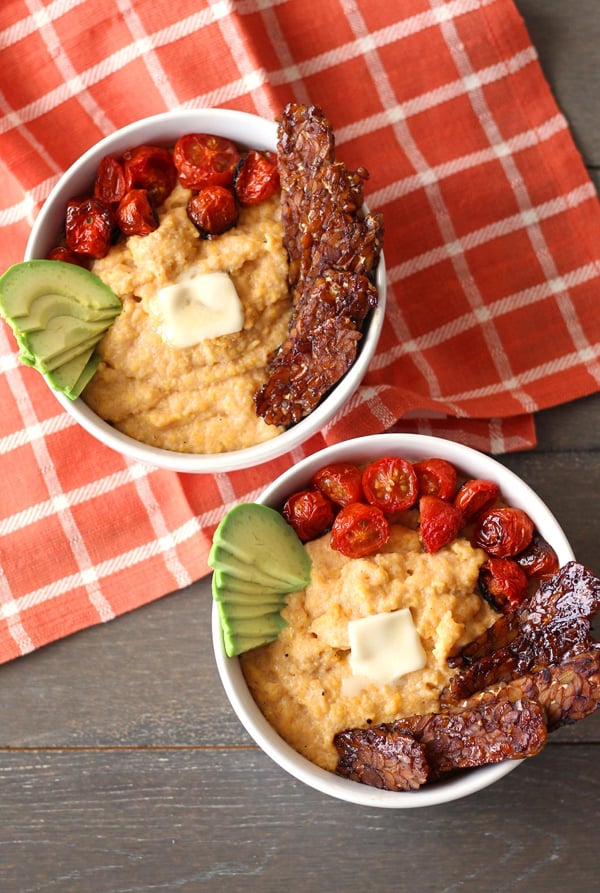 I absolutely can't wait to make these scrumptious looking vegan grits with tempeh bacon! What a perfect summer comfort food meal.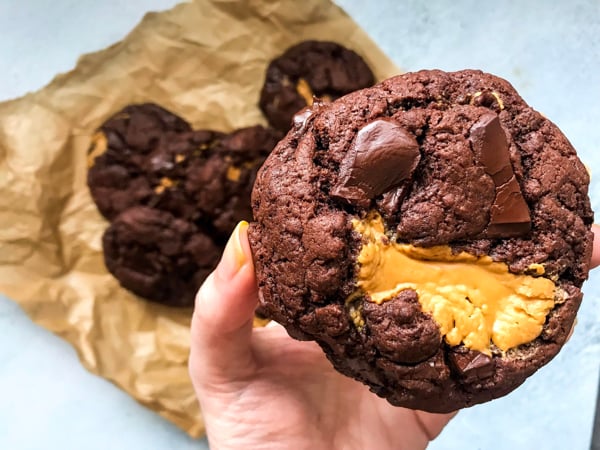 Finally, dessert. These vegan chocolate peanut butter cookies look unreal, and chocolate + PB is pretty much my favorite treat combo.
Reads
1. Scientists have found what's described as a "treasure trove" of previously hidden galaxies. Incredible.
2. A new study reinforces the benefits of plant-based diet for reducing the risk of cardiovascular disease.
3. A fascinating glimpse into salmon migration upstream, which has long been considered something of a mystery. There's now speculation that group decision making may play a role, which I think is fascinating.
4. A lot of popular diets claim to "balance hormones," but it's important to be mindful of how thoroughly researched and carefully articulated these promises are. The Washington Post takes a look. I agree that a big picture, gradual focus is always the best way to approach eating changes.
5. Finally, a new observational study points to an association between greater red meat intake and increased breast cancer risk. Good information for consideration, though with studies like this it's always important to consider that there can be a lot of confounding variables.
Alright, friends. It's time to get back to my Sunday and continue to dip my toes into the waters of a new normal. I'll be back this week with an easy vegan burger recipe!
xo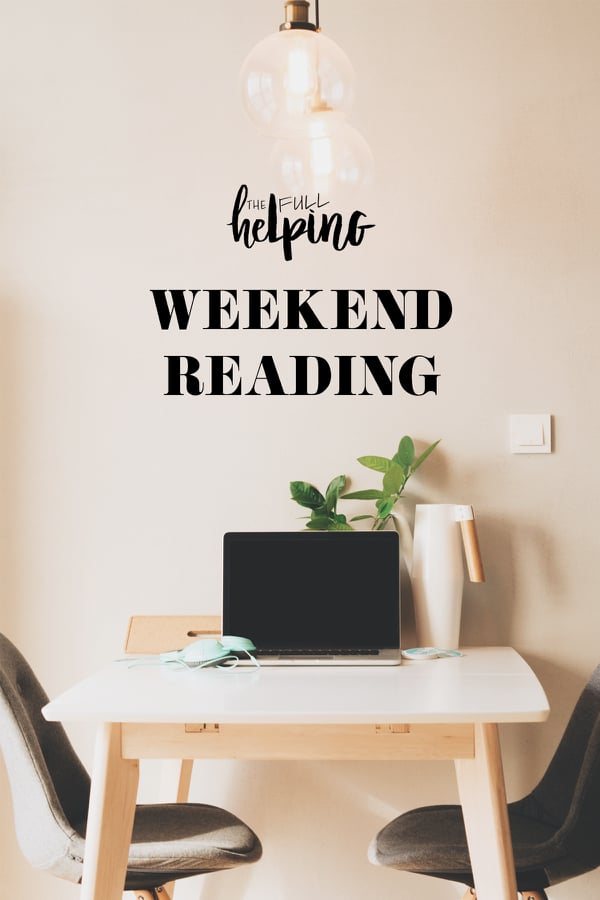 I've had a chance to reflect on my internship experience in the last two weeks, and what stands out to me is how much of my own "stuff" I've been able to let go of, or work on. I've gotten better at taking care of myself. I've become firmer and clearer with boundaries. I'm communicating more directly. And, maybe best of all, I've come a long way in letting go of perfectionism.
I was thinking about this a lot this week, because it was a messy week, and somehow I stayed pretty unreactive. Rather than trying to fix or rework (i.e. control) what was happening, I put all of my energy into taking care of myself and waited for circumstances to pass by. It was a record setting level of calm, for me, and while I know that I'll need to continue practicing all of this, it showed me that a different way of being is possible with attention and effort.
When I consider about my perfectionism, one thing that stands out is the faulty logic that, if I do everything "right," bad stuff won't happen. So far as I can see, the notion that there's some sort of cosmic fairness that rewards good performance with safety and goodness is an illusion. It hasn't been my experience or observation of the world that staying on good behavior all the time results in happiness, or getting what one wants, or being protected from life's hardships.
What has proven to be true, at least so far as I can tell, is that growth—no matter how incremental or gradual—is always possible. It's not really about fairness or reward. It's about accepting that much less of life is within our conscious control than we like to believe, but we do have the opportunity to evolve as a result of what happens.
I know how simple this sounds, and I don't think that the growth we do in response to our experiences is always lofty or oriented towards some sort of "betterment." Sometimes inexplicable, painful things happen and we become more guarded, or ashamed, or cautious. But I guess my point—the idea that's knocking around my brain lately—is that we're always changing, whether we like it or not, and that this motion is sort of the point. Sometimes, when we look back on how and where we've moved, it even seems to make sense 🙂
I'll probably always be someone who over-strives, but I'm enjoying this new ability to be passive, to accept what's happening, to regard self-care (rather than being good at everything) as my main responsibility. A lot of the pressures and anxieties about pleasing everyone and exceeding at everything that felt real to me even a few years ago feel very far away right now.
Beneath all of this is a deepened sense of trust in life. It would have been very familiar, if not easy, to treat my DI year as yet another opportunity to "prove myself," forcing each rotation to be what I wanted it to be. I'm so glad that I didn't do that—that I allowed myself to accept that the year would be whatever it was. Letting go allowed me to keep coming back to the question of what I could learn, which is a lot more than I was counting on.
I wish you a week of growth, no matter what it looks like or how it shows up. Here are some recipes and reads.
Recipes
Gracie's loaded breakfast cookies are packed with things I love, and I'd welcome them in the morning or any time of day!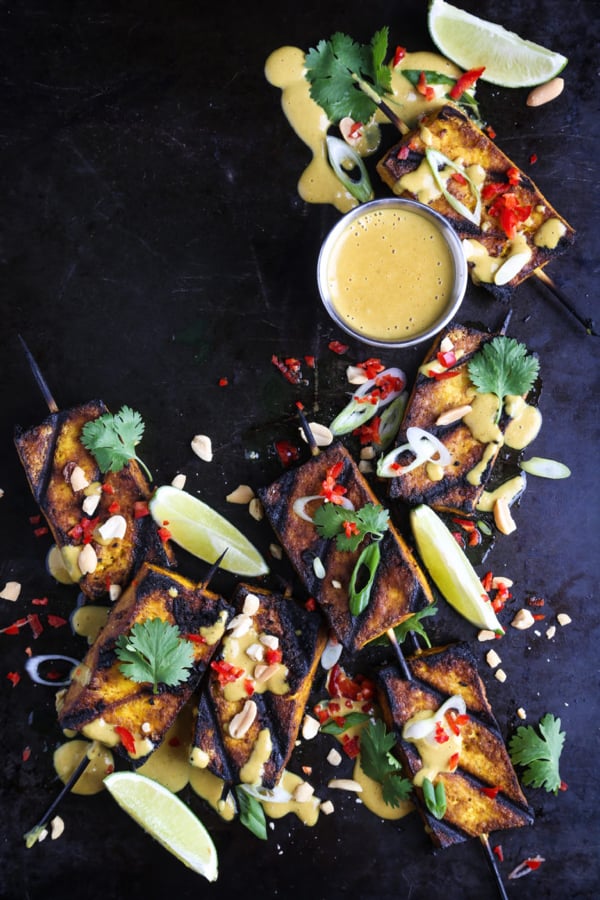 Erin has a way with tofu, and her latest protein-packed creation is a tofu satay with spicy peanut sauce. Perfect for summertime grilling.
Speaking of grilling, I'm loving Taylor's grilled cauliflower steaks with brightly colored romesco.
Lindsay's farmers' market pasta is the perfect way to use up the season's bounty.
Finally, a perfect refreshing treat for beating the August heat: Sue's beautiful watermelon kiwi popsicles.
Reads
1. Disparities in infant death rates continue to be grave in this country, according to a new study.
2. I've seen a few good articles lately on making a less processed diet affordable and accessible. Carrie Dennett's latest is full of good ideas and insights (and I totally second the emphasis on frozen produce).
3. Cathy Erway takes a probing look at the cultural history of mock meats. It's especially interesting to consider their origins given all of the current controversy over labeling!
4. A new report emphasizes the importance of plant-centric eating patterns for the sake of safeguarding the planet (CNN reports).
5. An interesting article on the way women think about their periods. It compares the growing "period positivity" movement, which encourages women to embrace their cycles as part of everyday life, with the concept of period neutrality, which may be more accommodating to the experiences of women who live with especially painful periods. As with nearly all things that relate to how we feel about our bodies, my feeling is that there's a place for positivity, neutrality, and lots of other feelings and identifications. It depends on the person and what feels right to him or her.
We've had a few beautiful days here in New York: sunny, dry, summery but not sweltering. I'm about to take a little walk and soak up some of this one. Happy Sunday, friends.
xo