Cumin Spiced Lentils and Rice with Everyday Lemon Tahini Dressing
Years ago, a reader mentioned (while I was doing the SNAP challenge for my masters program) that one of her favorite inexpensive meals was a stir fry of rice and lentils with a peanut butter sauce. It sounded simple and delicious, and it became the inspiration for this dish, which is now a weeknight favorite.
The suggestion, and the meal that it resulted in, had a domino affect. Various combinations of skillet-warmed rice and lentil dinners have become a staple in my home. It's the bean, grain, and green meal template idea, with lentils as the bean. I like to vary the lentils I use (brown, green, beluga), try different spices and seasonings, and play around with sauces and dressings to top it with. Dinners don't really get more nutritious, cost-effective, or easy, especially if I've cooked the rice and lentils ahead of time, or if I'm using canned lentils. (These days, honestly, I often am.)
This not-recipe recipe is just another variation on the combination I like so much. I wouldn't call this mujaddara, since it doesn't come close to having that dish's deeply caramelized onions or socarrat (the delightfully crispy rice at the bottom of the pan). But mujaddara is a loose source of inspiration for the meal. I don't caramelize the onions that go into the recipe, but I do brown them a bit more than I usually would. And I add cumin and coriander, which are characteristic Middle Eastern spices, if not included in all mujaddara recipes.
I like to top earthy dishes like this one with a bright, tart dressing. The dressing that probably gets more love than any other in Power Plates is my Everyday Lemon Tahini Dressing; the title is a slight exaggeration, but not by much. I make a batch of it nearly every week, and once it's made I use it almost daily. Here, it adds just the right creaminess and acidity to balance the savoriness of onions and spices. And as an added bonus, it can be whisked together in minutes.
| | | |
| --- | --- | --- |
| Cumin Spiced Lentils and Rice with Every Day Lemon Tahini Dressing | | Print |
Recipe type: main dish, side dish
Cuisine: vegan, gluten free, no oil option, soy free, tree nut free
Author: Gena Hamshaw
Prep time:
Cook time:
Total time:
Serves: 4 servings
Ingredients
1 tablespoon neutral flavored vegetable oil (such as grapeseed or refined avocado)*
1 large (or 2 small) white or yellow onions, thinly sliced
2 teaspoons ground cumin
½ teaspoon ground coriander
1 small bunch kale, collards, or another leafy green, stems removed and chopped into bite-sized pieces (about 4 packed cups of greens)
3 cups cooked, long grain brown rice (what you'll get from cooking 1 cup dry rice)
1½ cups cooked brown lentils (what you'll get from cooking ⅔ cup dry lentils), or 1 can lentils, drained and rinsed
1½ tablespoons freshly squeezed lemon juice (more to taste)
Salt and pepper to taste
For the Everyday Lemon Tahini Dressing:
1⁄4 cup tahini
1 clove garlic, finely minced or grated on a microplane
2 tablespoons freshly squeezed lemon juice
1⁄2 teaspoon agave nectar or maple syrup (optional)
1⁄4 teaspoon salt
1⁄8 teaspoon freshly ground black pepper
¼ cup water, plus more as needed
Instructions
To make the dressing, combine all the ingredients in a small bowl or measuring cup and whisk until evenly blended. If the dressing is thicker than you'd like, whisk in water by the tablespoonful to achieve the desired consistency. (Stored in an airtight container in the refrigerator, the dressing will keep for 1 week.)
Heat the oil in a large, deep skillet or pot over medium heat. Add the onions. Cook the onions, stirring them often, for about 10-12 minutes, or until they're a nice, golden brown. Add the cumin and coriander and stir; then, add the kale. Cook the kale until it's tender, stirring often (about 5 minutes).
Add the rice and lentils to the skillet, along with the lemon juice. Heat everything through. Taste the mixture and add salt and pepper to your liking. Divide onto plates and top with Everyday Lemon Tahini Dressing.
Notes
If you prefer, you can replace the oil with a few tablespoons of vegetable broth.
3.5.3251
I love using rice here, but the dish would work with farro, barley, bulgur, or even millet. Whatever you choose, it's worth having the grain or the lentils are both prepared ahead of time if you'd like dinner to come together in just minutes.
As far as serving goes, I sometimes add a few wedges of whole wheat pita to the plate so that I can scoop up every last bite of the mixture (and whatever dressing is on the plate!). You can serve the lentils and rice as a side dish, along with a big salad and some grilled or baked tofu or tempeh, or you could make it a main dish along with some veggies: roasted beets, broccoli, and cauliflower all work really nicely with it! It's also lovely with a cup of soup at this time of year; I especially like to have it with this carrot soup (chickpeas optional, since there's plenty of legume action going on here already).
My new rotation of the dietetic internship has begun, and since I started with low energy, I've kept my meal prep humble and streamlined in the last week and a half. This dish has been a perfect addition to the mix (the leftovers are pretty great hot or cold, though with freezing temperatures in NYC right now, the hotter the better).
I hope you'll find it easy and appealing, too—and I'm wishing you all a great week ahead.
xo
Vegan Chick'n Enchilada Breakfast Casserole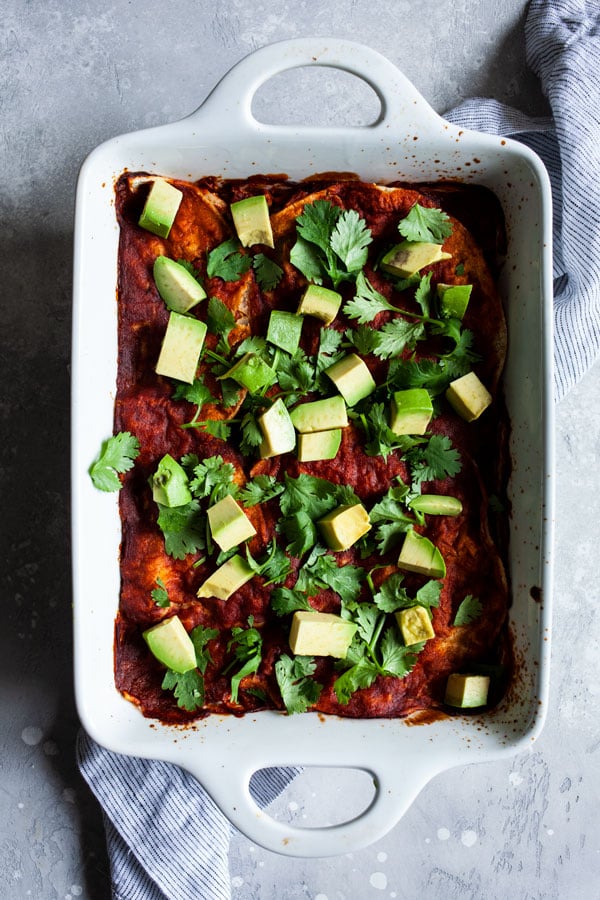 A few weeks ago, in sharing a lasagna recipe, I mentioned that big, casserole-like dishes have been a meal prep time-saver for me lately. They're more involved than other recipes, but once they've been prepared, they give me at least 4-6 extra portions of food. And they're a nice way to break up my routine of soups and stews and bowls, which—though trusty allies throughout my whole internship year—are getting a little repetitive at this point.
I often get requests for make-ahead breakfasts in general, and savory make-ahead breakfasts in particular. I can relate well to the demand for this kind of recipe, since I'm always on the hunt for new ideas myself. I'm a big breakfast eater, and my early hours this year have made it difficult to eat breakfasts that are as satisfying as what I'm used to making at home, but also easy to transport to work.
This breakfast enchilada casserole doesn't have to be eaten for breakfast, of course; it's great for dinner, too, and I've enjoyed it at both mealtimes. But I'm a big believer in getting a nice bolus of protein at breakfast (bolus! Always a funny-sounding word when I put it into writing), and the soy curls in the recipe make that an easy task here.
Soy curls are one of my favorite plant-based proteins. They're inexpensive, a whole food (whole, non-GMO soy beans are the only ingredient), versatile, and they make a vegan "chick'n" that's about as good as any store-bought vegan meat you can find, only cheaper. They're also low in fat and packed with protein, so perfect when a protein-rich morning meal is the goal.
It was my original plan to use layers of shredded vegan cheese in the recipe—pepperjack or cheddar—but I ended up forgetting to pick up any the week I made the casserole. I had plenty of cashew cream in my freezer, as I usually do, so I decided to use layers of homemade cashew cream instead.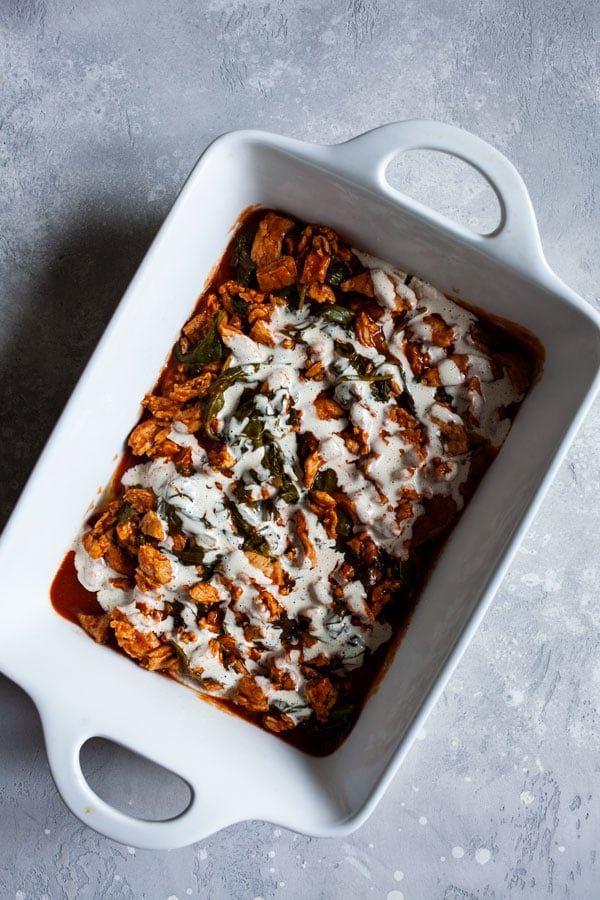 It worked out just fine. The cashew cream definitely tastes less "cheesy" than a store-bought vegan cheese would, but it sort of melts into the vegan chick'n and greens while the casserole bakes, giving the whole dish a creamy texture. It's an easy option if you make cashew cream regularly and have some at the ready, or if you've got a powerful blender at home.
If you'd prefer to use a vegan cheese, that's fine, too, and you can just sprinkle some onto each layer instead of drizzling the cream. (Lately my favorite is the Violife brand.)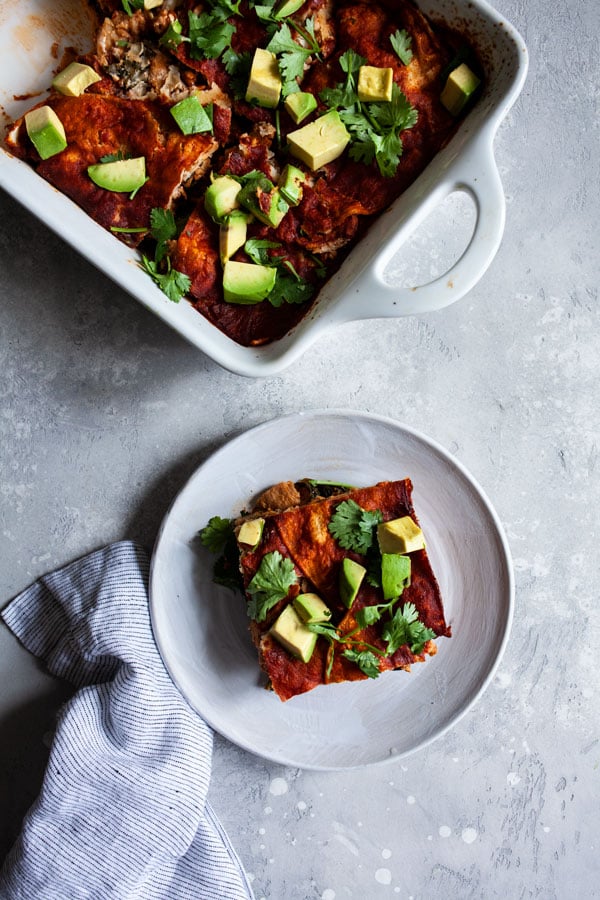 Aside from that, don't let the name of "casserole" fool you. This couldn't be easier to put together. If you like to make your own enchilada sauce and want to use it, go for it; I used the store-bought stuff for convenience, and the whole dish was assembled in about 20-25 minutes, including the time it took to make the soy curls. It'd be even quicker if you prepared them in advance. Here's how to do it!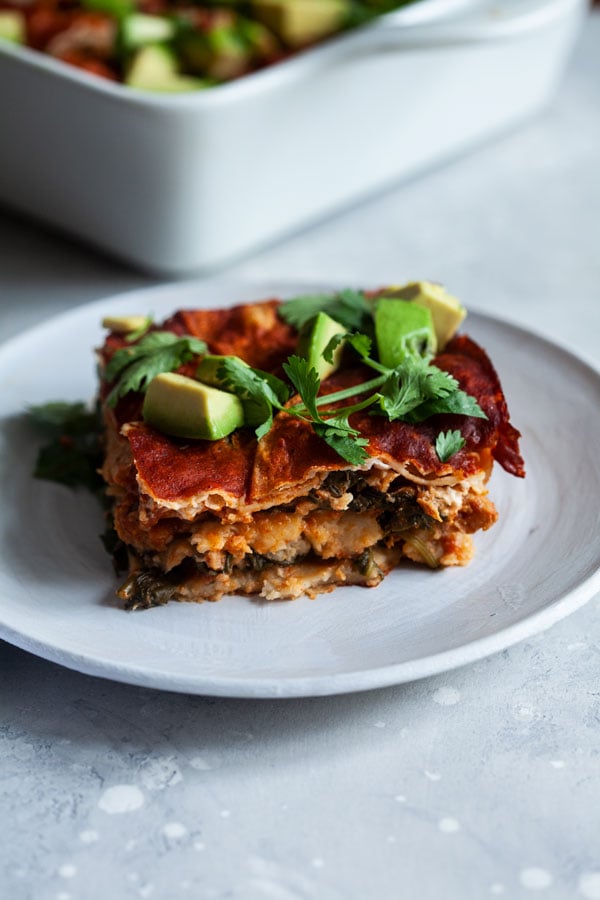 Vegan Chick'n Enchilada Breakfast Casserole
Prep Time20 mins
Cook Time30 mins
Servings: 6 servings
Ingredients
1

8-ounce bag

Butler foods soy curls (purchase online or through Amazon)

4

cups

boiling water

1

vegan bouillon cube (chicken flavored works best, but herb/vegetable is also fine)

2

tablespoons

tamari

1/2

teaspoon

smoked paprika

1

teaspoon

onion powder

5

ounces

baby spinach (substitute chopped leafy greens of choice, or frozen and chopped leafy greens of choice)

12-15

6-inch corn or flour tortillas (12 fit my casserole dish perfectly; you may wish to have a few extra on hand)

2

15-ounce

cans or jars of red enchilada sauce (substitute 3 heaping cups of homemade enchilada sauce)

1

heaping cup

cashew cream

chopped fresh avocado and cilantro leaves/stems, for topping
Instructions
First, prepare the chick'n style soy curls. Place the bouillon in a large, heatproof bowl. Bring the water to a boil. Pour it over the bouillon cube, then add the tamari, smoked paprika, and onion powder. Stir everything well, then add the soy curls. Cover the bowl and let it sit for 10 minutes. Drain the hydrated soy curls in a colander, pressing them gently to help remove as much moisture as you can. You can prepare these in advance and store them in an airtight container in the fridge for up to 5 days. They can also be frozen for up to 6 weeks.

Preheat your oven to 375F and lightly oil the bottom of a 9 x 13 inch baking dish. Pour one can (1 1/2 cups) of enchilada sauce into a large, deep skillet. Bring to a simmer over medium low heat. Add the prepared chick'n style soy curls and the baby spinach. Heat and stir until the spinach has wilted.

Pour 1/2 cup of enchilada sauce (from your remaining can) onto the bottom of the casserole dish and spread it around into a thin layer. Layer 4 tortillas over it (for my dish, I could layer three in a row and then cut an additional fourth in half and used it to cover space at the sides). Layer 1/2 of the chick'n/spinach mixture over the tortillas. Top with 1/2 cup enchilada sauce and drizzle with 1/2 cup cashew cream. Cover this layer with another 4 tortillas, the remaining chick'n/spinach mixture, another 1/2 cup sauce, and 1/2 cup cashew cream. Top with 4 more tortillas, then pour about 3/4 cup sauce on top of these, spreading the sauce evenly to cover the casserole. Transfer the dish to the oven and bake for 30-35 minutes, or until the top is darkening and the sauce is bubbling.

When the casserole has cooled for about 10 minutes, you can top it with chopped avocado and fresh chopped cilantro. Cut into 6 pieces and serve!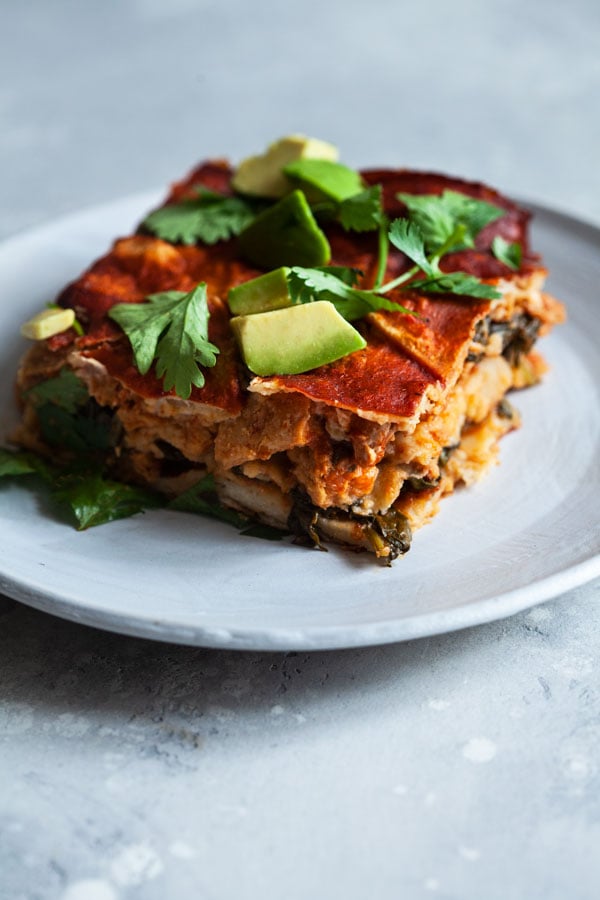 This recipe was inspired by a non-vegan version from my friend Ali. If you check out her post, you'll get instructions on making homemade enchilada sauce, if you'd like to. I'd put this recipe into the "semi-homemade" category as it is, but preparing sauce from scratch will definitely give it a more wholly homemade feel.
Greens, protein, some starch from the tortillas: this is a breakfast formula that satisfies me and keeps me going happily till my morning snack. I haven't always had breakfasts like this as an internship student; I've had more squares of baked oatmeal than I can count, sometimes a double dose of the whole meal muffins from Power Plates, sometimes toast if I can eat at home. Lately, it's been microwaved oatmeal at work. But when I have the option of something savory and hearty and protein-dense, like this, I'll always take it.
Enjoy, friends, and see you later this week.
xo
Vegan Peanut Butter & Jelly Swirl Snack Cake
Once upon a time, I was placed in charge of the internship program at the publishing house where I worked. Our interns did a lot: they read through piles of manuscripts, giving us early feedback on the work and whether it might fit onto our list of titles. They pitched in with the process of transmitting paper manuscripts to production, which at the time was somewhat painstaking (I wonder if it's all done electronically now?). They handled correspondence and made phone calls and were eager to help out in any way they could.
In spite of how capable and energetic our interns were, I remember that hosting them was a lot of work. By the time I'd trained them to do what they needed to do, we were often a good many weeks into the semester. It was my first experience of being in a teacher/mentor role. And it showed me how demanding that role can be.
In the last 15 weeks, I have been mentored and taught—precepted, it's called in the world of dietetics—by 6 incredible RDNs. They answered my many questions, only some of which, I know, were intelligent. They humored me when it took me a while to catch onto procedures. They worked with me to formulate and edit countless PES statements (that's problem, etiology, and signs/symptoms), carefully showing me the different between etiology and evidence. They checked my math on tube feeding calculations and pushed me to keep practicing.
Each one of these dietitians went above and beyond overseeing my work. They all took the time not only to delegate tasks, but also to teach me, sharing knowledge and insight into clinical practice that will stick with me always. And they did so uniquely, each according to his or her own style and clinical interests.
I haven't had a chance to do any holiday baking until the last few days, the DI being what it is. But I did make a pretty delicious snack cake on Saturday, and if I could, I'd bring a slice to each of my preceptors as a way of showing my appreciation for the time they've given me.
To be honest, I made this cake because it's something I've wanted to make for a while now and for the following reasons:
Cake is my favorite dessert, and snack cake—which is just what I call it when I bake it in a large, rectangular pan and turn to slices as a late afternoon treat—might be my favorite kind.
I love peanut butter.
I also love jelly/jam.
But there are some reasons why it feels appropriate as a virtual token of appreciation for my preceptors, too. It's just sweet and rich enough to be very much a dessert, but there are some nutrient bonuses, including whole wheat pastry flour and healthful fats from the nut butter. So far, my impression of clinical dietitians is that they understand the importance of snacks (they spend lots of hours on their feet, rounding and seeing patients) and snack often. And, while I'm sure they're out there, I have yet to meet an RDN who doesn't love peanut butter.
The whole "swirl" thing sounds complex, but the cake is actually really easy. The base batter is dense, and once you pop it into a baking dish, you cover it with some raspberry jam (or any flavor you like) and simply use a spatula to swirl the jam around. That's all there is to it.
Once the cake bakes, it has a rich texture, an amber color, and a beautiful top that's covered in deep red swirls. The slices, which also resemble snack bars, taste like the sweetest and most indulgent PB & J ever, and eating it all weekend has convinced me that there is no cake frosting better than some tasty fruit jam. The cake is a treat to look at and a treat to eat—especially with a cup of afternoon tea. Here's the recipe.
| | | |
| --- | --- | --- |
| Vegan Peanut Butter & Jelly Swirl Snack Cake | | Print |
Recipe type: dessert
Cuisine: vegan, soy free, tree nut free option
Author: Gena Hamshaw
Prep time:
Cook time:
Total time:
Serves: 12-16 slices
Ingredients
2½ cups (293g) whole wheat pastry flour (substitute unbleached, all purpose flour)
2 tsp baking powder
½ teaspoon baking soda
½ tsp salt
1 cup peanut butter (substitute sunflower seed butter)
1 cup applesauce
1 cup brown sugar
4 T melted vegan butter or vegetable oil
½ cup non-dairy milk of choice
1 teaspoon vanilla extract
¾ cup raspberry (or strawberry) jam
Instructions
Preheat your oven to 350. Lightly oil a 9 x 13 baking dish or jelly roll pan (you can also use 12 x 8 dish/pan).
Whisk together the flour, baking powder, baking soda, and salt in a large mixing bowl.
In another bowl, whisk together the applesauce, brown sugar, vegan butter or oil, non-dairy milk, and vanilla. Add these wet ingredients to the dry and mix until they're evenly incorporated. The batter will be on the thick side. Pour it into the prepared baking dish and use a spatula or inverted spatula to spread it around evenly. Dot the jam in big spoonfuls on top, then use your spatula to swirl everything around. It doesn't have to be neat! Have fun.
Bake the cake for 35-40 minutes, or until the top of the cake is firm and the edges are lightly golden. Allow the cake to cool for at least 3 hours before slicing and serving. Enjoy!
3.5.3251
Among other things I'm feeling grateful for on this quiet Christmas, I'm so lucky to have had wonderful teachers this semester: empathic, intelligent, insightful, food- and body-positive teachers. My future work will be so much stronger for their guidance and training, and I can't thank them enough. If they were reading, though, I'd try:
Thank you, thank you, thank you.
And thank you, everyone who's tuning in on this Christmas Eve of 2018. I wish you all peace, joy, and cake.
xo