Easy Vegan Sausage Mushroom Marinara Pasta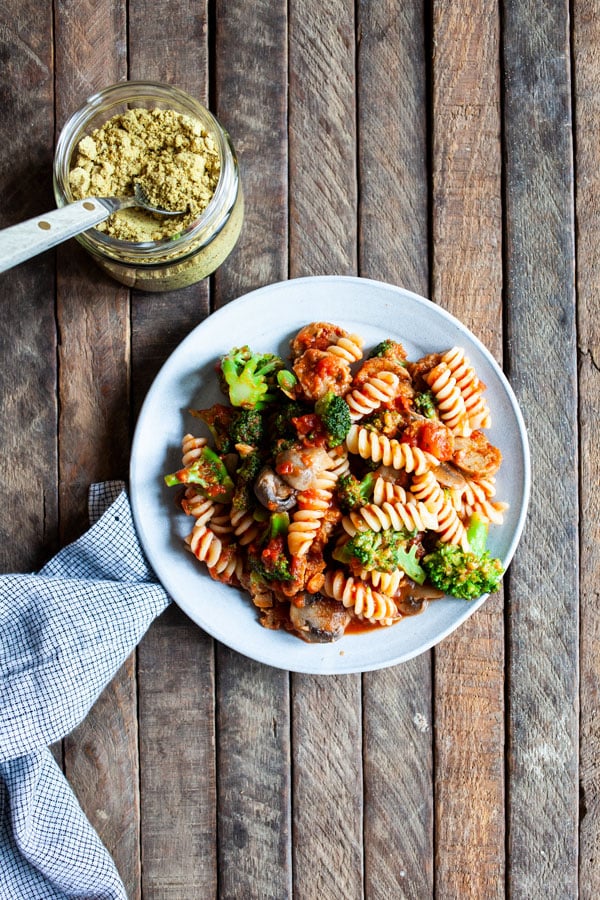 Hi friends!
Sending you into the weekend with one of those meal starter ideas that I keep mentioning this month. This easy vegan sausage mushroom marinara pasta isn't a recipe (and I'm not sure that this share even constitutes a proper blog post!), but it's one of the re-heatable dinners I've made most often for sustenance and comfort food during my DI. On the chance that one of you might come to enjoy it as much as I do, it's worth writing down the process.
This meal definitely gets filed in the "semi-homemade" category. Within that, you're encouraged to use any of the store-bought staples you like: your favorite marinara, your favorite vegan sausage (or you could use crumbled and sautéed tempeh, or cooked lentils), your pasta of choice (I used regular; go ahead and use gluten-free, bean pasta, whole grain—whatever suits you), and your favorite pasta topper. For me, that's this walnut herb parm.
By the time the dish comes together, it's filling, rich in plant-protein, packed with vegetables for nutritional heft, and—I think—pretty tasty for all of its simplicity. Here's how I make it.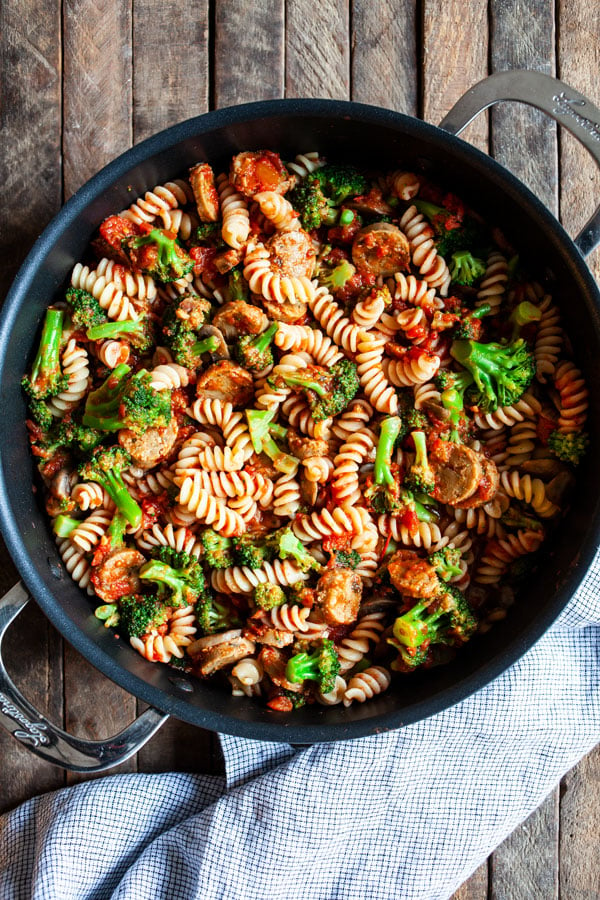 | | | |
| --- | --- | --- |
| Easy Vegan Sausage Mushroom Marinara Pasta | | Print |
Recipe type: main dish
Cuisine: vegan, gluten free option, soy free, no oil option, tree nut free option
Author: Gena Hamshaw
Ingredients
8 ounces pasta of choice
2 teaspoons olive oil (or a few tablespoons vegetable broth)
10 ounces sliced mushrooms (you can use button, portobello, or cremini)
2 vegan sausages of choice (I used Field Roast Italian style), sliced, or 1½ cups vegan beef-style crumbles, tempeh crumbles, or cooked lentils
1 lb bite-sized broccoli florets (or a 1 lb bag of frozen broccoli florets, defrosted according to instructions, which is what I used)
1 25-ounce jar marinara of choice
Vegan parmesan, for topping
Instructions
Bring a large pot of water to a rolling boil. Cook pasta according to package instructions.
While the pasta boils, heat the oil or broth in a large, roomy, deep skillet. Add the mushrooms and sausage slices. Cook, stirring often, for 7-10 minutes, or until the mushrooms have released their juices and are completely tender. Add the broccoli (if fresh) to the skillet, cover, and allow it to steam cook for 3-4 minutes, or until crisp-tender. If using defrosted, add the broccoli to the skillet and heat through.
Add the marinara sauce and pasta to the skillet. Mix everything and heat through. Divide into 4-5 portions and top with vegan parmesan of choice.
3.5.3251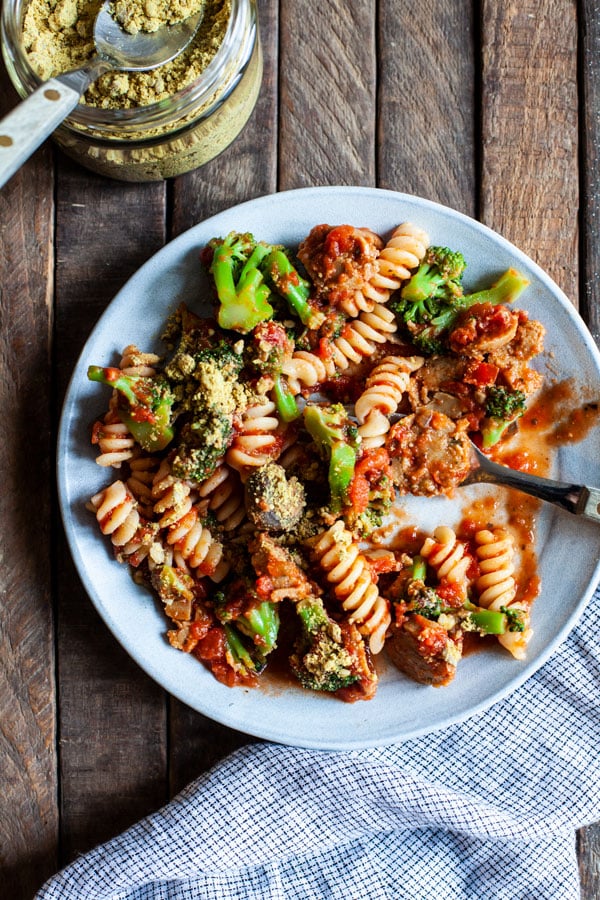 This may well be a lot less inspiring than many of you need, in which case don't worry: I have another easy recipe planned for next week, but it's a little more original than this one!
As I said, for those of you who might love this combination but not necessarily think to throw it together, I hope it's a winning weeknight supper. Thanks for letting me share a low-key favorite with you.
And I'll be back soon, for weekend reading.
xo
Vegan Chickpea Caesar Wraps | The Full Helping
This is a great time of year for sandwiches and wraps. They're quick and easy, which means that they free up time for me to take a walk on my lunch break, rather than staying in and fussing over my lunch. They don't demand an oven, a stovetop, or any other heat source, which is attractive in a New York City August. And they're portable, so I can carry them with me if I'm working outside of the home. I can even make the most of my lunch hour and take a sandwich or a lunch wrap to the park near my apartment, getting a taste of green space and some nourishment at the same time.
When I was in grad school, my go-to sandwiches were one of the following:
1. Hummus and veggies
2. Tempeh and avocado
3. Vegan deli meats and veggies
They're all great. They did, after three straight years, become a little boring.
Now that I can prepare a sandwich or a wrap from home, albeit with the desire not to spend too much time on lunch, I'm trying to experiment with slightly more creative options. This vegan chickpea Caesar wrap is my latest favorite.
The wrap uses a slightly simplified version of the Caesar dressing from Power Plates. I sometimes double the amount I make so that I can also have some nearby for sandwiches and bowls, because it's so good: creamy, savory, with a little umami. It's cashew based, and I throw in some capers and nutritional yeast for authentic flavor.
Making the dressing is actually the most time-consuming part of making this wrap, so if you're really in a hurry, you could use a store-bought vegan Caesar instead (Follow Your Heart and Daiya both make them).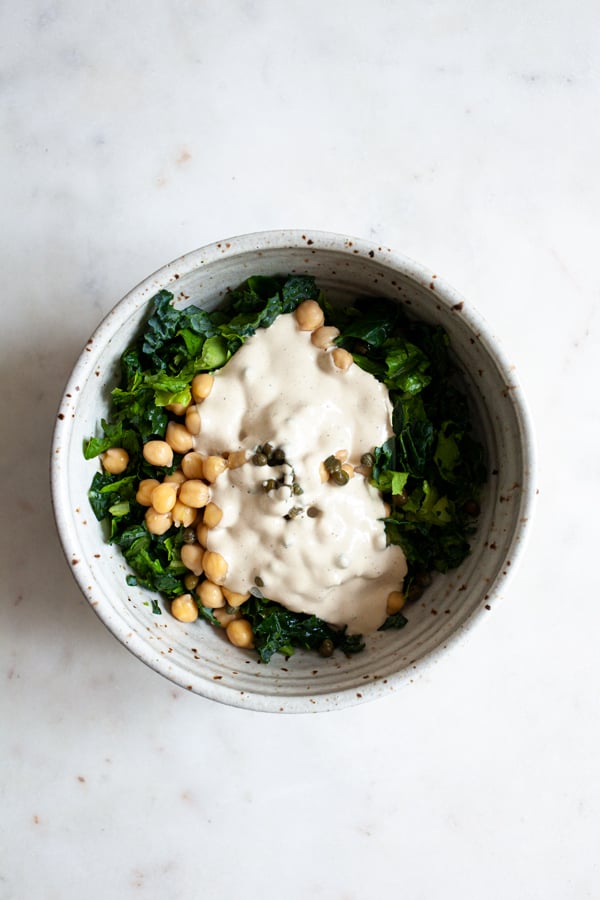 Once the dressing is ready, the wrap is as simple as throwing chickpeas, greens, and a few more capers together and wrapping it all up. I like to use a combination of Tuscan kale and romaine for texture contrast, and sometimes I'll throw in some extras, like grape tomatoes or vegan bacon (tempeh and seitan bacon are especially nice because they add protein to the meal, but shiitake bacon is also delicious).
You can chop all of the greens up well with your chef's knife, of course: that's how I usually do it. If my food processor happens to be out because I've been making hummus or something, I often pulse all of the filling ingredients together. It's ridiculously fast, and I like how well chopped everything gets (it's a handy trick for stuffing pita pockets with veggies, too).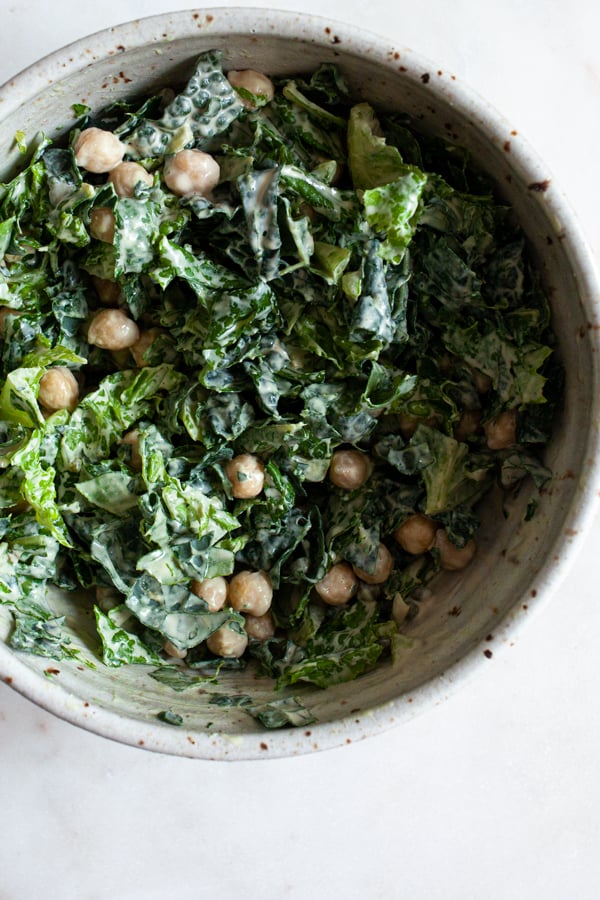 I'm listing the recipe to serve two, because I rarely prepare this kind of meal more than two servings at a time, and the filling will only keep about two days in the fridge once it's mixed. But if you're prepping lunch for a bunch, you can of course double the quantities. Here's the recipe.
Vegan Chickpea Caesar Wraps
Servings: 2 servings
Ingredients
For the vegan cashew Caesar dressing
1/2

cup

raw cashews, soaked for at least 2 hours and drained

1/3

cup

water

1

teaspoon

Dijon mustard

1

clove garlic, roughly chopped

1

tablespoon

capers

1

tablespoon

freshly squeezed lemon juice

1 1/2

tablespoons

red wine vinegar

1/4

teaspoon

fine salt

1/8

teaspoon

freshly ground black pepper

3

tablespoons

nutritional yeast
For the wraps
1

cup

cooked chickpeas

3

cups

roughly chopped romaine lettuce

2

cups

Tuscan (lacinato) kale, washed, stemmed, and torn into strips or pieces

1

tablespoon

capers, mostly drained (a little of the liquid is fine)

2

large, whole wheat or regular wraps (I recommend at least 8-10″ diameter for easy wrapping!)

optional additions: cherry tomatoes, 1/4 cup chopped vegan bacon, a handful of chopped, sun-dried tomatoes, or additional veggies of choice
Instructions
First, prepare the dressing by adding all of the dressing ingredients to a powerful speed blender or food processor. Blend or process till smooth (1-2 minutes). You should have a scant cup dressing; you won't need all of it for two wraps. Dressing will keep in an airtight container in the fridge for up to 5 days.

Chop the greens well with a chef's knife (or pulse them in the food processor to make chopping fast). Throw them in a bowl. Add the chickpeas, capers, and anything else you'd like to add to the wrap, along with 1/4-1/3 cup of the dressing. Mix well.

Divide the filling along the center of two wraps (or save half for tomorrow). The filling should be arranged vertically. Tuck the top and bottom over the filling, then cover it with the right side of the wrap. Tuck the wrap over the filling well, then roll it up from right to left. Slice in half and serve.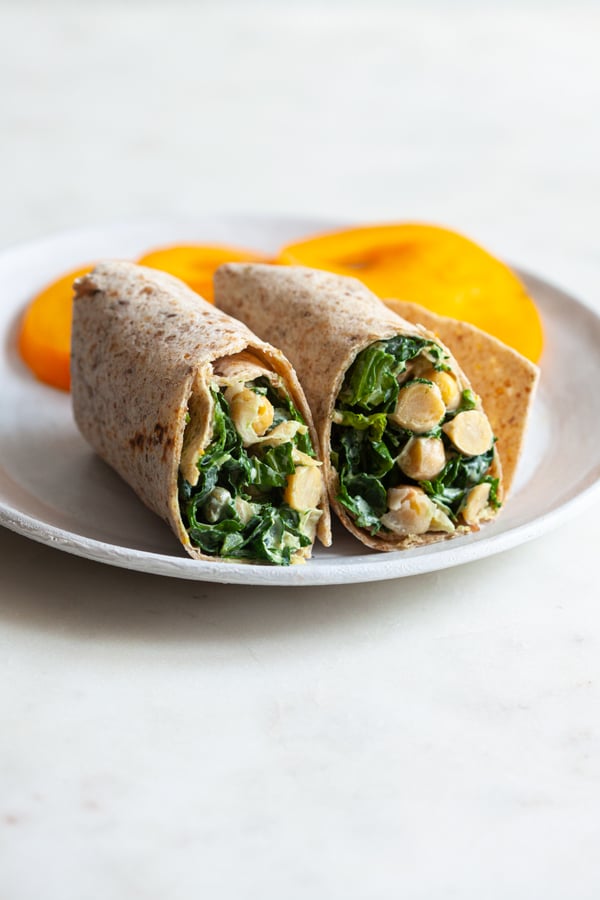 Don't have any chickpeas at home? White beans of any kind (cannellini, navy, Great Northern) will also work really well in the wraps. And at some point I'd like to try replacing the beans with chopped vegan chick'n (like my chick'n style soy curls).
As I continue to ease back into a steady work routine and study for my exam, I love having lunches that give me something to look forward to without demanding too much of my time. This one is perfect, and I hope you'll enjoy it as much as I do.
xo
Lemon Dill Zucchini & Chickpea Rice
This is one of the quickest dinners I've made in a while, and it was well-timed with this last, busy week of my internship. Somehow, in spite of the speed and the fact that I didn't think very much about it as it came together, it's one of my favorite meals I've had in a while, probably because it would be very hard indeed for me to dislike any combination of the ingredients here. (Dill alone is a selling point.)
The reason it came together so fast is my unabashed reliance on frozen rice these days. I get bags of it at Whole Foods (it's the 365 brand) and am always so grateful when I remember that it's sitting in my freezer. It's no big deal to cook rice, I know, and whenever I mention this little hack (or whatever you want to call it) I feel sheepish. But rice doesn't exactly cook instantaneously—it's not quinoa, after all!—and it's an ingredient I use a lot in last-minute bowls and tacos, or as a base for curries.
If you have pre-cooked rice of any kind and a can of chickpeas (or some frozen, cooked ones that you can defrost ahead of time), this meal is so simple; popping a tray of zucchini in the oven to roast is the biggest step, and that cooking is totally inactive. I came home from work last Friday, roasted the zucchini, and got some work done; by the time the vegetables were ready I had everything else lined up to heat and serve. Dinner was on the table in no time.
Here's the oh-so-simple recipe. It speaks for itself, which is a nice thing, since I'm too tired to speak for it 🙂
Lemon Dill Zucchini & Chickpea Rice
Servings: 4 servings
Ingredients
1

lb

zucchini (about two medium/large), diced

1

tablespoon

neutral-tasting vegetable cooking oil (such as grapeseed or refined avocado)

1

cup

short grain brown rice or 3 cups cooked brown rice

2

teaspoons

olive oil or a few tablespoons vegetable broth

1

shallot, chopped

3

cloves garlic, minced

1 1/2

cups

cooked chickpeas (or 1 can, drained and rinsed)

2

tablespoons

fresh, chopped dill

2

tablespoons

fresh, chopped parsley or chives

1-2

tablespoons

freshly squeezed lemon juice, or to taste

salt and pepper to taste
Instructions
Preheat your oven to 400F and line a baking sheet with parchment or foil. Toss the zucchini with the vegetable oil and transfer to the sheet. Roast for 35 minutes, or until the zucchini is tender and browning.

If using dry rice, cook rice according to package instructions while zucchini roasts.

Heat the olive oil or broth in a roomy skillet over medium heat. Add the shallot. Cook for 2-3 minutes, or until the shallot is clear and soft. Reduce the heat to medium low and add the garlic. Cook for 1 minute, stirring often. Stir in the cooked rice, chickpeas, and roasted zucchini. Add the lemon juice, dill, and parsley; stir well. When everything is warmed through, taste and add salt and pepper to your preference. Serve.
I hope you might turn to it on a busy night, like I did, and find that it's as filling and flavorful as you need it to be.
I've got one more day to go, and the fact that my DI is over still hasn't really hit me. But I'm sure that, at this point tomorrow evening, I'll be feeling very differently . . . and, I hope, very relieved.
I'll "see" you this weekend—have a peaceful end to your weeks, friends.
xo
Pizza Cauliflower Bake | The Full Helping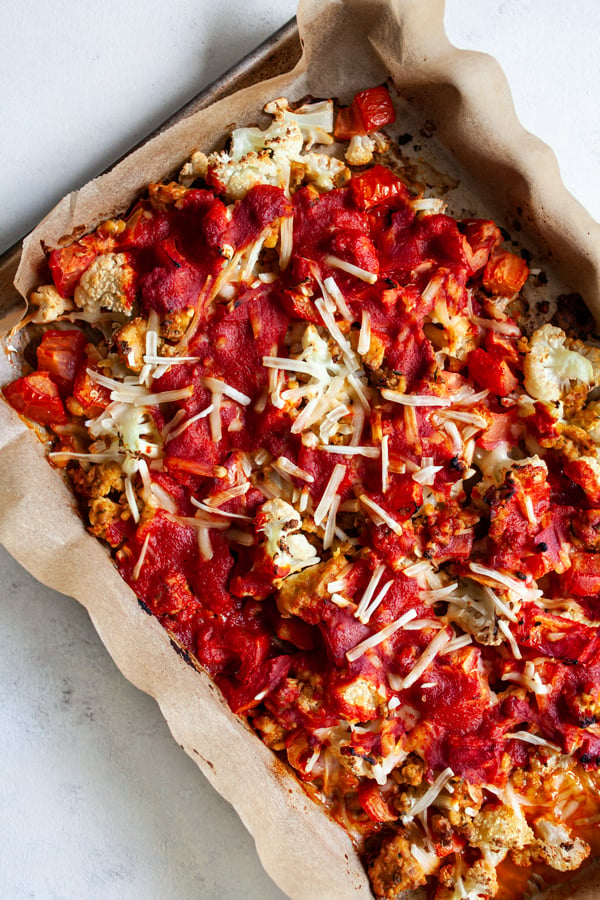 This past Saturday was admittedly a crazy day to have my oven on; it was scorching and humid in NYC, and it would have been a perfect night for leftovers or a dinner salad.
But that isn't what happened. Instead, I had my oven on to create the cheesy, melty, altogether delicious vegan cauliflower pizza bake you see above. And I have no regrets at all.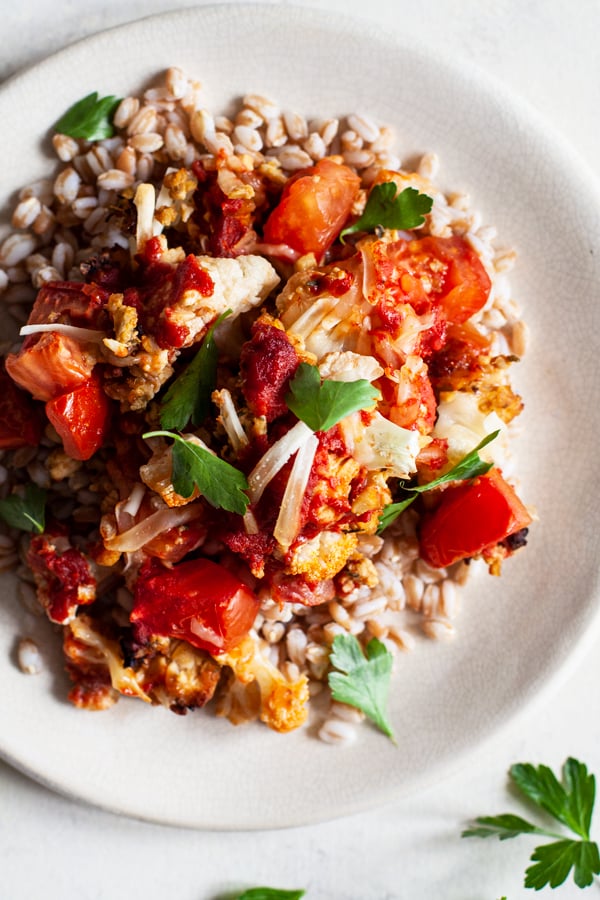 This recipe was inspired by EmilyC. If any of you read Food52 regularly, then you probably recognize Emily's moniker. She's a longtime reader, commenter, and super talented recipe submitter on the site. She became such a trusted member of the community that she collaborated with Food52 on their salad cookbook, which is a gem (and fun to veganize). She's also got a lovely Instagram feed, covered with images of easy sheet pan meals and salads and pastas that I also like to veganize, or use as inspiration for my own reinventions.
Emily posted a sheet pan of roasted cauliflower, pepperoni, and tomatoes not too long ago, and it caught my eye. I'm typically not a huge fan of using cauliflower in place of a starch, which is why I don't tend to make cauliflower rice or cauliflower pizza crust (same with zoodles—if I eat them, they're usually folded in with regular spaghetti so that I can get my energy-fueling carbs on).
But to feature cauliflower as a vegetable centerpiece, smothered in pizza fixings and seasonings? Somehow this idea spoke to me, big time. And I made a note to try it with vegan sausage or pepperoni slices sometime. This past weekend, after a long week of full of ups and downs, seemed like the perfect time for this comfort food inspired dish.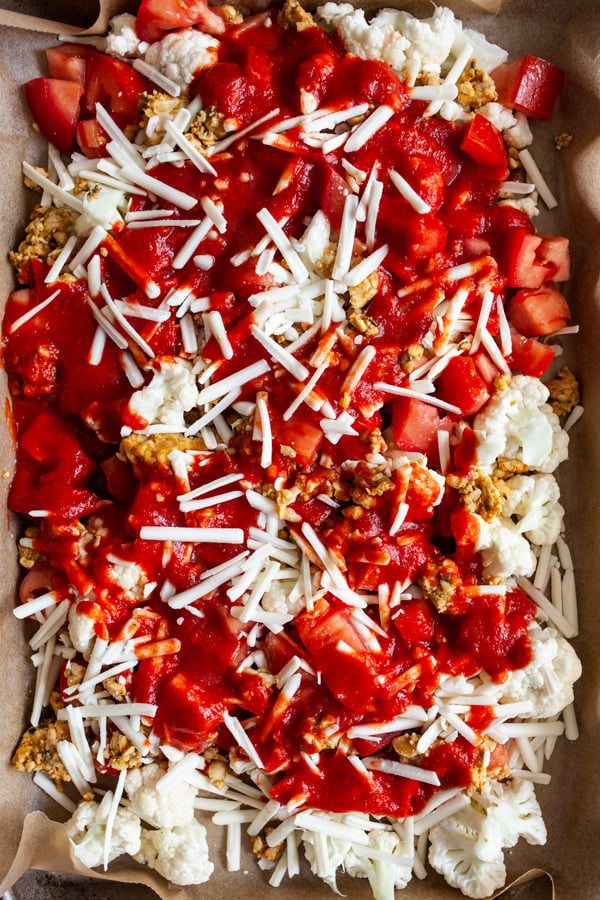 The vegan sausage I ended up adding to the recipe is a homemade version, loosely based on the tempeh sausage crumbles from Power Plates but even simpler (simple being the guiding principle lately). The tempeh is crumbled, then simmered in a vegan "chicken" or vegetable broth with Italian seasoning for 10 minutes, just to impart flavor. It's added directly to the dish after that. If you wanted to skip a step, you could use a sliced vegan sausage of choice (I love Field Roast) or a vegan beefy crumble (like Beyond Meat beefy crumbles).
Before going into the oven, cauliflower florets are mixed with the sausage, diced plum tomatoes, some tomato sauce, and a shredded vegan cheese of choice. I was thrilled to have fresh, local tomatoes to use here, but you could dice canned san marzano tomatoes in the winter instead.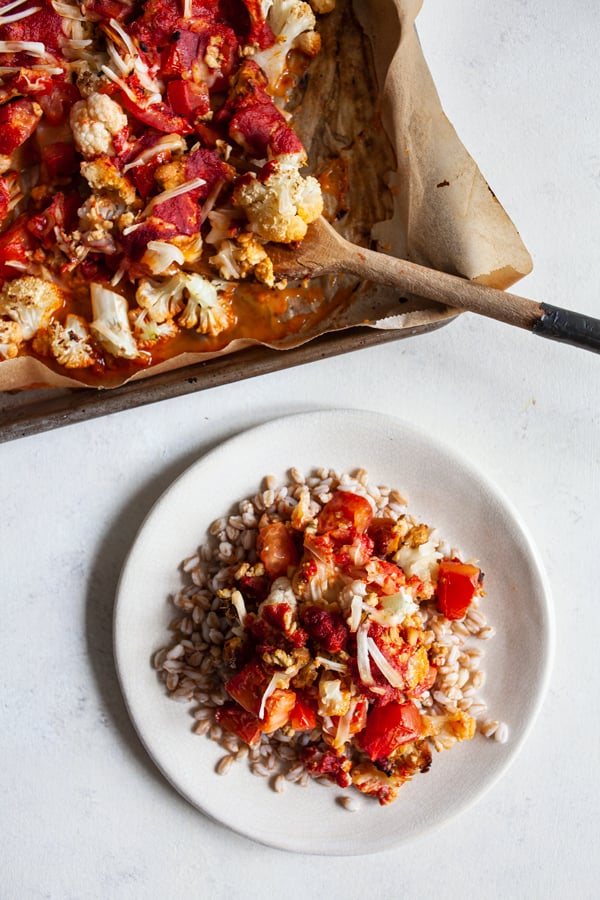 The cauliflower and sausage taste wonderful on their own. I'd opt to serve them over a whole grain or pasta; farro, as you can see above, was perfect for me. It's especially good when it's bubbly and fresh from the oven, but I can attest to the fact that the leftovers are great, too, since I've been eating them for going on three nights straight 🙂 Here's the recipe.
Pizza Cauliflower Bake
Prep Time10 mins
Cook Time50 mins
Ingredients
1

8-ounce package tempeh, crumbled

1

cup

low-sodium vegan no-chicken broth or vegetable broth

2

teaspoons

Italian seasoning

1 1/2

teaspoons

tamari

1

large head cauliflower, cut into florets and pieces (about 20-24 ounces)

1

lb

roma tomatoes, chopped (about 4 large tomatoes)

1

15-ounce can no-salt-added tomato sauce (or 2 cups of your favorite marinara sauce)

2

cups

mozzarella style shredded vegan cheese
Instructions
Preheat your oven to 375F and line one or two baking sheets with parchment (I have a small oven and used 2 quarter sized sheet pans).

Place the tempeh, broth, tamari, and Italian season in a small pot or small frying pan. Bring to a rapid simmer over medium high heat, then reduce the heat to a simmer. Simmer the tempeh for 10 minutes, or until the broth has been absorbed. Set the tempeh aside.

Place the cauliflower florets and pieces and chopped tomatoes onto your lined baking sheet(s). Sprinkle the tempeh sausage over them. Follow with the tomato sauce and your vegan cheese. Transfer to the oven. Bake for 40-45 minutes, or until the cauliflower is completely tender, the tomatoes are bubbly, and the cheese is melted. Serve with a whole grain or pasta of choice.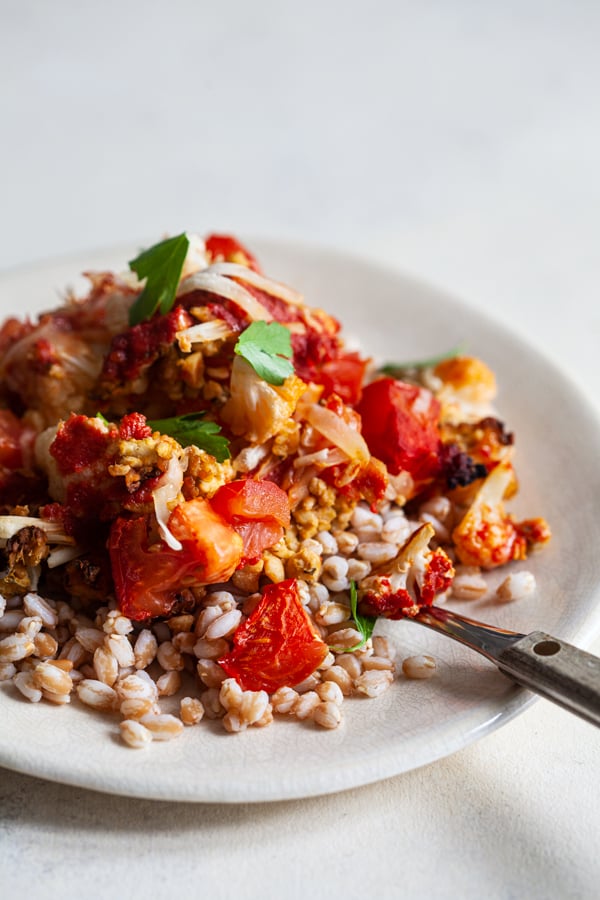 This is, really and truly, a delicious little dish: the flavor and spirit of a gooey baked casserole, but with the ease of a sheet pan supper. I'm excited to make it again, and I'd love to try it with broccoli at some point, too.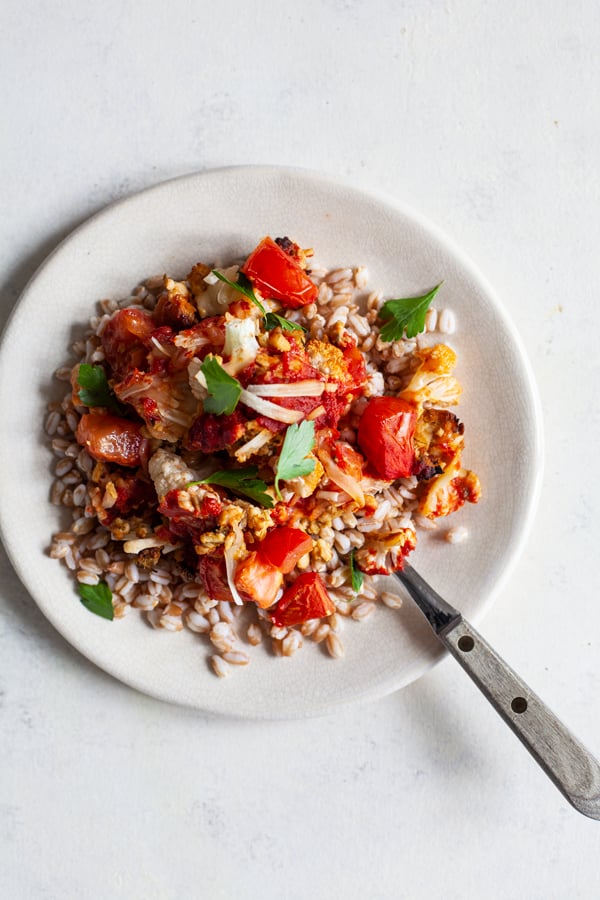 Hope you'll enjoy it, and if you make any fabulous additions or tweaks—different types of sausage or protein, fun toppings or seasonings—I hope you'll tell me about it 🙂
It's now Tuesday of my second-to-last week of the internship, and I have about seven proper 9-6 office days left. I can hardly believe it, and I probably won't believe it till it's over, but I'm getting a taste of the finish line. It tastes good. Have a great week, friends, and I'll be back this weekend.
xo