Easy Vegan Sausage Mushroom Marinara Pasta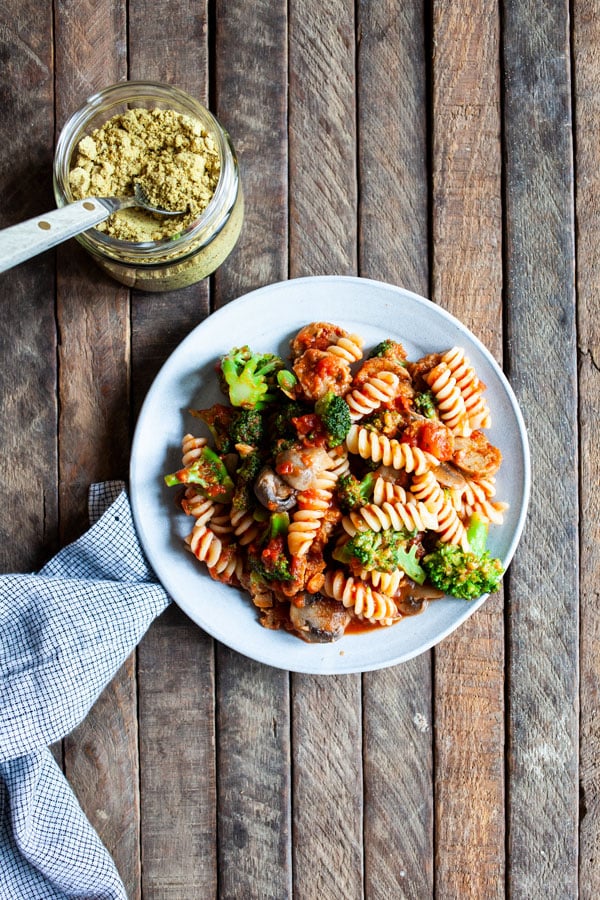 Hi friends!
Sending you into the weekend with one of those meal starter ideas that I keep mentioning this month. This easy vegan sausage mushroom marinara pasta isn't a recipe (and I'm not sure that this share even constitutes a proper blog post!), but it's one of the re-heatable dinners I've made most often for sustenance and comfort food during my DI. On the chance that one of you might come to enjoy it as much as I do, it's worth writing down the process.
This meal definitely gets filed in the "semi-homemade" category. Within that, you're encouraged to use any of the store-bought staples you like: your favorite marinara, your favorite vegan sausage (or you could use crumbled and sautéed tempeh, or cooked lentils), your pasta of choice (I used regular; go ahead and use gluten-free, bean pasta, whole grain—whatever suits you), and your favorite pasta topper. For me, that's this walnut herb parm.
By the time the dish comes together, it's filling, rich in plant-protein, packed with vegetables for nutritional heft, and—I think—pretty tasty for all of its simplicity. Here's how I make it.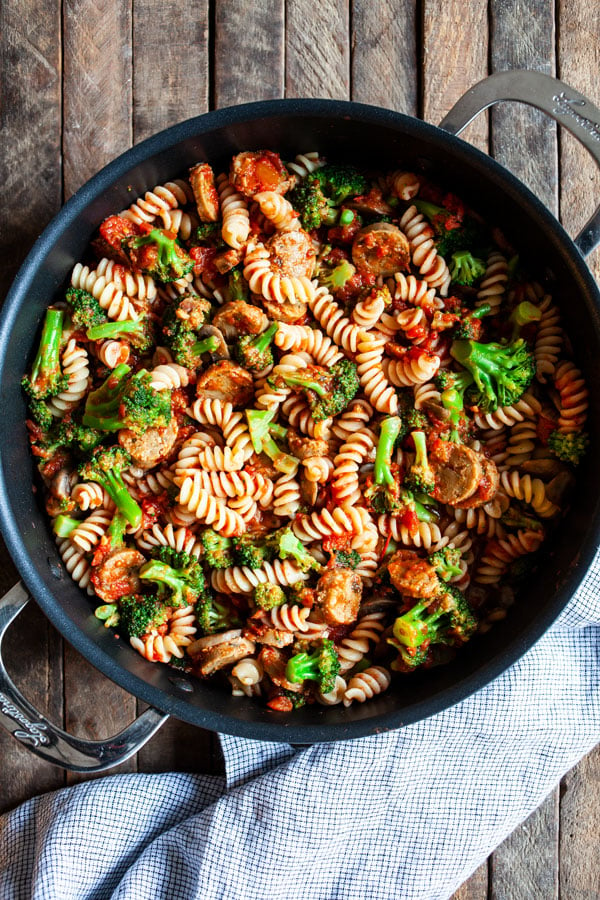 | | | |
| --- | --- | --- |
| Easy Vegan Sausage Mushroom Marinara Pasta | | Print |
Recipe type: main dish
Cuisine: vegan, gluten free option, soy free, no oil option, tree nut free option
Author: Gena Hamshaw
Ingredients
8 ounces pasta of choice
2 teaspoons olive oil (or a few tablespoons vegetable broth)
10 ounces sliced mushrooms (you can use button, portobello, or cremini)
2 vegan sausages of choice (I used Field Roast Italian style), sliced, or 1½ cups vegan beef-style crumbles, tempeh crumbles, or cooked lentils
1 lb bite-sized broccoli florets (or a 1 lb bag of frozen broccoli florets, defrosted according to instructions, which is what I used)
1 25-ounce jar marinara of choice
Vegan parmesan, for topping
Instructions
Bring a large pot of water to a rolling boil. Cook pasta according to package instructions.
While the pasta boils, heat the oil or broth in a large, roomy, deep skillet. Add the mushrooms and sausage slices. Cook, stirring often, for 7-10 minutes, or until the mushrooms have released their juices and are completely tender. Add the broccoli (if fresh) to the skillet, cover, and allow it to steam cook for 3-4 minutes, or until crisp-tender. If using defrosted, add the broccoli to the skillet and heat through.
Add the marinara sauce and pasta to the skillet. Mix everything and heat through. Divide into 4-5 portions and top with vegan parmesan of choice.
3.5.3251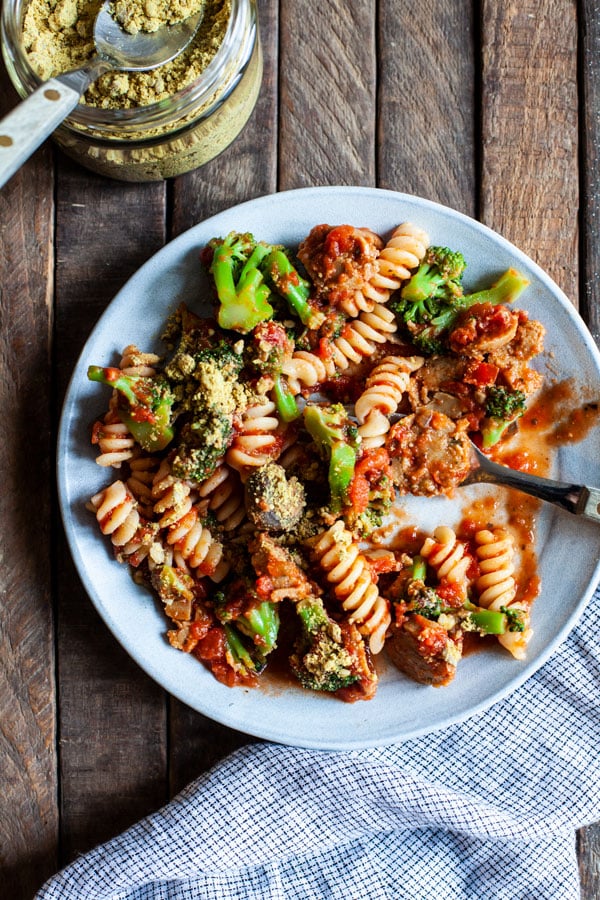 This may well be a lot less inspiring than many of you need, in which case don't worry: I have another easy recipe planned for next week, but it's a little more original than this one!
As I said, for those of you who might love this combination but not necessarily think to throw it together, I hope it's a winning weeknight supper. Thanks for letting me share a low-key favorite with you.
And I'll be back soon, for weekend reading.
xo
Lemony Bulgur Chickpea Salad | The Full Helping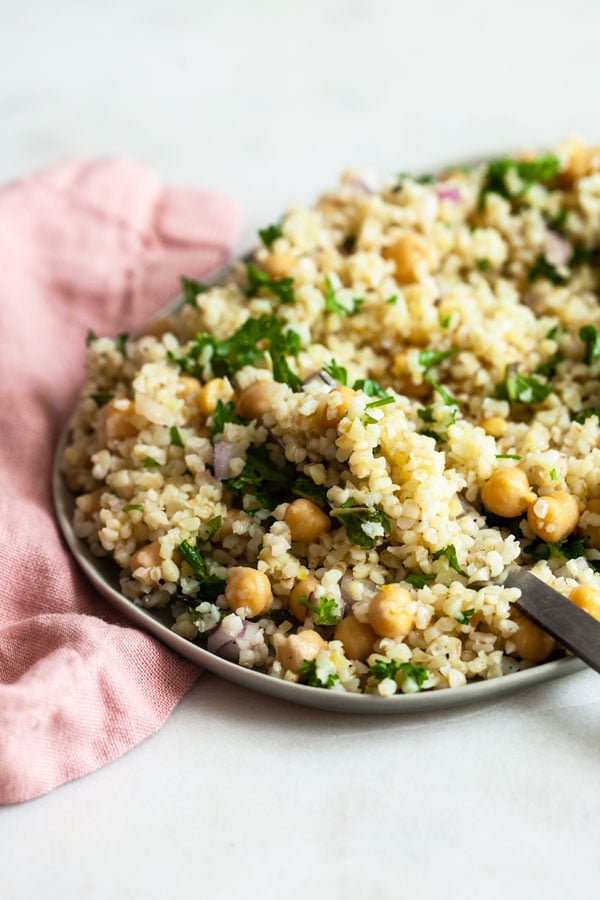 I'm so tired.
I've been tired plenty during the internship, but how I feel right now is special. It is, as they say, next level. And, with a final on Thursday, four assignments to finish, and almost two weeks left in my current rotation, the feeling doesn't promise to let up soon.
I've been at something of a loss for what to cook/eat. Dinner toast has happened (at least?) three times in two weeks. But I've always believed that it's possible to make homemade, good-tasting food even when time, energy, or both are very, very short. And that belief hasn't been challenged yet by the DI, in spite of ups and downs in my energy to make food.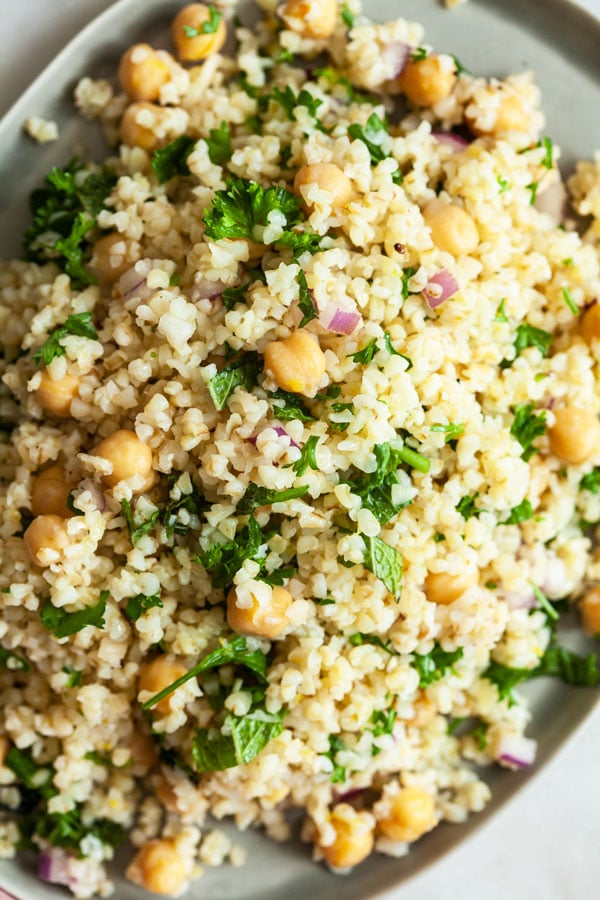 This grain salad is a little piece of proof. It came together last week, on a particularly hot-for-late-May night, when I wasn't quite in the mood for a cooked grain bowl and not quite in the mood for a dinner salad, either. That's thanks in part to the quick-cooking nature of bulgur, and in part to the fact that, no matter what's going on, I always have a can or a frozen container of chickpeas at home.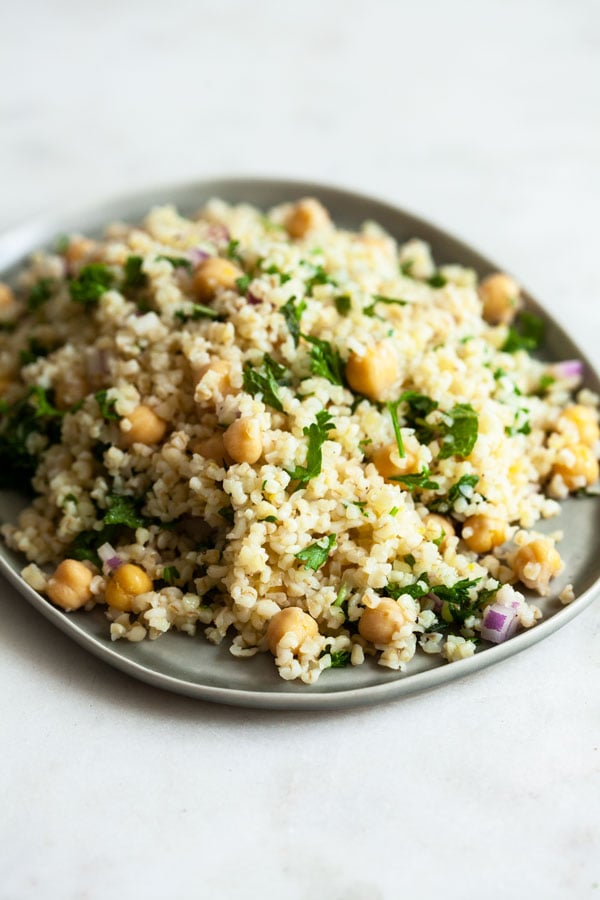 And so, this. A mix of cooked bulgur, zesty lemony vinaigrette, chickpeas, and herbs. I thought of it on my commute home from work, so I had a chance to pick up the mint. But if you don't have mint, parsley (or parsley + basil, parsley + chives, parsley + dill) will be just fine. And in that case, this meal really is made up of ingredients that many of us are likely to have in your fridge and pantry already.
Because of a few, small, additions that make a significant difference—the fresh herbs, lemon zest, the nice texture contrast of creamy chickpeas and grainy bulgur—the salad registers as a little more special than it sounds. And, as always, it does well with modifications. If raw red onion is too pungent for you (I used only a little for the recipe), you could try chopped green onion tops instead. Once they're in season, add sun gold or grape tomatoes. Or chopped cucumber. Or, if you've got some in the freezer, green peas.
You get the idea. Whatever you do, however you serve this simple gem, I hop you enjoy it.
Lemony Bulgur Chickpea Salad
Servings: 4 servings (3 if you're extra hungry)
Ingredients
3/4

cup

dry bulgur wheat (substitute quinoa for a GF version)

1 1/2

cups

cooked chickpeas (1 can, drained and rinsed)

1/4

cup

finely chopped red onion (optional)

1/3

cup

chopped parsley leaves

1/4

cup

finely chopped mint leaves

1

tablespoon

lemon zest

2-3

tablespoons

olive oil (as needed)

2

tablespoons

lemon juice

1/2

teaspoon

fine salt

freshly ground black pepper to taste
Instructions
Cook the bulgur according to package instructions. Allow it to cool to room temperature.

Place the bulgur, chickpeas, onion, parsley, and mint into a mixing bowl. Add the olive oil (start with two tablespoons, and add a little more if you like), lemon juice and zest, salt, and freshly ground black pepper to taste. Toss ingredients and adjust lemon and salt as needed. Serve at room temperature or cold, over fresh greens or with a vegetable side. Leftovers will keep in an airtight container in the fridge for up to 4 days.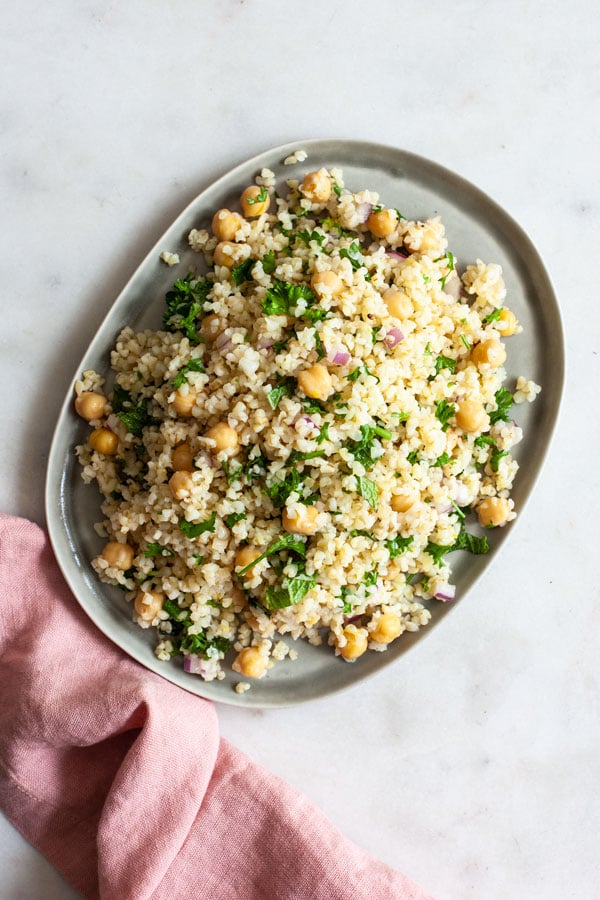 Alright, friends. One thing I learn more and more lately is how to conserve my energy, and how important it is to do that when I can. No extra words tonight—but some coming your way on Friday, and then over the weekend. For now, good night.
xo
Sheet Pan Tamari Glazed Tempeh & Broccoli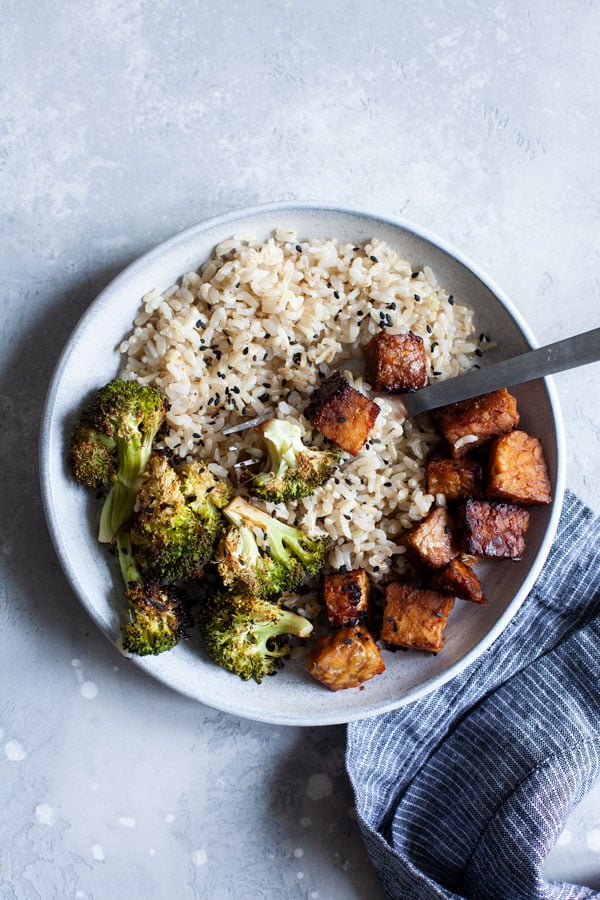 The other day, I took a little Instagram poll to figure out what sort of recipes you'd like to see more of, or which things you'd be curious to see me veganize. I did this partly for your sake and mostly for mine: I've been low on recipe ideas lately, and readers are always my best source of inspiration.
Here's a sampling of what was requested:
Pizza
Lasagna
Eggplant parmesan
Simple, take-to-work lunches
Anything with lentils
Pretzel bites
Cannoli filling (first I'll need to figure out how to make cannolis 😉)
Anything quick and/or easy
Stir fries
Vegan sandwiches
I loved getting requests. It was a reminder that I should ask for advice when coming up with my meal plans more often.
For now, I'm checking the "anything quick and/or easy" box with this recipe for tamari glazed tempeh and broccoli. On its own, it's a quick way to a vegan protein + vegetable combo, which you could eat the way it is or add to a salad/bowl. If you have some cooked or frozen rice at the ready, or some soba or udon noodles to boil up, it's a perfectly satisfying dinner. And while it's not exactly a 20-minute recipe, it's practically hands-off.
The recipe starts with giving tempeh a marinade in tamari, vinegar, and maple syrup (along with some crushed red pepper flakes for heat). You can do this in the fridge overnight, or for a couple hours, depending on what works for your schedule.
You can also choose to steam the tempeh first, or not. I didn't use to do this, but I've been getting into the habit lately. I do it less to decrease bitterness—the usual rationale—than to tenderize the tempeh, which I think it really does. And that's especially nice when tempeh gets baked, because it can dry out a bit in the oven.
After this is done, you spray a lined baking sheet with oil, place the tempeh cubes and some broccoli florets on it, and pour the marinade over everything. Bake for 35 minutes, and a protein-rich meal awaits!
Sheet Pan Tamari Glazed Tempeh & Broccoli
Servings: 3 servings
Ingredients
3

tablespoons

tamari (regular or reduced sodium, according to your preference)

3

tablespoons

rice vinegar (substitute apple cider or white wine vinegar)

2

tablespoons

maple syrup

2

cloves garlic, minced (or 1/4 teaspoon garlic powder)

2

teaspoons

freshly grated or minced ginger (or 1/2 teaspoon ground ginger)

generous dash crushed red pepper flakes

8

ounces

tempeh, cut into cubes (about 1″, or 16 cubes per 8-ounce block)

3

cups

bite-sized broccoli florets and/or stems

avocado or canola oil spray (optional)

brown rice or noodles, for serving (optional)

sesame seeds, for serving (optional)
Instructions
If you'd like to, steam the tempeh for 10 minutes.

Whisk together the tamari, vinegar, syrup, garlic, ginger, and red pepper flakes. Place the tempeh cubes in a rectangular or square glasslock container and pour the marinade over them. Cover the container and allow the tempeh to marinate for a couple hours, or overnight in the fridge.

Preheat your oven to 400F. Line a baking sheet with parchment or foil and coat it with vegetable oil spray. Remove the tempeh cubes from the marinade (reserving the marinade) and arrange them on half of the baking sheet. Arrange the broccoli on the other half. Pour the marinade over the tempeh and vegetables. Roast for 35 minutes, or until the tempeh and broccoli are browning, flipping the tempeh cubes once halfway through cooking.

Serve the tempeh and broccoli over rice, noodles, a salad, or whatever you like. Sprinkle with sesame seeds if desired.
I love that this dish doesn't require any stovetop babysitting, that it's flavorful without a complicated ingredient list, and that the leftovers taste great for days (which I'm discovering right now).
For the record, I've made it twice now, and the powdered garlic/ginger version is really good. If not having to mince anything is an additional selling point, don't shy away from that option.
Hope this dish might bring some ease to your batch cooking or weeknight meals, just the way it has mine. It's a keeper. And feel free to share more recipe requests if you've got 'em.
Happy Tuesday!
xo
Curried Potatoes, Lentils & Peas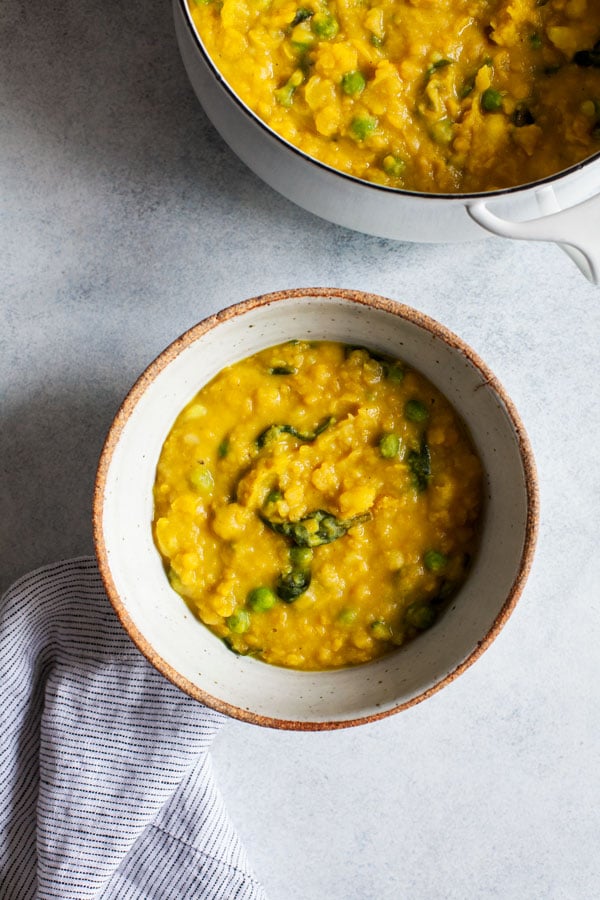 I had a first yesterday afternoon: I drew a complete blank on batch cooking. I needed to make at least two meals for dinners this week, and I couldn't settle on anything. Looks like my meal prep stamina is starting to flag.
Since it was Cinco de Mayo, I made the enchiladas from Power Plates, which are a favorite at home. But I needed something else. This dish of curried potatoes, lentils and peas was my answer. It's not markedly different from a lot of other curries and Indian-inspired stews I made, but it's simpler and probably more versatile. The texture is just soupy enough that you can mop it up with flatbread or pita or serve it over rice, but the potatoes give it a lot of texture and heft if you'd prefer to eat it on its own.
No matter how many times I make a dish like this—something starchy, creamy, and richly spiced—I never seem to tire of the formula. I added cashew cream to the mix, which is my go-to, but you can most definitely use coconut milk instead. I like the use of russet potatoes here, but for a sweeter version, sweet potatoes or even Japanese yams would be pretty great, too.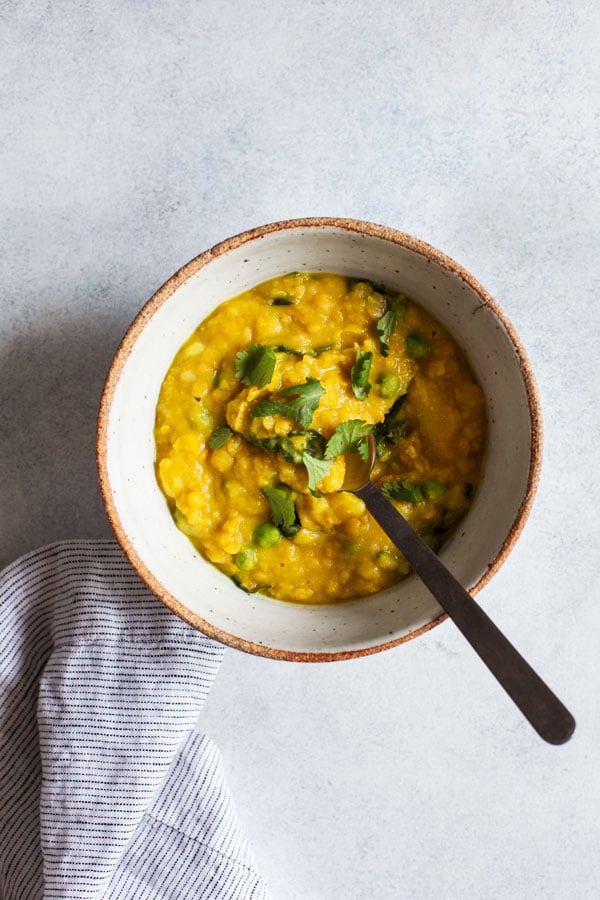 Curried Potatoes, Lentils & Peas
Servings: 6 servings
Ingredients
1

tablespoon

neutral vegetable oil, such as safflower or grapeseed

1

white or yellow onion, diced

2

cloves garlic, minced

5

cups

water

3

medium/large russet potatoes, peeled and diced (about 1 3/4-2 lbs)

1

cup

toor dal (split yellow lentils) or red lentils

2

teaspoons

curry powder

1

teaspoon

ground turmeric

1

teaspoon

ground ginger

3/4

teaspoon

salt (more as needed)

1

cup

green peas, fresh or frozen & defrosted

4-5

cups

chopped spinach or whole baby spinach leaves

3/4

cup

cashew cream or full-fat, canned coconut milk

juice of 1 lime
Instructions
Heat the oil in a roomy pot over medium heat. Add the onion and garlic. Sauté, stirring occasionally, for 5 minutes, or until the onion is soft and clear.

Add the water, potatoes, lentils, curry, turmeric, ginger, and salt. Bring the mixture to a boil. Reduce the heat to low, cover, and simmer for 30-40 minutes, or until the lentils are cooked through. 

Add the peas and spinach. Cook for another 5 minutes. Stir in the cashew cream or coconut milk and lime. Taste the stew and adjust salt and lime as needed. Serve. 
Notes
You can substitute 1/4 cup broth or water for the oil if you like.
Having spent so many years doing my best to make recipes as creative as possible, I'm now sticking to ingredient combinations that are as tried-and-true as they can be. Half the time I cook from Power Plates and Vegan, which isn't so bad: it allows me to revisit those recipes and be reminded of why I love them.
Still, I can't pretend that I'm not eager to once again find myself in a place where I'm testing new recipes and feeling inspired while I do it. I've fed myself well this year, in spite of the hectic schedule, but creativity feels stalled right now on a lot of fronts. This last stretch, from now through August, feels long, but I know it'll fly by, and I'm hoping that a renewed sense of energy in the kitchen will follow. In the meantime, if you have any vegan recipe requests, feel free to share! It'll be good inspiration for me.
In the spirit of not doing or saying more than I need to, I'm keeping this post short and sweet so that I can settle into my first few days of food service. Have a great week, all.
xo