Weekend Reading | The Full Helping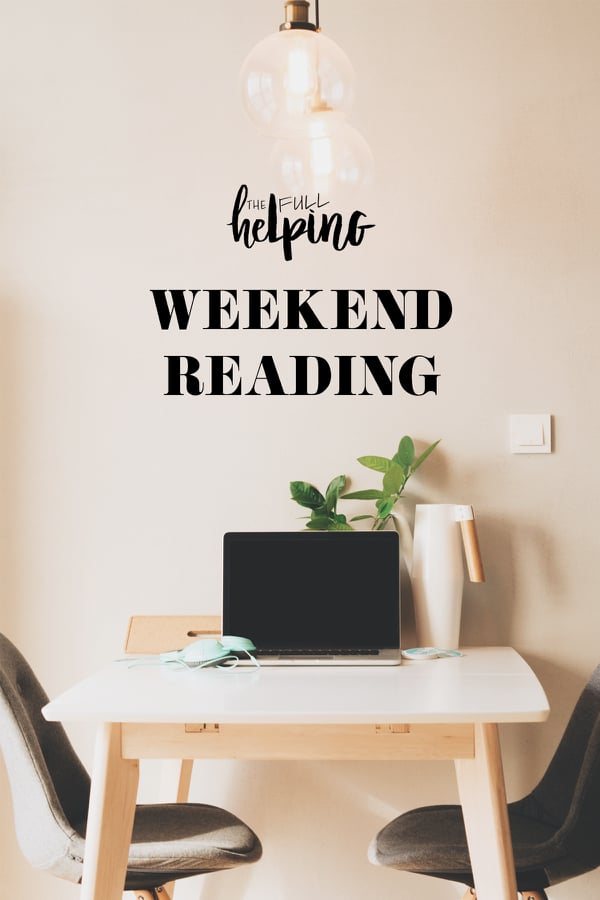 This whole business of self-compassion is most definitely a practice, which (for me, anyway) means days that come easily and days that don't. Yesterday was a difficult day. I forgot something relatively important, which I should have remembered (and had set numerous reminders to myself about), which set off a spiral of anxiety about feeling unproductive, disorganized, etc.
This is a typical cycle for me: giving myself a break, often because I've gotten sick, and then undoing a lot of the gentleness with a subsequent panic about what hasn't gotten done. The inconsistency in my productivity and motivation, the cycles of procrastination and doing, is something I'm still working on—and I know that burnout has plenty to do with it. But enhanced insight has yet to lessen the worry that I feel when it seems as though I've fallen behind. And the DI creates more deadlines, paperwork, and logistics than usual.
I do think I'm becoming more adept at breaking the familiar cycle once it starts. At the heart of this is the fact that I don't want to waste any more time than I already have with the exhausting business of self-blame. In the past, I suspect that negative self-talk and self-censure was so much a part of my way of being that I was attached to it, whether I knew it or not. I feel very differently these days—aware that we're all our worst critics sometimes, conscious of the fact that all behaviors take a while to change, but very ready to change this one.
Yesterday I spent my afternoon feeling especially rotten about myself. It didn't take me long to realize how much I didn't want the remainder of my Saturday to follow suit. I downloaded Kristen Neff's book, which had been on my wish list for a while. I spent some time with it, and with Sharon Salzberg's introduction. Then I met up with a friend for dinner before attending a kirtan at my yoga studio.
In spite of the fact that I've never been much of a singer—not for karaoke, not even in the shower—I love kirtan. I can't think of too many life experiences that give me more joy than mantra and song with my spiritual community, and last night was no exception.
My friend and I were running late (as always), so the music had already began when we arrived. I found a blanket and joined in the song with something that felt a lot like glee—I haven't been able to practice yoga with regularity this fall, and I've missed my home studio more than I realized. I didn't know how much I was craving the company of my fellow yogis until last night, nor did I understand how starved I've felt of a sense of devotion to something bigger than me.
I spent the next two hours singing, clapping, snapping, and occasionally jiggling a tambourine in celebration. Celebration of what? I don't know—the kirtan had a new year's theme, but I wasn't really thinking about the transition from last year to this one. If anything, I was celebrating the practice of new beginnings, which is personal and unattached to the calendar. I was celebrating the fact that my day could have felt a certain way, and a mere four hours later feel so differently. I've been ruminating lately on the power of starting fresh with each breath, each new moment, and last night felt like an embodiment of that possibility.
Most of all, though, it was a celebration of shared voice and song. And it reminded me that, while my practice of self-care often looks like taking it easy, resting, giving myself the gift of solitude, cancelling plans to take it easy, etc., that isn't always what's needed. Sometimes the best medicine is for me to step outside and choose to be with my community. I sometimes forget what a gift it is that it's there. We're all stumbling and celebrating, on our own and sometimes, if we're really lucky, together.
I'm starting this new week with a sense of lightness and gratitude—and lots of video clips of last night's music on my phone, which I'll watch whenever I need to be transported back to the feelings I felt at the kirtan in the days ahead.
I wish you some inner or outer music of your own. Here are some recipes and reads.
Recipes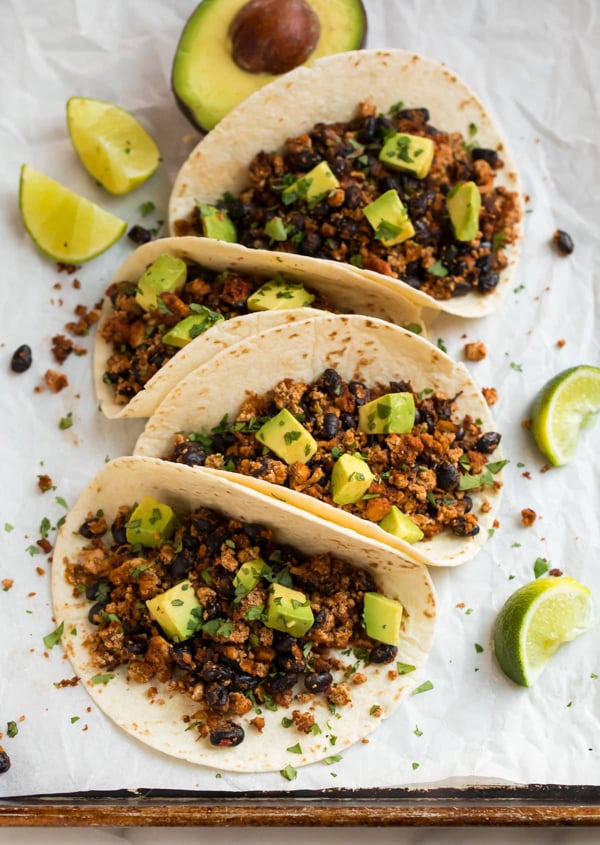 I think I've met my next vegan breakfast taco!

A very cozy, very easy, wintery potato goulash.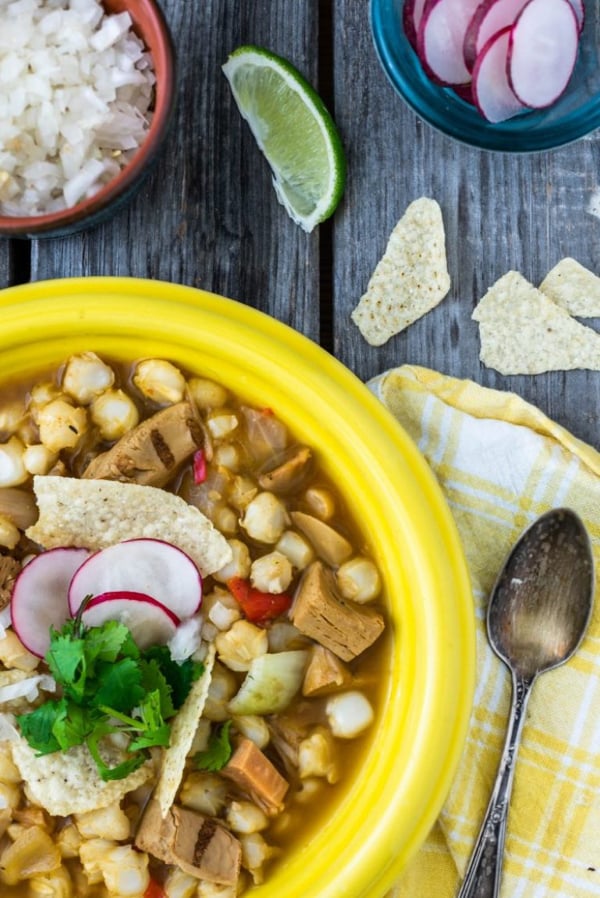 I love the looks of Steven's protein-rich Southwestern vegan posole.
Another simple meal: Aysegul's one-pan Mexican quinoa.

Finally, Sarah has created one of the most beautiful whole roasted cauliflowers I've ever seen!
Reads
1. On the topic of burnout, a few readers have sent me the link to this Buzzfeed article now. I've found it to be, just as they did, incredibly relatable.
The article identifies a constellation of struggles, but especially a difficulty in managing everyday tasks and errands, that I've had a hard time owning up to. Why? Because the whole issue feels incredibly embarrassing (why should so-called adulting be so hard for me?), and because until now I understood it solely as a symptom of my depression, when I could admit to it at all. I may be much less alone than I think I am.
I don't want to say too much, as the article's worth reading in its entirety, but I did especially love this quotation (underscored to me by a reader and friend who was compelled by it as I was):
But for the first time, I'm seeing myself, the parameters of my labor, and the causes of my burnout clearly. And it doesn't feel like the abyss. It doesn't feel hopeless. It's not a problem I can solve, but it's a reality I can acknowledge, a paradigm through which I can understand my actions.
2. A fascinating look at alpha-gal allergy—which makes people allergic to animal meat and anything derived from an animal or its excretions—and its link to tick bites.
3. This interesting article reports on biomusic, an interface that allows for detection of anxiety or other emotions via physiological signals. It holds special promise for researchers and caregivers working with patients who can't communicate through motion or words.
4. This New York Times article describes early research on the power of expectation or belief to impact satiety and the capacity to exercise. It's one intriguing experiment only, and the results—which point to belief/expectation as vying with genetics in mediating the food/exercise-related measures—don't mean that genetics are unimportant.
Still, I paid attention when I read this, as it's long been my observation that strong beliefs and outcome expectations (for example, the idea that one's relationship with food is incurably damaged) can reinforce struggle with eating and fitness.
5. It's taken me years—and a lot of failed baking experiments—to figure out this critical distinction.
Speaking of Taste, the magazine has helped to make possible an awesome ebook promotion of Power Plates! For the next week, the Kindle version of the book is only $2.99, which makes it a great deal. If you've thought about getting the book but have been deterred by the price point, if you'd like to explore the recipes before or without investing in the hard copy, or if you're a fan of cooking from your Kindle in general, you can check the promotion out here 🙂
Happy Sunday, friends. I've got an awesome, healthful cookie recipe coming your way in just a day or two!
xo
Weekend Reading | The Full Helping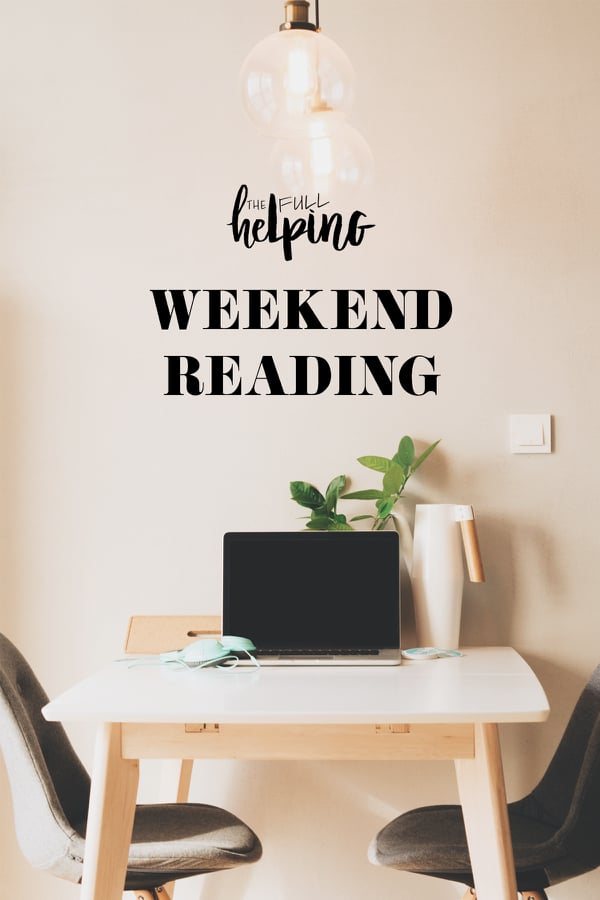 Lately I feel as if most of my Sunday reflections are inspired by, or a paraphrase of something that someone else has told me. I'm short on words lately, so I'm more than happy to take inspiration from others.
Last Sunday, I wrote about a case of the Sunday Scaries and the good advice that I got in response to it. I'm not quite in the throes of the Scaries right now, but my anxiety has been pretty bad this week. It's been heightened for the last month, but I can safely call this a crest.
I don't always have much luck understanding the timing of my anxiety, why it comes and goes when it does. I think there's probably a trigger most of the time, but whether it's subconscious or something I'm aware of varies a lot. And sometimes it really does seem to descend like stormy weather, unannounced and random.
I know the trigger right now, or at least one of them: it's overwhelm. Specifically, it's feeling as though these last four weeks of my internship are some of the most demanding I've had, and also feeling as though I don't have anything left to give them. I'm so tired and turned inward lately. I know better than to isolate completely when I'm having a hard time, but right now isolation feels less like a conscious choice than a necessary means of coping. I don't have any energy to turn outward. The energy I have needs to go to my internship, my DI class, my work, and to my mom (she's got another knee replacement coming up in a week).
On Wednesday of this week, I felt the way I do when anxiety is at its worst: crippled. So overwhelmed that small, inconsequential things like commuting or finishing up a school assignment felt insurmountable. Even my memory and attention span were affected; I made a lot of stupid mistakes that day, misplaced some things and forgot about others. And the rest of the week hasn't been much better. I know I'm not doing my best work right now, and while nothing life-or-death hangs in the balance, it's not a great time to for me to peter out.
I hate this cycle. No matter how many times I tell myself that it's just anxiety and it's all temporary, the experience leaves me feeling incapable and ashamed. If any friend of mine reported the same thoughts and feelings to me, I'd fling my arms around her and say that we all feel like this sometimes; that it's OK and she's OK. But I don't know how to do this for myself, least of all when there are so many little deadlines that I'm terrified of missing, or tasks that I'm afraid of messing up.
Instead of a failed attempt at comforting self-talk, I'm going to do something wiser, which is to turn to the understanding and insight of people around me. Last Sunday, a reader emailed me with her advice for coping with the Sunday Scaries. She said,
At one point in my life when the Sunday Scaries hit me I found that if I looked at each step of the day and asked myself, "Does this feel scary?"  it helped.  And I would look at EACH little step: Stepping outside of the house – "Does this feel scary?" No.  Walking to the bus stop – "Does this feel scary?" No. Riding the bus – "Does this feel scary?" No. Walking to work – "Does this feel scary?" No. Seeing my new co-workers – "Does this feel scary?" No.  And on like this through the whole day.  This helped me tremendously, and showed me that I wasn't fearing each little component and the big picture was only made up of all the little components.
These words rang so true. I've attempted versions of this kind of piecemeal, slowed-down approach in the past, but nothing quite so deliberate. I can't imagine a better way to ride the anxiety wave out.
I had a lot on my plate today, including a lengthy event. When I woke up and tried to think about the day as a whole, I could feel the familiar, low-grade panic setting in. I did exactly what my reader invited me to do: I took each step of my day—sometimes literally—one-by-one. It carried me through. It reminded me that things are very rarely as scary as I imagine them to be, that overwhelm can be combatted by separating the whole into pieces.
I'm feeling especially complain-y lately here on the blog, but I'm trying not to let that become another, needless source of shame. Instead, I'll just say thank you—all of you—for so often giving me the tools I need to live with more gentleness and grace. Happy Sunday.
Recipes
Jackie does vegan comfort food better than anyone, and I wish I had a plate of her vegan chicken + biscuits right about now!
A beautiful plant-based spin on Greek salad.
Such a lovely vegan udon noodle soup (that perfectly halved bok choy!).
At my last rotation, the cafeteria had a buffalo tofu that I fell in love with (I actually brought some home on my last day and froze it). Allie's buffalo chickpea burgers are now calling my name!
Finally, for dessert, feeling all the feels for Abby's deep dish peanut butter cookie.
Reads
1. So glad that more attention is being called to the potential of "food as medicine" programs.
2. I'll savor pasta at any time of year, but somehow it's connected in my mind to summertime. Food52 rounds up 38 favorite vegetarian pastas, a great many of which are super easy to veganize.
3. Found this quotation via Cup of Jo, but I'd seen it before. I loved it then, and I love it now.
4. A fascinating essay on interoception (the study of the body from within), which I'll need to re-read before I can say anything insightful about it. But I'm one of many people who is hearing that term more frequently lately, and I'm curious to understand it and its implications better.
5. Today was a good day for me to read about interconnectedness and the power of wishing each other well.
I wish you all well. And in spite of a rocky couple weeks, I've managed to come up with a sweet new make-ahead breakfast that I'm dying to share with you tomorrow 🙂
xo
Longer Lasting Meal Prep with FoodSaver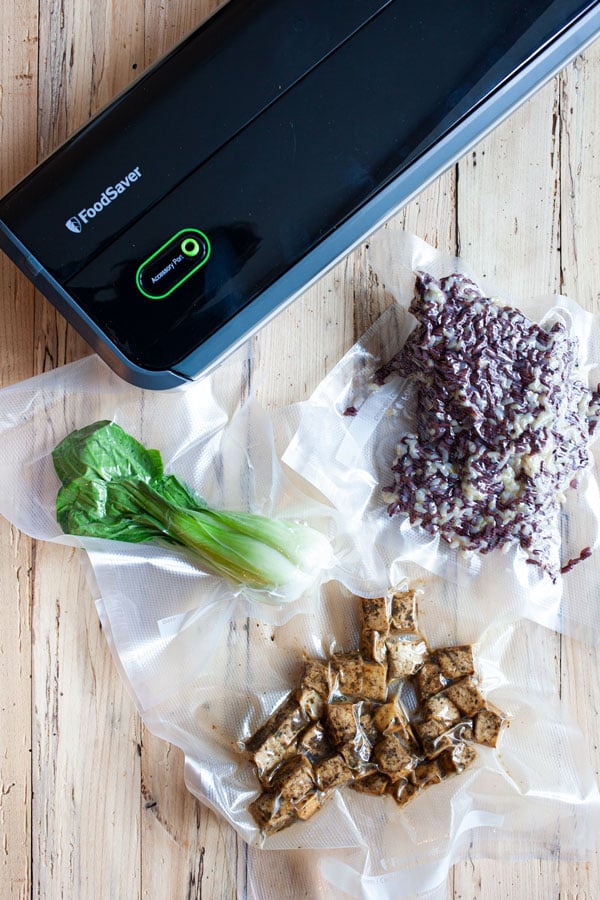 This isn't a recipe post, but it touches on something that has been near and dear to my heart this year, as a dietetic intern: leftover storage.
During my clinical rotations, half of every Saturday and Sunday were dedicated to meal prep and batch cooking. Yes, it was a lot of time, and yes, I often wanted to be doing other things with my weekend afternoons, but in that period I got home pretty late each evening. Cooking after a long day of acute care and commuting wasn't an option, and I still wanted to enjoy homemade meals. Batch cooking and freezing was the solution. Below you'll see a typical week's Sunday bounty.
Now that I've moved into community and food service I have more leeway, either because my schedule is more lenient (which was true in my last rotation) or because I have less cooking to do (this is true at the moment because I get complimentary lunch and breakfast at work). Still, I batch cook my weekly dinners, and the need for efficient storage is as real as ever.
When the folks at Foodsaver offered to send me one of their FoodSaver® FM2000 Vacuum Sealing System, I was intrigued but unsure: I've never used this kind of storage system, and I figured maybe I didn't need another appliance in my little NYC kitchen. Now that I've had a chance to get to know the machine, I'm so glad to have it, and it's getting plenty of use.
The advantage of the Foodsaver is that it reduces oxygen in stored food. Less oxygen means that food is less susceptible to bacteria and other pathogens growing. This means that food leftovers can be stored safely for longer—I'll get to that in a second—and that the quality is stretched for more time, too.
Foodsaver's real super strength is in freezing. Whereas food can usually be kept in the freezer for 3-6 months, food that's been vacuum sealed with the Foodsaver can be stored for 2-3 years. When I first read this, my reaction was to think that nothing would ever want or need to hang out in my freezer for a matter of years. But then I asked myself whether or not I've ever pulled food out of my fridge that's at least 6-8 months old, and the answer is…yes. Definitely yes. And wouldn't it be great if I could eat that slice of bread, those tortillas, or those frozen chickpeas?
Freezing aside, Foodsaver extends the life of fridge and pantry leftovers, too. The life of most produce (including the baby bok choy you see above!) can be prolonged to 2 weeks, rather than the usual 3-6 days. Even berries can be extended to 1-2 weeks—much longer than their usual fridge life (I feel as though berries in particular often go bad before I've been able to use them). If you're curious, you can check out this chart on the Foodsaver website to check approximate storage times for various foods, as compared to conventional storage time.
I often bake a block of tofu over the weekend for use in salads and bowls through the week, but it's not uncommon for me to have a half or a quarter of the batch that sits in my fridge for too long. Cubes can be vacuum sealed beautifully with the food saver, as can my cooked grains and beans; you can see that I vacuum sealed some black and short grain brown rice together (rice is another grain I tend to make a lot of and sometimes waste).
The appliance is super easy to use—it would have to be, for me to figure it out as quickly as I did! You simply insert the open end of a bag into the device and turn it on. The machine removes air on its own and creates an airtight seal. To re-open the leftovers, you can simply cut the bag open.
My machine came with a roll that could be shaped into bags and pre-shaped bags. So far I've been relying on the bags and would probably opt to keep doing that, but the roll is good for larger items. It comes with a five-year warranty, is ETL safety certified, and I wasn't at all surprised to learn that Foodsaver is the leading vacuum sealer brand in the country.
When you live alone and cook a lot, it's easy to misjudge and waste food. I do this as seldom as I can, but it happens, and this machine is allowing it to happen less often. As I said, I know this isn't a recipe post, but storing food is as much a part of being a home cook as everything else. I've had a great time using the FM2000, and if you do a lot of freezing and storing of your own, I suspect you might have a similar experience.
On that note, it's time for me to wrap up my second week of food service management and to think about what I'm cooking this weekend. Happy Friday, friends!
xo
This post is sponsored by Foodsaver. All opinions are my own, and I love this means of extending the life of my food. Thanks for your support!
Weekend Reading | The Full Helping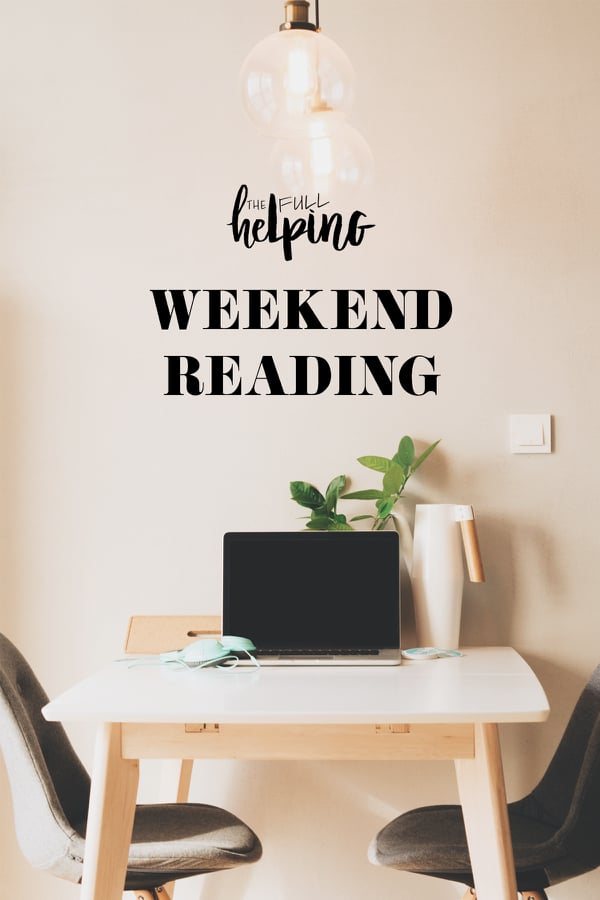 For a few weekends in a row, I've written this post in a reflective, calm state, posted it early in the day, and spent the remainder of my Sunday doing what needs doing.
Not today: the Sunday Scaries swooped in this morning, and in spite of planning some nice stuff in the afternoon (including seeing a play with my mom) that helped to quell them, I've just been too scattered to sit down and write anything. I'm starting a new internship rotation tomorrow. The end is so close, but somehow anxiety seems to get more pronounced as time goes by.
This is an honest part of my life: weekends that feel messy, anxious, and confusing, rather than restful and reflective. Sometimes the best thing to do is to stop resisting. In that spirit, I'm going to focus on some tidying and some TV (both good sources of distraction) for the rest of the evening. But I will share the following, which is a short series of sweet and insightful tips I got on handling the Sunday Scaries when I asked for guidance on Instagram stories:
Just try to distract yourself with something. So been there.
Take a deep breath—it really will be OK.
Dealing with this right now, too. Calling my mom 💕
Meal prep, make lists, clean, yoga, meditation, pet an animal, go outside! I can relate 😘
I always remind myself to take the week just one day at a time.
A good movie!! And popcorn and tea.
Rigid Sunday afternoon schedule, a cup of my favorite tea, and a slightly earlier bedtime.
Yoga, some wine, and good sleep.
You aren't alone in that feeling! I try to take comfort in knowing I'm not alone.
I love all of these. But I especially love that last one. Blogging is precious to me for so many reasons, but one of the most profound is its ability to reinforce my sense of connectedness and remind me that I'm not isolated in what I'm feeling/thinking/experiencing.
Thanks to all of the sweet folks who weighed in with this excellent Scary Sunday advice. And thanks to all of you for bearing witness. Here's to taking this week one day at a time.
Recipes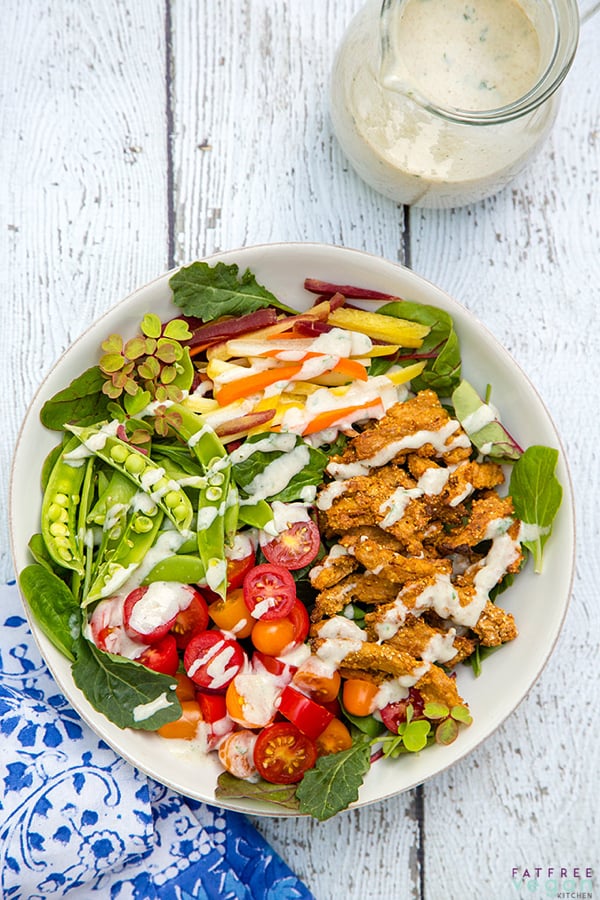 Was just raving about soy curls last week, and now Susan is tempting me with a brand new way to prepare them!
Shannon has crafted what looks to be the ultimate TLT (tempeh, lettuce, tomato—a vegan sandwich classic).
I was never a radish fan until I tried them roasted. Oddly, that was enough to make me love them enough that I now enjoy them raw all the time; taste is a funny thing. These lemon roasted radishes with dill are reminding me that I haven't put a batch in the oven in far too long. Can't wait to make them.
Nothing like a good vegan comfort food classic. This is the first plant-based filet o' fish that I've seen—so authentic!
Finally, I sure do wish that I had a batch of Alexandra's raspberry oat scones to carry me into the week.
Reads
1. Another new study associates red meat consumption with greater mortality risk.
2. CNBC takes a look at Ikigai, which in Japanese means something akin to "reason to live." I liked reading about this sense of purpose and how it can contribute to a healthier life.
3. The real superfood that Americans should be focusing on (and which doesn't have to come with a high price tag), via Vox.
4. Looking for a scientific page turner or two this summer? I'm eager to dive into some science reading when my rotations wrap up, and this list will be a good place to start.
5. This isn't a new article, but I found it today when I was searching for guidance on catching one's breath. It has good tips on both pausing and recharging, and it's an appropriate way to wrap up today's post.
OK, friends. Deep breaths through the night and into the week. Till soon.
xo