Slow Cooker Chipotle Lentils | The Full Helping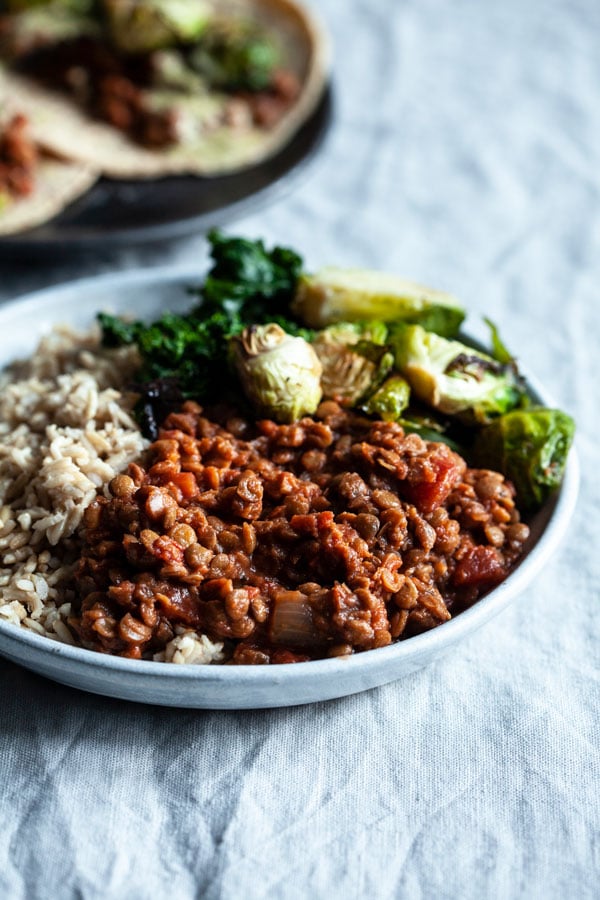 As I mentioned not too long ago, this month of blog posts is dedicated to simple recipes, meal planning, and recipes that aren't really recipes at all: in other words, ways of throwing together ingredients for the sake of quick, tasty, nutritious meals. These slow cooker chipotle lentils are a recipe, but because they're made in the slow cooker, they couldn't be easier.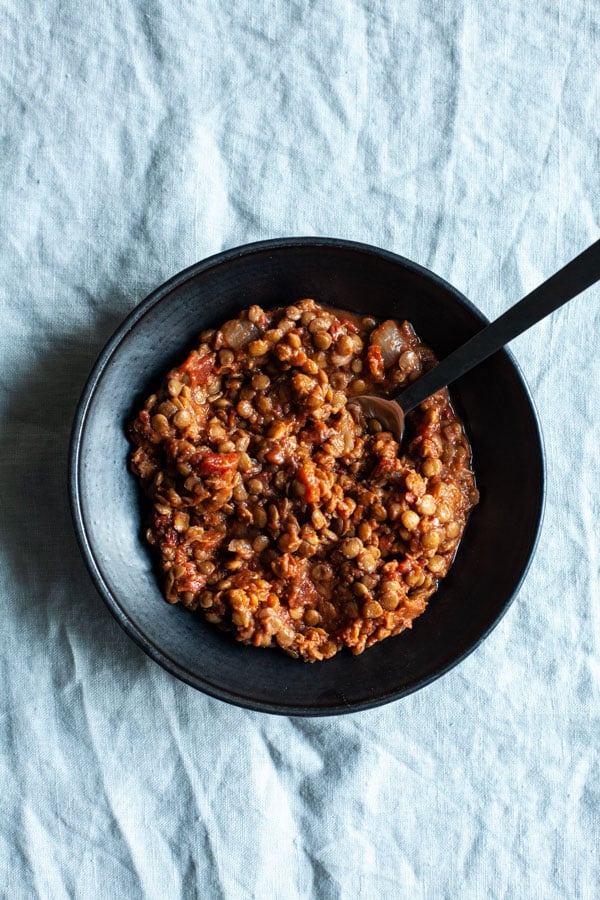 What you do with the lentils? That can absolutely qualify as a non-recipe recipe. I made these over a month ago (I've just been really slow in posting them), and once I had them, I used them in bowls, tacos, on toast, and even tossed them with pasta and some cashew cream to create a quick chili mac.
Of everything I made with the lentils (and with the leftovers, some of which I froze right away, and defrosted in the coming weeks), these quick and easy tacos were my favorite. Lentils, roasted brussels sprouts (steamed would be fine, too), and some of the hemp chimichurri sauce from Power Plates. Easy. Peasy.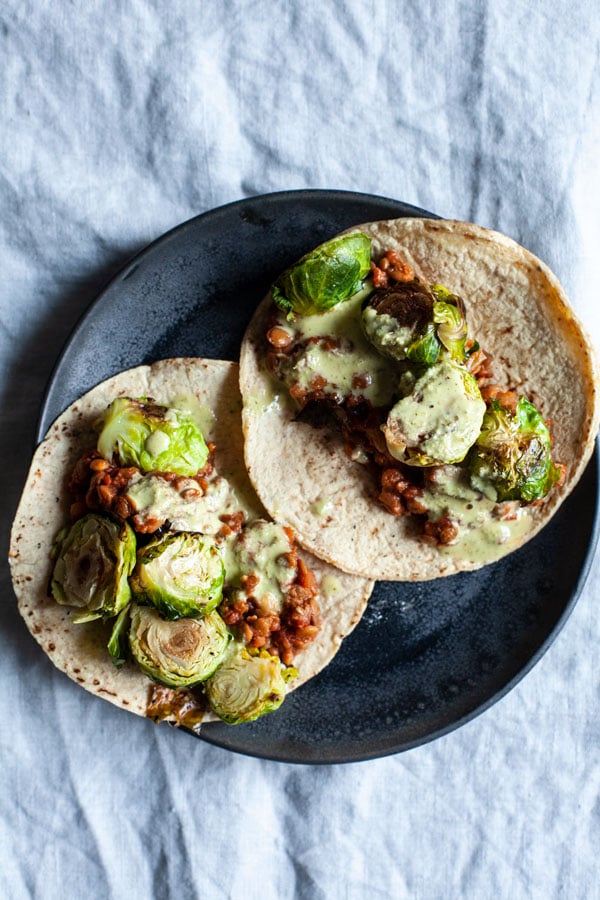 I'm used to adding cabbage slaw or kale to tacos, but I may be a Brussels-sprouts-in-tacos convert! The sprouts are toothsome and hearty, which makes them a good counterpoint to the soft lentils. With that said, you could make something similar with whatever vegetables you've got and would like to use: I think sautéed mushrooms, roasted cauliflower, and any kind of leafy green would be lovely.
Or, if you're not in a taco mood, the lentils work perfectly with any whole grain and green you like. I'm a big fan of the grain + green + bean planning method for super simple vegan meals, and these legumes are a perfectly spicy, flavorful component.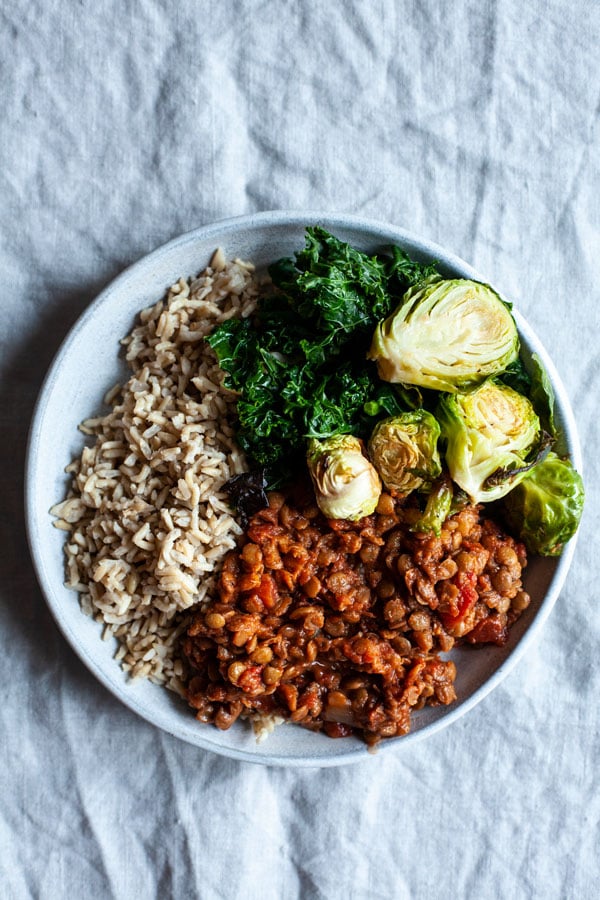 | | | |
| --- | --- | --- |
| Slow Cooker Chipotle Lentils | | Print |
Recipe type: side dish, main dish
Cuisine: vegan, gluten free, soy free, tree nut free, no oil option
Author: Gena Hamshaw
Prep time:
Cook time:
Total time:
Serves: 8-12 servings (recipe can be halved)
Ingredients
1 tablespoon neutral vegetable oil (such as safflower or grapeseed)*
1 large white or yellow onion, chopped
2 stalks celery, chopped
3 cloves garlic, minced
1 28-ounce can fire-roasted, diced tomatoes
¼ cup tomato paste
4 cups water or low-sodium vegetable broth
1 lb brown or green lentils, picked over and rinsed
3 tablespoons chipotle peppers in adobo sauce, chopped (use 2 tablespoons if you prefer less spicy food)
1 teaspoon ground cumin
¾ teaspoon salt, more as needed
2 tablespoons Dijon mustard
1 tablespoon maple syrup or agave syrup (or brown sugar)
1 tablespoon apple cider vinegar
Instructions
For most depth of flavor, begin by heating the oil in a roomy skillet over medium heat. Add the onion and celery. Sauté, stirring occasionally, for 5-7 minutes, or until the onions are gently browning. Add the garlic and sauteé for one minute more. Add this mixture to the slow cooker (or a multi-cooker with a slow cooking function), then add all of the remaining ingredients.
Alternately, add everything but the oil to the slow cooker. Cook on high for 4 hours or low for 7-8 hours. If the lentils are too thick, add extra water to thin them to your liking (I like them to be thick, rather than soupy). Taste and adjust vinegar and salt to taste. Store in an airtight container in the fridge for up to 5 days, or freeze for up to 6 weeks.
3.5.3251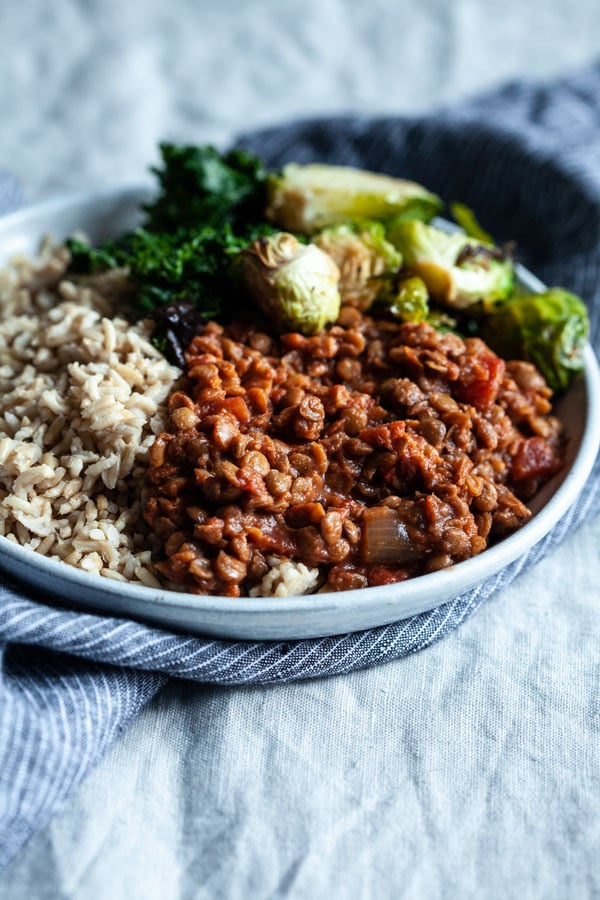 I have a 7 quart slow cooker, so this recipe, like all of my recipes, makes a ton of food. If you have a 2 or 4 quart slow cooker or multi-cooker, feel free to cut the recipe in half! Or put your freezer to good use 😉
Life around here is slow and steady this week. I'm still recovering from a cold, but I'm in a nice place of taking good, mindful, restful care of my body. Sniffles and sleepiness aside, it feels good to move slowly, tune in, and allow myself to truly savor and inhabit the time off. I've got some tasty things planned for next week, including a tasty no-recipe pasta recipe, and a nutritious snack cookie that I can't get enough of these days.
Sending you all love and warmth this week.
xo
Vegan Chick'n Enchilada Breakfast Casserole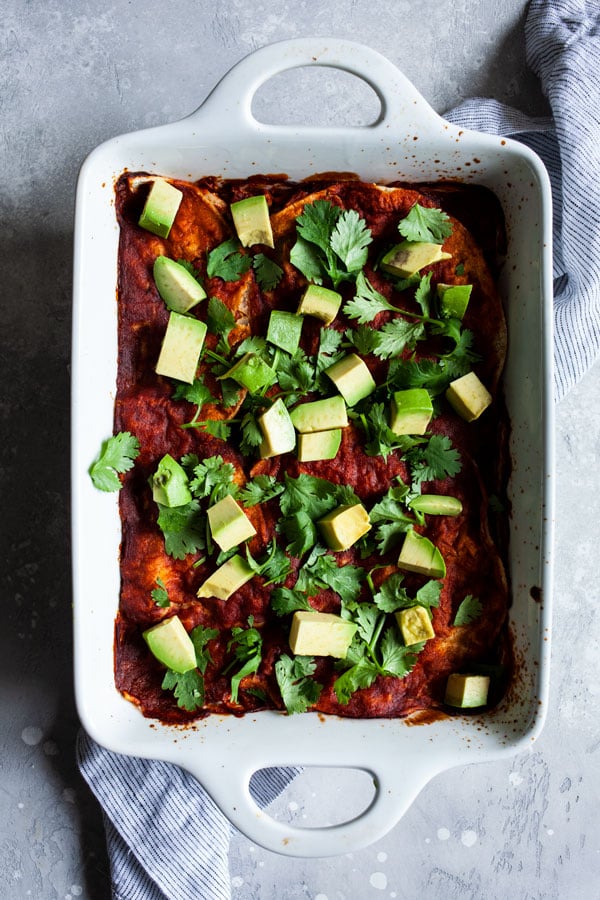 A few weeks ago, in sharing a lasagna recipe, I mentioned that big, casserole-like dishes have been a meal prep time-saver for me lately. They're more involved than other recipes, but once they've been prepared, they give me at least 4-6 extra portions of food. And they're a nice way to break up my routine of soups and stews and bowls, which—though trusty allies throughout my whole internship year—are getting a little repetitive at this point.
I often get requests for make-ahead breakfasts in general, and savory make-ahead breakfasts in particular. I can relate well to the demand for this kind of recipe, since I'm always on the hunt for new ideas myself. I'm a big breakfast eater, and my early hours this year have made it difficult to eat breakfasts that are as satisfying as what I'm used to making at home, but also easy to transport to work.
This breakfast enchilada casserole doesn't have to be eaten for breakfast, of course; it's great for dinner, too, and I've enjoyed it at both mealtimes. But I'm a big believer in getting a nice bolus of protein at breakfast (bolus! Always a funny-sounding word when I put it into writing), and the soy curls in the recipe make that an easy task here.
Soy curls are one of my favorite plant-based proteins. They're inexpensive, a whole food (whole, non-GMO soy beans are the only ingredient), versatile, and they make a vegan "chick'n" that's about as good as any store-bought vegan meat you can find, only cheaper. They're also low in fat and packed with protein, so perfect when a protein-rich morning meal is the goal.
It was my original plan to use layers of shredded vegan cheese in the recipe—pepperjack or cheddar—but I ended up forgetting to pick up any the week I made the casserole. I had plenty of cashew cream in my freezer, as I usually do, so I decided to use layers of homemade cashew cream instead.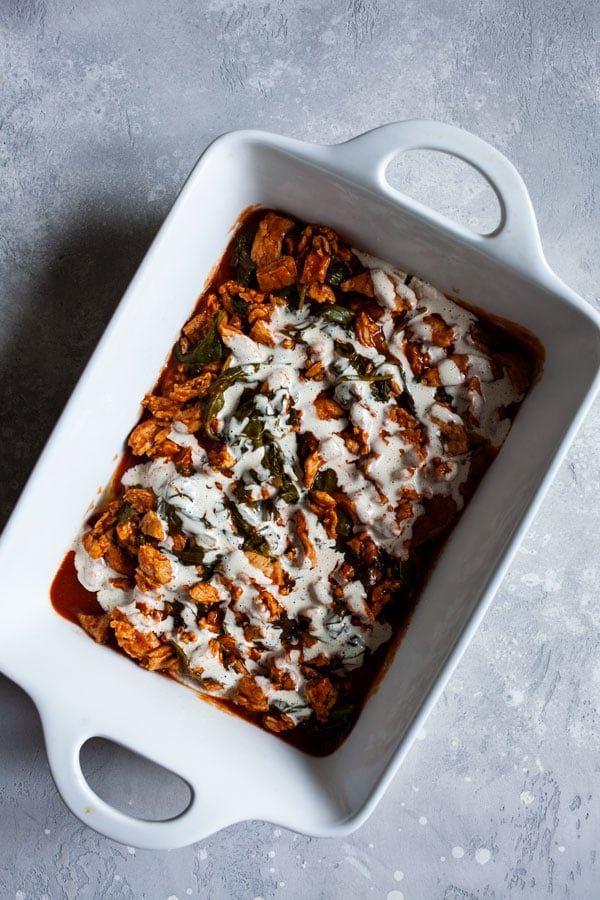 It worked out just fine. The cashew cream definitely tastes less "cheesy" than a store-bought vegan cheese would, but it sort of melts into the vegan chick'n and greens while the casserole bakes, giving the whole dish a creamy texture. It's an easy option if you make cashew cream regularly and have some at the ready, or if you've got a powerful blender at home.
If you'd prefer to use a vegan cheese, that's fine, too, and you can just sprinkle some onto each layer instead of drizzling the cream. (Lately my favorite is the Violife brand.)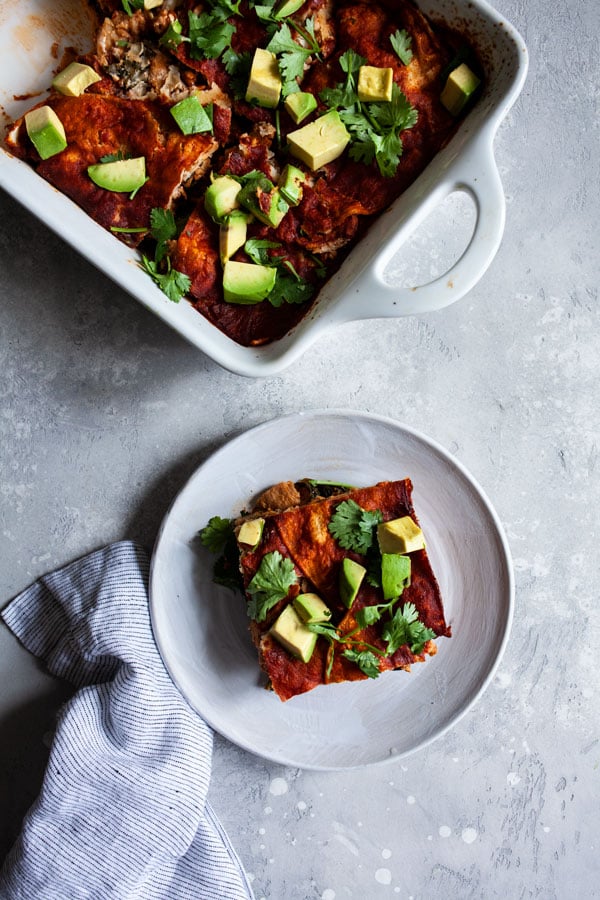 Aside from that, don't let the name of "casserole" fool you. This couldn't be easier to put together. If you like to make your own enchilada sauce and want to use it, go for it; I used the store-bought stuff for convenience, and the whole dish was assembled in about 20-25 minutes, including the time it took to make the soy curls. It'd be even quicker if you prepared them in advance. Here's how to do it!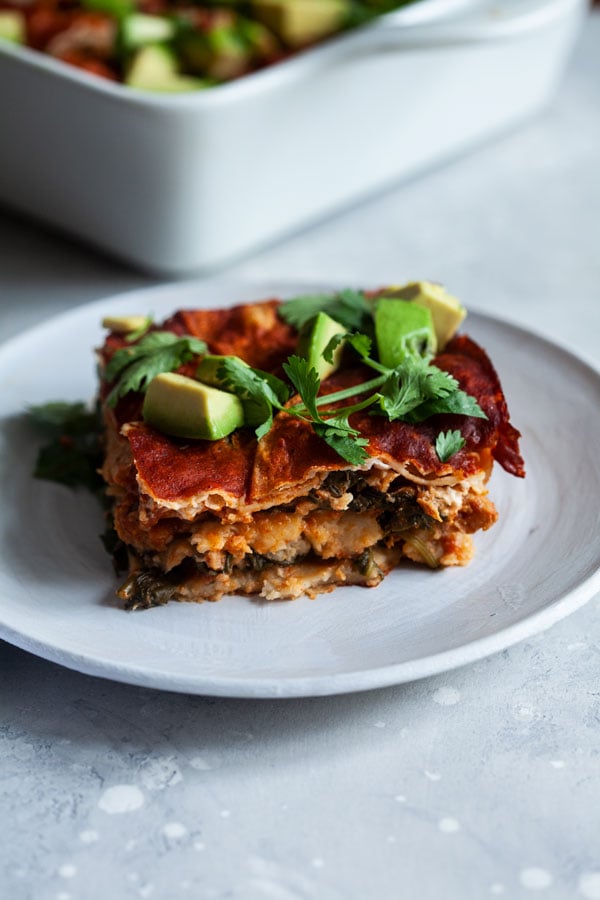 Vegan Chick'n Enchilada Breakfast Casserole
Prep Time20 mins
Cook Time30 mins
Servings: 6 servings
Ingredients
1

8-ounce bag

Butler foods soy curls (purchase online or through Amazon)

4

cups

boiling water

1

vegan bouillon cube (chicken flavored works best, but herb/vegetable is also fine)

2

tablespoons

tamari

1/2

teaspoon

smoked paprika

1

teaspoon

onion powder

5

ounces

baby spinach (substitute chopped leafy greens of choice, or frozen and chopped leafy greens of choice)

12-15

6-inch corn or flour tortillas (12 fit my casserole dish perfectly; you may wish to have a few extra on hand)

2

15-ounce

cans or jars of red enchilada sauce (substitute 3 heaping cups of homemade enchilada sauce)

1

heaping cup

cashew cream

chopped fresh avocado and cilantro leaves/stems, for topping
Instructions
First, prepare the chick'n style soy curls. Place the bouillon in a large, heatproof bowl. Bring the water to a boil. Pour it over the bouillon cube, then add the tamari, smoked paprika, and onion powder. Stir everything well, then add the soy curls. Cover the bowl and let it sit for 10 minutes. Drain the hydrated soy curls in a colander, pressing them gently to help remove as much moisture as you can. You can prepare these in advance and store them in an airtight container in the fridge for up to 5 days. They can also be frozen for up to 6 weeks.

Preheat your oven to 375F and lightly oil the bottom of a 9 x 13 inch baking dish. Pour one can (1 1/2 cups) of enchilada sauce into a large, deep skillet. Bring to a simmer over medium low heat. Add the prepared chick'n style soy curls and the baby spinach. Heat and stir until the spinach has wilted.

Pour 1/2 cup of enchilada sauce (from your remaining can) onto the bottom of the casserole dish and spread it around into a thin layer. Layer 4 tortillas over it (for my dish, I could layer three in a row and then cut an additional fourth in half and used it to cover space at the sides). Layer 1/2 of the chick'n/spinach mixture over the tortillas. Top with 1/2 cup enchilada sauce and drizzle with 1/2 cup cashew cream. Cover this layer with another 4 tortillas, the remaining chick'n/spinach mixture, another 1/2 cup sauce, and 1/2 cup cashew cream. Top with 4 more tortillas, then pour about 3/4 cup sauce on top of these, spreading the sauce evenly to cover the casserole. Transfer the dish to the oven and bake for 30-35 minutes, or until the top is darkening and the sauce is bubbling.

When the casserole has cooled for about 10 minutes, you can top it with chopped avocado and fresh chopped cilantro. Cut into 6 pieces and serve!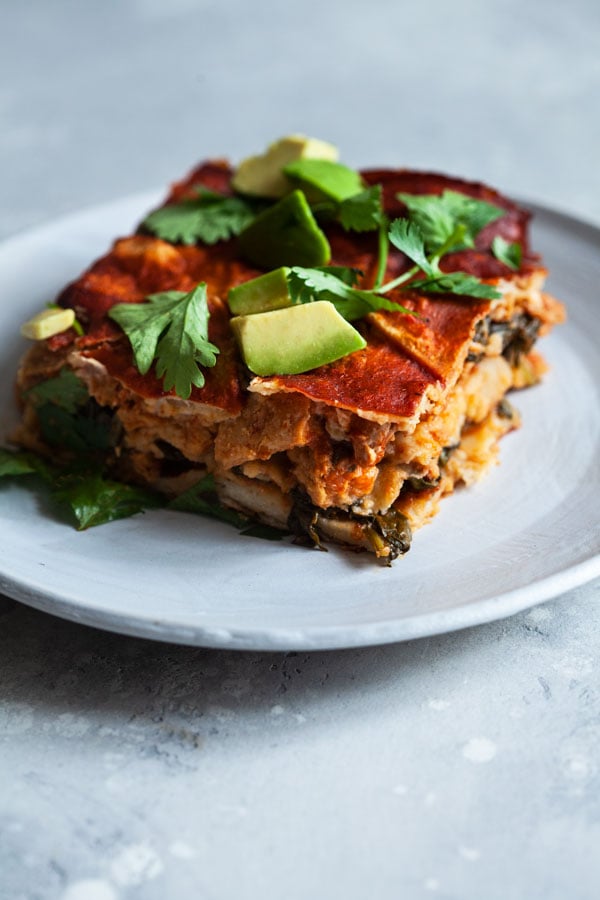 This recipe was inspired by a non-vegan version from my friend Ali. If you check out her post, you'll get instructions on making homemade enchilada sauce, if you'd like to. I'd put this recipe into the "semi-homemade" category as it is, but preparing sauce from scratch will definitely give it a more wholly homemade feel.
Greens, protein, some starch from the tortillas: this is a breakfast formula that satisfies me and keeps me going happily till my morning snack. I haven't always had breakfasts like this as an internship student; I've had more squares of baked oatmeal than I can count, sometimes a double dose of the whole meal muffins from Power Plates, sometimes toast if I can eat at home. Lately, it's been microwaved oatmeal at work. But when I have the option of something savory and hearty and protein-dense, like this, I'll always take it.
Enjoy, friends, and see you later this week.
xo
Wholesome Vegan Lentil, Mushroom & Kale Lasagna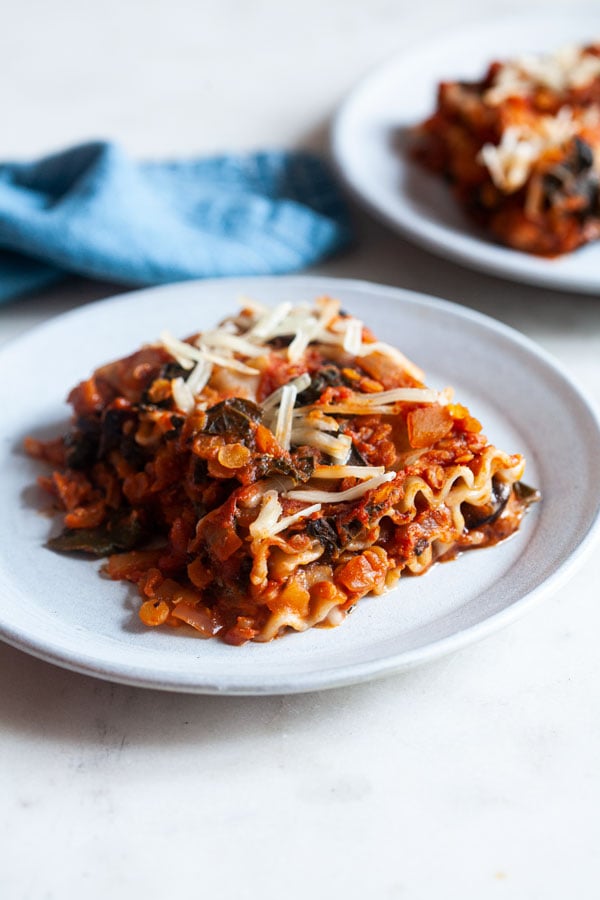 Since September, I've been telling myself that this is a year for soups, stews, easy grain dishes, sheet pan meals, and other low maintenance cooking endeavors. It's true in many ways: soup, for example, has been a mainstay during my internship because it's easy to make and yields a ton of food for freezing/reheating. With nearly all of my cooking compressed into weekends, it hasn't felt like the time for casseroles, enchiladas, tamale pie, or any of the comfort food dishes that I typically love to make on a Sunday afternoon.
My current rotation has an early start time, but one of its advantages is that it provides a vegan-friendly lunch and breakfast each day. It's nice for my wallet, but the more important advantage is that it allows me to ease up on the batch cooking, since I only have my dinners to think about right now. And I have a little freedom to prepare things that are more playful and elaborate than some of the sensible standbys I've been counting on in the last nine months.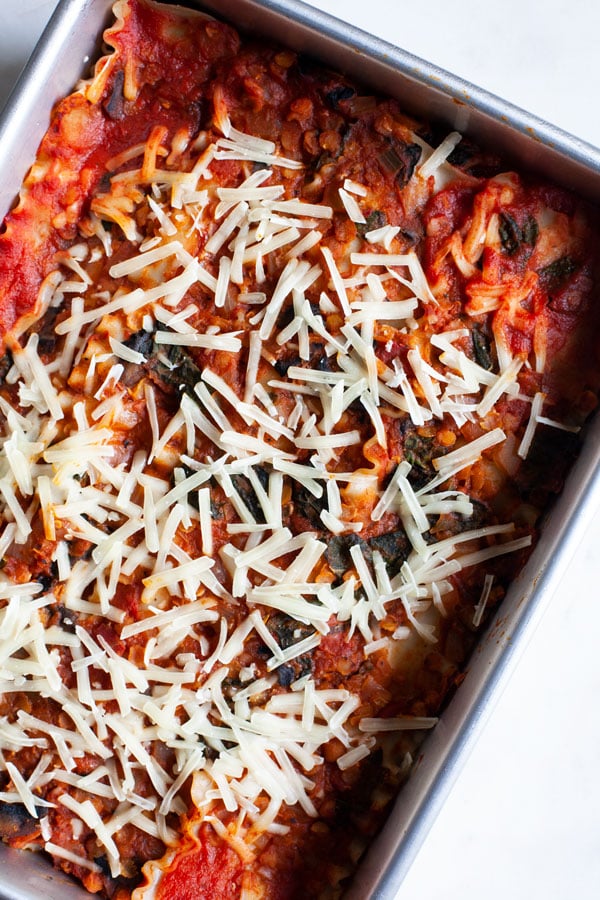 Much as I tend to dismiss dishes like lasagna as being more time-consuming and fussy than other food, I've learned something important in making this recipe (and a few other casserole-type dishes, all of which I'll share on the blog) in the last couple weeks. Yes, it takes a while to cook the components and then to bake everything. But once the dish is made, it's actually a perfect solution for a person like me, who wants about four dinner portions of something at the ready (when I made this, I froze half upfront and kept the other half in the fridge).
I'm on the casserole bandwagon right now for another reason, which is that this type of food really does evoke something special, homemade, and ultra-comforting. It's not that I don't love soup and stew, bowls, or beans on toast. But I've been feeling tickled to be able to say that I'm going to leave work, go home, and eat vegan lasagna for dinner. Or vegan enchilada casserole. It's a departure from my cooking routine, at least as it's been lately, and it's something to look forward to.
This isn't my mom's lasagna. It's probably not your mom's lasagna, either. It has its fair share of comfort food goodness, but really, it's a very wholesome spin on the classic. For starters, red lentils are the protein in this dish, and along with protein they add fiber, micronutrients, and iron. The lasagna filling is stuffed with kale and mushrooms, each a nutrient-dense food in its own right.
You'll see that the recipe calls for 12 lasagna noodles, because I'm not sure what will fit into your pan or what size your noodles will be—plus, it's always wise to cook up a few extra in case they tear or stick. But since you only need two layers of noodles, I found that my whole dish only demanded 8 full sized noodles. In other words, this lasagna is heavy on the plant-forward ingredients, light on the pasta.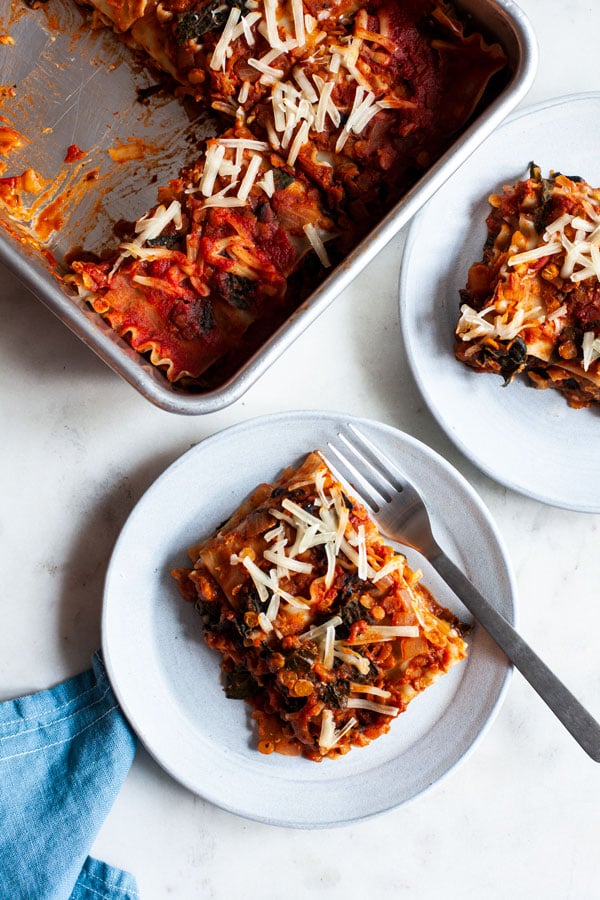 For cheesiness, I added a few thin layers of vegan mozzarella shreds. (My current favorite is the Violife brand, but any brand you like would work here.) A half cup per layer was just right for me: enough to give some meltiness and authenticity to the lasagna, but not so much to overwhelm the recipe. If you don't have for store-bought vegan cheese, you could omit this or use a layer of cashew cream or dollops of cashew cheese instead. In this type of dish, I like to use vegan cheeses for seasoning and decoration, but a little definitely goes a long way.
I've definitely made vegan lasagnas that were more traditional than this one. But I've enjoyed eating it, savoring all of the flavor and heartiness while also enjoying the fact that it's chock full of legumes and veggies that will fuel me through a very demanding few weeks. Here's the recipe.
Wholesome Vegan Lentil, Mushroom & Kale Lasagna
Ingredients
1

tablespoon

olive oil (substitute a few tablespoons water or broth)

1

white or yellow onion, chopped

3

cloves garlic, minced

8

ounces

chopped button, baby bella, or portobello mushrooms (about 1 1/2 cups)

28

ounce

can diced tomatoes

15

ounce

can tomato sauce (or 2 8-ounce cans), no salt added if you can find it (if not, you can reduce the salt in the recipe)

1

tablespoon

Italian seasoning (or 2 teaspoons dried oregano and 1 teaspoon dried thyme)

1/2

teaspoon

salt (1/4 teaspoon if you can't find no-salt-added tomato sauce)

1

cup

red lentils, dry

1

cup

water

freshly ground black pepper, to taste

1

small bunch Lacinato kale, tough stems removed, washed and chopped (substitute curly kale)

12

lasagna noodles (about 1 10-ounce box, though you may not use all of it—any kind of lasagna noodle you like)

1 1/2

cups

shredded vegan mozzarella cheese (optional—see note)
Instructions
Heat the oil (or water/broth) in a medium sized pot over medium heat. Add the onion. Cook, stirring often, for 5 minutes, or until the onion is soft and clear. Add the mushrooms and garlic. Cook, stirring often, for another 5-7 minutes, or until the mushrooms have released their juices, are reduced in size, and are soft and tender.

Add the diced tomatoes, tomato sauce, Italian seasoning, salt, lentils, and water to the pot. Bring to a boil. Reduce the heat to low, cover, and simmer for 20 minutes, or until the lentils are tender. Be sure to stir the sauce at least 3-4 times during cooking (red lentils tend to stick to the bottom of the pot). When the lentils are soft, taste the sauce and add black pepper as needed. Stir in the kale. Re-cover the pot and allow the kale to cook in the sauce for 5 minutes.

While the sauce simmers, preheat your oven to 350F and lightly oil (or spray) a 9 x 13 inch baking dish. Bring a large pot of water to boil. Add the lasagna noodles and cook till al dente, following package instructions. Drain noodles.

Place about 1/3 of the lentil, mushroom, and kale mixture (this will be about 3 cups) on the bottom of the baking dish. Top with 1/2 cup grated cheese, spread out thinly. Place 4-5 lasagna noodles (or as many as needed) over this layer. Top the lasagna noodles with another ~3 cups of the lentil mixture and another 1/2 cup cheese. Top this layer with 4-5 more noodles. Top the noodles with the final third of the lentil mixture and 1/2 cup cheese.

Cover the lasagna with foil, transfer to the oven, and bake for 20 minutes. Uncover it and bake for another 15-20 minutes, or until the lasagna noodles are a little crispy at the edges and the cheese is melted. Cut the lasagna into 6-8 pieces (depending on what you're serving it with and how hungry you are) and serve.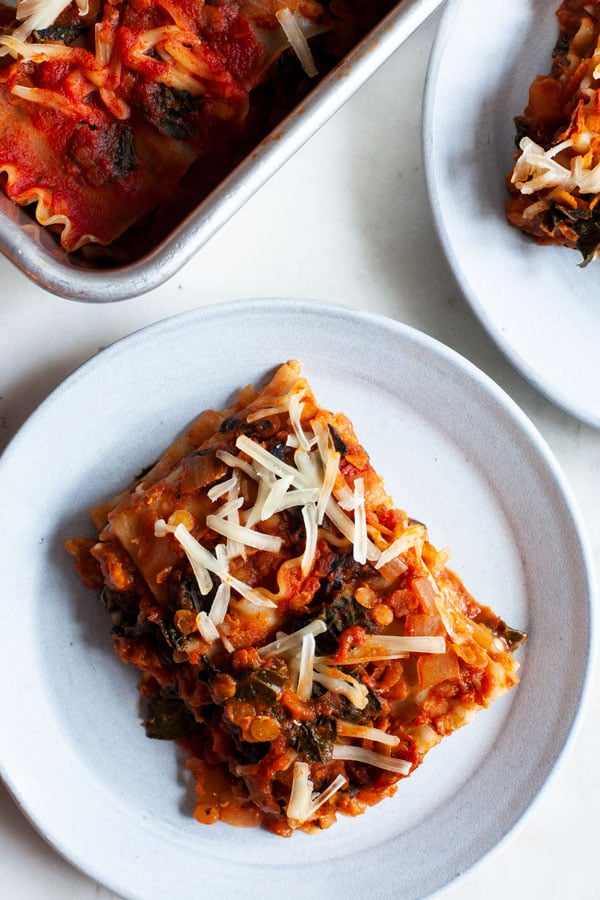 For the next couple weeks, you can expect to see a few more recipes like this interspersed with the usual fare. So, if you've got vegan casserole-like recipe requests, this is the time to share 🙂
Happy Tuesday, friends. I'll be back soon, and I'm wishing you a good start to this (shorter) week.
xo
Sheet Pan Tamari Glazed Tempeh & Broccoli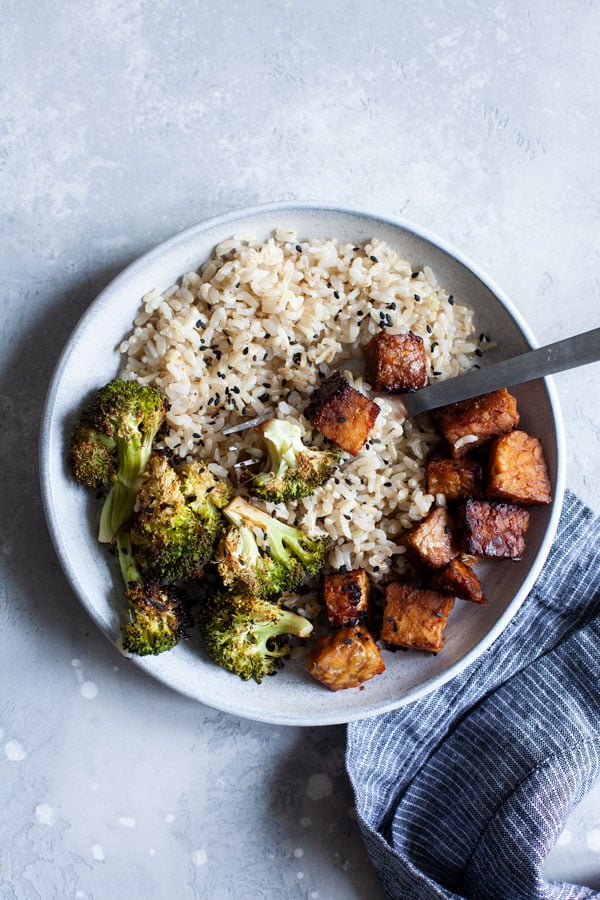 The other day, I took a little Instagram poll to figure out what sort of recipes you'd like to see more of, or which things you'd be curious to see me veganize. I did this partly for your sake and mostly for mine: I've been low on recipe ideas lately, and readers are always my best source of inspiration.
Here's a sampling of what was requested:
Pizza
Lasagna
Eggplant parmesan
Simple, take-to-work lunches
Anything with lentils
Pretzel bites
Cannoli filling (first I'll need to figure out how to make cannolis 😉)
Anything quick and/or easy
Stir fries
Vegan sandwiches
I loved getting requests. It was a reminder that I should ask for advice when coming up with my meal plans more often.
For now, I'm checking the "anything quick and/or easy" box with this recipe for tamari glazed tempeh and broccoli. On its own, it's a quick way to a vegan protein + vegetable combo, which you could eat the way it is or add to a salad/bowl. If you have some cooked or frozen rice at the ready, or some soba or udon noodles to boil up, it's a perfectly satisfying dinner. And while it's not exactly a 20-minute recipe, it's practically hands-off.
The recipe starts with giving tempeh a marinade in tamari, vinegar, and maple syrup (along with some crushed red pepper flakes for heat). You can do this in the fridge overnight, or for a couple hours, depending on what works for your schedule.
You can also choose to steam the tempeh first, or not. I didn't use to do this, but I've been getting into the habit lately. I do it less to decrease bitterness—the usual rationale—than to tenderize the tempeh, which I think it really does. And that's especially nice when tempeh gets baked, because it can dry out a bit in the oven.
After this is done, you spray a lined baking sheet with oil, place the tempeh cubes and some broccoli florets on it, and pour the marinade over everything. Bake for 35 minutes, and a protein-rich meal awaits!
Sheet Pan Tamari Glazed Tempeh & Broccoli
Servings: 3 servings
Ingredients
3

tablespoons

tamari (regular or reduced sodium, according to your preference)

3

tablespoons

rice vinegar (substitute apple cider or white wine vinegar)

2

tablespoons

maple syrup

2

cloves garlic, minced (or 1/4 teaspoon garlic powder)

2

teaspoons

freshly grated or minced ginger (or 1/2 teaspoon ground ginger)

generous dash crushed red pepper flakes

8

ounces

tempeh, cut into cubes (about 1″, or 16 cubes per 8-ounce block)

3

cups

bite-sized broccoli florets and/or stems

avocado or canola oil spray (optional)

brown rice or noodles, for serving (optional)

sesame seeds, for serving (optional)
Instructions
If you'd like to, steam the tempeh for 10 minutes.

Whisk together the tamari, vinegar, syrup, garlic, ginger, and red pepper flakes. Place the tempeh cubes in a rectangular or square glasslock container and pour the marinade over them. Cover the container and allow the tempeh to marinate for a couple hours, or overnight in the fridge.

Preheat your oven to 400F. Line a baking sheet with parchment or foil and coat it with vegetable oil spray. Remove the tempeh cubes from the marinade (reserving the marinade) and arrange them on half of the baking sheet. Arrange the broccoli on the other half. Pour the marinade over the tempeh and vegetables. Roast for 35 minutes, or until the tempeh and broccoli are browning, flipping the tempeh cubes once halfway through cooking.

Serve the tempeh and broccoli over rice, noodles, a salad, or whatever you like. Sprinkle with sesame seeds if desired.
I love that this dish doesn't require any stovetop babysitting, that it's flavorful without a complicated ingredient list, and that the leftovers taste great for days (which I'm discovering right now).
For the record, I've made it twice now, and the powdered garlic/ginger version is really good. If not having to mince anything is an additional selling point, don't shy away from that option.
Hope this dish might bring some ease to your batch cooking or weeknight meals, just the way it has mine. It's a keeper. And feel free to share more recipe requests if you've got 'em.
Happy Tuesday!
xo