Slow Cooker Red Beans, Rice & Tofu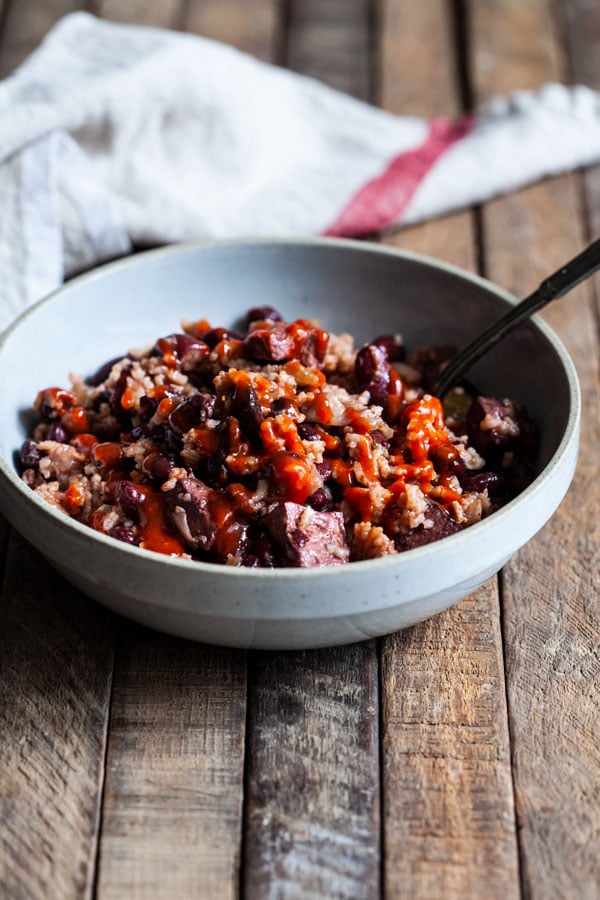 My slow cooker has been a very good friend to me throughout the last twelve weeks of clinical work. I rarely use it overnight on weeknights the way I used to, mostly because I have to rush in the morning (and don't want to clean it). But it's a wonderful helper on weekends, when I'm batch cooking: one less thing that needs careful monitoring, and great for cooking/freezing in bulk.
Since rice and beans are one of my staples, I recently got to thinking whether or not I could prep them in my slow cooker for a change. The answer is yes, and this recipe for slow cooker red beans, rice & tofu is my first try.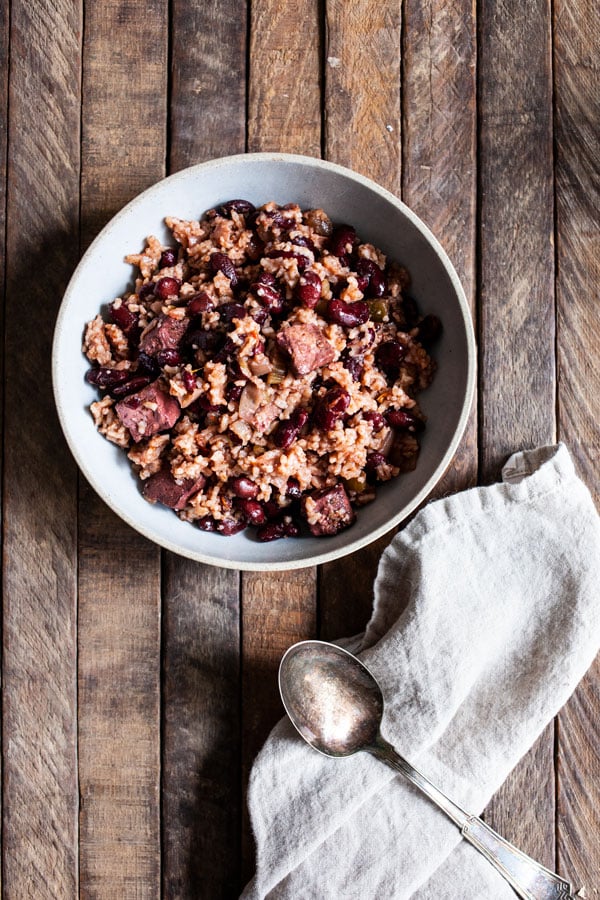 I've mentioned in past posts that I love adding tofu to rice & beans: it gives the dish extra plant protein, heft, and texture. In this recipe, extra firm tofu plays the role that sausage might play in an authentic red rice & beans recipe, except that, with my schedule these days, I didn't do anything fancy to season the tofu beforehand. I just threw it into the slow cooker with all of the other ingredients and allowed it to soak up flavor—which is what tofu is great at doing!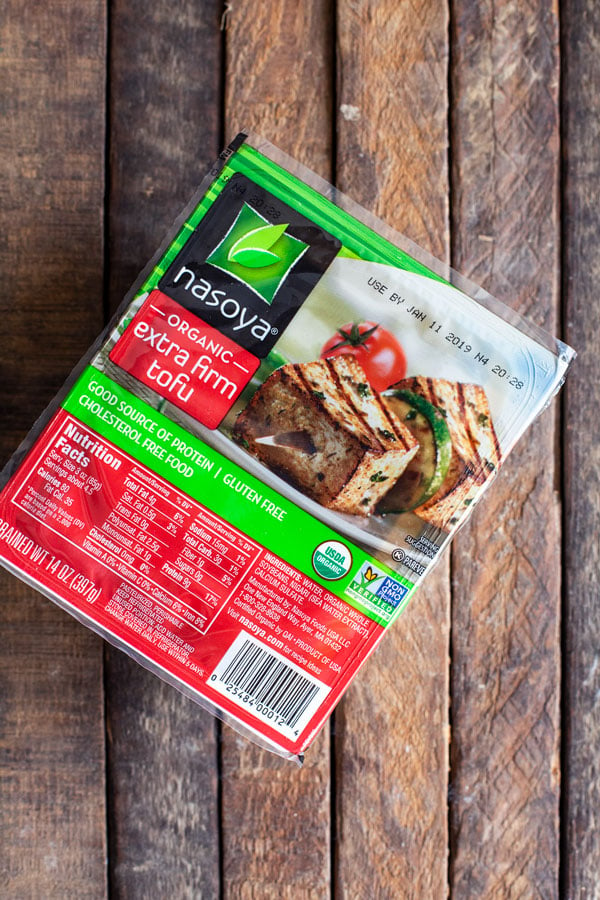 My extra firm tofu of choice is from Nasoya, makers of awesome, organic soy foods that are accessible all over the country. I love the texture of this tofu, which is firm enough (in my opinion) to resist the need for pressing. If you do want to press it, it gets even denser. I've used it both ways, but in this recipe, I just patted it and squeezed it gently between paper towels before adding, without any time in my press.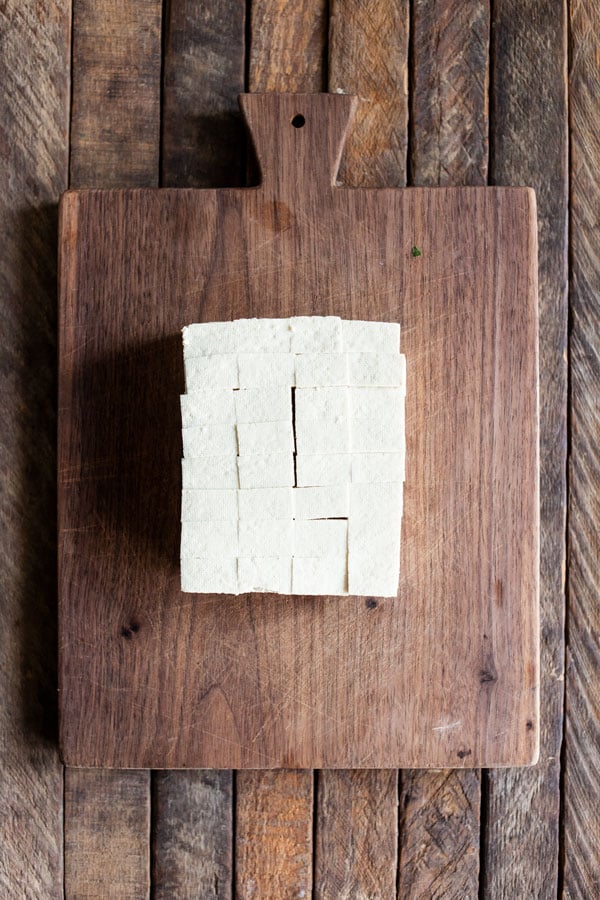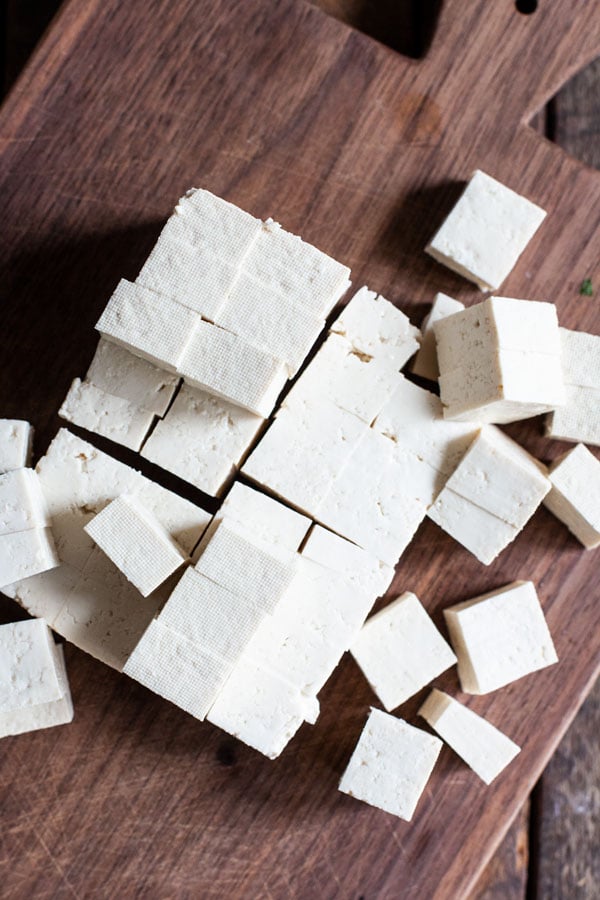 When I add the Nasoya extra firm tofu to recipes, I usually cube it into pieces that are about 3/4-1″ big. When I cut the block up evenly, it's 32 pieces (invariably they end up a little uneven, but it's all good.
When I want the best flavor from a slow cooker recipe, I sauté the onions and other veggies (peppers, celery, etc) in some olive oil before turning the slow cooker on (my current slow cooker allows me to sear/sauté in the device, but in the past I'd just do it in a pan). For this recipe, you can skip that step or roll with it: it adds a bit more depth of flavor, but the dish will be perfectly spicy and flavorful no matter what, thanks to the spice mix.
Note that, for this recipe, rice gets added after the other ingredients have cooked for a while, so if you're cooking overnight, you'll want to plan to add in the morning. I cooked for 4 hours and added the rice 1 hour before cook time was done.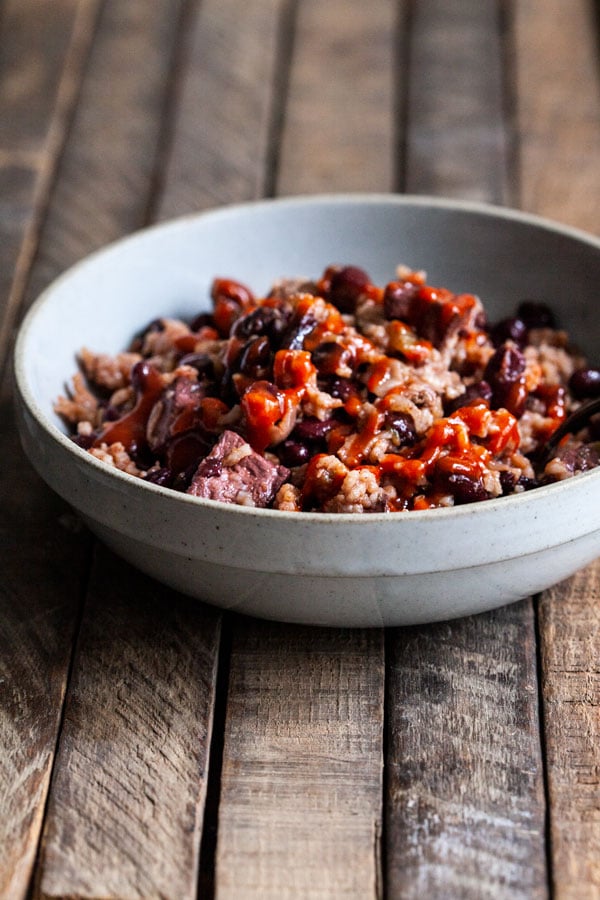 | | | |
| --- | --- | --- |
| Slow Cooker Red Beans, Rice & Tofu | | Print |
Recipe type: main dish
Cuisine: slow cooker, vegan, gluten free, tree nut free, no oil option
Author: Gena Hamshaw
Prep time:
Cook time:
Total time:
Serves: 8-12 servings
Ingredients
1 lb kidney beans, soaked overnight or for 8 hours and drained/rinsed
1 tablespoon olive oil
1 large or 2 small onions, diced
3 large stalks celery, diced
1 green bell pepper, seeded and diced
14 ounces Nasoya extra firm tofu, cubed
4 cloves garlic, minced
7 cups water + 1 vegan, chicken style bouillon cube or 7 cups vegetable broth
2 bay leaves
2 teaspoons smoked paprika
2 teaspoons chili powder
2 teaspoons dried thyme
1 teaspoons fine salt (more as needed; the bouillon or broth will plenty of salt as well, but you can increase the starting amount to 1½-2 teaspoons if you use low-sodium broth)
½ teaspoon cayenne pepper (this is very mild, which is my style, but feel free to ramp it up if you like a lot of heat!)
¼ cup tomato paste
1¼ cups long-grain white or brown rice*
1-2 tablespoons apple cider vinegar, to taste
Hot sauce and chopped green onions, for topping
Instructions
Optional: heat the olive oil in a large skillet over medium heat. Add the onion, celery, and pepper. Sauté for 5-7 minutes, or until the vegetables are tender and the onion is gently browning. Add these ingredients to the slow cooker.
Add all remaining ingredients except for rice and vinegar to the slow cooker. If you don't choose to sauté the vegetables, you can skip the olive oil and dump everything but the rice and vinegar into the slow cooker now!
Cook the ingredients on low for 6 hours or high for 3 hours. Add the rice. Continue cooking for 2 more hours on low or 1 hour on high (1½ hours if you use brown rice instead of white). Remove the bay leaves. Stir in the vinegar and add additional salt as needed. Serve, with plenty of hot sauce and chopped green onions if desired.
3.5.3251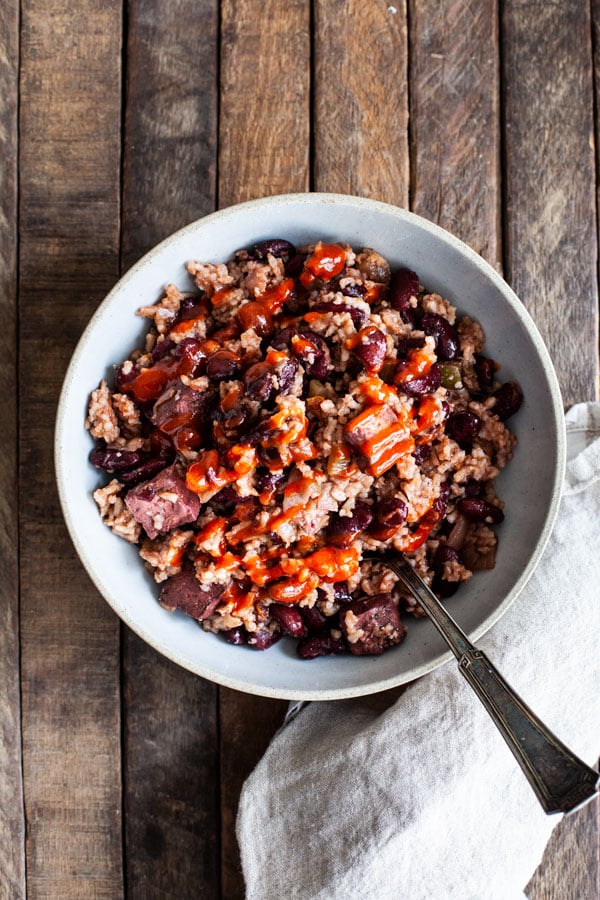 This is, as so many of my recent recipes are these days, a staple that can be dressed up in a ton of ways. With a good squeeze of hot sauce it's a light lunch. With a big salad or a couple veggie sides, it's dinner. Stuffed into some corn or whole wheat tacos, it's a perfect breakfast. I'm so happy to still have a ton of it in my freezer.
And, speaking of how voluminous the recipe is, it's totally OK to cut the whole thing in half if you like—and it's an especially good idea to do that if you have a smaller sized slow cooker.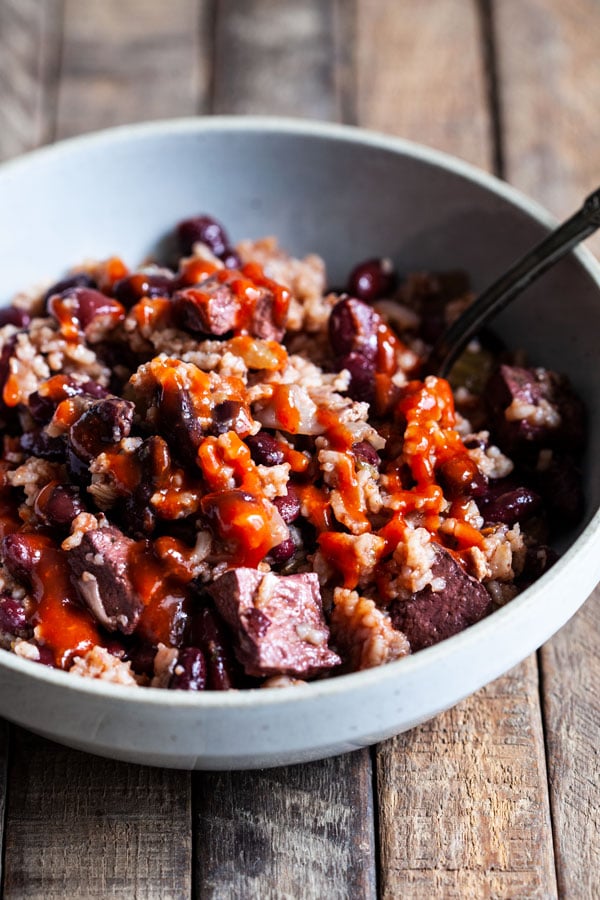 Rice and beans is a perfect combination of foods in just about every way: nutritionally, texturally, economically. Tofu makes it all the better and all the more nutrient-dense, and I can't wait to make this one again.
Wishing you a nourishing end to the week, and I'll see you this weekend.
xo
This post is sponsored by Nasoya. All opinions are my own, and I love this go-to brand of tofu and other creative soy products! Thanks for your support.
Stuffed Acorn Squash with Garlicky Beans & Greens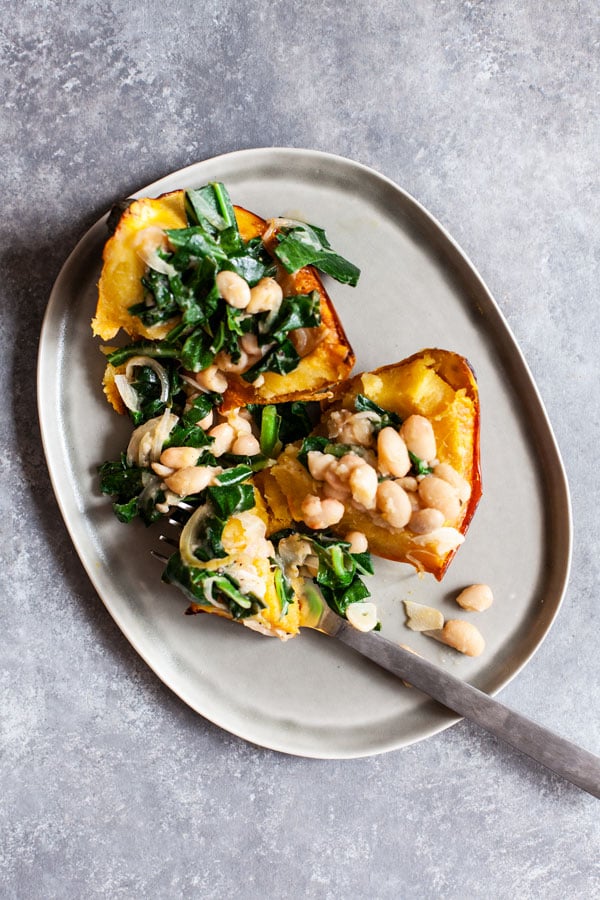 There's no shortage of winter squash in my diet at this time of year (at any time of year, actually), but I tend to eat the same ones over and over again: butternut, delicata, kabocha. I forget about good 'ole acorn squash, which is actually the first winter squash I ever tried.
This week, I saw some adorable, petite acorn squash—each the perfect size for one person—at my health food store, and I figured it was time to revisit this too-long overlooked vegetable. I'm so glad I did. This stuffed acorn squash with garlicky beans and greens is a new, easy option for wintery weekend batch cooking.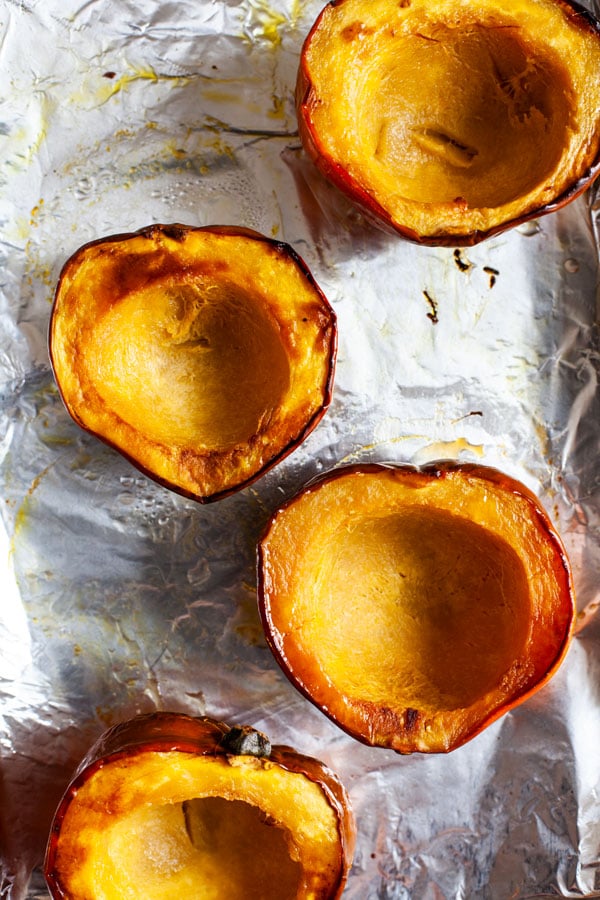 Cooking the squash for the recipe takes a little time: forty-five minutes, give or take. But it's a totally hands-off process, and while the squash is roasting up nicely, you can prepare the beans and greens, which is really just a matter of minutes.
Once the ingredients are ready, you can stuff the squash and enjoy them right away for a dinner that looks deceptively fancy, given how simply it comes together. Or, if you're doing the batch cooking thing, you can store the squash and beans separately for instant weeknight meals. I actually stuffed mine on the spot and placed them in a large glasslock container, which worked just fine.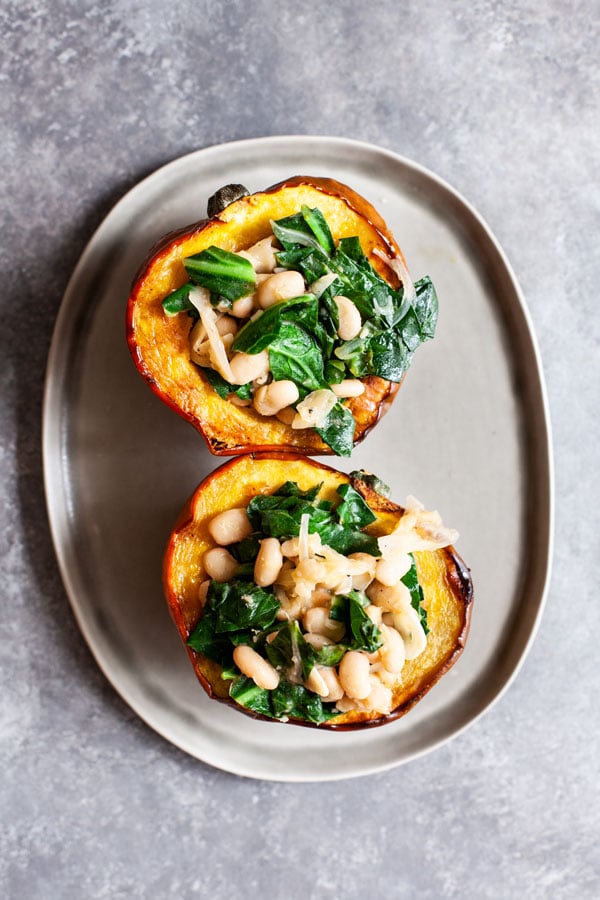 As is the case with most of the recipes I've been making during my internship, this one is flexible. I used collards and Great Northern beans, but chickpeas, navy beans, and even lentils would be perfect in the filling, and the greens are variable as well. I can't wait to try this with broccoli rabe, which is a personal favorite! And while the acorn squash I got were the very ingredient that inspired this dish, it would be pretty awesome with delicata squash, too.
Here's the recipe.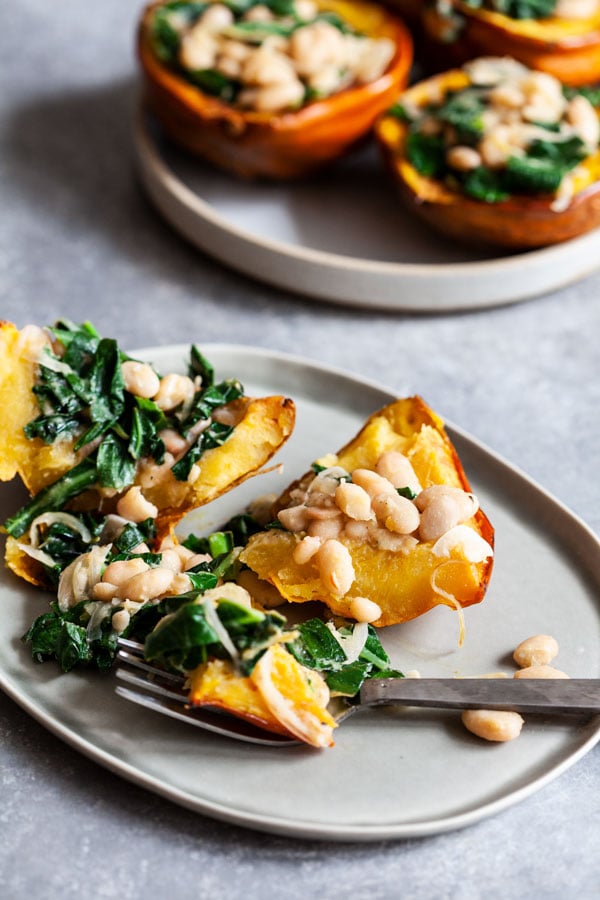 Stuffed Acorn Squash with Garlicky Beans & Greens
A hearty, nutritious stuffed acorn squash dish that looks fancy, but comes together with minimal work!
Prep Time10 mins
Cook Time45 mins
Total Time55 mins
Servings: 4 servings
Ingredients
vegetable oil spray or a few teaspoons neutral flavored vegetable oil, such as grapeseed or refined avocado

2

large (or 4 small) acorn squash, cut in half from stem to bottom and seeds removed

1

tbsp

olive oil

2

large shallots, thinly sliced

4

cloves garlic, thinly sliced

1 1/2

cups

cooked white beans (1 can beans, drained and rinsed)

1

small or medium bunch collard greens, thick stems removed and sliced into ribbons (about 4-5 cups after preparation; substitute another chopped green of choice)

1-2

tbsp

lemon juice (to taste)

salt and freshly ground pepper, to taste (I used 1/2 teaspoon salt)

vegan parmesan, for serving (optional)
Instructions
Preheat your oven to 375 F. Place the squash, cut side up, in a foil or parchment lined baking dish. Spray the squash on both sides with your oil spray, or use your hands to lightly rub/coat the squash with your cooking oil. Bake for 40-45 minutes, or until the edges of the squash are golden and the squash is tender when pierced with a fork.

While the squash cooks, heat the oil in a large, roomy skillet over medium heat. Add the shallots and garlic. Cook for 3 minutes, or until the shallots are tender and clear. Stir in the beans. Next, stir in the collard greens. Cook, stirring often, until the collard greens are tender (about 5 minutes). Add the lemon juice and salt and pepper. Taste and adjust seasoning as desired.

To serve, stuff each squash half with the bean mixture. Top with a sprinkle of vegan parmesan, if desired.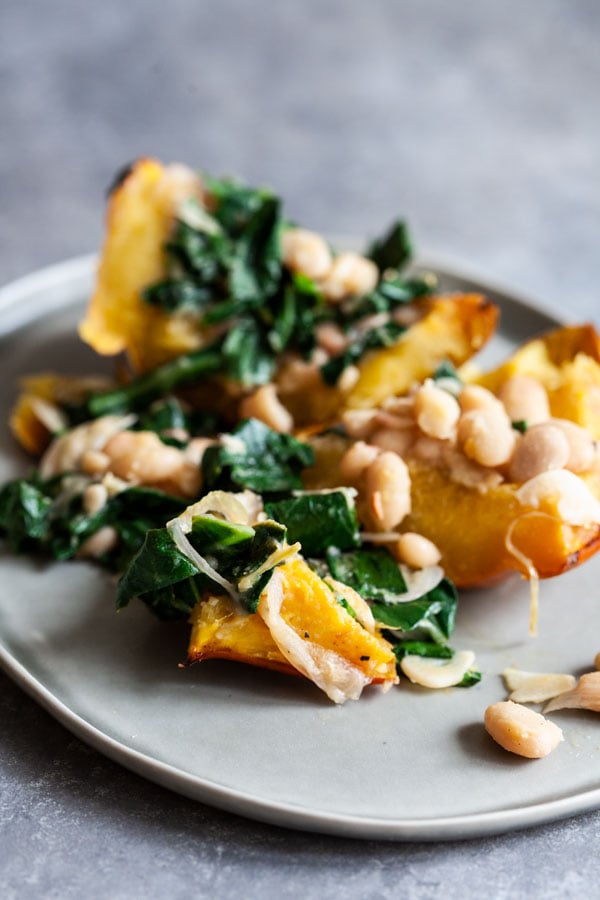 A lot of my batch cooking amounts to big, one pot dishes, especially soups and stews. I could eat those dishes forever, honestly, but each time I batch cooking something different, I'm relieved to have more variety in my routine. This week so far, I've had leftover enchiladas and these stuffed squash halves for my dinners, and it's a really nice break from bowl after bowl of stew 😉
Enjoy this pretty, yet easy dinner, friends. And thank you so very much for the lovely, wise comments on last Sunday's post. I've been sitting with them and feeling grateful for all of you, which is a pretty excellent place to be in as we head into NEDA week 2019! I don't have quite as many posts lined up as I did last year (#DIproblems), but as always, I have some words and feelings to share, straight from the heart.
Till soon.
xo
Tofu Scallion Black Bean Scramble
As I mentioned in Sunday's post, baked oatmeal was my breakfast mainstay for the first four weeks of my current rotation. I have a few weekdays with long commutes, which means that a pre-cooked,
ready-to-eat breakfast was a lifesaver. Plus, it was often freezing in NYC, and something warm and sweet hit the spot.
I foresee plenty of baked oatmeals (or baked oatmeal cups) in my future before the winter is over, but I'm officially getting tired of the repetition. And I'm missing savory breakfast, which is, as most of you know, one of my favorite things.
A new tofu scramble to the rescue. It's not actually new, because I was making it a lot this past fall. But it's been a hot minute since I whipped up a new batch. There are countless tofu scramble recipes that I love and rely upon, but this one has moved pretty quickly to the top of the list. It's super fast, super easy, and, because it features black beans and kale as well as tofu, it's especially high in protein (around 20 grams per serving).
A protein-rich breakfast, as I'm continually telling (or hearing my preceptors tell) patients these days, can help to keep one fuller longer. Not something I have to give too much thought to when I'm working from home and can easily reach for a snack whenever I get nibbly. But it's a serious consideration for me this year, with a schedule that includes long commutes, packed mornings of patient appointments, and not always being able to eat when I planned on eating.
The other special feature of the scramble, aside from the beans, are the scallions. They replace onions, which I usually add to my scrambles, and they're perfect for my busy weekends of batch cooking because they cook through faster than onions do.
You'll see that I also add a bit of tahini to the scramble; it sounds a little odd, but it's a trick I learned from this scramble recipe years ago. It makes the scramble ever-so-slightly creamy (imagine soft scrambled eggs, vs. drier ones). And the healthful fat makes the scramble extra satiating, too. Here's the recipe.
| | | |
| --- | --- | --- |
| Tofu Scallion Black Bean Scramble | | Print |
Author: Gena Hamshaw
Prep time:
Cook time:
Total time:
Serves: 4 servings
Ingredients
2 teaspoons neutral flavored vegetable oil (such as grapeseed or
refined avocado)*
1 small bunch (about 6-8) scallions/green onions, tops and white parts, chopped
1 15-ounce block extra firm tofu
1 tablespoon tahini (or cashew butter)
1 tablespoon freshly squeezed lemon juice
2 tablespoons warm water
½ teaspoon ground turmeric
¼ teaspoon fine salt (more as needed)
2 tablespoons nutritional yeast
1½ cups cooked black beans
2 cups raw kale (or another leafy green of choice), chopped
Freshly ground black pepper to taste
Instructions
Heat the oil in a large, roomy skillet over medium high heat. When the oil is shimmering. Cook for 3 minutes, stirring frequently, or until the white parts of the scallions are tender.
Whisk together the tahini, water, lemon juice, turmeric, and salt. Crumble the tofu into the skillet, breaking it into bite-sized pieces or smaller (this can be up to you: some folks like a chunkier scramble, others don't—I'm in the latter camp!). Add the tahini mixture to the skillet, followed by the nutritional yeast, and mix well to incorporate. The tofu will turn a nice, golden color.
Fold the black beans and kale into the scramble. Continue cooking for another 3-5 minutes, or until the kale is tender. Season the scramble to taste with extra salt and freshly ground pepper as needed. Enjoy!
3.5.3251
This scramble is pretty simple, in so far as seasoning goes, but feel free to add garlic, smoked paprika, cumin, or other spices to your liking. The black beans can be exchanged for chickpeas, pinto beans,
kidney beans, or another legume, and if you're running short on leafy greens, another chopped green vegetable will work well. I often use whatever frozen, chopped vegetables I've got at home in a breakfast
like this.
Sure, baked oatmeal is a fabulous make-ahead breakfast, but so is this: I usually make it on Sunday and enjoy it for the first three weekdays of a new work week. To serve, you can pair it with whole grain toast, an English muffin, corn tortillas, a whole grain, sweet potatoes or regular potatoes—plenty of serving options. If you've got some extra veggies to add, even better.
Wishing you a new week full of nourished mornings. I've got two weeks left at my current rotation; change is really the only constant this year! Thank goodness for grounding breakfasts.
xo
Hearty Vegan Mushroom, Bulgur, & Bean Chili
Happy Tuesday, all!
I'm well behind Superbowl Sunday in posting this chili recipe, but no matter: giant pots of vegan chili are one of my favorite staples to batch cook and keep around, especially during the winter months. I scoop chili over rice, serve it with my favorite whole grain vegan cornbread, use it to stuff tacos, and pile it onto baked sweet potatoes. As far as leftovers go, it doesn't get much more versatile than that.
I can't believe I'm saying this, but I'm actually getting a little tired of my usual chili ingredients—mostly beans and sweet potato or squash, sometimes my favorite chick'n soy curls. This week, I decided to try using bulgur, which I've seen used in vegan cookbooks for a long, long time, and which happens to be one of my favorite grains to keep around.
For protein and meaty texture, I did use beans as usual, but I also departed from tradition and added a lot—a whole pound—of chopped mushrooms.
I don't dislike mushrooms, but I also don't rely on them nearly as much as I do other vegetables. Mostly, they need to appear in soup or stew for me to gobble them down (sometimes this farro dish). I've been making a great effort to eat more of them this year, not only because they add plenty of texture and heft to vegan food, but also because they're full of good nutrition (including phytonutrients that look to have some promising anti-cancer effects).
I'm really happy with how the chili turned out. I went a little crazy with add-ins as I was making it, including some frozen corn and collards that needed using up, so it turned into one of those proverbial "kitchen sink" meals. But the bulgur and mushrooms are still the stars of the show, and they deliver on texture and satisfaction both; my packed lunches of the chili leftovers have been keeping me nicely full through my afternoons at work.
You can easily replace the corn and greens with any frozen or fresh vegetables you might have. As always, you can also play around with the spices I chose here. I do recommend using the mushrooms, since they're part of what make the chili what it is, but feel free to vary what kind you use: I used sliced button mushrooms, which are inexpensive and easy to find, but shiitake and chopped portobello caps would also be great here.
| | | |
| --- | --- | --- |
| Hearty Vegan Mushroom, Bulgur, & Bean Chili | | Print |
Recipe type: main dish
Cuisine: vegan, gluten free option, soy free, tree nut free, no oil option
Author: Gena Hamshaw
Prep time:
Cook time:
Total time:
Serves: 6 servings
Ingredients
1 tablespoon neutral vegetable oil (such as grapeseed or refined avocado)*
1 small or medium white or yellow onion, chopped
1 bell pepper (any color), chopped
4 green onions, white and green parts, chopped
1 lb cleaned and sliced mushrooms of choice (I suggest any combination of button, shiitake, or portobello)
⅔ cup bulgur wheat (substitute quinoa for a gluten free version)
1½ cups cooked kidney, pinto, or black beans (1 can, drained and rinsed)
1 28-ounce can fire-roasted, diced tomatoes
3 tablespoons tomato paste
1½ teaspoons ground chili powder
1 teaspoon smoked paprika
1 teaspoon dried mustard (or 1 tablespoon yellow or Dijon mustard)
1 teaspoon ground cumin
½ teaspoon salt (or to taste)
2 cups low sodium vegetable broth
Optional: 2 cups diced/chopped frozen or fresh vegetable add-ins of choice (I used 1 cup frozen chopped collards and 1 cup frozen yellow corn kernels), defrosted according to package instructions if using frozen
For topping: chopped green onion tops, diced avocado, crumbled corn chips, crumbled tempeh bacon, etc.
Instructions
Heat the oil over medium high heat in a large pot. When the oil is shimmering, add the onion, pepper, green onion, and mushrooms. Cook the vegetables, stirring often, until the mushrooms are tender and have released their juices (12-15 minutes).
Add the bulgur, beans, tomatoes, tomato paste, chili powder, smoked paprika, dried mustard, cumin, salt, and broth to the pot. Bring the mixture to a boil. Reduce the heat to low, cover, and simmer for 15 minutes, or until the bulgur (or quinoa) is cooked through. If adding vegetables, uncover the pot and add them after 10 minutes. Taste the chili and adjust salt as needed. Serve, with corn chips, avocado, chopped green onion tops, or any other toppings you enjoy!
Notes
*For a no oil version, substitute a few tablespoons broth or water.
3.5.3251
I have to admit, I haven't yet tried the quinoa version, but since quinoa and bulgur have similar cooking times, I think it'll work just fine. If you happen to give it a try, let me know how it goes!
The last two days have been unexpectedly balmy here in NYC, and it feels like spring. I know it's temporary, but this tiny burst of warm weather has blown a lot of wind into my sails, and I feel as though I'm engaging better with work in particular. Wishing you a good end to the week, and see you soon for some recipes and reads.
xo