Slow Cooker Red Beans, Rice & Tofu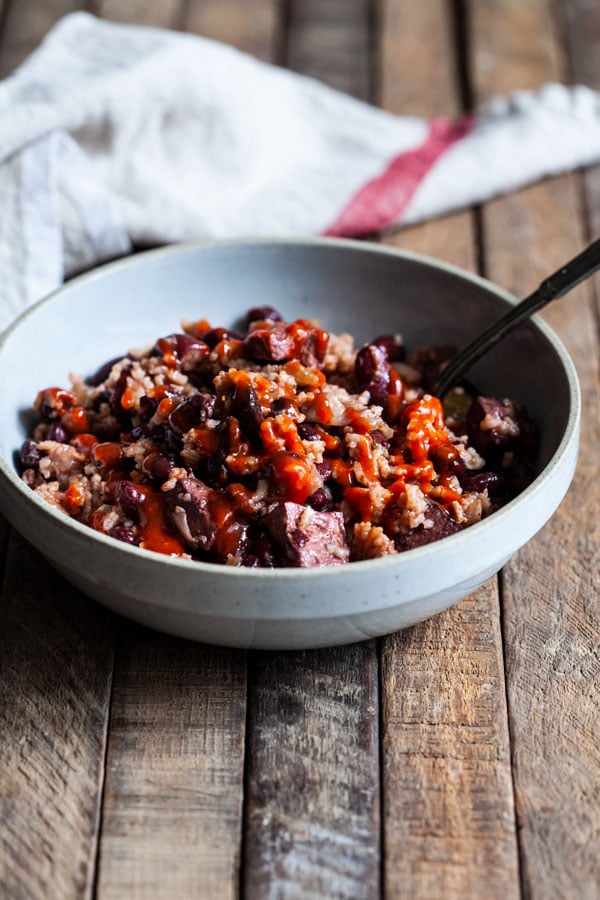 My slow cooker has been a very good friend to me throughout the last twelve weeks of clinical work. I rarely use it overnight on weeknights the way I used to, mostly because I have to rush in the morning (and don't want to clean it). But it's a wonderful helper on weekends, when I'm batch cooking: one less thing that needs careful monitoring, and great for cooking/freezing in bulk.
Since rice and beans are one of my staples, I recently got to thinking whether or not I could prep them in my slow cooker for a change. The answer is yes, and this recipe for slow cooker red beans, rice & tofu is my first try.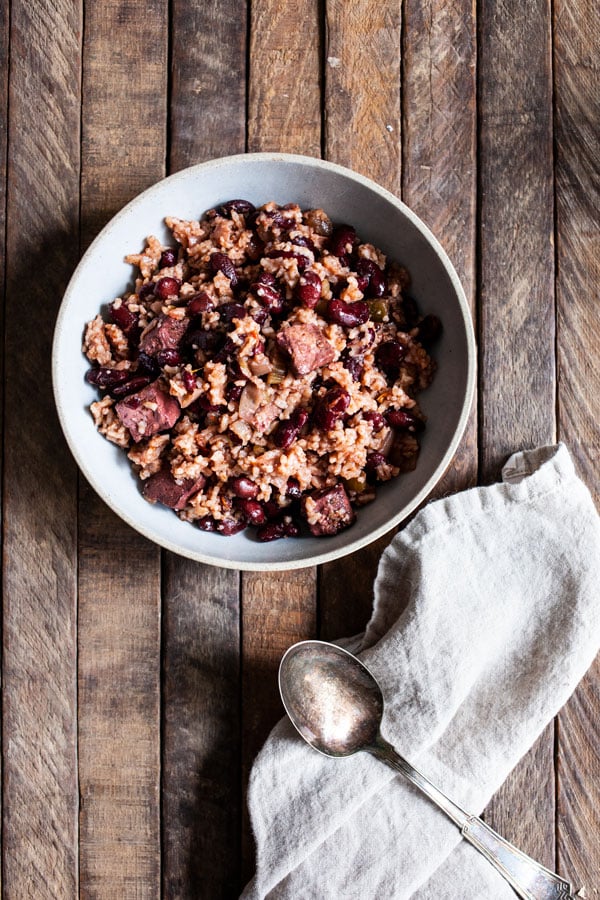 I've mentioned in past posts that I love adding tofu to rice & beans: it gives the dish extra plant protein, heft, and texture. In this recipe, extra firm tofu plays the role that sausage might play in an authentic red rice & beans recipe, except that, with my schedule these days, I didn't do anything fancy to season the tofu beforehand. I just threw it into the slow cooker with all of the other ingredients and allowed it to soak up flavor—which is what tofu is great at doing!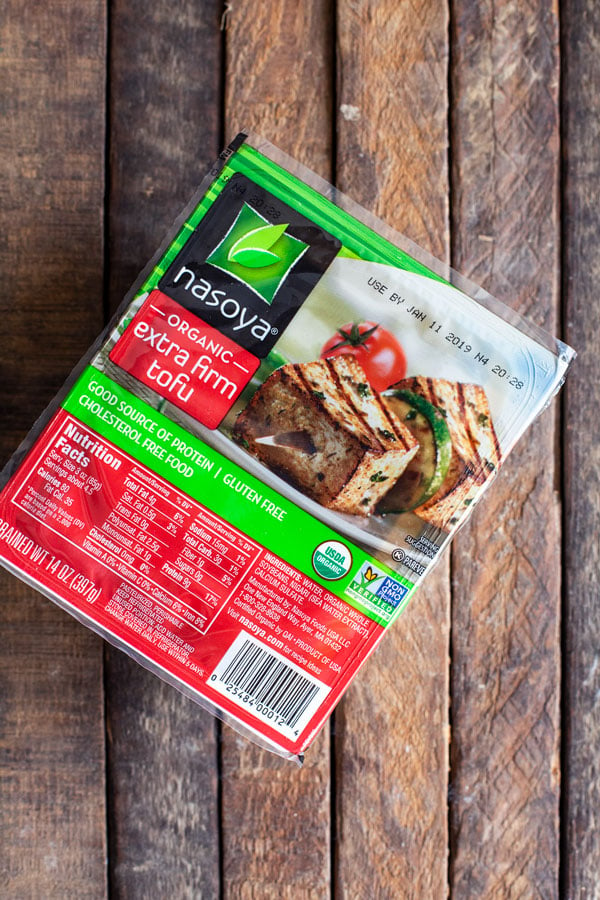 My extra firm tofu of choice is from Nasoya, makers of awesome, organic soy foods that are accessible all over the country. I love the texture of this tofu, which is firm enough (in my opinion) to resist the need for pressing. If you do want to press it, it gets even denser. I've used it both ways, but in this recipe, I just patted it and squeezed it gently between paper towels before adding, without any time in my press.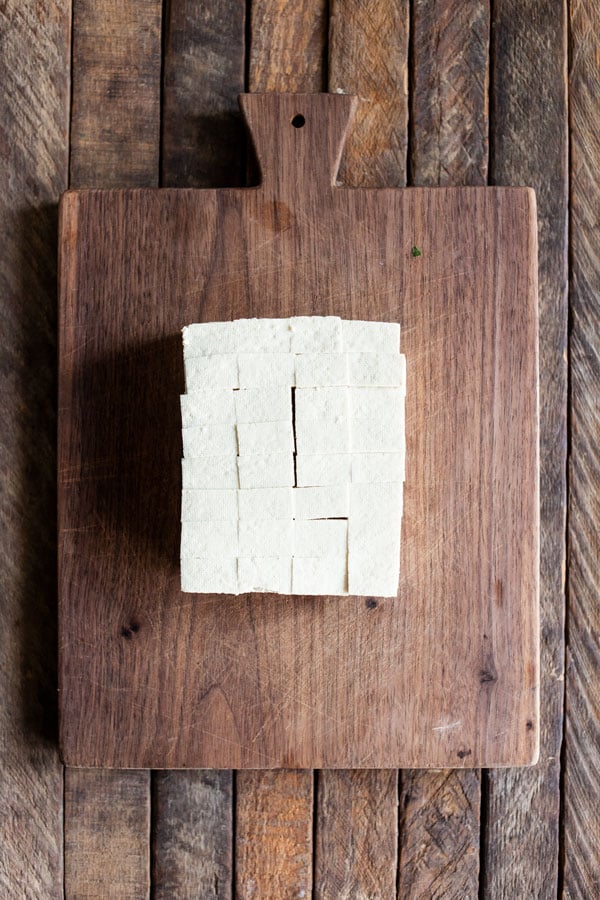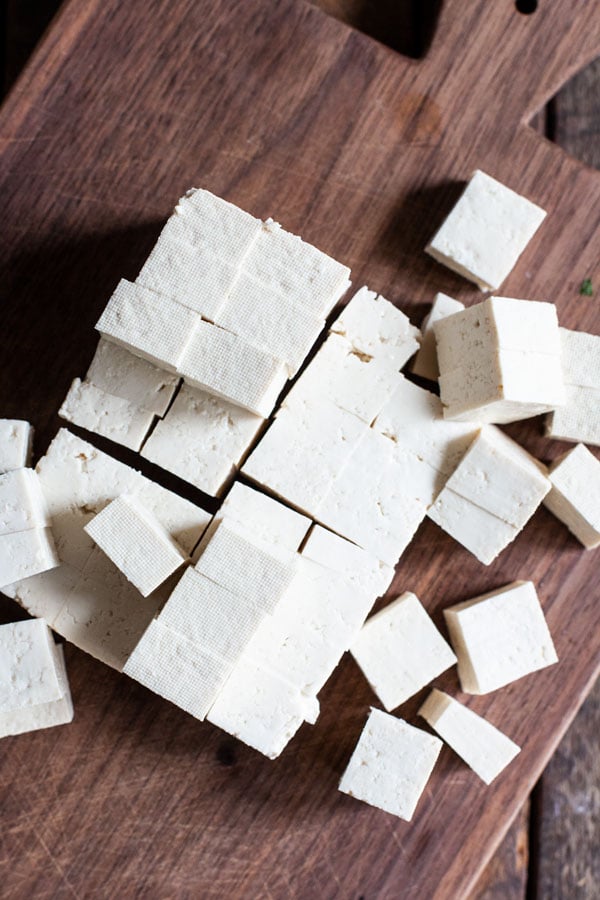 When I add the Nasoya extra firm tofu to recipes, I usually cube it into pieces that are about 3/4-1″ big. When I cut the block up evenly, it's 32 pieces (invariably they end up a little uneven, but it's all good.
When I want the best flavor from a slow cooker recipe, I sauté the onions and other veggies (peppers, celery, etc) in some olive oil before turning the slow cooker on (my current slow cooker allows me to sear/sauté in the device, but in the past I'd just do it in a pan). For this recipe, you can skip that step or roll with it: it adds a bit more depth of flavor, but the dish will be perfectly spicy and flavorful no matter what, thanks to the spice mix.
Note that, for this recipe, rice gets added after the other ingredients have cooked for a while, so if you're cooking overnight, you'll want to plan to add in the morning. I cooked for 4 hours and added the rice 1 hour before cook time was done.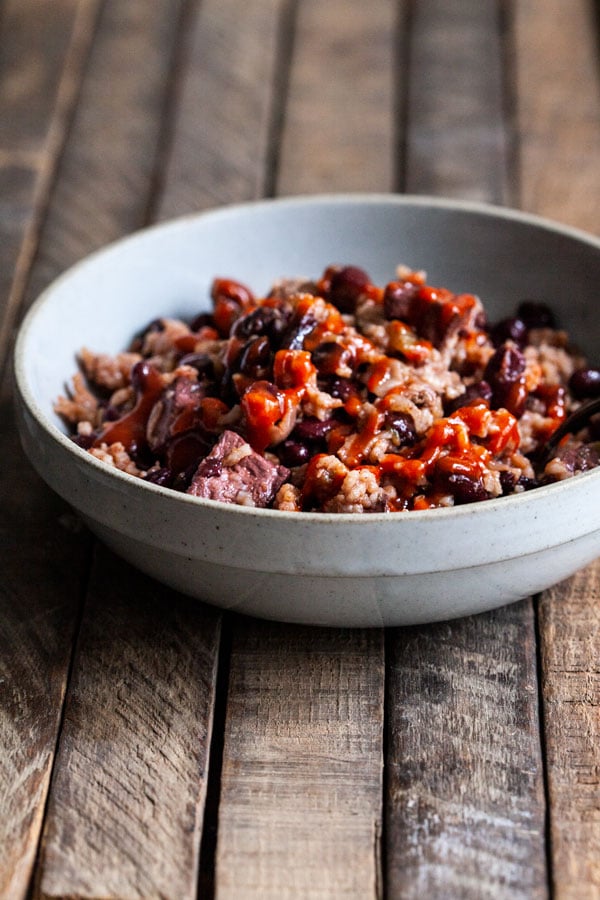 | | | |
| --- | --- | --- |
| Slow Cooker Red Beans, Rice & Tofu | | Print |
Recipe type: main dish
Cuisine: slow cooker, vegan, gluten free, tree nut free, no oil option
Author: Gena Hamshaw
Prep time:
Cook time:
Total time:
Serves: 8-12 servings
Ingredients
1 lb kidney beans, soaked overnight or for 8 hours and drained/rinsed
1 tablespoon olive oil
1 large or 2 small onions, diced
3 large stalks celery, diced
1 green bell pepper, seeded and diced
14 ounces Nasoya extra firm tofu, cubed
4 cloves garlic, minced
7 cups water + 1 vegan, chicken style bouillon cube or 7 cups vegetable broth
2 bay leaves
2 teaspoons smoked paprika
2 teaspoons chili powder
2 teaspoons dried thyme
1 teaspoons fine salt (more as needed; the bouillon or broth will plenty of salt as well, but you can increase the starting amount to 1½-2 teaspoons if you use low-sodium broth)
½ teaspoon cayenne pepper (this is very mild, which is my style, but feel free to ramp it up if you like a lot of heat!)
¼ cup tomato paste
1¼ cups long-grain white or brown rice*
1-2 tablespoons apple cider vinegar, to taste
Hot sauce and chopped green onions, for topping
Instructions
Optional: heat the olive oil in a large skillet over medium heat. Add the onion, celery, and pepper. Sauté for 5-7 minutes, or until the vegetables are tender and the onion is gently browning. Add these ingredients to the slow cooker.
Add all remaining ingredients except for rice and vinegar to the slow cooker. If you don't choose to sauté the vegetables, you can skip the olive oil and dump everything but the rice and vinegar into the slow cooker now!
Cook the ingredients on low for 6 hours or high for 3 hours. Add the rice. Continue cooking for 2 more hours on low or 1 hour on high (1½ hours if you use brown rice instead of white). Remove the bay leaves. Stir in the vinegar and add additional salt as needed. Serve, with plenty of hot sauce and chopped green onions if desired.
3.5.3251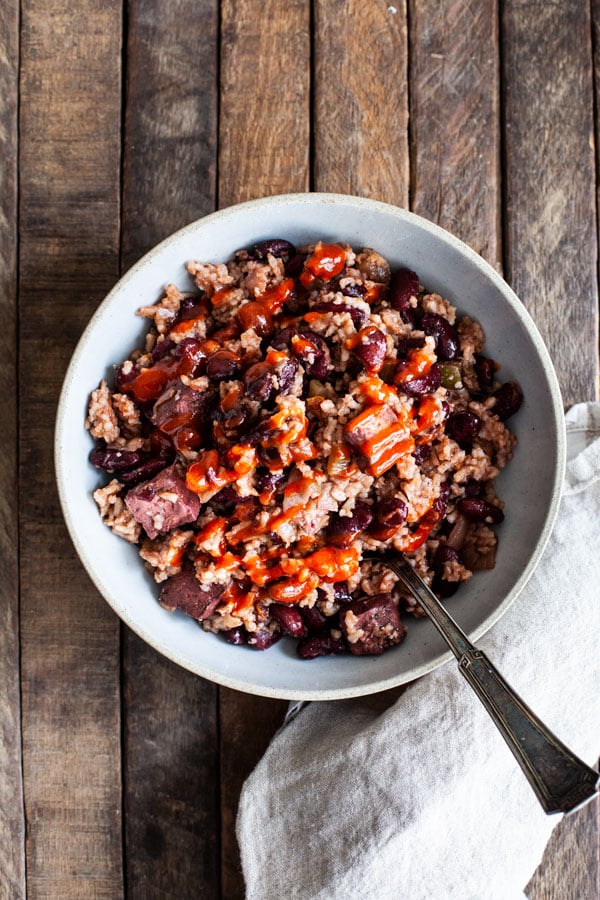 This is, as so many of my recent recipes are these days, a staple that can be dressed up in a ton of ways. With a good squeeze of hot sauce it's a light lunch. With a big salad or a couple veggie sides, it's dinner. Stuffed into some corn or whole wheat tacos, it's a perfect breakfast. I'm so happy to still have a ton of it in my freezer.
And, speaking of how voluminous the recipe is, it's totally OK to cut the whole thing in half if you like—and it's an especially good idea to do that if you have a smaller sized slow cooker.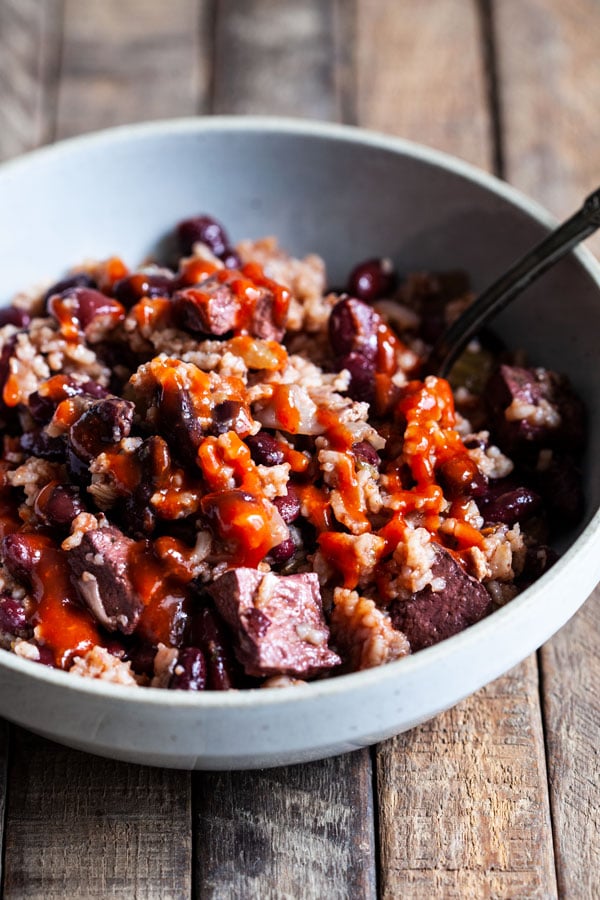 Rice and beans is a perfect combination of foods in just about every way: nutritionally, texturally, economically. Tofu makes it all the better and all the more nutrient-dense, and I can't wait to make this one again.
Wishing you a nourishing end to the week, and I'll see you this weekend.
xo
This post is sponsored by Nasoya. All opinions are my own, and I love this go-to brand of tofu and other creative soy products! Thanks for your support.
Vegan Cashew Espresso Truffles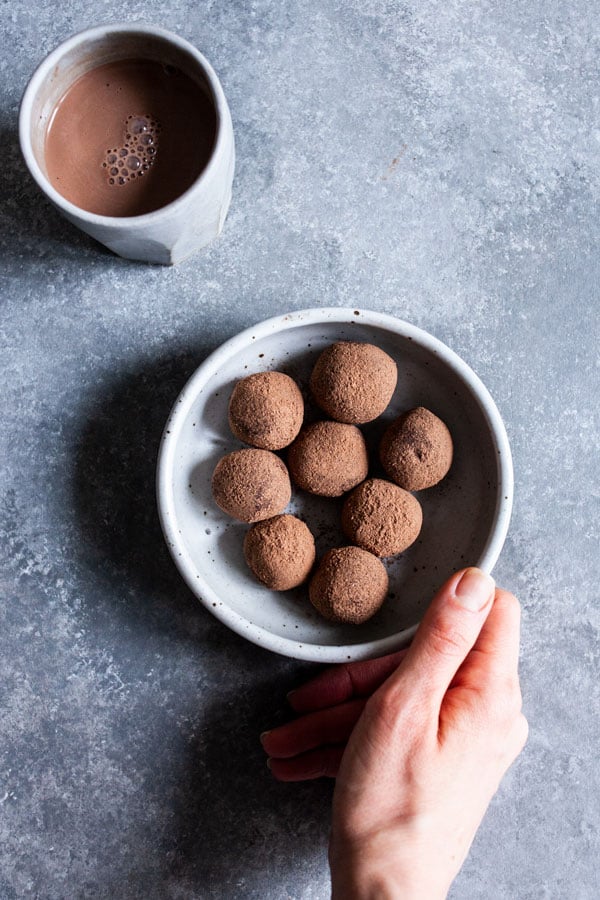 Tis the season for all things sweet.
Last year at this time, I was savoring dark chocolate pear cake and whipping up loaf after loaf of braided challah. That's what I'd like to be doing right now, too, but I've found that baking isn't a treat when it's squeezed into my busy weekends these days. What cooking time I do have goes to meal prep, which isn't exactly festive, but it is a part of keeping me well fed through the DI, which has been a source of strength, comfort, and pleasure.
Still, I'm not about to forgo holiday treat-making entirely. The trick is to find a treat that's as easy as it is rewarding, and these vegan cashew espresso truffles are it.
I made these over the weekend, and I still can't believe how easy they were. I got my inspiration from an Ina Garten recipe, using cashew milk in place of regular dairy and simplifying things a lot.
All you need to prepare the recipe is dark chocolate (I used 70%, but you could use 65% for slightly a sweeter version, 80% for something intense), vanilla, espresso, and a little sugar (I used coconut) if you wish. Pour hot milk over the chocolate, stir till everything's melted, and stick your bowl in the fridge for 2 hours. As soon as the mixture is firm, you can roll the truffles in cocoa powder, and dessert is ready. I can't think of an easier indulgence, and since the recipe makes a ton (intentionally, though you can half it), it's perfect for a vegan dessert platter or for edible gifting.
I shared the truffles with my coworkers on Monday, and we all agreed that, while chocolate has a starring role in the recipe, it's the espresso that makes everything sing. And the espresso I used was supplied by the awesome folks at Trade Coffee Co.—a personalized coffee delivery service that matches home coffee lovers with ethically sourced, seasonal coffees from trusted farmers and producers.
Sure, home cooked food and good nutrition has been helping me through the DI. But let's be honest: a very solid portion of my internship survival is thanks to caffeination. I'm a total coffee nerd; I love coffee-making so much that I've often traveled with a hand grinder and an Aeropress, and my morning pour over routine is generally what gets me out of bed. Much as I rely on coffee to function/wake up/think/do, I also love it for its own sake.
The fun thing about testing Trade Coffee is that the company helped me to discover new roasts that fit my tastes. When you sign up with Trade, you take a cool quiz that matches you with a bag (and you can keep trying new coffees as you go). I got to taste a light roast from NYC's own Irving Farm, an awesome dark roast from Stumptown, and—for this dessert—an espresso from Sightglass. It was such a pleasure to grind, brew, and savor these different beans.
I ground the Sightglass Crown Point espresso finely for the truffles; you could use any finely ground espresso you've got, or you could use instant espresso if you prefer. I'll be coming back to this bag for homemade lattes, mochas, and such; one thing I learned when making the recipe itself is that, if you add a few tablespoons of the truffle mixture to hot milk, you've got a killer mocha hot chocolate on your hands 🙂
I loved working with Trade, and I appreciate the care and consciousness that the company pours into the sourcing process. Plus, all of the coffee delivered is roasted to order. It was such a fun collaboration that I plan to subscribe (you can choose a cycle for coffee delivery, which for me at the moment will be…short). In the meantime, I can get a little caffeine delivery through these wonderful, rich, and creamy vegan truffles.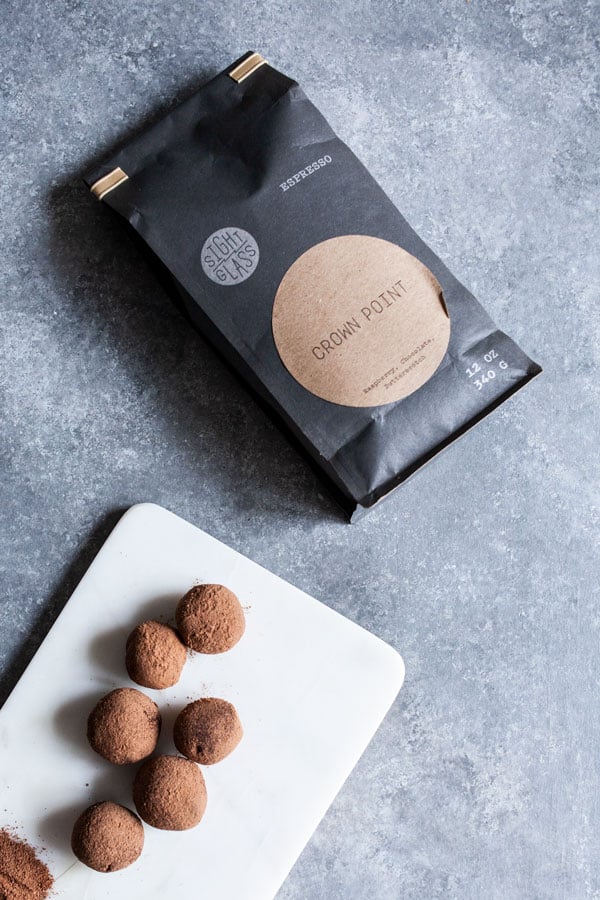 | | | |
| --- | --- | --- |
| Vegan Cashew Espresso Truffles | | Print |
Recipe type: dessert
Cuisine: vegan, gluten free, soy free, tree nut free option
Author: Gena Hamshaw
Prep time:
Cook time:
Total time:
Serves: 60 truffles (recipe can be halved)
Ingredients
1 lb dark chocolate (I use 70%), chopped
1½ tablespoons finely ground espresso or instant espresso
1 teaspoon vanilla extract
Pinch sea salt (1/8 teaspoon or so)
1-2 tablespoons coconut sugar (optional, but I like the touch of extra sweetness)
1 cup cashew milk (substitute another non-dairy milk of choice)
Dark cocoa powder, for rolling (or chopped nuts or shredded coconut)
Instructions
Place the chocolate, espresso, vanilla, salt, and sugar into a large mixing bowl. Heat the cashew milk to a gentle simmer/low boil. Pour the milk over the chocolate. Stir until the mixture is fully melted and glossy smooth.
Place the bowl in a fridge for 2 hours. Using an ice cream scoop, scoop up enough chocolate mixture to roll into a 1-inch ball. Roll the ball in cocoa powder (you could also use chopped nuts or coconut). Serve.
3.5.3251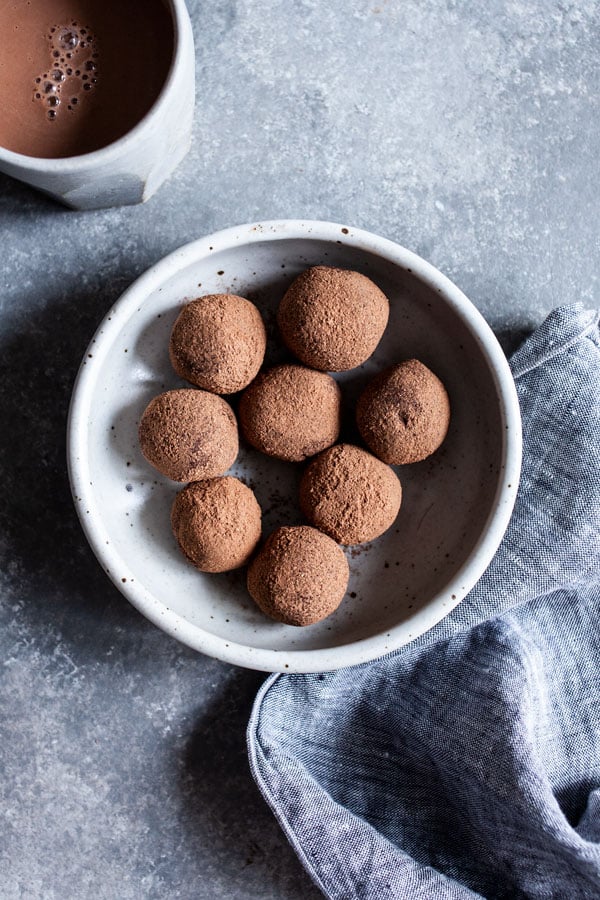 A lot about this holiday season is unusual for me: no tree, no trimmings in my apartment, more-frugal-than-usual gift-giving, no time to bake. But the spirit of Christmas is very much alive in me, from listening to carols on my commute to the simple wreath hanging over my dining table to all of the tenderness I feel in my heart for my patients these days.
And, even if my oven mitts are a little lonely right now, there are sweets. And these are very sweet indeed.
Huge thanks to Trade Coffee for the chance to discover new roasters and new beans—and for the gift of an awesome holiday treat. Hope you enjoy the truffles, too, and see you this weekend for the weekly roundup!
xo
This post is sponsored by Trade Coffee. All opinions are my own, and I love this company (and its love of coffee)! 
Creamy Vegan Skillet Lasagna | The Full Helping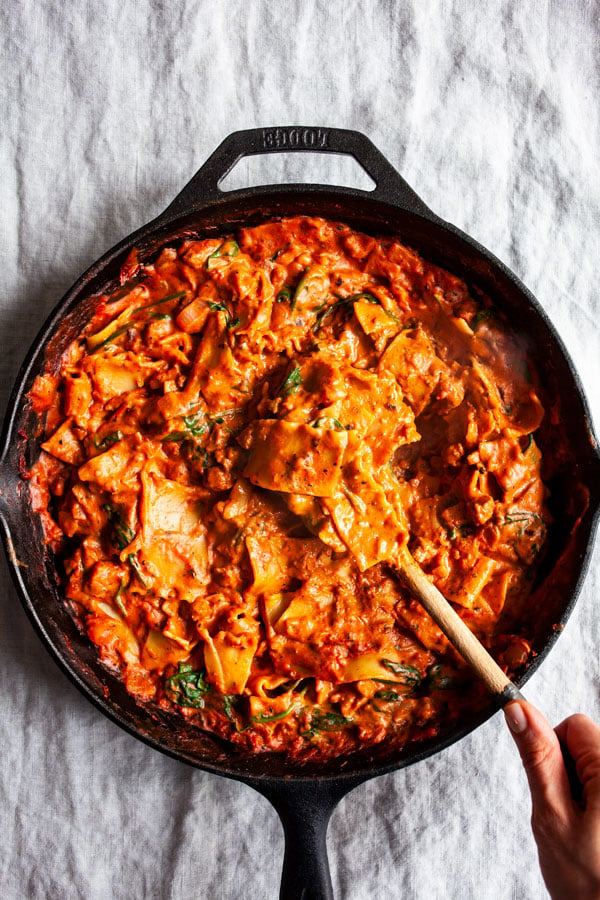 This is another one of those recipes that had me feeling tripped up over terminology. Lasagna, even a skillet lasagna, is typically made with layers of melty cheese. This one forgoes those layers for the addition of cashew cream, which makes the whole thing creamy/cheesy/etc., but makes it a departure from anything resembling traditional lasagna, too.
So why not label it creamy skillet pasta? I guess in spite of all the deviations I took from tradition, when I was eating the dish it still registered more strongly as lasagna than regular pasta. It's dense, full of flat layered noodles. It reads as something that might have emerged from the oven, in spite of the fact that it requires no baking time at all. And it has the richness of a celebratory, weekend-worthy pasta centerpiece.
To make the dish, you start by sautéing shallots, garlic, and—if you like—your favorite vegan meat/sausage. I used Beyond Meat beef crumbles, but any vegan beef-style crumble or crumbled sausage (Field Roast, anyone?!) would be great. If plant meats aren't your thing, you can easily substitute cooked lentils. I prefer the vegan meat because it makes the dish feel like totally authentic comfort food, but both options work nicely.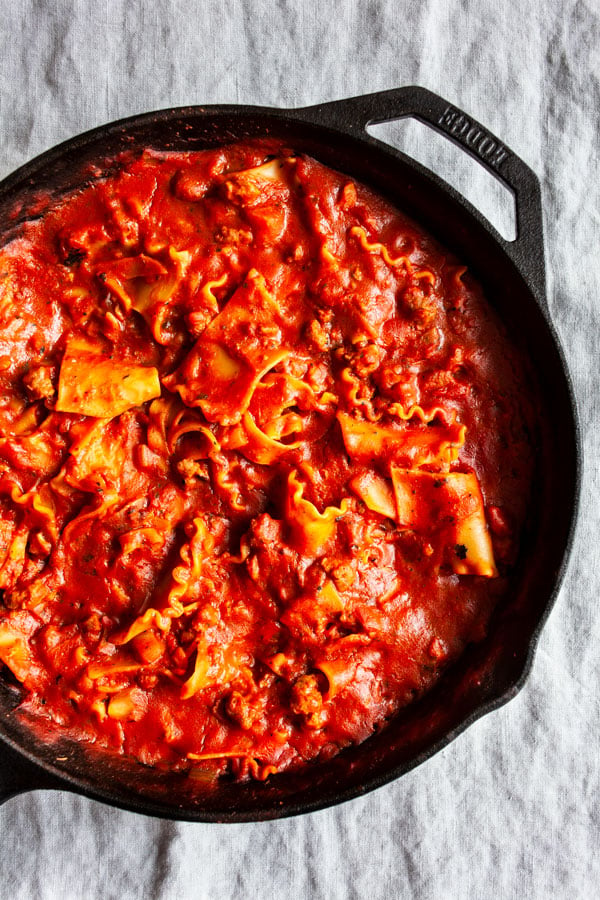 After the plant meat, shallots, and garlic cook down, you add diced tomatoes and tomato sauce, broken lasagna noodles, some water, some dried spices. You let the whole thing simmer, uncovered, for 15-25 minutes (depending on whether you use no boil noodles or not—I've now tried both). Stir in cashew cream and a few handfuls of baby spinach, if you like, and voila: a layered, decadent, delicious pasta supper. No boiling noodles separately from other components, no baking required.
The recipe is like a lot of my recipes these days: relatively flexible and unstructured. Lentils vs. beef crumbles, canned tomato sauce vs. marinara from the jar (or heck, homemade), greens vs. no greens, parmesan topping or not: it's all good. By nature I'm a fairly meticulous cook, but—just as it's making me value stillness, this DI experience is making me value a little spontaneity and ad-libbing in the kitchen, too. With all of the new structure in my days, I'm coming to appreciate flexibility in other areas of my life more than ever. Cooking included.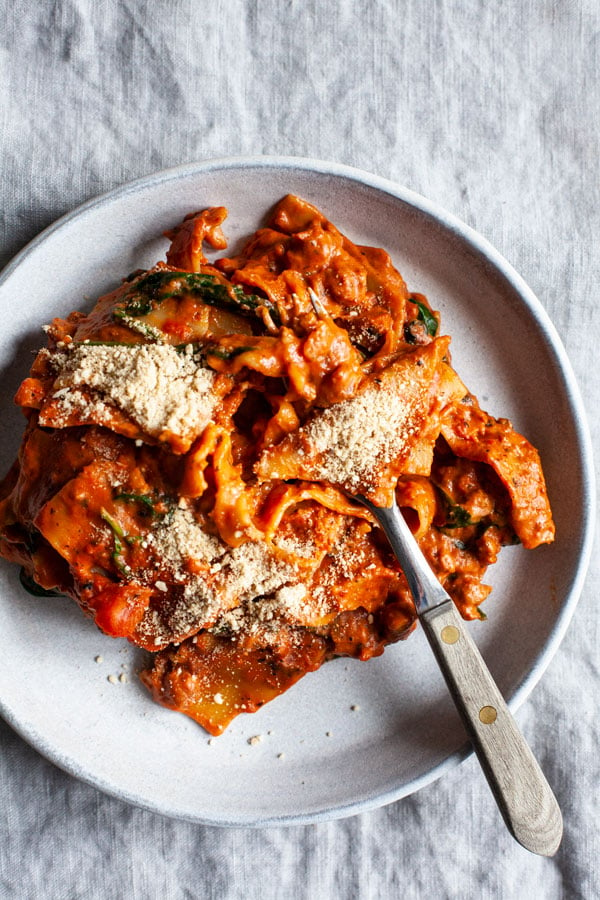 | | | |
| --- | --- | --- |
| Creamy Vegan Skillet Lasagna | | Print |
Recipe type: main dish
Cuisine: vegan, gluten free option, soy free
Author: Gena Hamshaw
Prep time:
Cook time:
Total time:
Serves: 4-6 servings
Ingredients
1 tablespoon olive oil
2 shallots, chopped
8 ounces vegan beef style crumbles, crumbled tempeh, or 1½ cups cooked lentils
4 cloves garlic, minced
1 14.5-ounce can diced tomatoes
2 15-ounce cans tomato sauce (or 3.5 cups of a favorite marinara sauce)
1 teaspoon oregano
8 ounces no-boil lasagna noodles or regular lasagna noodles (see note for directions on using regular noodles), broken into 2-3 inch pieces
¾ cup cashew cream (substitute full fat coconut milk, from the can)
A few handfuls baby spinach, if desired
Salt and pepper as needed
Vegan walnut herb parmesan (or store bought vegan parmesan), if desired
Instructions
Heat the olive oil in a large skillet (I use this one, which is 12 inches) over a medium flame. Add the shallots and vegan beef crumbles. Continue cooking for 5-6 minutes, or until the crumbles are browning and the shallots are tender. Add the garlic. Cook for another minute or two, until the garlic is very fragrant, stirring constantly.
Add the diced tomatoes, tomato sauce, oregano, and lasagna noodles to the skillet, along with ¾ cup water. Mix well, submerging the noodles as best you can. Bring mixture to a boil. Reduce the heat to low, then simmer the skillet lasagna for 10 minutes. Stir and make sure all of the noodles are well covered. Simmer for another 5-7 minutes, or until the noodles are tender.
Stir in the cashew cream and the baby spinach, if you're using. Continue cooking until the greens are tender. Taste the pasta; most sauces are salty, so it may not need any salt, but add salt and freshly ground pepper to taste. Serve, with vegan parmesan if you like.
Notes
If you use regular noodles, you can par-boil them before adding (about 8 minutes) and proceed as indicated, or you can add then directly if you don't mind some extra cook time. They'll need about 20-25 minutes to simmer, and you may need to add an extra ⅓-1/2 cup water when you stir them halfway through the simmering time. Use your judgment and taste them for doneness!
3.5.3251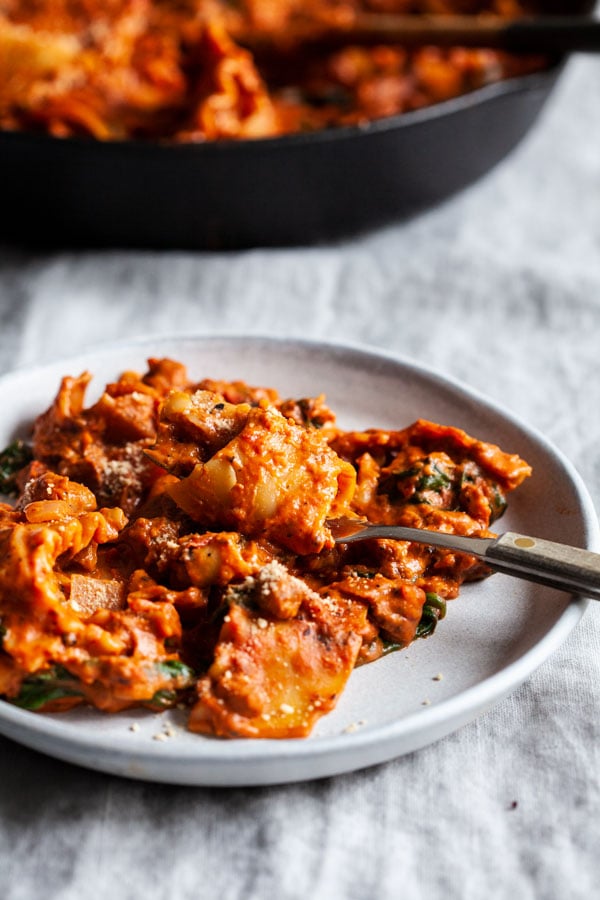 I made this dish on Saturday, feeling more burnt out than I wanted to feel over the weekend, when there's always so much I'd like to do. It was so special to have a true comfort food meal to dive into on Saturday night—especially since it didn't require me to spend too much time cooking. And the leftovers were amazing on Sunday, too (ditto in Monday's packed lunch).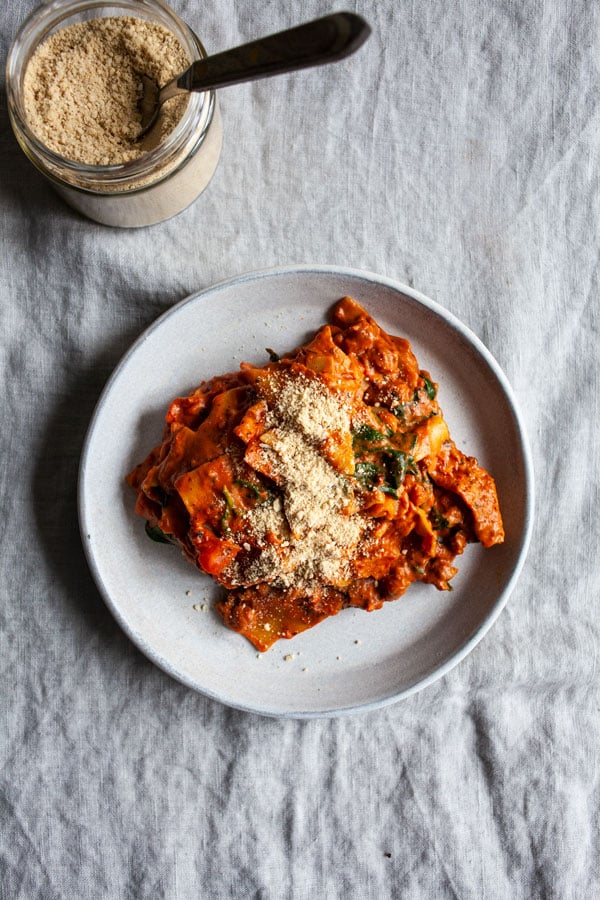 Wishing you comfort and richness as we close out the rest of this week, and I'll be back over the weekend with the usual roundup!
xo
Wild Rice Vegan Stuffing with Roasted Sweet Potato & Apple
Normally in the weeks leading up to Thanksgiving I'd be excitedly planning a menu, bookmarking recipes and testing desserts (quality control, right?).
This year, because of the DI, the holiday will be abbreviated, and if I'm being honest, days of cooking beforehand will be the last thing I want to do. Mom and I are going to Candle79 for our meal, and if I can take the rest of the day to put my feet up on her sofa and watch something silly on TV, I'll call it a holiday very well spent.
This doesn't mean that I can't allow the holiday excitement to wash over me a bit beforehand: it just needs to happen in small waves. In the next couple week, I plan to work some festive and traditional recipes into my usual weekly batch cooking routine, so that even if I don't cook up a feast of my own on Thanksgiving day, I still take the time to commemorate the holiday in my kitchen. This wild rice vegan stuffing with roasted sweet potato & apple is where I'm starting.
I've been thinking about the combination of roasted sweet potatoes and apples in a stuffing dish since I made this hash. I've got a huge weakness for sweet and savory food, and when I made that dish, I quickly fell in love with the combination of stovetop cooked onions and roasted root veggies/fruit.
Here, there's also rice for texture and heft, fresh herbs (rosemary and thyme, but sage would also be good), and the addition of pomegranate arils at the very end for some festive holiday color.
You can see some Thanksgiving-friendly sides—roasted Brussels sprouts and roasted root vegetables—peeking out in the background! These were pre-cut and ready to bake, thanks to the prepared vegetable options at my local Whole Foods Market 365 in Ft. Greene, Brooklyn.
I love shopping at this place. It's the same experience as shopping at a regular Whole Foods Market, but with a few key differences: the store is a little smaller and easier to navigate, and the focus is on the 365 line of products, which maintains an affordable price point. Plus, there are always a ton of products on sale or available at special discounts. Amazon Prime members get exclusive savings, as well as an extra 10% off hundreds of items every day; shoppers can just download the Whole Foods Market app and start saving. When I shop at WFM I tend to gravitate toward the 365 line of products anyway, so the Ft. Greene store gives me a simplified shopping trip, and it features some local business and products (like Bread Alone and Orwasher's breads).
The only downside? Most of the time, Fort Greene is well out of my way, which makes it hard to head out there for weekly grocery hauls! Right now, though, the store is on my way home; I've got a long commute from the hospital I'm working at in East Brooklyn to my place. A trip to Whole Foods Market 365 is a great way to break it up.
The store, as well as sister WFM stores in the city, will be featuring grab n' go holiday sides that are already pre-cooked, as well as prepared vegan pumpkin pie (!). For me, the cut, seasoned, and ready-to-roast veggies are already a terrific time-saver, for holiday cooking just as much for weekly DI batch cooking, and I was thrilled to have them in my fridge this week. Along with my new favorite stuffing.
| | | |
| --- | --- | --- |
| Wild Rice Vegan Stuffing with Roasted Sweet Potato & Apple | | Print |
Recipe type: main dish, holidays, side dish
Cuisine: vegan, gluten free, soy free, tree nut free
Author: Gena Hamshaw
Prep time:
Cook time:
Total time:
Serves: 6 servings
Ingredients
2 tablespoons neutral vegetable oil (such as safflower or grapeseed)
1 pound scrubbed sweet potatoes, cut into ~1/2 inch cubes
1 pound apples (any flavor), cut into ~1/2 inch cubes/pieces
1 cup (dry) wild rice or a wild rice blend (I used the 365 wild rice blend, which is a combination of wild rice and brown basmati)
1 tablespoon olive oil
1 large white or yellow onion, chopped
3 large (or 4 smaller) stalks celery, chopped
1 shallot, chopped
2 tablespoons fresh rosemary, chopped (or 2 teaspoons dry)
1 tablespoon fresh thyme (or 1 teaspoon dry)
¾ cup vegetable broth
½ teaspoon salt, plus extra to season the roasted potatoes/apple
Freshly ground black pepper to taste
1-2 tablespoons sherry vinegar, to taste
½ cup pomegranate arils
Instructions
Preheat the oven to 400F and line two baking sheets with parchment. Toss the potatoes and apple with the vegetable oil and transfer to the baking sheets. Season with salt and freshly ground pepper. Roast for 35-40 minutes, or until the vegetables are browning and tender. Remove the vegetables from heat.
While the vegetables roast (or beforehand if it's easier), cook the rice according to package instructions.
Heat the olive oil in a large, deep skillet over medium heat. Add the onion, celery, and shallot. Cook, stirring often, for 5-8 minutes, or until the onion is soft and clear. Stir in the rosemary and thyme. Fold in the cooked rice, sweet potatoes, and apple. Add the ½ teaspoon salt and the vegetable broth. Heat everything through, stirring as you go.
Add the sherry vinegar and a big pinch of freshly ground black pepper. Taste and adjust the seasonings as needed. Transfer the stuffing to a serving dish and top with the pomegranate arils. Enjoy!
3.5.3251
In addition to being tasty and perfectly in keeping with the flavors of the season and holiday, the stuffing is really easy to make. If I were to make it again before Thanksgiving—which I probably will—I'd cook the rice ahead of time, and maybe even roast the veggies beforehand, so that it could all come together on the stovetop quickly.
Speaking of piecemeal cooking processes and advance prep, I've gotten a few requests for a comprehensive post on my batch cooking process. It may take me a while to pull together, but I'd love to follow up on that! Batch cooking has made the DI experience smooth sailing from a food perspective, and it would be fun to share what I've learned (and to answer any questions you have).
I've had years where I made a scratch cooked feast for my mom and me, and it was a pleasure. There's a time and place for that, and there are also years to take a break from cooking, or to let some handy culinary helpers (like pre-cut veggie sides, or particularly low-key recipes) do the work. This is one of those years, and I think it's going to be a sweet holiday.
Wishing you a great rest of the week. "See" you this weekend!
xo
This post is sponsored by Whole Foods Market 365. All opinions are my own. Thanks for your support!