Creamy Vegan Skillet Lasagna | The Full Helping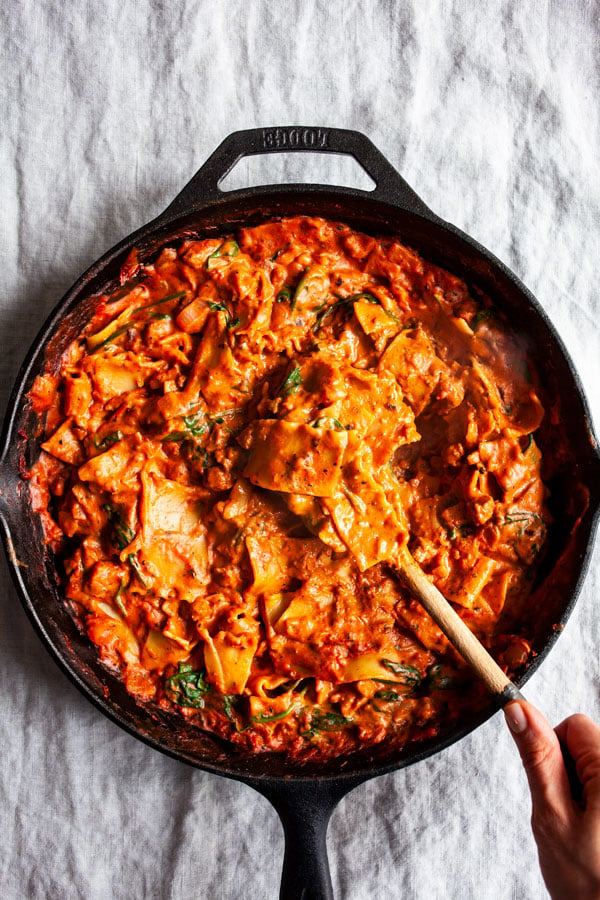 This is another one of those recipes that had me feeling tripped up over terminology. Lasagna, even a skillet lasagna, is typically made with layers of melty cheese. This one forgoes those layers for the addition of cashew cream, which makes the whole thing creamy/cheesy/etc., but makes it a departure from anything resembling traditional lasagna, too.
So why not label it creamy skillet pasta? I guess in spite of all the deviations I took from tradition, when I was eating the dish it still registered more strongly as lasagna than regular pasta. It's dense, full of flat layered noodles. It reads as something that might have emerged from the oven, in spite of the fact that it requires no baking time at all. And it has the richness of a celebratory, weekend-worthy pasta centerpiece.
To make the dish, you start by sautéing shallots, garlic, and—if you like—your favorite vegan meat/sausage. I used Beyond Meat beef crumbles, but any vegan beef-style crumble or crumbled sausage (Field Roast, anyone?!) would be great. If plant meats aren't your thing, you can easily substitute cooked lentils. I prefer the vegan meat because it makes the dish feel like totally authentic comfort food, but both options work nicely.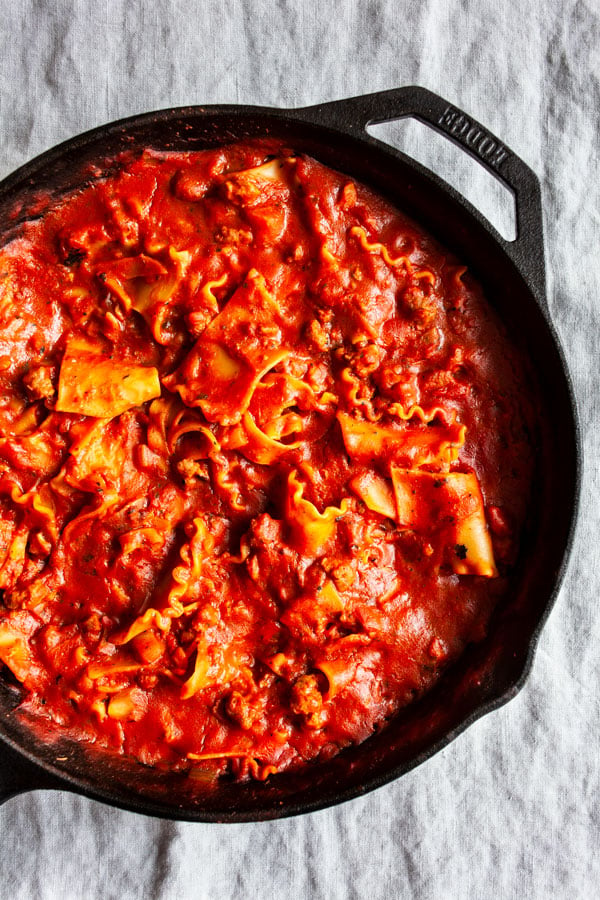 After the plant meat, shallots, and garlic cook down, you add diced tomatoes and tomato sauce, broken lasagna noodles, some water, some dried spices. You let the whole thing simmer, uncovered, for 15-25 minutes (depending on whether you use no boil noodles or not—I've now tried both). Stir in cashew cream and a few handfuls of baby spinach, if you like, and voila: a layered, decadent, delicious pasta supper. No boiling noodles separately from other components, no baking required.
The recipe is like a lot of my recipes these days: relatively flexible and unstructured. Lentils vs. beef crumbles, canned tomato sauce vs. marinara from the jar (or heck, homemade), greens vs. no greens, parmesan topping or not: it's all good. By nature I'm a fairly meticulous cook, but—just as it's making me value stillness, this DI experience is making me value a little spontaneity and ad-libbing in the kitchen, too. With all of the new structure in my days, I'm coming to appreciate flexibility in other areas of my life more than ever. Cooking included.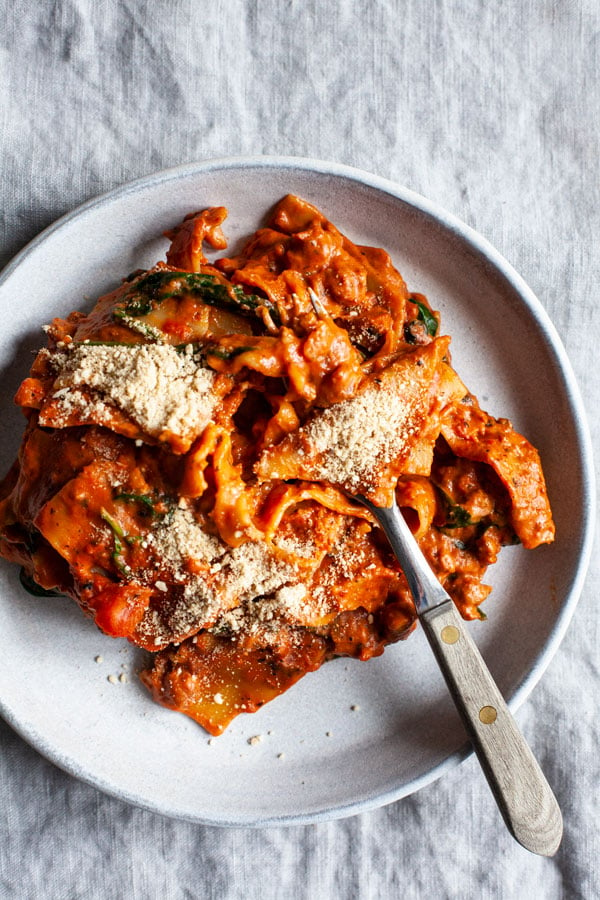 | | | |
| --- | --- | --- |
| Creamy Vegan Skillet Lasagna | | Print |
Recipe type: main dish
Cuisine: vegan, gluten free option, soy free
Author: Gena Hamshaw
Prep time:
Cook time:
Total time:
Serves: 4-6 servings
Ingredients
1 tablespoon olive oil
2 shallots, chopped
8 ounces vegan beef style crumbles, crumbled tempeh, or 1½ cups cooked lentils
4 cloves garlic, minced
1 14.5-ounce can diced tomatoes
2 15-ounce cans tomato sauce (or 3.5 cups of a favorite marinara sauce)
1 teaspoon oregano
8 ounces no-boil lasagna noodles or regular lasagna noodles (see note for directions on using regular noodles), broken into 2-3 inch pieces
¾ cup cashew cream (substitute full fat coconut milk, from the can)
A few handfuls baby spinach, if desired
Salt and pepper as needed
Vegan walnut herb parmesan (or store bought vegan parmesan), if desired
Instructions
Heat the olive oil in a large skillet (I use this one, which is 12 inches) over a medium flame. Add the shallots and vegan beef crumbles. Continue cooking for 5-6 minutes, or until the crumbles are browning and the shallots are tender. Add the garlic. Cook for another minute or two, until the garlic is very fragrant, stirring constantly.
Add the diced tomatoes, tomato sauce, oregano, and lasagna noodles to the skillet, along with ¾ cup water. Mix well, submerging the noodles as best you can. Bring mixture to a boil. Reduce the heat to low, then simmer the skillet lasagna for 10 minutes. Stir and make sure all of the noodles are well covered. Simmer for another 5-7 minutes, or until the noodles are tender.
Stir in the cashew cream and the baby spinach, if you're using. Continue cooking until the greens are tender. Taste the pasta; most sauces are salty, so it may not need any salt, but add salt and freshly ground pepper to taste. Serve, with vegan parmesan if you like.
Notes
If you use regular noodles, you can par-boil them before adding (about 8 minutes) and proceed as indicated, or you can add then directly if you don't mind some extra cook time. They'll need about 20-25 minutes to simmer, and you may need to add an extra ⅓-1/2 cup water when you stir them halfway through the simmering time. Use your judgment and taste them for doneness!
3.5.3251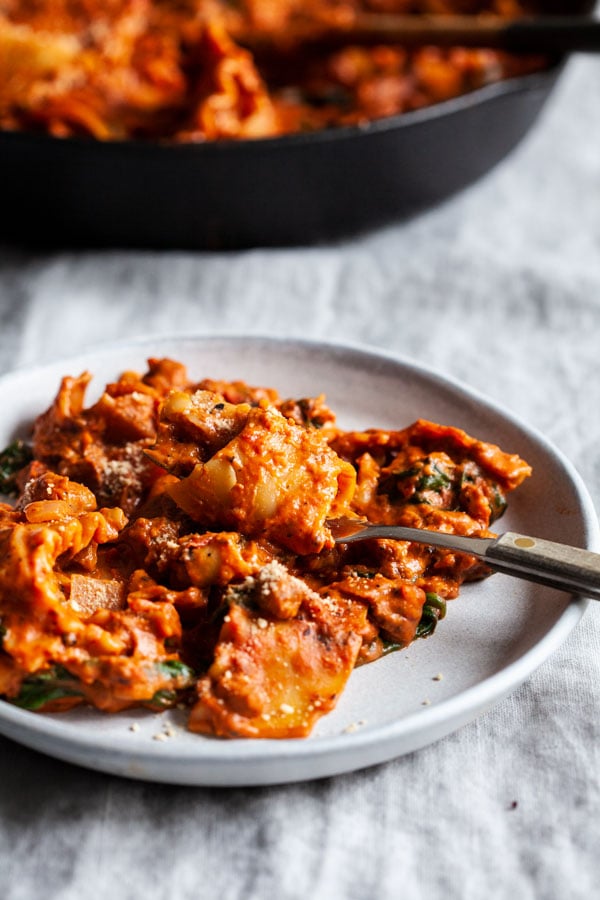 I made this dish on Saturday, feeling more burnt out than I wanted to feel over the weekend, when there's always so much I'd like to do. It was so special to have a true comfort food meal to dive into on Saturday night—especially since it didn't require me to spend too much time cooking. And the leftovers were amazing on Sunday, too (ditto in Monday's packed lunch).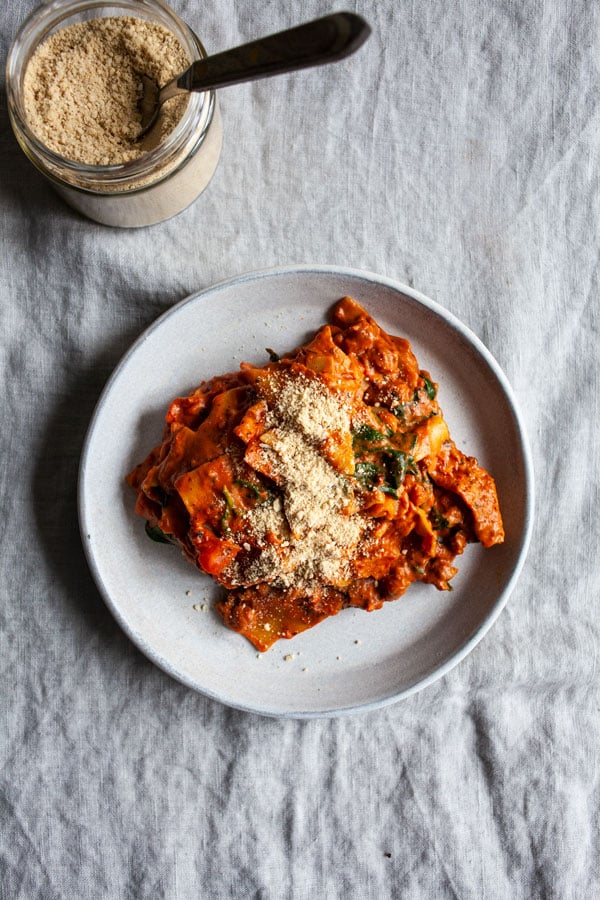 Wishing you comfort and richness as we close out the rest of this week, and I'll be back over the weekend with the usual roundup!
xo
Pizza Cauliflower Bake | The Full Helping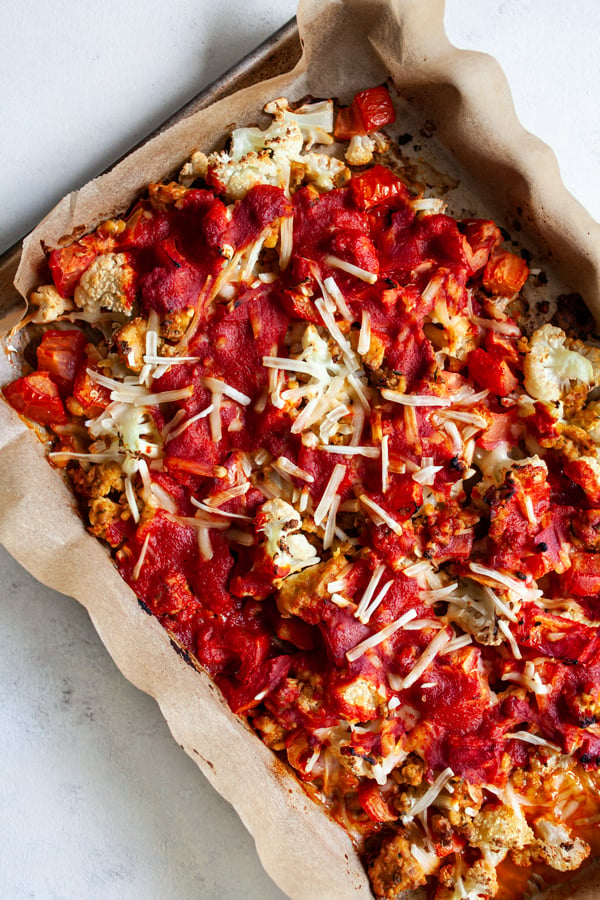 This past Saturday was admittedly a crazy day to have my oven on; it was scorching and humid in NYC, and it would have been a perfect night for leftovers or a dinner salad.
But that isn't what happened. Instead, I had my oven on to create the cheesy, melty, altogether delicious vegan cauliflower pizza bake you see above. And I have no regrets at all.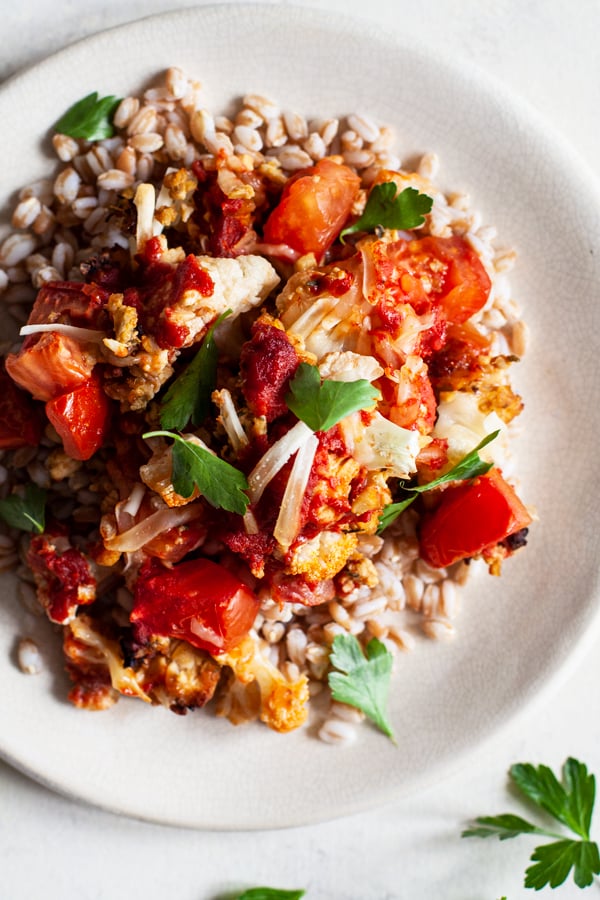 This recipe was inspired by EmilyC. If any of you read Food52 regularly, then you probably recognize Emily's moniker. She's a longtime reader, commenter, and super talented recipe submitter on the site. She became such a trusted member of the community that she collaborated with Food52 on their salad cookbook, which is a gem (and fun to veganize). She's also got a lovely Instagram feed, covered with images of easy sheet pan meals and salads and pastas that I also like to veganize, or use as inspiration for my own reinventions.
Emily posted a sheet pan of roasted cauliflower, pepperoni, and tomatoes not too long ago, and it caught my eye. I'm typically not a huge fan of using cauliflower in place of a starch, which is why I don't tend to make cauliflower rice or cauliflower pizza crust (same with zoodles—if I eat them, they're usually folded in with regular spaghetti so that I can get my energy-fueling carbs on).
But to feature cauliflower as a vegetable centerpiece, smothered in pizza fixings and seasonings? Somehow this idea spoke to me, big time. And I made a note to try it with vegan sausage or pepperoni slices sometime. This past weekend, after a long week of full of ups and downs, seemed like the perfect time for this comfort food inspired dish.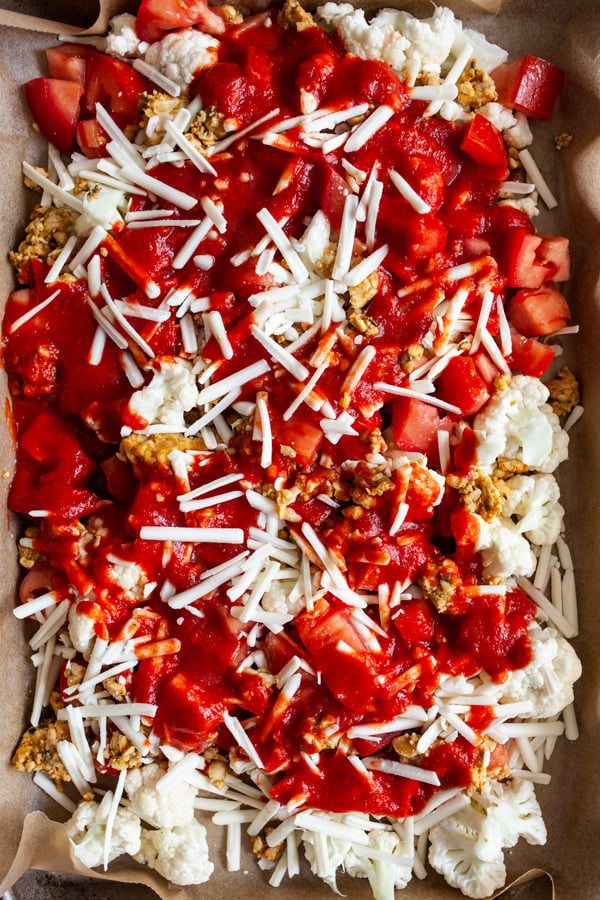 The vegan sausage I ended up adding to the recipe is a homemade version, loosely based on the tempeh sausage crumbles from Power Plates but even simpler (simple being the guiding principle lately). The tempeh is crumbled, then simmered in a vegan "chicken" or vegetable broth with Italian seasoning for 10 minutes, just to impart flavor. It's added directly to the dish after that. If you wanted to skip a step, you could use a sliced vegan sausage of choice (I love Field Roast) or a vegan beefy crumble (like Beyond Meat beefy crumbles).
Before going into the oven, cauliflower florets are mixed with the sausage, diced plum tomatoes, some tomato sauce, and a shredded vegan cheese of choice. I was thrilled to have fresh, local tomatoes to use here, but you could dice canned san marzano tomatoes in the winter instead.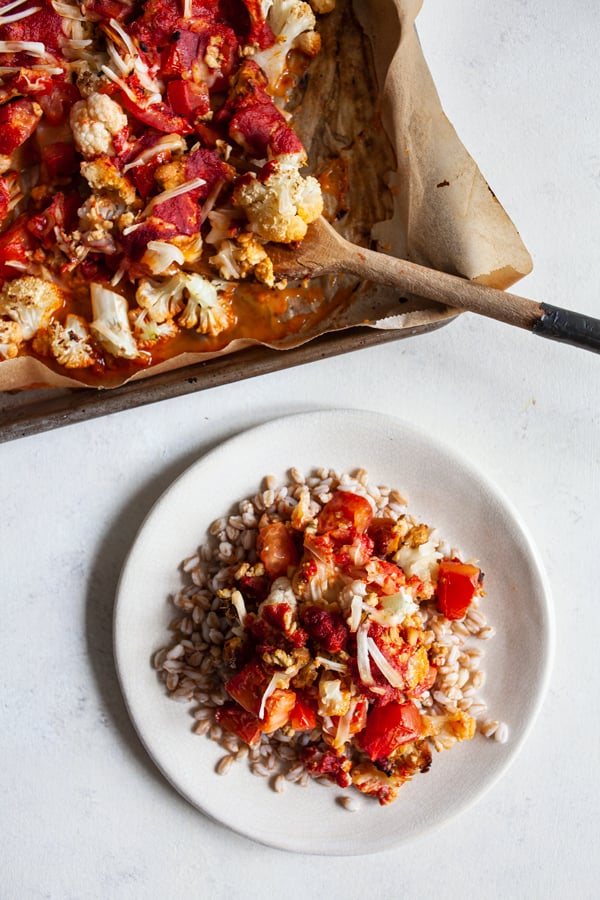 The cauliflower and sausage taste wonderful on their own. I'd opt to serve them over a whole grain or pasta; farro, as you can see above, was perfect for me. It's especially good when it's bubbly and fresh from the oven, but I can attest to the fact that the leftovers are great, too, since I've been eating them for going on three nights straight 🙂 Here's the recipe.
Pizza Cauliflower Bake
Prep Time10 mins
Cook Time50 mins
Ingredients
1

8-ounce package tempeh, crumbled

1

cup

low-sodium vegan no-chicken broth or vegetable broth

2

teaspoons

Italian seasoning

1 1/2

teaspoons

tamari

1

large head cauliflower, cut into florets and pieces (about 20-24 ounces)

1

lb

roma tomatoes, chopped (about 4 large tomatoes)

1

15-ounce can no-salt-added tomato sauce (or 2 cups of your favorite marinara sauce)

2

cups

mozzarella style shredded vegan cheese
Instructions
Preheat your oven to 375F and line one or two baking sheets with parchment (I have a small oven and used 2 quarter sized sheet pans).

Place the tempeh, broth, tamari, and Italian season in a small pot or small frying pan. Bring to a rapid simmer over medium high heat, then reduce the heat to a simmer. Simmer the tempeh for 10 minutes, or until the broth has been absorbed. Set the tempeh aside.

Place the cauliflower florets and pieces and chopped tomatoes onto your lined baking sheet(s). Sprinkle the tempeh sausage over them. Follow with the tomato sauce and your vegan cheese. Transfer to the oven. Bake for 40-45 minutes, or until the cauliflower is completely tender, the tomatoes are bubbly, and the cheese is melted. Serve with a whole grain or pasta of choice.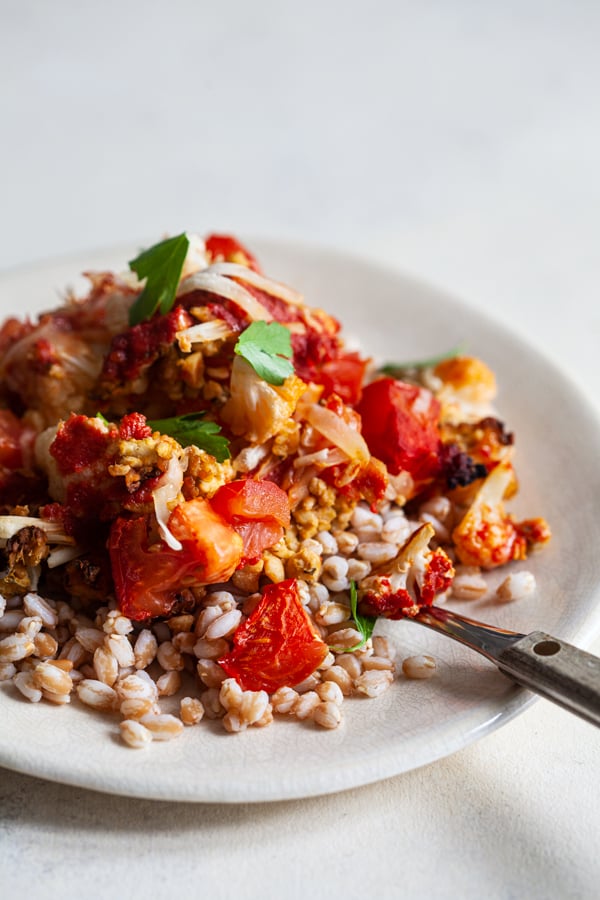 This is, really and truly, a delicious little dish: the flavor and spirit of a gooey baked casserole, but with the ease of a sheet pan supper. I'm excited to make it again, and I'd love to try it with broccoli at some point, too.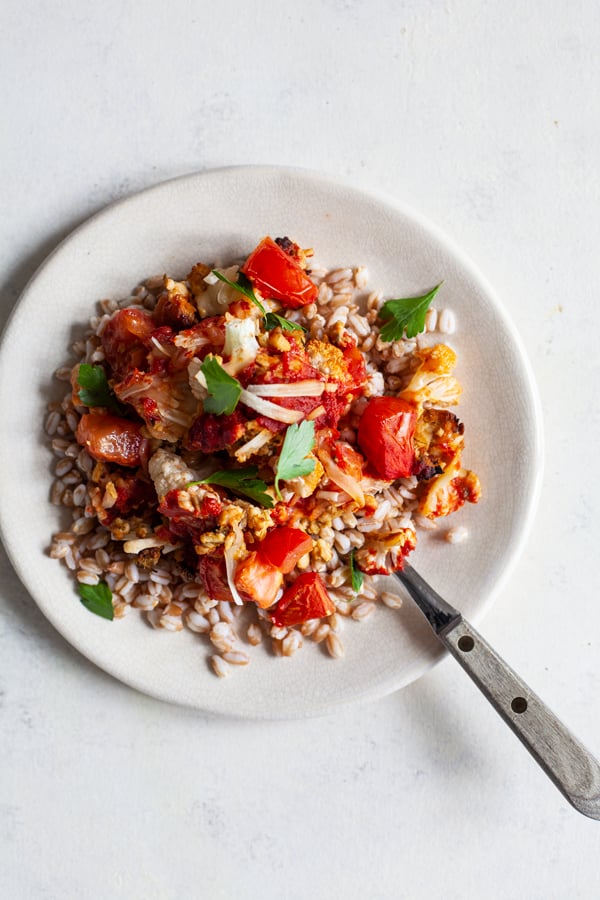 Hope you'll enjoy it, and if you make any fabulous additions or tweaks—different types of sausage or protein, fun toppings or seasonings—I hope you'll tell me about it 🙂
It's now Tuesday of my second-to-last week of the internship, and I have about seven proper 9-6 office days left. I can hardly believe it, and I probably won't believe it till it's over, but I'm getting a taste of the finish line. It tastes good. Have a great week, friends, and I'll be back this weekend.
xo
Wholesome Vegan Lentil, Mushroom & Kale Lasagna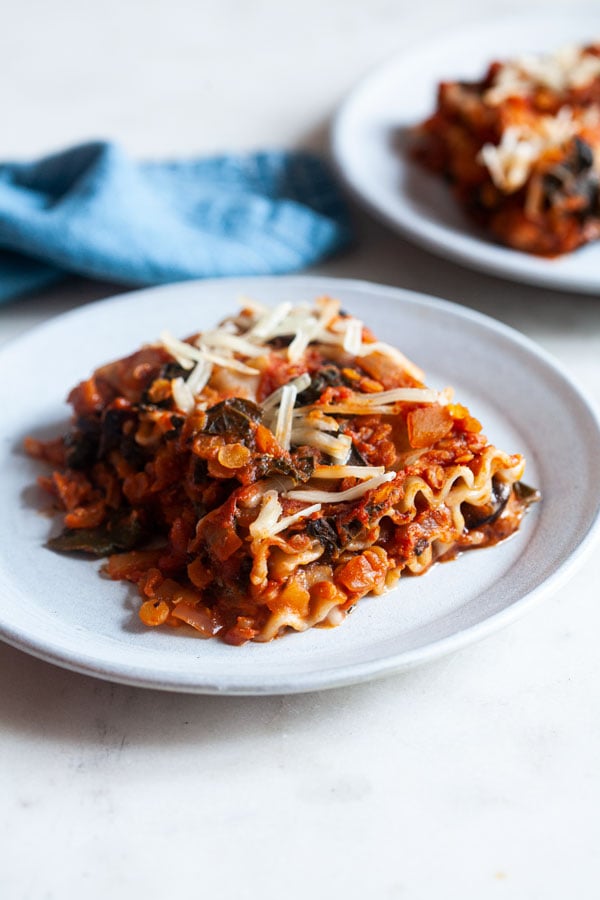 Since September, I've been telling myself that this is a year for soups, stews, easy grain dishes, sheet pan meals, and other low maintenance cooking endeavors. It's true in many ways: soup, for example, has been a mainstay during my internship because it's easy to make and yields a ton of food for freezing/reheating. With nearly all of my cooking compressed into weekends, it hasn't felt like the time for casseroles, enchiladas, tamale pie, or any of the comfort food dishes that I typically love to make on a Sunday afternoon.
My current rotation has an early start time, but one of its advantages is that it provides a vegan-friendly lunch and breakfast each day. It's nice for my wallet, but the more important advantage is that it allows me to ease up on the batch cooking, since I only have my dinners to think about right now. And I have a little freedom to prepare things that are more playful and elaborate than some of the sensible standbys I've been counting on in the last nine months.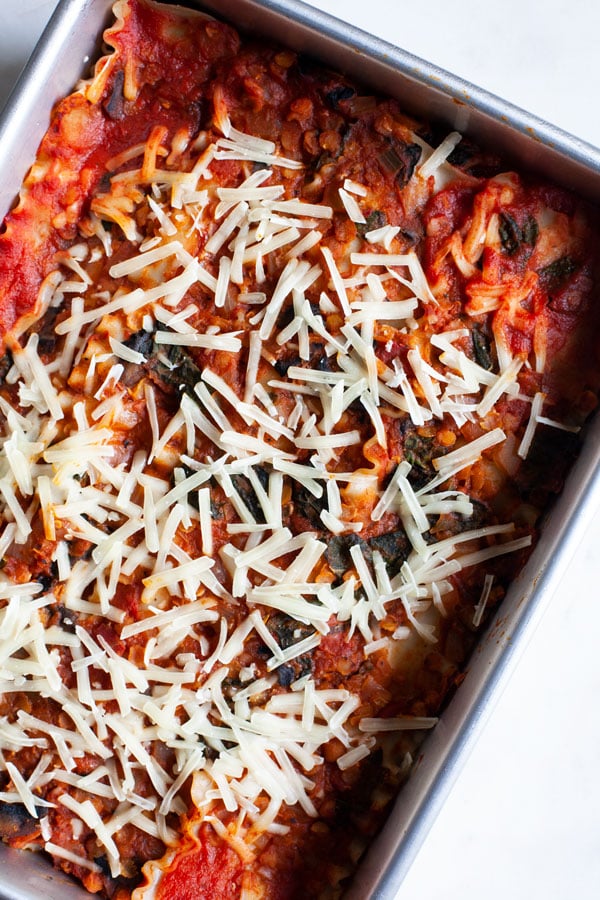 Much as I tend to dismiss dishes like lasagna as being more time-consuming and fussy than other food, I've learned something important in making this recipe (and a few other casserole-type dishes, all of which I'll share on the blog) in the last couple weeks. Yes, it takes a while to cook the components and then to bake everything. But once the dish is made, it's actually a perfect solution for a person like me, who wants about four dinner portions of something at the ready (when I made this, I froze half upfront and kept the other half in the fridge).
I'm on the casserole bandwagon right now for another reason, which is that this type of food really does evoke something special, homemade, and ultra-comforting. It's not that I don't love soup and stew, bowls, or beans on toast. But I've been feeling tickled to be able to say that I'm going to leave work, go home, and eat vegan lasagna for dinner. Or vegan enchilada casserole. It's a departure from my cooking routine, at least as it's been lately, and it's something to look forward to.
This isn't my mom's lasagna. It's probably not your mom's lasagna, either. It has its fair share of comfort food goodness, but really, it's a very wholesome spin on the classic. For starters, red lentils are the protein in this dish, and along with protein they add fiber, micronutrients, and iron. The lasagna filling is stuffed with kale and mushrooms, each a nutrient-dense food in its own right.
You'll see that the recipe calls for 12 lasagna noodles, because I'm not sure what will fit into your pan or what size your noodles will be—plus, it's always wise to cook up a few extra in case they tear or stick. But since you only need two layers of noodles, I found that my whole dish only demanded 8 full sized noodles. In other words, this lasagna is heavy on the plant-forward ingredients, light on the pasta.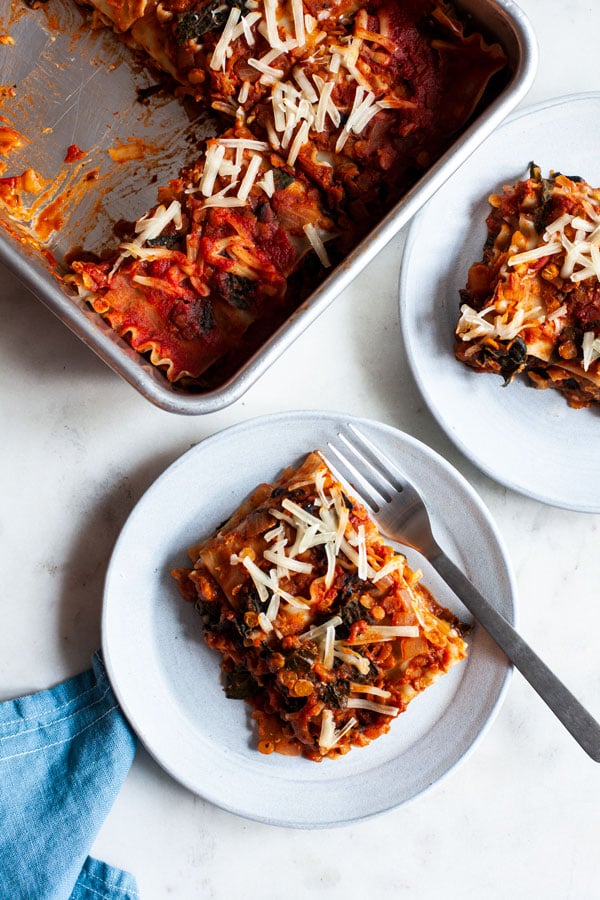 For cheesiness, I added a few thin layers of vegan mozzarella shreds. (My current favorite is the Violife brand, but any brand you like would work here.) A half cup per layer was just right for me: enough to give some meltiness and authenticity to the lasagna, but not so much to overwhelm the recipe. If you don't have for store-bought vegan cheese, you could omit this or use a layer of cashew cream or dollops of cashew cheese instead. In this type of dish, I like to use vegan cheeses for seasoning and decoration, but a little definitely goes a long way.
I've definitely made vegan lasagnas that were more traditional than this one. But I've enjoyed eating it, savoring all of the flavor and heartiness while also enjoying the fact that it's chock full of legumes and veggies that will fuel me through a very demanding few weeks. Here's the recipe.
Wholesome Vegan Lentil, Mushroom & Kale Lasagna
Ingredients
1

tablespoon

olive oil (substitute a few tablespoons water or broth)

1

white or yellow onion, chopped

3

cloves garlic, minced

8

ounces

chopped button, baby bella, or portobello mushrooms (about 1 1/2 cups)

28

ounce

can diced tomatoes

15

ounce

can tomato sauce (or 2 8-ounce cans), no salt added if you can find it (if not, you can reduce the salt in the recipe)

1

tablespoon

Italian seasoning (or 2 teaspoons dried oregano and 1 teaspoon dried thyme)

1/2

teaspoon

salt (1/4 teaspoon if you can't find no-salt-added tomato sauce)

1

cup

red lentils, dry

1

cup

water

freshly ground black pepper, to taste

1

small bunch Lacinato kale, tough stems removed, washed and chopped (substitute curly kale)

12

lasagna noodles (about 1 10-ounce box, though you may not use all of it—any kind of lasagna noodle you like)

1 1/2

cups

shredded vegan mozzarella cheese (optional—see note)
Instructions
Heat the oil (or water/broth) in a medium sized pot over medium heat. Add the onion. Cook, stirring often, for 5 minutes, or until the onion is soft and clear. Add the mushrooms and garlic. Cook, stirring often, for another 5-7 minutes, or until the mushrooms have released their juices, are reduced in size, and are soft and tender.

Add the diced tomatoes, tomato sauce, Italian seasoning, salt, lentils, and water to the pot. Bring to a boil. Reduce the heat to low, cover, and simmer for 20 minutes, or until the lentils are tender. Be sure to stir the sauce at least 3-4 times during cooking (red lentils tend to stick to the bottom of the pot). When the lentils are soft, taste the sauce and add black pepper as needed. Stir in the kale. Re-cover the pot and allow the kale to cook in the sauce for 5 minutes.

While the sauce simmers, preheat your oven to 350F and lightly oil (or spray) a 9 x 13 inch baking dish. Bring a large pot of water to boil. Add the lasagna noodles and cook till al dente, following package instructions. Drain noodles.

Place about 1/3 of the lentil, mushroom, and kale mixture (this will be about 3 cups) on the bottom of the baking dish. Top with 1/2 cup grated cheese, spread out thinly. Place 4-5 lasagna noodles (or as many as needed) over this layer. Top the lasagna noodles with another ~3 cups of the lentil mixture and another 1/2 cup cheese. Top this layer with 4-5 more noodles. Top the noodles with the final third of the lentil mixture and 1/2 cup cheese.

Cover the lasagna with foil, transfer to the oven, and bake for 20 minutes. Uncover it and bake for another 15-20 minutes, or until the lasagna noodles are a little crispy at the edges and the cheese is melted. Cut the lasagna into 6-8 pieces (depending on what you're serving it with and how hungry you are) and serve.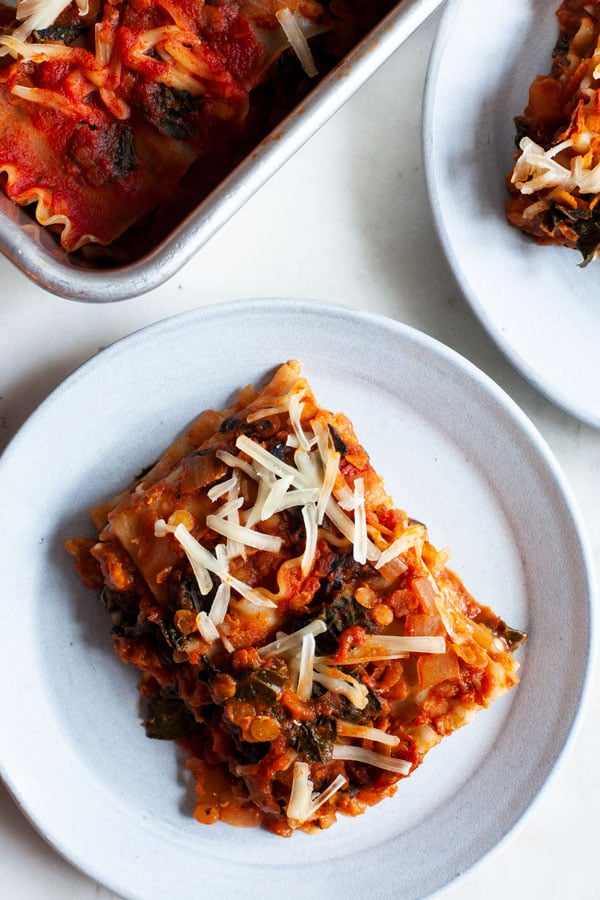 For the next couple weeks, you can expect to see a few more recipes like this interspersed with the usual fare. So, if you've got vegan casserole-like recipe requests, this is the time to share 🙂
Happy Tuesday, friends. I'll be back soon, and I'm wishing you a good start to this (shorter) week.
xo