Wild Rice Vegan Stuffing with Roasted Sweet Potato & Apple
Normally in the weeks leading up to Thanksgiving I'd be excitedly planning a menu, bookmarking recipes and testing desserts (quality control, right?).
This year, because of the DI, the holiday will be abbreviated, and if I'm being honest, days of cooking beforehand will be the last thing I want to do. Mom and I are going to Candle79 for our meal, and if I can take the rest of the day to put my feet up on her sofa and watch something silly on TV, I'll call it a holiday very well spent.
This doesn't mean that I can't allow the holiday excitement to wash over me a bit beforehand: it just needs to happen in small waves. In the next couple week, I plan to work some festive and traditional recipes into my usual weekly batch cooking routine, so that even if I don't cook up a feast of my own on Thanksgiving day, I still take the time to commemorate the holiday in my kitchen. This wild rice vegan stuffing with roasted sweet potato & apple is where I'm starting.
I've been thinking about the combination of roasted sweet potatoes and apples in a stuffing dish since I made this hash. I've got a huge weakness for sweet and savory food, and when I made that dish, I quickly fell in love with the combination of stovetop cooked onions and roasted root veggies/fruit.
Here, there's also rice for texture and heft, fresh herbs (rosemary and thyme, but sage would also be good), and the addition of pomegranate arils at the very end for some festive holiday color.
You can see some Thanksgiving-friendly sides—roasted Brussels sprouts and roasted root vegetables—peeking out in the background! These were pre-cut and ready to bake, thanks to the prepared vegetable options at my local Whole Foods Market 365 in Ft. Greene, Brooklyn.
I love shopping at this place. It's the same experience as shopping at a regular Whole Foods Market, but with a few key differences: the store is a little smaller and easier to navigate, and the focus is on the 365 line of products, which maintains an affordable price point. Plus, there are always a ton of products on sale or available at special discounts. Amazon Prime members get exclusive savings, as well as an extra 10% off hundreds of items every day; shoppers can just download the Whole Foods Market app and start saving. When I shop at WFM I tend to gravitate toward the 365 line of products anyway, so the Ft. Greene store gives me a simplified shopping trip, and it features some local business and products (like Bread Alone and Orwasher's breads).
The only downside? Most of the time, Fort Greene is well out of my way, which makes it hard to head out there for weekly grocery hauls! Right now, though, the store is on my way home; I've got a long commute from the hospital I'm working at in East Brooklyn to my place. A trip to Whole Foods Market 365 is a great way to break it up.
The store, as well as sister WFM stores in the city, will be featuring grab n' go holiday sides that are already pre-cooked, as well as prepared vegan pumpkin pie (!). For me, the cut, seasoned, and ready-to-roast veggies are already a terrific time-saver, for holiday cooking just as much for weekly DI batch cooking, and I was thrilled to have them in my fridge this week. Along with my new favorite stuffing.
| | | |
| --- | --- | --- |
| Wild Rice Vegan Stuffing with Roasted Sweet Potato & Apple | | Print |
Recipe type: main dish, holidays, side dish
Cuisine: vegan, gluten free, soy free, tree nut free
Author: Gena Hamshaw
Prep time:
Cook time:
Total time:
Serves: 6 servings
Ingredients
2 tablespoons neutral vegetable oil (such as safflower or grapeseed)
1 pound scrubbed sweet potatoes, cut into ~1/2 inch cubes
1 pound apples (any flavor), cut into ~1/2 inch cubes/pieces
1 cup (dry) wild rice or a wild rice blend (I used the 365 wild rice blend, which is a combination of wild rice and brown basmati)
1 tablespoon olive oil
1 large white or yellow onion, chopped
3 large (or 4 smaller) stalks celery, chopped
1 shallot, chopped
2 tablespoons fresh rosemary, chopped (or 2 teaspoons dry)
1 tablespoon fresh thyme (or 1 teaspoon dry)
¾ cup vegetable broth
½ teaspoon salt, plus extra to season the roasted potatoes/apple
Freshly ground black pepper to taste
1-2 tablespoons sherry vinegar, to taste
½ cup pomegranate arils
Instructions
Preheat the oven to 400F and line two baking sheets with parchment. Toss the potatoes and apple with the vegetable oil and transfer to the baking sheets. Season with salt and freshly ground pepper. Roast for 35-40 minutes, or until the vegetables are browning and tender. Remove the vegetables from heat.
While the vegetables roast (or beforehand if it's easier), cook the rice according to package instructions.
Heat the olive oil in a large, deep skillet over medium heat. Add the onion, celery, and shallot. Cook, stirring often, for 5-8 minutes, or until the onion is soft and clear. Stir in the rosemary and thyme. Fold in the cooked rice, sweet potatoes, and apple. Add the ½ teaspoon salt and the vegetable broth. Heat everything through, stirring as you go.
Add the sherry vinegar and a big pinch of freshly ground black pepper. Taste and adjust the seasonings as needed. Transfer the stuffing to a serving dish and top with the pomegranate arils. Enjoy!
3.5.3251
In addition to being tasty and perfectly in keeping with the flavors of the season and holiday, the stuffing is really easy to make. If I were to make it again before Thanksgiving—which I probably will—I'd cook the rice ahead of time, and maybe even roast the veggies beforehand, so that it could all come together on the stovetop quickly.
Speaking of piecemeal cooking processes and advance prep, I've gotten a few requests for a comprehensive post on my batch cooking process. It may take me a while to pull together, but I'd love to follow up on that! Batch cooking has made the DI experience smooth sailing from a food perspective, and it would be fun to share what I've learned (and to answer any questions you have).
I've had years where I made a scratch cooked feast for my mom and me, and it was a pleasure. There's a time and place for that, and there are also years to take a break from cooking, or to let some handy culinary helpers (like pre-cut veggie sides, or particularly low-key recipes) do the work. This is one of those years, and I think it's going to be a sweet holiday.
Wishing you a great rest of the week. "See" you this weekend!
xo
This post is sponsored by Whole Foods Market 365. All opinions are my own. Thanks for your support!
Caramelized Cabbage & Onion Pasta
I'd originally thought of this as being a St. Patrick's Day dish, thanks to the cabbage, but since that day has come and gone I'm just going to file it as another simple, flavorful, internship-inspired dinner idea.
I realized as I was making this caramelized cabbage & onion pasta that I make much more pasta in the summer than in the winter. I guess that's not surprising—pasta lends itself so beautifully to burst fresh tomatoes, zucchini, eggplant, and other summer produce. This dish encouraged me to combine pasta with two vegetables that I don't usually associate with it—onion and cabbage—and I was surprised by how much I loved the results.
The meal is incredibly easy to make. Simply caramelize some onions and cabbage (I started by cooking the onions for five minutes, then added the cabbage and allowed the whole thing to simmer for another ten minutes) and add some vegan bacon if you like. Olive oil is fine for caramelizing, but using a little bit of vegan butter definitely takes the meal to the next level.
While you do that, you cook the pasta, and at the end, you mix it all together. If you like, you can even prepare the onions and cabbage ahead of time, and simply boil the pasta and mix it up when you're ready to eat! I've made this dish twice now, and that's how I batch cooked it the second time I tried it.
The pasta is on the smoky/earthy side, so a little bit of fresh parsley and a tiny splash of vinegar are really nice to help brighten it up. The parsley adds color, too. If parsley isn't your favorite, chives would be excellent, too. And, as I disclaim so often these days, you could easily add another chopped vegetable of choice (like leafy greens) to the mix.
Here's the recipe.
Caramelized Cabbage & Onion Pasta
This simple pasta dish is full of smoky, earthy flavors thanks to paprika, cabbage, onion, and an (optional) few slices of vegan bacon. A perfect winter dish!
Prep Time10 mins
Cook Time15 mins
Total Time25 mins
Ingredients
1

tablespoon

olive oil or vegan butter

1

large yellow onion, thinly sliced

1

small head (or 1/2 large head) green cabbage, shredded (about 4-5 cups)

1

cup

low-sodium vegetable or mushroom broth, plus extra as needed

3-4

slices vegan bacon of choice, chopped (optional)

1/2

teaspoon

smoked paprika (or 1 teaspoon sweet paprika)

8

ounces

pasta of choice

Salt, to taste

Freshly ground black pepper, to taste

Small splash red or white balsamic vinegar, optional and to taste

4

tablespoons

chopped parsley, or as desired
Instructions
Heat the oil or butter in a large, roomy skillet over medium-low heat. Add the onion. Cook, stirring every now and then, for 5-7 minutes, or until the onions are gently browning. Add the cabbage, 1 cup vegetable broth, and vegan bacon if using. Continue cooking the vegetables for 10 minutes, stirring often, or until the onions have darkened and the cabbage is very tender. If the vegetables get at all dry, add a few extra splashes of broth.

While the onions and cabbage caramelize, cook the pasta according to package instructions. 

When the pasta and vegetables are both ready, drain the pasta and add it to the skillet. Once again, if the mixture gets a little dry, add an extra splash of broth. Warm all ingredients through. Taste, and then add salt, pepper, and/or vinegar to your taste. Serve the pasta right away with chopped parsley on top.
I began an oncology rotation on Monday, and I've already learned so much—clinical knowledge and life lessons both. More on that soon, but for now, rest. Have a wonderful evening, friends.
xo
Weeknight Vegan Cashew Chickpea Korma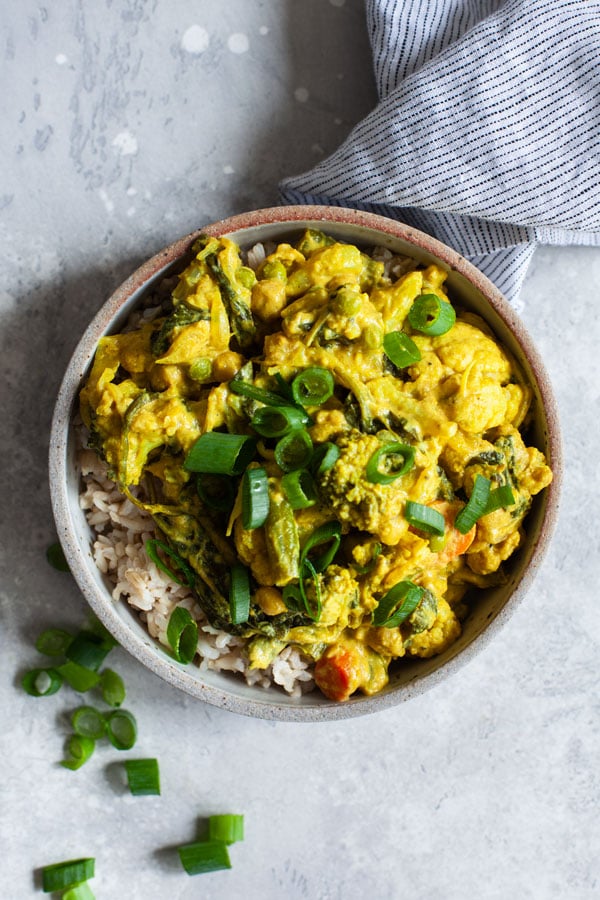 My latest dietetic internship rotation is at a community institution that has a teaching kitchen. Like many organizations with a farm-to-table emphasis, the teaching kitchen tries to encourage meatless meals, at least on a part-time basis (à la Meatless Monday). One of their go-to offerings is a vegetarian korma. When I first saw the recipe it occurred to me that I'd never posted a vegan korma here on the blog, in spite of having made many non-traditional versions of the dish at home.
I'm emphasizing the non-traditional bit because my understanding is that korma often involves a braised meat and a yogurt or cream-based sauce. Yet it's also one of the Indian dishes I've most often seen veganized, which is what has encouraged me to try it over the years. I've appreciated how simple it is to make and how versatile. This vegan cashew chickpea korma (which I make with my homemade cashew cream) is the one that I turn to most often, even if the vegetables I use change all of the time.
I'm giving you two variations of this dish. The first is the recipe that I started with. It's plenty simple, and the vegetables that it calls for can be adjusted to fit what you have at home. So long as they're relatively quick-cooking, they should work as the recipe indicates (sweet potato or winter squash might take a bit longer).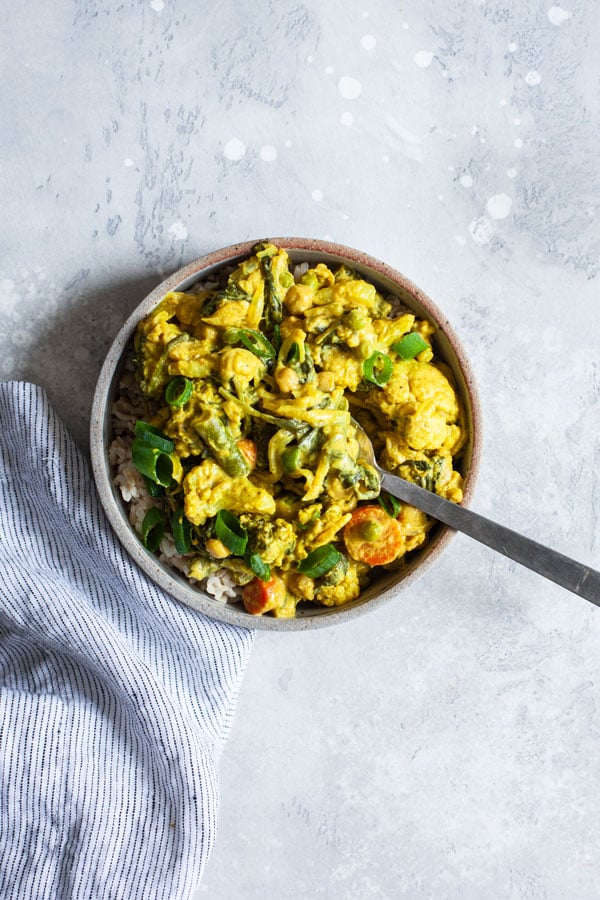 The second variation is the one I've been using since the DI started. This is probably a topic for a longer, batch cooking-themed post (which I'm planning on sharing), but frozen vegetables have been a lifesaver this year. Yes, fresh usually is crispier, and it's often tastier. But right now the benefits of pre-cut vegetables that keep for a while, don't require a lot of cleaning or prepping, and are super inexpensive to boot outweigh any strict adherence to fresh produce that I might have.
So, option #2 involves a couple bags of frozen veggies, which you can heat up in the microwave before starting the korma. Prepared this way, the recipe takes about 15 minutes to make–provided you've made the cashew cream beforehand, and substituting full fat coconut milk is an option, too. It's a nutrient dense, flavorful meal that tastes as if it's been simmering for a lot longer than it has. Piled over rice and topped with fresh herbs or green onions, it's a perfect weeknight supper–one that's kept me fed on many evenings when cooking felt insurmountable. Here's the recipe.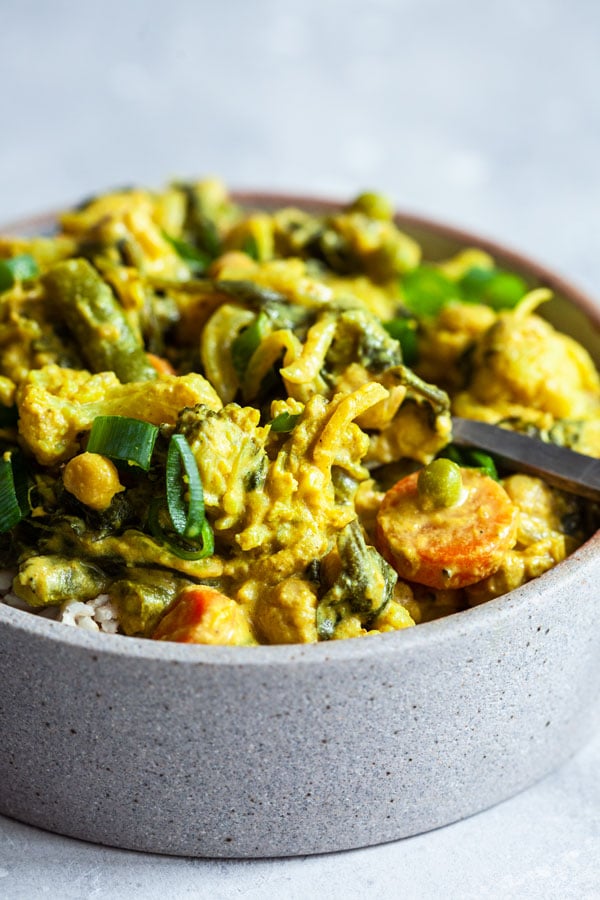 Weeknight Vegan Cashew Chickpea Korma
A quick, easy weeknight vegan cashew chickpea korma that you can modify with whatever fresh or frozen vegetables you have!
Prep Time10 mins
Cook Time15 mins
Total Time25 mins
Servings: 4 servings
Ingredients
2

teaspoons

neutral flavored vegetable oil (such as grapeseed or refined avocado) or a few tablespoons vegetable broth

1

small or medium white or yellow onion, thinly sliced

1

jalapeno pepper, chopped

1

tablespoon

minced or grated fresh ginger

2

cloves

minced garlic

2

teaspoons

ground cumin

2

teaspoons

ground coriander

1/4

teaspoon

ground cardamom

1/4

teaspoon

ground cinnamon

1/2

teaspoon

salt (or to taste)

1

pinch

freshly ground black pepper

2

cups

chopped cauliflower or broccoli stems and florets (or a combination of both)

1

cup

chopped green beans

1

cup

sliced carrots

1/2

cups

frozen green peas, thawed

1 1/2

cups

cooked chickpeas (1 can, drained and rinsed)

2

cups

low sodium vegetable broth

1

cup

cashew cream

(substitute full fat, canned coconut milk)

3

cups

baby spinach

2

tablespoons

freshly squeezed lime juice

Chopped green onion tops or fresh cilantro

(optional, for serving)
Instructions
Heat the oil in a large, deep skillet (or a medium sized pot) over medium heat. Add the onion and pepper. Cook for 5 minutes, stirring occasionally, or until the onion is clear and tender. Add the ginger and garlic and cook for another minute, stirring constantly. Stir in the cumin, coriander, cardamom, cinnamon, salt, and pepper. 

Add the cauliflower, green beans, carrots, peas, chickpeas, broth, and cashew cream to the skillet. Bring the mixture to a simmer. Reduce the heat to low, cover, and simmer for 10 minutes, or until all vegetables are tender. Stir in the baby spinach and lime juice and simmer for 2-3 more minutes, or until the spinach is tender. Taste and adjust the seasonings as desired. Serve over cooked rice, quinoa, or another grain, or with a flatbread of choice. Top with chopped green onion tops or cilantro.
Notes
For a shortcut version: Replace the vegetables with 4-5 cups (about 2 bags) frozen, pre-cut vegetables of choice. I usually use any mix of cauliflower, broccoli, carrots, green beans, red peppers, and peas. During step 1, when the onion and jalapeno is cooking, cook the the vegetables in the microwave as instructed. Drain the vegetables and add them for step 2. Reduce the simmering time to 5 minutes instead of 10. Voila!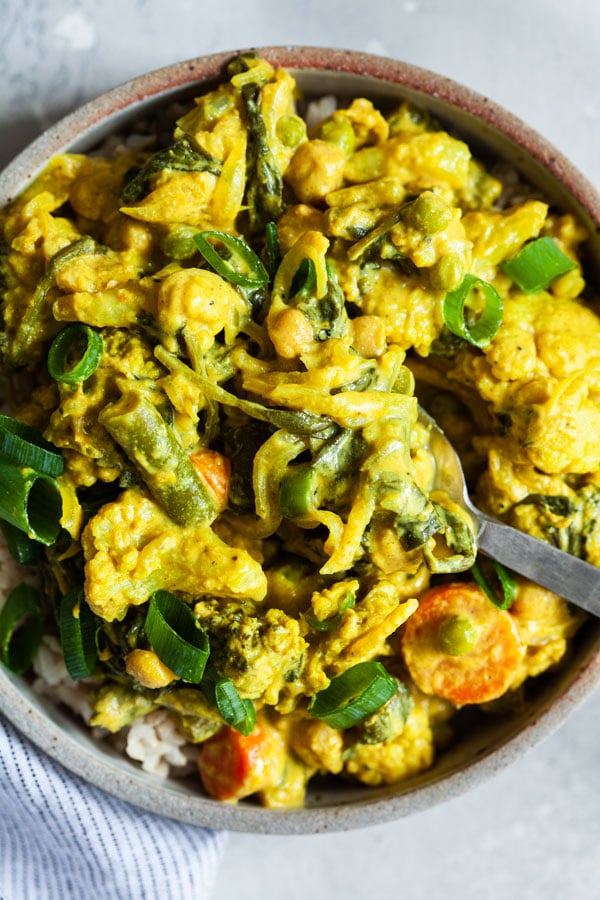 Rice is my favorite serving option for this one–it soaks up all of the creamy, spicy sauce perfectly–but it's also great with quinoa, whole grain pita, or even some of these homemade chapatis. Cashew cream is definitely my preference (I always make it in double batches and freeze some so that it can be as convenient as using canned coconut milk), but coconut milk is traditional and works well, too. Some of the newer, creamier cashew/nut milks (like Elmhurst 1925) might also be a good option.
Glad that this rotation prompted me to post a recipe that's been a favorite at home for a while now. And hope that some of you might enjoy it and find it as convenient as I do!
Alright, friends: another busy day of the internship waits for me tomorrow, so it's time for me to do a little unwinding. See you this weekend for the regular weekend roundup.
xo
Simple Ginger Cinnamon Baked Apples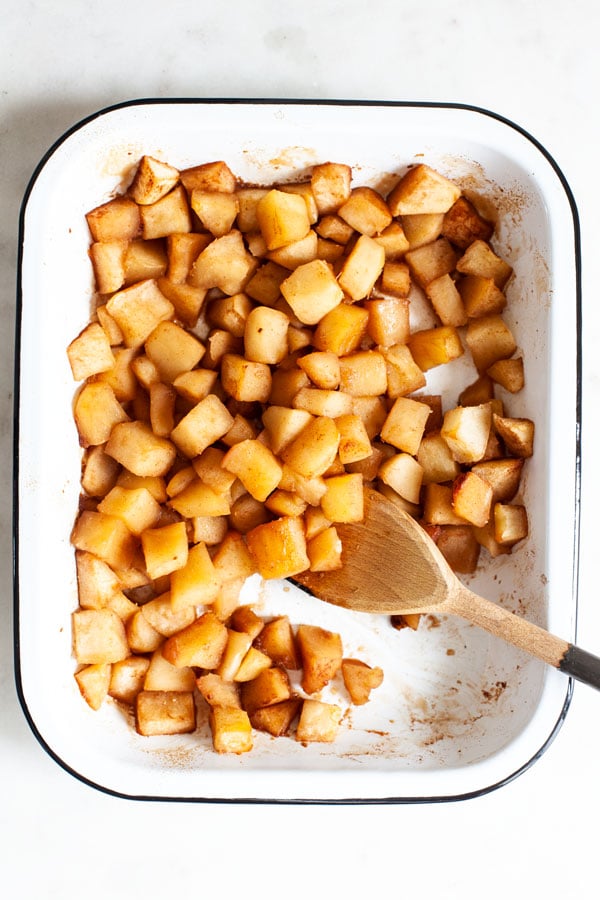 It is still very much winter here in New York, which means that warm and cozy breakfasts are the name of the game. At the moment, cooked fruit is very appealing to me (baked bananas, warm blueberry sauce…you get the idea). These simple, baked gingery apples are my new favorite topping for oatmeal and toast, and they're versatile enough to serve as a healthful dessert, too.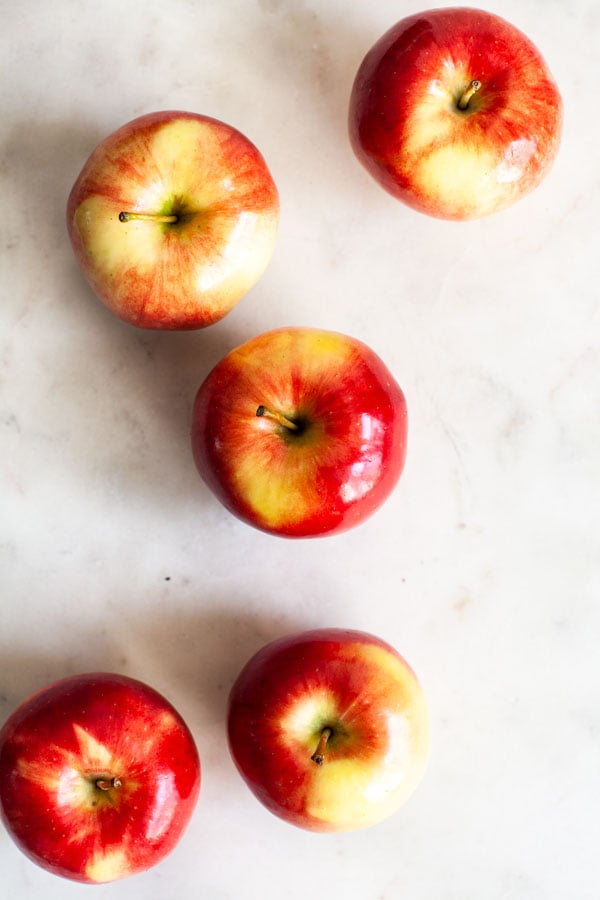 You can use any type of apples to make this recipe, but I was lucky enough to try Ambrosia apples for the first time. Ambrosias are quickly becoming prized for their sweetness, crispness, and beautiful bi-color exterior. They've got a honey-like flavor and aren't very tart, which makes them especially nice for sweet recipes and treats.
Even though the Ambrosia apples are sweet, crisp and great to eat fresh out of hand, they're also perfect for this baked apple recipe, which isn't so different from making baked applesauce. I'd imagine it's easy to make the recipe more or less complex: you could add a ton of different spices, add a little cornstarch to thicken it up, make it more or less sweet.
I've been using a ridiculously simple formula of 1 1/2 lbs peeled and chopped apples (you could leave the skin on if you wanted more fiber from the dish), a tablespoon of coconut sugar, a pinch of vanilla, a pinch of cinnamon, and two teaspoons of freshly grated ginger root. The ginger is adjustable: more or less would be just fine.
When I first made the apples, I used cornstarch, but I've found that the texture is just right without any thickener; I start by baking them with foil, so that they get nice and juicy, and then I bake them uncovered for 10-15 minutes so that they thicken up. In the end, they have a perfect texture: thicker than applesauce, softer and more spoonable than a whole baked apple would be. Here's the recipe.
Simple Ginger Cinnamon Baked Apples
These simple, ginger cinnamon baked apples are so easy to make and so versatile. They're perfect on oatmeal or with a scoop of dairy free ice cream for dessert!
Prep Time10 mins
Cook Time45 mins
Total Time55 mins
Servings: 4 servings
Ingredients
1 1/2

pounds

Ambrosia apples, peeled and chopped into 1-inch pieces

1-2

tablespoons

coconut sugar (or cane sugar)

2-3

teaspoons

grated fresh ginger

1

teaspoon

ground cinnamon
Instructions
Preheat your oven to 350F. Lightly oil a medium sized square or rectangular baking dish (mine was 7 x 13 inches; 8 x 8 or 9 x 9 square is fine, too). 

In a large mixing bowl, toss all ingredients together. Transfer the apples to your baking dish. Cover the dish with foil. Bake for 30 minutes. Give the apples a stir, then remove the foil. Bake for another 15 or so minutes, or until the apples are tender, golden, and the juices have thickened up a bit. 
The apples are just perfect with warm oatmeal; that's how I've been eating them the most often. But they also make for a nice, wholesome dessert, especially if you have a hankering for baked fruit but don't particularly feel like making pie, crisp, or crumble. I like to serve them with a nice big scoop of vanilla vegan ice cream–yum!
If baked fruit isn't your thing, or isn't what you're craving, the nice thing about the Ambrosia apples is that they naturally take longer to oxidize, so the freshness can be maintained for a while after the apples are cut or sliced. They're great for fruit salad, or for serving to kids, who can be sensitive to the color of foods. You can learn more about the apples and how to enjoy them here!
I'm happy to have an easy, healthful way to sweeten and jazz up my breakfasts, desserts, and snacks. Speaking of which, a new week of my DI is in full swing, and I'd best get back to it. Till later this week!
xo
This post has been generously sponsored by Ambrosia Apples from BC Tree Fruits, home of the original. The opinions and language are my own and in no way do they reflect BC Tree Fruits. Thanks for your support!