Creamy Vegan Tuscan White Bean Kale Soup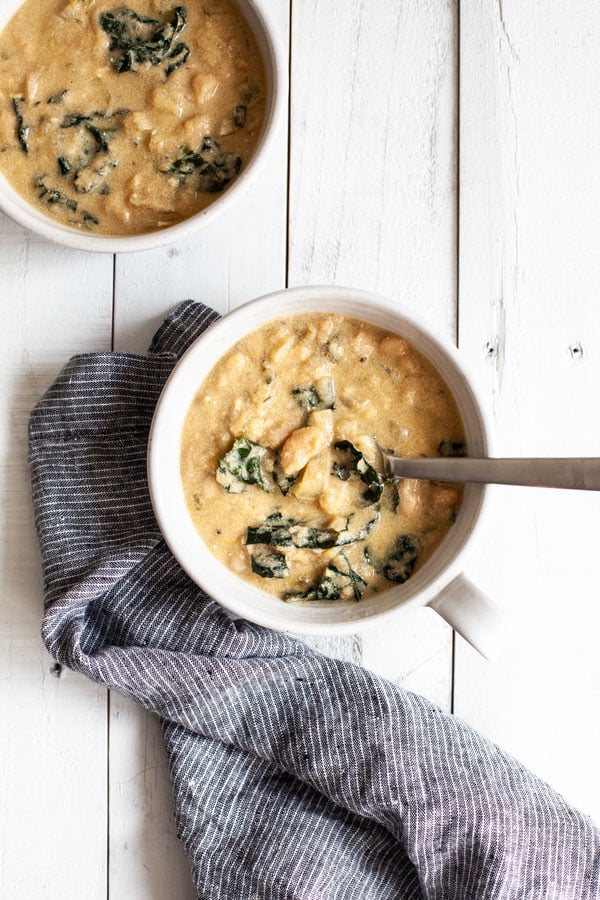 I've never had a hard time encouraging myself to eat soup. I could probably live off of bowls of soup and hunks of bread without many complaints, and I love coming up with new soup recipes, even if many of them start with a recipe I've already made and veer off into new directions.
Lately—since the DI began—soup has become even more of a friend. It's easy to make, and it yields a ton, which means that I can eat it for days during the busy week and freeze even more for weekends when I don't feel like batch cooking as much as usual. This creamy vegan Tuscan white bean kale soup is my latest, cozy, cool-weather favorite.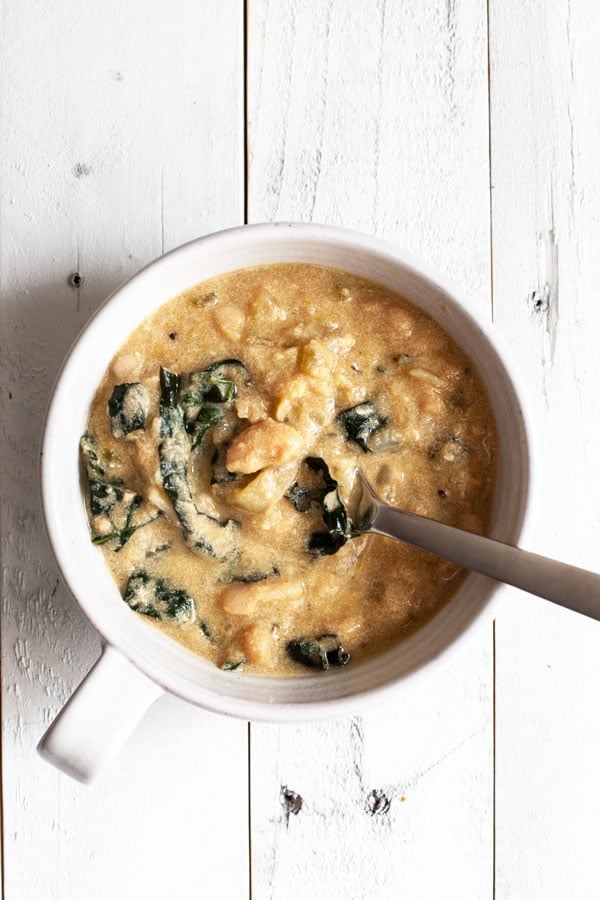 There's no shortage of ways to add creamy texture to vegan soups. You can use whole cashews, cashew cream, a non-dairy milk, or even nut butter—any will create richness. Not all of them, though, add nutritional benefits. Silken tofu is yet another way to create creamy sauces and soups. Unlike many other options, though, it's rich in protein and Omega-3 fatty acids, and it contributes calcium to the dish—in addition to being a good helper in the kitchen!
I've been a fan of Nasoya silken tofu for creating creamy textures for ages. I use it in this recipe, in dressings (like this one), and I've used it in both smoothies and pudding in the past. It comes in a generous, 16-ounce container, which I either use up all at once or blend into cream (just like cashew cream) and freeze. It's a fantastic, all-purpose, nutritive "creamer" for dairy-free cooking.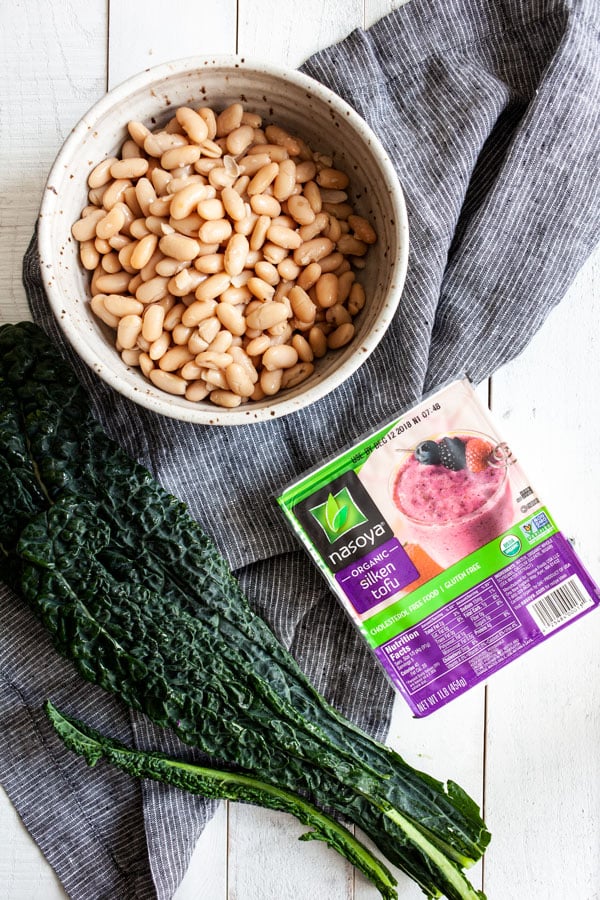 This soup boasts not only the Nasoya silken tofu for protein, but also three cups of cannellini beans, so it's a plant-protein double header. The recipe is simple: sauté onion and celery, add garlic, add beans and herbs. After a little simmering, blend two cups of the soup liquid with silken tofu, add this creamy mixture back to the pot, and add some Tuscan kale (or regular kale). A little more simmering, and the soup is done.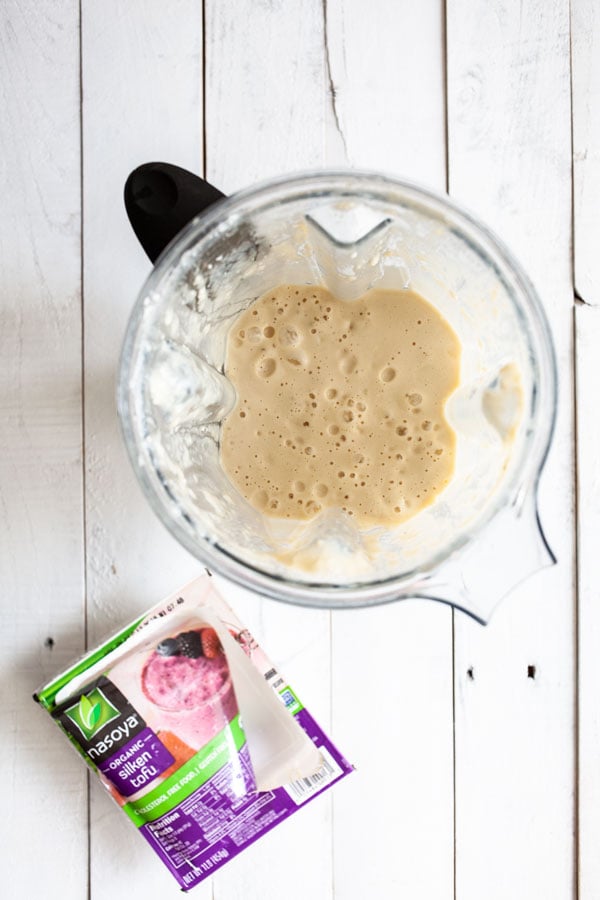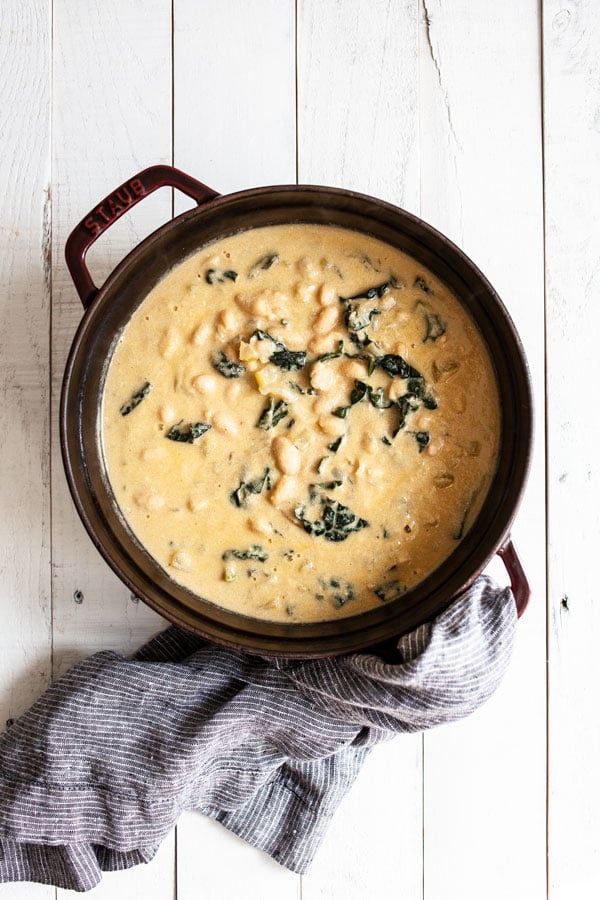 This soup has the advantage of being a crossover between a smooth, thick, blended soup (which I love) and a chunky, textured soup (which I also love). It's a hybrid, with the best of both worlds: a creamy base, but beans and veggies to feast on throughout. The seasoning is simple, and it's just about perfect with a thick slice of bread. Hope you'll like it as much as I do.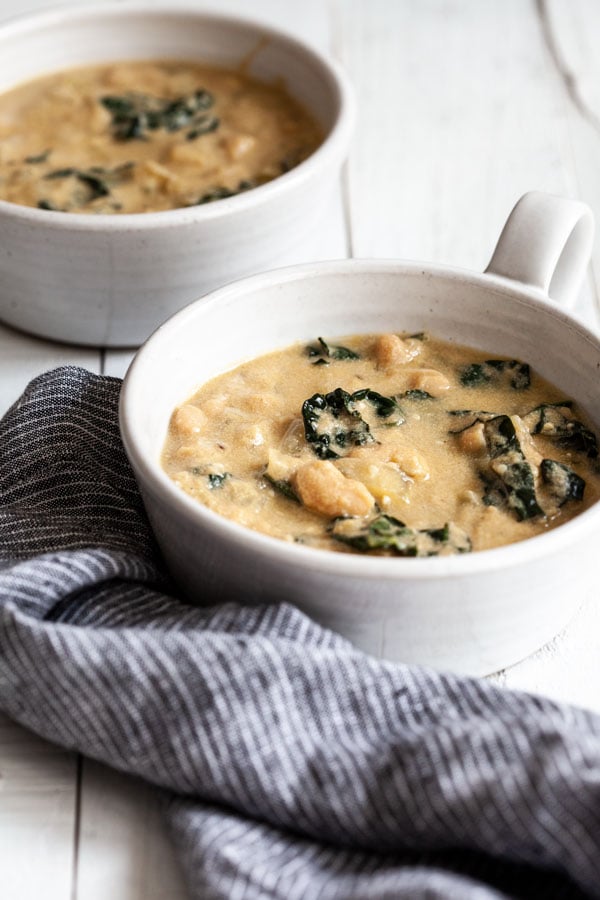 | | | |
| --- | --- | --- |
| Creamy Vegan Tuscan White Bean Kale Soup | | Print |
Recipe type: soup, main dish
Cuisine: vegan, gluten free, tree nut free
Author: Gena Hamshaw
Prep time:
Cook time:
Total time:
Serves: 6 servings
Ingredients
1 tablespoon olive oil
1 large white or yellow onion, chopped
3 stalks celery, chopped
4 large or 6 small cloves garlic, minced
3 cups cooked cannellini beans (2 cans, drained and rinsed)
4 cups low sodium vegetable broth
1 tablespoon chopped fresh rosemary
2 teaspoons fresh thyme
1 teaspoon salt
1 16-ounce container Nasoya Organic Silken Tofu
1 small bunch Tuscan (lacinato) kale, thick stems removed and chopped
2 tablespoons freshly squeezed lemon juice
3 tablespoons vegan parmesan (you can use this recipe, this recipe, or a store-bought version, or you can substitute nutritional yeast)
Freshly ground black pepper to taste
Instructions
Heat the olive oil in a large pot over medium high heat. When the oil is shimmering, add the onion and celery. Cook, stirring occasionally, for 5-8 minutes, or until the onion is soft and clear. Add the garlic and cook another 1-2 minutes, stirring constantly, until the garlic is fragrant.
Add the beans, broth, rosemary, thyme, and salt to the pot. Bring to a boil, then reduce the heat to low. Cover and simmer for 15 minutes. Then, add your silken tofu and 2 cups of the hot soup base to a blender and blend for 1-2 minutes, or until completely smooth. Return this creamy mixture to the pot. Stir in the kale, lemon, and vegan parmesan. Cover and simmer for another 8 minutes. Taste the soup and adjust salt and pepper as needed. Serve!
3.5.3251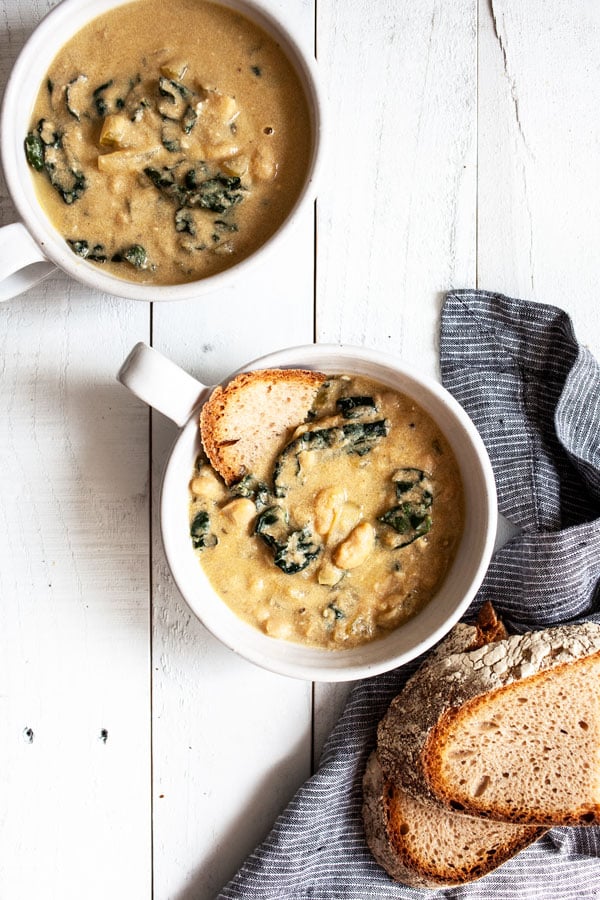 Week two of my clinical rotation is well underway. I'm still getting the hang of things, but comfort food like this is a very good ally. Wishing you a wonderful week, and I'll be back over the weekend with recipes and reads!
xo
This post is sponsored by Nasoya. All opinions are my own, and I love this go-to brand of tofu and other creative soy products! Thanks for your support.
Wild Rice Vegan Stuffing with Roasted Sweet Potato & Apple
Normally in the weeks leading up to Thanksgiving I'd be excitedly planning a menu, bookmarking recipes and testing desserts (quality control, right?).
This year, because of the DI, the holiday will be abbreviated, and if I'm being honest, days of cooking beforehand will be the last thing I want to do. Mom and I are going to Candle79 for our meal, and if I can take the rest of the day to put my feet up on her sofa and watch something silly on TV, I'll call it a holiday very well spent.
This doesn't mean that I can't allow the holiday excitement to wash over me a bit beforehand: it just needs to happen in small waves. In the next couple week, I plan to work some festive and traditional recipes into my usual weekly batch cooking routine, so that even if I don't cook up a feast of my own on Thanksgiving day, I still take the time to commemorate the holiday in my kitchen. This wild rice vegan stuffing with roasted sweet potato & apple is where I'm starting.
I've been thinking about the combination of roasted sweet potatoes and apples in a stuffing dish since I made this hash. I've got a huge weakness for sweet and savory food, and when I made that dish, I quickly fell in love with the combination of stovetop cooked onions and roasted root veggies/fruit.
Here, there's also rice for texture and heft, fresh herbs (rosemary and thyme, but sage would also be good), and the addition of pomegranate arils at the very end for some festive holiday color.
You can see some Thanksgiving-friendly sides—roasted Brussels sprouts and roasted root vegetables—peeking out in the background! These were pre-cut and ready to bake, thanks to the prepared vegetable options at my local Whole Foods Market 365 in Ft. Greene, Brooklyn.
I love shopping at this place. It's the same experience as shopping at a regular Whole Foods Market, but with a few key differences: the store is a little smaller and easier to navigate, and the focus is on the 365 line of products, which maintains an affordable price point. Plus, there are always a ton of products on sale or available at special discounts. Amazon Prime members get exclusive savings, as well as an extra 10% off hundreds of items every day; shoppers can just download the Whole Foods Market app and start saving. When I shop at WFM I tend to gravitate toward the 365 line of products anyway, so the Ft. Greene store gives me a simplified shopping trip, and it features some local business and products (like Bread Alone and Orwasher's breads).
The only downside? Most of the time, Fort Greene is well out of my way, which makes it hard to head out there for weekly grocery hauls! Right now, though, the store is on my way home; I've got a long commute from the hospital I'm working at in East Brooklyn to my place. A trip to Whole Foods Market 365 is a great way to break it up.
The store, as well as sister WFM stores in the city, will be featuring grab n' go holiday sides that are already pre-cooked, as well as prepared vegan pumpkin pie (!). For me, the cut, seasoned, and ready-to-roast veggies are already a terrific time-saver, for holiday cooking just as much for weekly DI batch cooking, and I was thrilled to have them in my fridge this week. Along with my new favorite stuffing.
| | | |
| --- | --- | --- |
| Wild Rice Vegan Stuffing with Roasted Sweet Potato & Apple | | Print |
Recipe type: main dish, holidays, side dish
Cuisine: vegan, gluten free, soy free, tree nut free
Author: Gena Hamshaw
Prep time:
Cook time:
Total time:
Serves: 6 servings
Ingredients
2 tablespoons neutral vegetable oil (such as safflower or grapeseed)
1 pound scrubbed sweet potatoes, cut into ~1/2 inch cubes
1 pound apples (any flavor), cut into ~1/2 inch cubes/pieces
1 cup (dry) wild rice or a wild rice blend (I used the 365 wild rice blend, which is a combination of wild rice and brown basmati)
1 tablespoon olive oil
1 large white or yellow onion, chopped
3 large (or 4 smaller) stalks celery, chopped
1 shallot, chopped
2 tablespoons fresh rosemary, chopped (or 2 teaspoons dry)
1 tablespoon fresh thyme (or 1 teaspoon dry)
¾ cup vegetable broth
½ teaspoon salt, plus extra to season the roasted potatoes/apple
Freshly ground black pepper to taste
1-2 tablespoons sherry vinegar, to taste
½ cup pomegranate arils
Instructions
Preheat the oven to 400F and line two baking sheets with parchment. Toss the potatoes and apple with the vegetable oil and transfer to the baking sheets. Season with salt and freshly ground pepper. Roast for 35-40 minutes, or until the vegetables are browning and tender. Remove the vegetables from heat.
While the vegetables roast (or beforehand if it's easier), cook the rice according to package instructions.
Heat the olive oil in a large, deep skillet over medium heat. Add the onion, celery, and shallot. Cook, stirring often, for 5-8 minutes, or until the onion is soft and clear. Stir in the rosemary and thyme. Fold in the cooked rice, sweet potatoes, and apple. Add the ½ teaspoon salt and the vegetable broth. Heat everything through, stirring as you go.
Add the sherry vinegar and a big pinch of freshly ground black pepper. Taste and adjust the seasonings as needed. Transfer the stuffing to a serving dish and top with the pomegranate arils. Enjoy!
3.5.3251
In addition to being tasty and perfectly in keeping with the flavors of the season and holiday, the stuffing is really easy to make. If I were to make it again before Thanksgiving—which I probably will—I'd cook the rice ahead of time, and maybe even roast the veggies beforehand, so that it could all come together on the stovetop quickly.
Speaking of piecemeal cooking processes and advance prep, I've gotten a few requests for a comprehensive post on my batch cooking process. It may take me a while to pull together, but I'd love to follow up on that! Batch cooking has made the DI experience smooth sailing from a food perspective, and it would be fun to share what I've learned (and to answer any questions you have).
I've had years where I made a scratch cooked feast for my mom and me, and it was a pleasure. There's a time and place for that, and there are also years to take a break from cooking, or to let some handy culinary helpers (like pre-cut veggie sides, or particularly low-key recipes) do the work. This is one of those years, and I think it's going to be a sweet holiday.
Wishing you a great rest of the week. "See" you this weekend!
xo
This post is sponsored by Whole Foods Market 365. All opinions are my own. Thanks for your support!
Apple Berry Baked Oatmeal Cups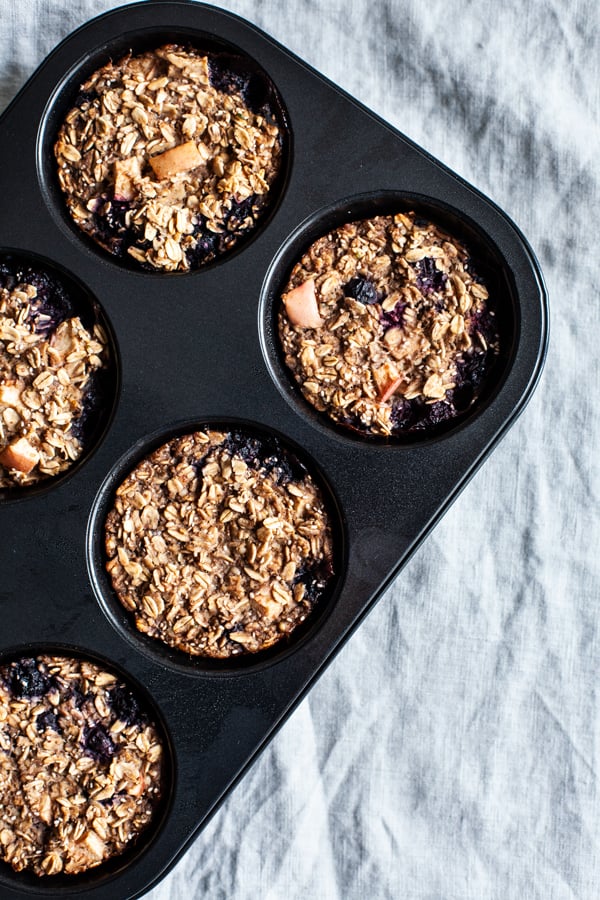 It's no secret that baked oatmeal is one of my favorite, make-ahead breakfast options. I love warm oats, and for most of the last few years it's been no trouble to cook them on the stovetop, traditionally. When I'm rushing out the door, though—and lately, that's how mornings seem to go—simmering even rolled oats can feel time consuming (plus, there's the saucepan to wash).
During my post-bacc, I relied on overnight oats nearly all of the time. In recent years, overnight oats haven't been my preference except when it's very, very hot outside: I'd nearly always rather have oats that are warm and a little denser than overnight oats. So, baked oatmeal to the rescue.
Last weekend I planned to make baked oats as usual, but with a twist: baking them into muffin tins, rather than a baking dish. This makes meal prep all the easier because everything is portioned out and ready to go. And the apple berry baked oatmeal cups look really cute, too 🙂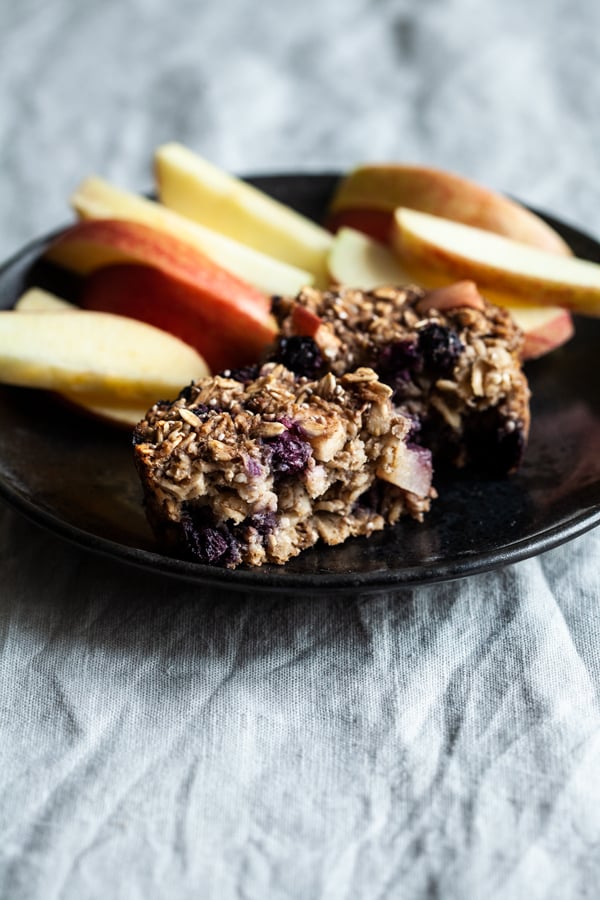 I love muffins and anything shaped like a muffin, but one of my challenges with muffin baking is that the muffin size always feels a little stingy. Lately I've been on the hunt for a larger sized muffin tin, which is why I'm happy I found McDonald Paper Company. It's a local supplier that sells restaurant equipment, but also  cutlery, cookware, baking supplies, parchment, kitchen and food prep tools, stainless steel food pans, storage items, and much more. And the site just happens to feature a six-cup muffin pan that's roomier than usual. It's a win-win for me: bigger portion size, fewer muffins (living on my own, having a dozen usually means shuttling extra to the freezer).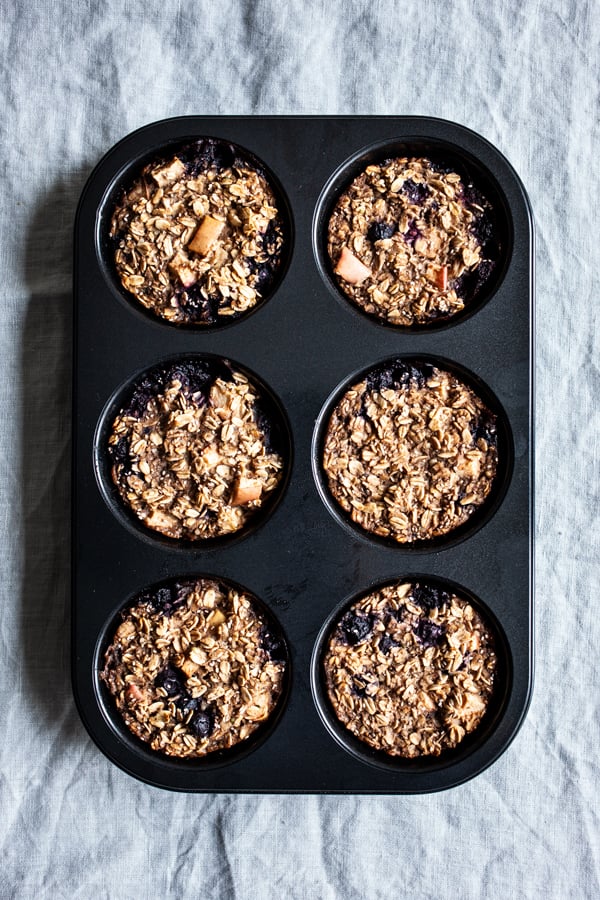 Years ago, when one of my closest friends was in culinary school, she advised me that restaurant supply stores are one of the best places to find a huge array of bakeware and cookware at great prices. I've visited a few here in NYC, often when I'm looking for a kitchen tool that's offbeat, and now it's great to know of an online option. In addition to the muffin pan, which I love, I got some of McDonald's parchment paper for baking and for the many batches of roasted veggies I've been batch cooking each weekend!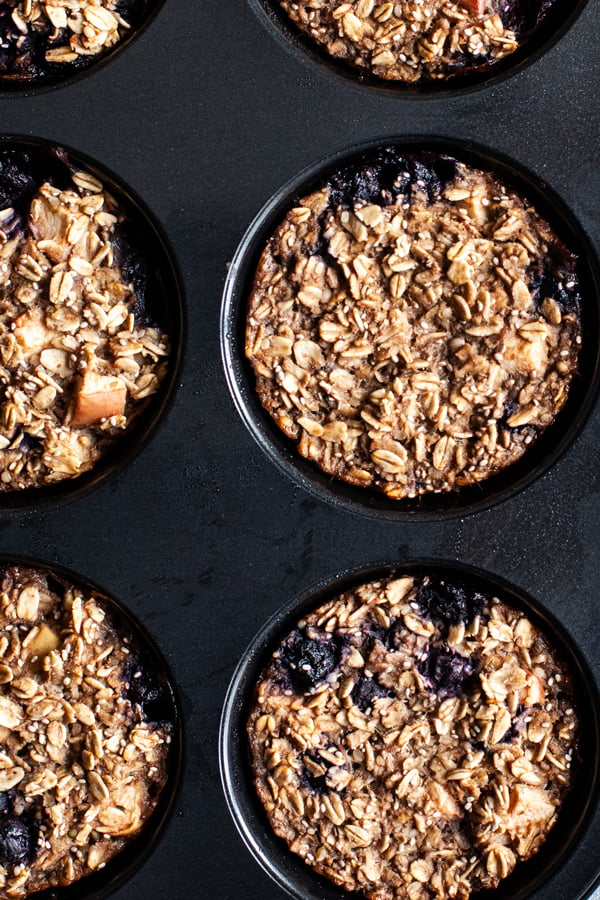 As for the baked oatmeal cups, they're stuffed with all of my favorite breakfast-y things: fresh fall apples, frozen blueberries, hemp seeds, flax, chia. They're sort of a hybrid of this blueberry banana oatmeal bake and these oatcakes. They're more portable than the former, less dense and dry than the latter, and probably my favorite recipe of this kind to date. Here they are.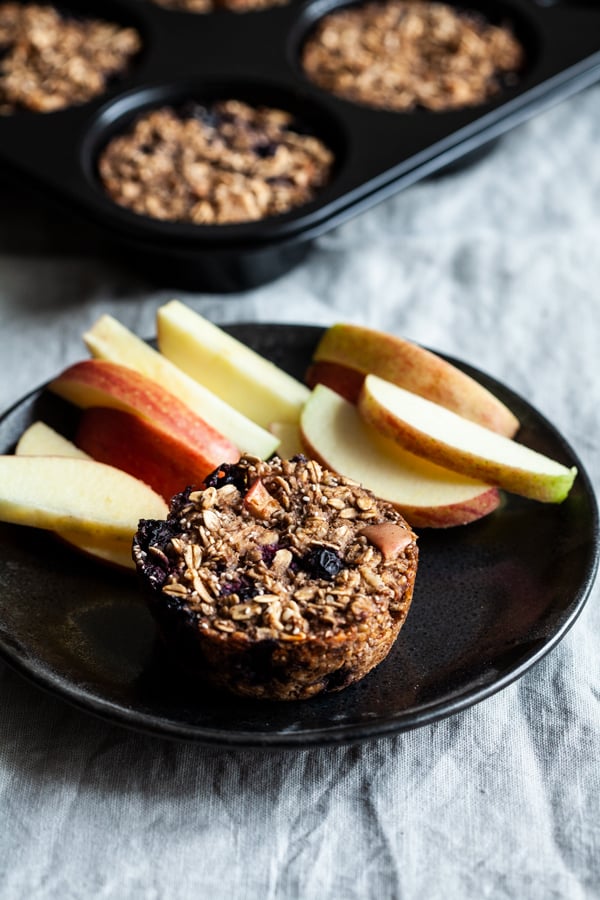 | | | |
| --- | --- | --- |
| Apple Berry Baked Oatmeal Cups | | Print |
Recipe type: breakfast, snack
Cuisine: vegan, gluten free option, no oil, soy free option, tree nut free
Author: Gena Hamshaw
Prep time:
Cook time:
Total time:
Serves: 6 large oatmeal cups
Ingredients
2½ cups rolled oats (certified gluten free if needed/desired)
¼ teaspoon salt
1 teaspoon cinnamon
1 tablespoon ground flax
1 tablespoon chia seeds
2 tablespoons shelled hemp seeds
1 large apple, chopped (about 1 heaping cup)
1 cup fresh or frozen blueberries
1½ cups soy milk (or a non-dairy milk of choice)
1 cup applesauce
Instructions
Preheat your oven to 350F and spray or lightly oil a muffin pan (6 large cups is great if you have one like this, but you can also make smaller cups in a 12-cup pan—you'll probably get about 10).
Mix together the oats, salt, cinnamon, flax, chia, hemp, and fruits. Whisk together the milk and applesauce. Mix dry and wet ingredients. Scoop the mixture into your muffin pan, filling the cups all the way to the rim (these won't rise). Bake for 35 minutes*, or until firm on the top and browning slightly at the edges. Allow oatmeal cups to cool before serving.
Notes
*If you use a standard muffin tin and have about 10 muffins, I recommend baking for about 20-25 minutes instead.
3.5.3251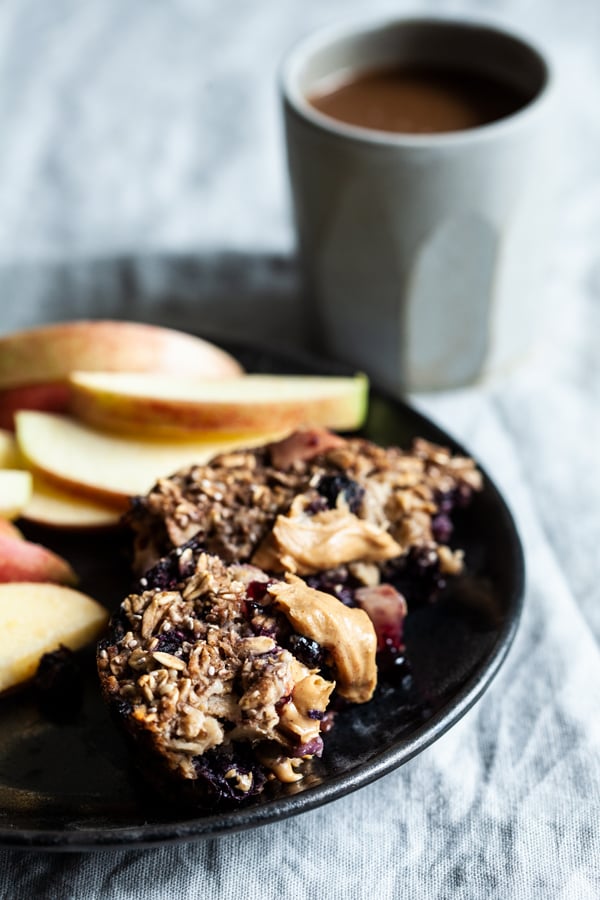 I've been serving the cups with some peanut butter and sliced apple, as you can see. They're great with a banana and a squeeze pack of peanut and almond butter if you're on the go (I confirmed that yesterday, when I had a particularly rushed morning). They're also a great, filling snack option. If you're especially hungry, a double portion is nice and hearty.
I'm sure I'll be making these throughout the year, using different kinds of fruit and different seeds/nuts. Nowadays, with all of the schedule change that's underway and all of the adjustment, having a comforting and familiar breakfast feels sweeter than ever. Enjoy—and happy almost Friday!
xo
This post is sponsored by McDonald Paper Restaurant Supplies. All opinions are my own. Thanks for your support!
Simple Slow Cooker Chana Masala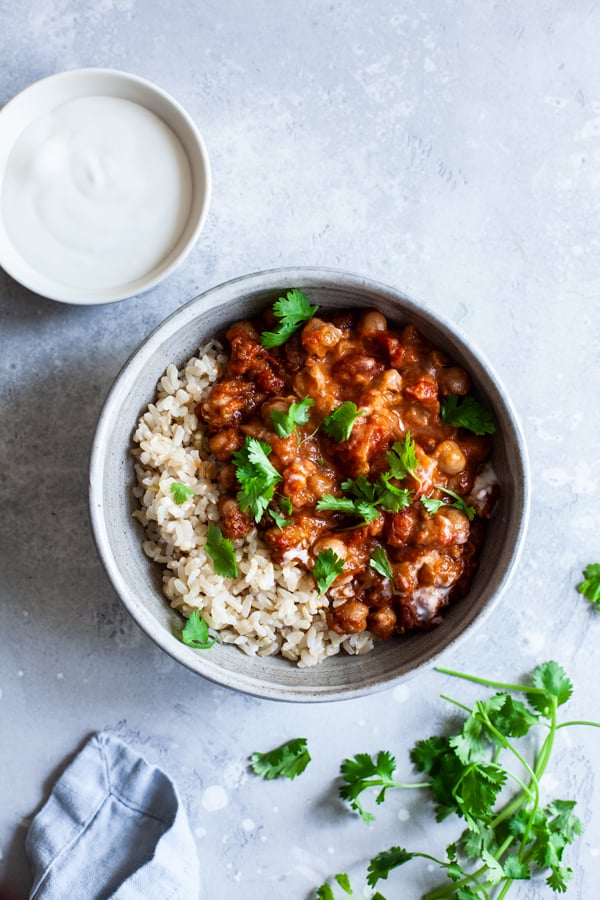 When I went to Prague last summer, I brought reading material that consisted almost entirely of food writing. One of the books was Molly Wizenberg's A Homemade Life, in which she describes, among other things, the role that food played in her courtship with her former partner, Brandon.
There are many sweet anecdotes about intimacy developing over meals: shared excitement over the prospect of digging into a buttered baguette and sliced radishes for dinner, spontaneous dinner salads that turned into feasts. My personal favorite is Molly's ode to Brandon's chana masala. In a 2006 blog post dedicated to the recipe, she writes,
Mine is certainly not the first man to make chana masala, nor does he have any sort of pedigree—ethnic or otherwise—to lend him an air of authority in Indian cookery, but he does have a palate, and a very precise one at that.
Precise, maybe, but not in a way that lends itself to documentation. Wizenberg jokes about her tendency to follow and transcribe recipes, while Brandon cooks by touch, smell, and feel. I fall into Molly's camp—a recipe follower at heart, instinctive only through practice (heh)—which makes me glad that she's recorded Brandon's approach to this well known dish. I've been making it since last summer, and it's a keeper.
Lately, it's often easier to let something simmer in my slow cooker than to keep an eye on it over a burner. If it slow cooks, I have a chance to dash outside for errands or to focus on coursework for the DI intently, which isn't possible for me when I know that something's on the stovetop.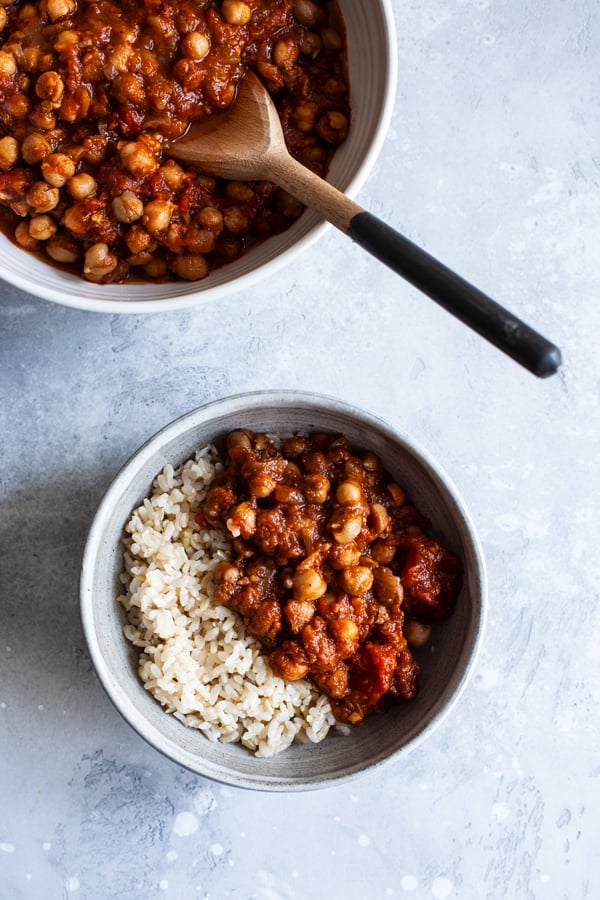 So, last weekend, as a part of my usual batch cooking frenzy, I decided to try adapting the chana masala recipe to be slow cooker friendly. It felt almost irreverent, as Brandon's recipe is, by Molly's telling, defined by its spontaneity and stepwise, taste-based adjustments. The recipe also starts with caramelized onions, which is a step I didn't preserve.
For the most part, though, I kept the proportions and spices intact. I sautéed my onions, if not taking the time to caramelize them, before allowing the slow cooker to do its thing. This isn't really my slow cooker style—for the most part, the whole appeal of the device is the fact that I don't have to sauté or closely watch anything—but here I think it does make the recipe better. I give you the option of doing either: lightly browning the onions before the get added to the slow cooker, or not. The chana masala will taste rich and flavorful either way.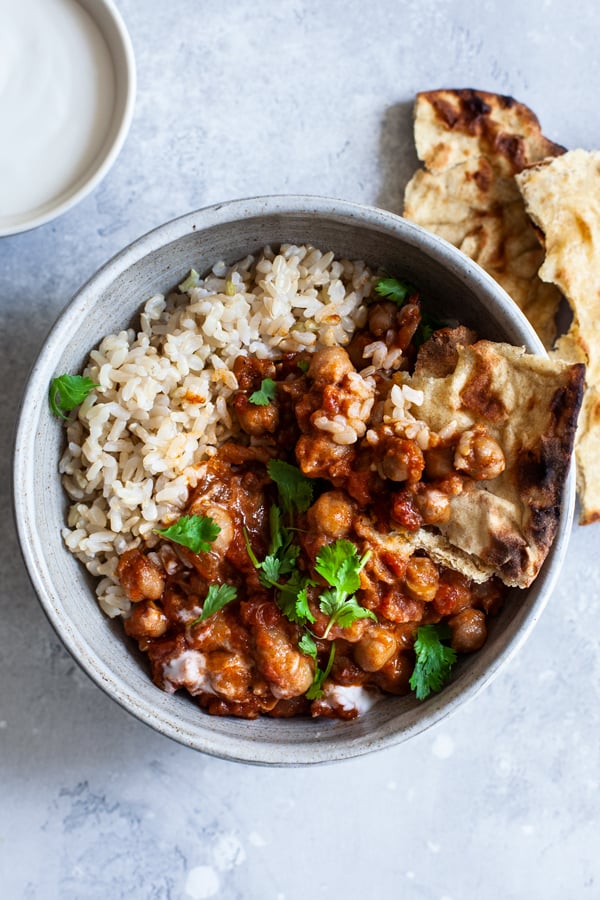 This decision aside, it's a very simple recipe. I used my slow cooker to cook chickpeas from dry beforehand (I usually do this following Alton Brown's instructions, on the high setting for 3 1/2 hours or so), but canned chickpeas will work nicely, too. Feel free to add more or less spice to suit your taste, especially if you know how you like chana masala or a similar dish to taste already. That modification would definitely keep within the spirit of the original dish.
| | | |
| --- | --- | --- |
| Simple Slow Cooker Chana Masala | | Print |
Recipe type: main dish, side dish
Cuisine: vegan, gluten free, tree nut free, soy free, no oil option
Author: Adapted from Molly Wizenberg
Prep time:
Cook time:
Total time:
Serves: 4-6 servings
Ingredients
2 tablespoons neutral flavored vegetable oil (such as grapeseed or refined avocado)*
1 large white or yellow onion, chopped
3 cloves garlic, minced
1 tablespoon freshly minced ginger, or ¾ teaspoon ground ginger
1 teaspoon ground cumin
½ teaspoon ground coriander
2 teaspoons garam masala
1 28-ounce can whole, peeled tomatoes
3 heaping cups cooked chickpeas (or 2 cans chickpeas, drained and rinsed)
¼ cup tomato paste
½-1 teaspoon salt, or to taste (I use 1 teaspoon Diamond Crystal kosher salt)
A pinch of cayenne pepper, or to taste
1½ cups water (more as needed)
For serving: plain vegan yogurt, fresh cilantro, cooked rice, homemade naan or chapati
Instructions
Optional: heat the oil in a frying pan or skillet over medium heat. Add the onions. Sauté the onions till they're gently browning, about 7-8 minutes, stirring continually. Add the garlic and cook for another 2 minutes.
Transfer the onions and garlic to your slow cooker. Add the tomatoes, then crush them with a spoon or a potato masher in the slow cooker. Add the remaining ingredients. (Alternately, if you don't want to sauté the onions and garlic, begin by crushing the tomatoes in the slow cooker, then add the rest of the ingredients.)
Cook on high for 3-4 hours, or on low for 6-8 hours.** If the mixture is too thick for your liking, you can thin it with additional water. Taste and adjust salt. Serve.
Notes
*For an oil free version, sauté with water or simply add all ingredients aside from the oil to the slow cooker
**If you don't wish to use a slow cooker or don't have one, sauté the onions and garlic as instructed in a large saucepan or wide, deep skillet. Add the tomatoes and remaining ingredients as instructed. Bring the mixture to a boil, reduce the heat to low, cover, and simmer for 20 minutes. Uncover and simmer for an additional 5 minutes. Taste, adjust salt, and serve as desired.
3.5.3251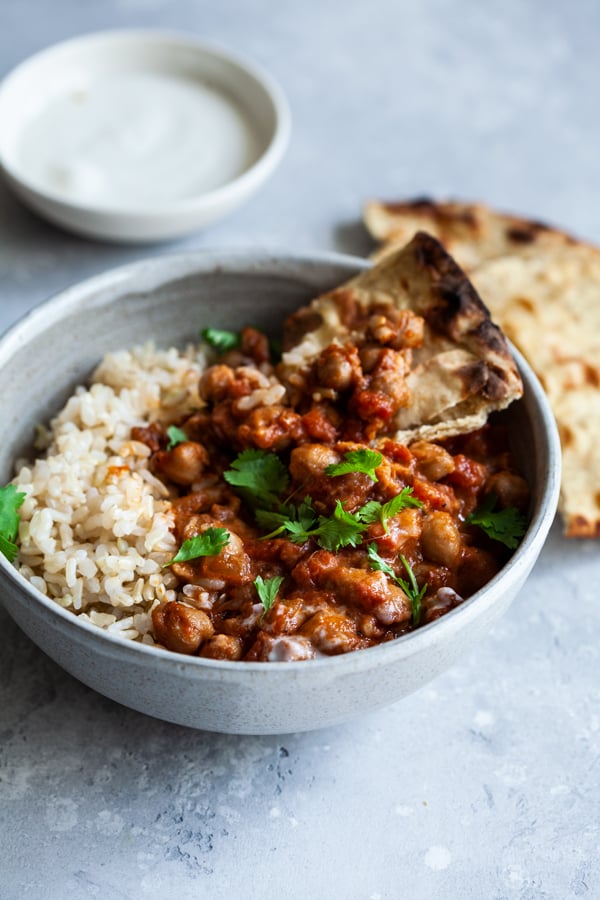 In Molly's recipe post, she notes,
This chana masala can be served in two different styles: with a half-cup of whole-milk yogurt to smooth and soften the flavors, or sans yogurt, served with a squeeze of lemon and a pinch of fresh cilantro. I prefer the former, but Brandon leans toward the latter. Either way, this dish is even better the second—or third—day.
She's so right about the leftovers being better as they age. I also agree that it's lovely served either with or without yogurt; the former is less traditional but more mild, the latter spicier. I can go either way, and I tend to vary based on my mood.
As for serving, I almost always pile the chickpeas over brown rice, but last weekend I happened to have some of my homemade chapatis in the freezer, so I decided to add a few wedges of those, too—with this dish, it's a shame not to have something to scoop up every last bean!
I'm so excited to have some of the masala now in my freezer for next week, and to have savored it pretty regularly in the last month. A big thanks to Molly for what has become a staple for me, new cooking method aside. I hope you'll enjoy it, too, and look forward to circling back at the end of this long week for the usual roundup.
xo