Creamy Vegan Tuscan White Bean Kale Soup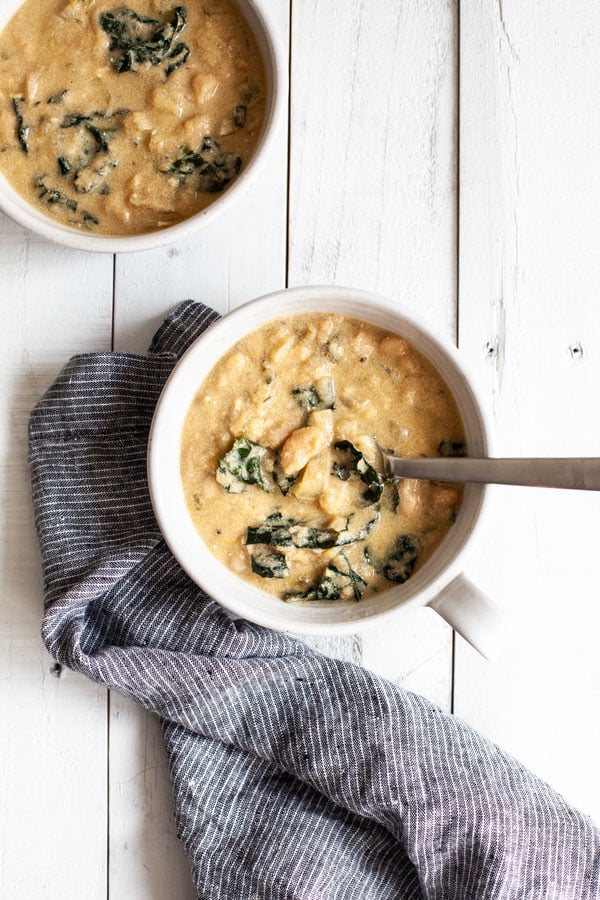 I've never had a hard time encouraging myself to eat soup. I could probably live off of bowls of soup and hunks of bread without many complaints, and I love coming up with new soup recipes, even if many of them start with a recipe I've already made and veer off into new directions.
Lately—since the DI began—soup has become even more of a friend. It's easy to make, and it yields a ton, which means that I can eat it for days during the busy week and freeze even more for weekends when I don't feel like batch cooking as much as usual. This creamy vegan Tuscan white bean kale soup is my latest, cozy, cool-weather favorite.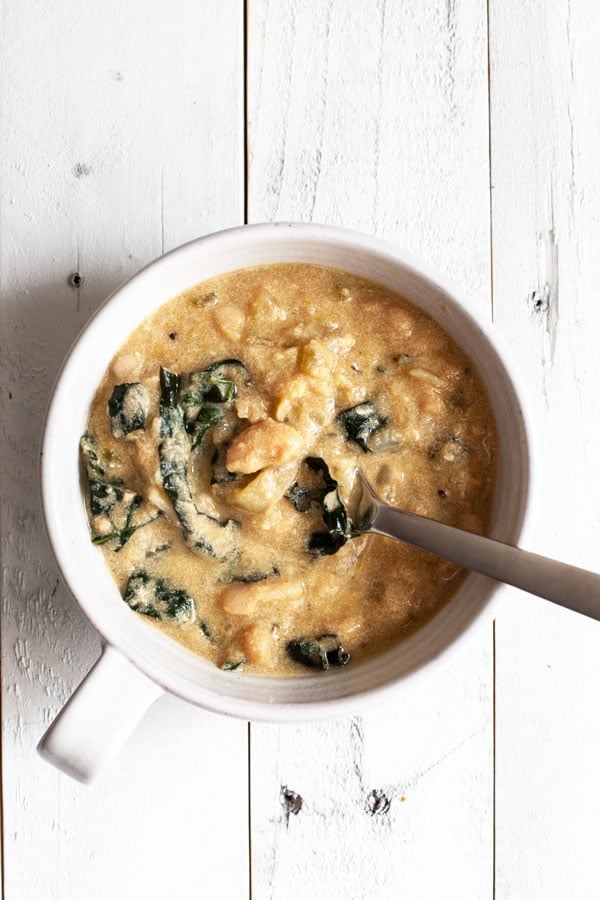 There's no shortage of ways to add creamy texture to vegan soups. You can use whole cashews, cashew cream, a non-dairy milk, or even nut butter—any will create richness. Not all of them, though, add nutritional benefits. Silken tofu is yet another way to create creamy sauces and soups. Unlike many other options, though, it's rich in protein and Omega-3 fatty acids, and it contributes calcium to the dish—in addition to being a good helper in the kitchen!
I've been a fan of Nasoya silken tofu for creating creamy textures for ages. I use it in this recipe, in dressings (like this one), and I've used it in both smoothies and pudding in the past. It comes in a generous, 16-ounce container, which I either use up all at once or blend into cream (just like cashew cream) and freeze. It's a fantastic, all-purpose, nutritive "creamer" for dairy-free cooking.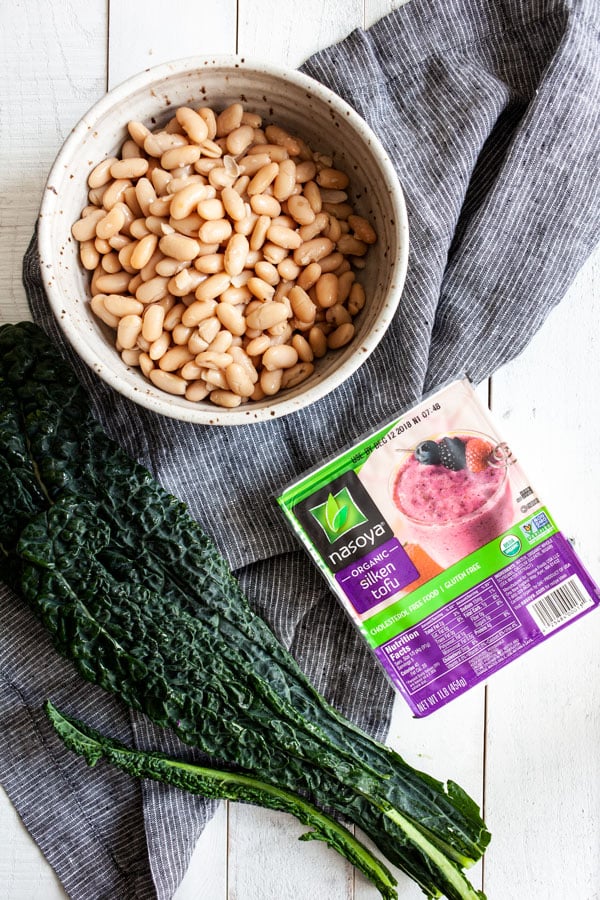 This soup boasts not only the Nasoya silken tofu for protein, but also three cups of cannellini beans, so it's a plant-protein double header. The recipe is simple: sauté onion and celery, add garlic, add beans and herbs. After a little simmering, blend two cups of the soup liquid with silken tofu, add this creamy mixture back to the pot, and add some Tuscan kale (or regular kale). A little more simmering, and the soup is done.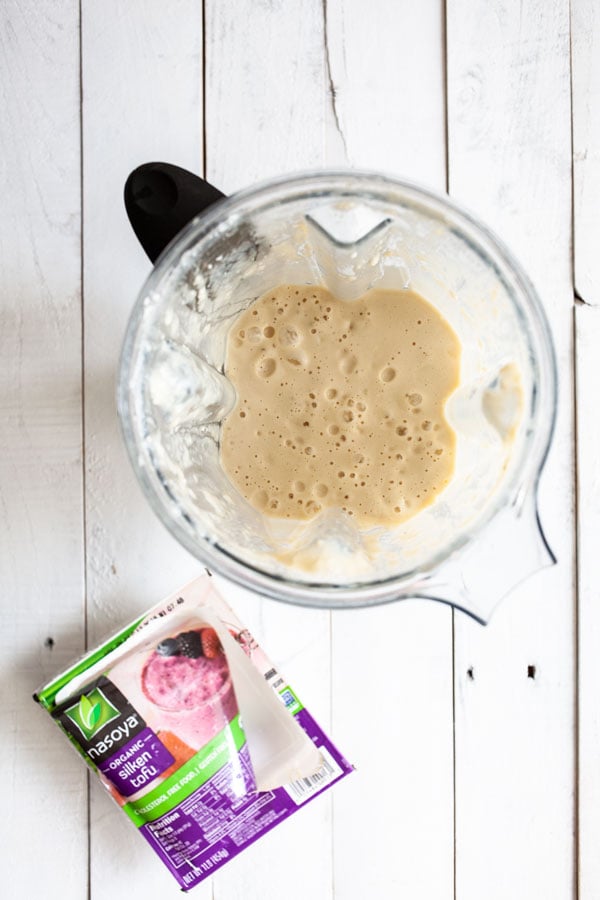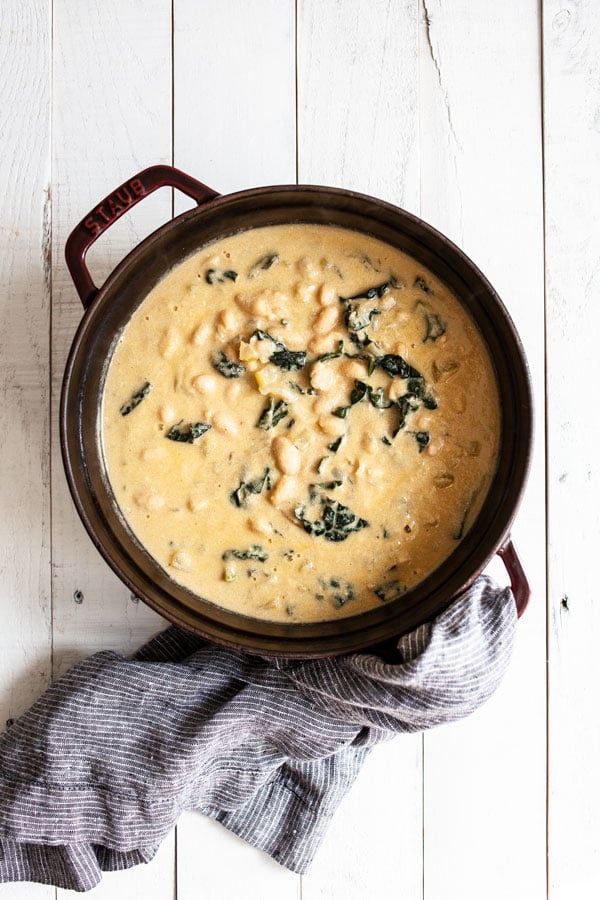 This soup has the advantage of being a crossover between a smooth, thick, blended soup (which I love) and a chunky, textured soup (which I also love). It's a hybrid, with the best of both worlds: a creamy base, but beans and veggies to feast on throughout. The seasoning is simple, and it's just about perfect with a thick slice of bread. Hope you'll like it as much as I do.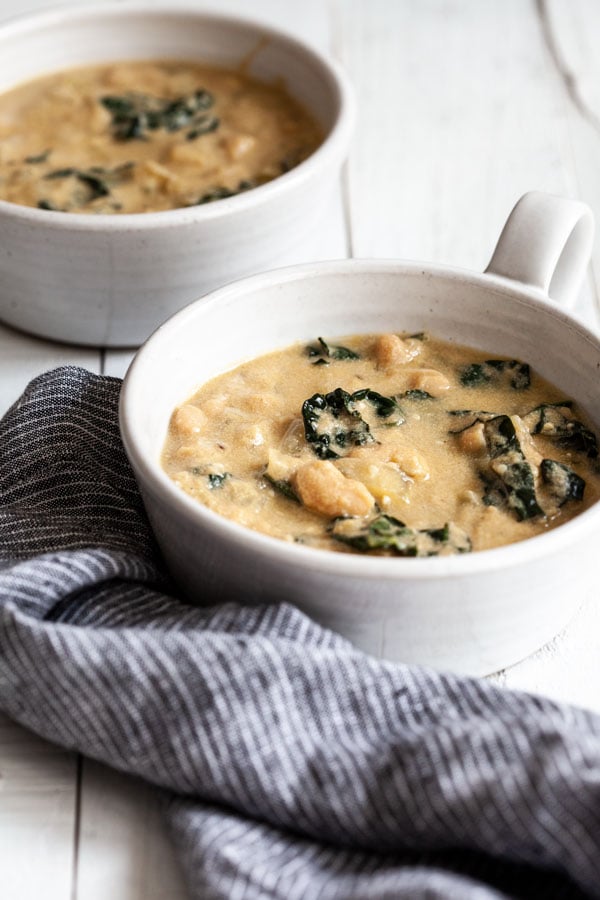 | | | |
| --- | --- | --- |
| Creamy Vegan Tuscan White Bean Kale Soup | | Print |
Recipe type: soup, main dish
Cuisine: vegan, gluten free, tree nut free
Author: Gena Hamshaw
Prep time:
Cook time:
Total time:
Serves: 6 servings
Ingredients
1 tablespoon olive oil
1 large white or yellow onion, chopped
3 stalks celery, chopped
4 large or 6 small cloves garlic, minced
3 cups cooked cannellini beans (2 cans, drained and rinsed)
4 cups low sodium vegetable broth
1 tablespoon chopped fresh rosemary
2 teaspoons fresh thyme
1 teaspoon salt
1 16-ounce container Nasoya Organic Silken Tofu
1 small bunch Tuscan (lacinato) kale, thick stems removed and chopped
2 tablespoons freshly squeezed lemon juice
3 tablespoons vegan parmesan (you can use this recipe, this recipe, or a store-bought version, or you can substitute nutritional yeast)
Freshly ground black pepper to taste
Instructions
Heat the olive oil in a large pot over medium high heat. When the oil is shimmering, add the onion and celery. Cook, stirring occasionally, for 5-8 minutes, or until the onion is soft and clear. Add the garlic and cook another 1-2 minutes, stirring constantly, until the garlic is fragrant.
Add the beans, broth, rosemary, thyme, and salt to the pot. Bring to a boil, then reduce the heat to low. Cover and simmer for 15 minutes. Then, add your silken tofu and 2 cups of the hot soup base to a blender and blend for 1-2 minutes, or until completely smooth. Return this creamy mixture to the pot. Stir in the kale, lemon, and vegan parmesan. Cover and simmer for another 8 minutes. Taste the soup and adjust salt and pepper as needed. Serve!
3.5.3251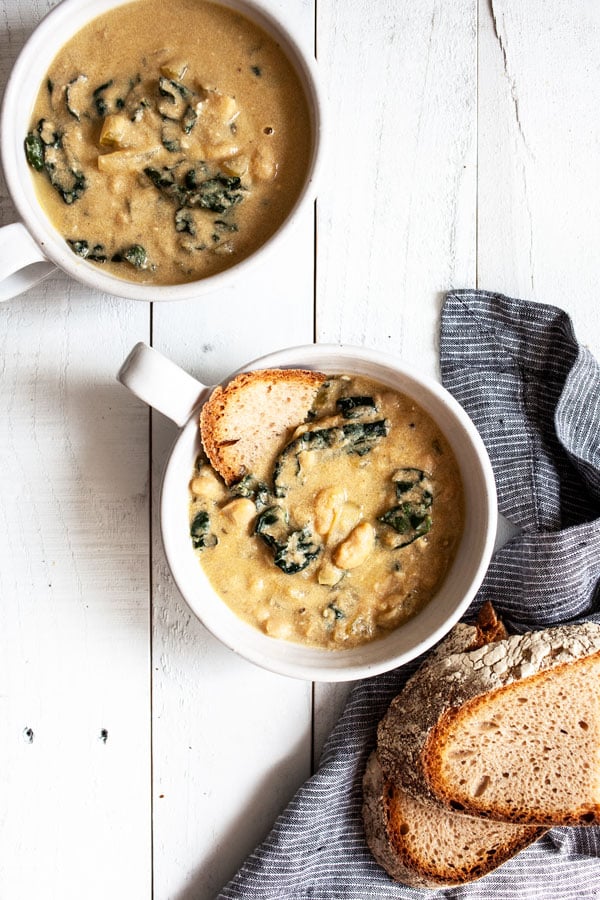 Week two of my clinical rotation is well underway. I'm still getting the hang of things, but comfort food like this is a very good ally. Wishing you a wonderful week, and I'll be back over the weekend with recipes and reads!
xo
This post is sponsored by Nasoya. All opinions are my own, and I love this go-to brand of tofu and other creative soy products! Thanks for your support.
Grain Free Vegan Coconut Pistachio Lemon Cake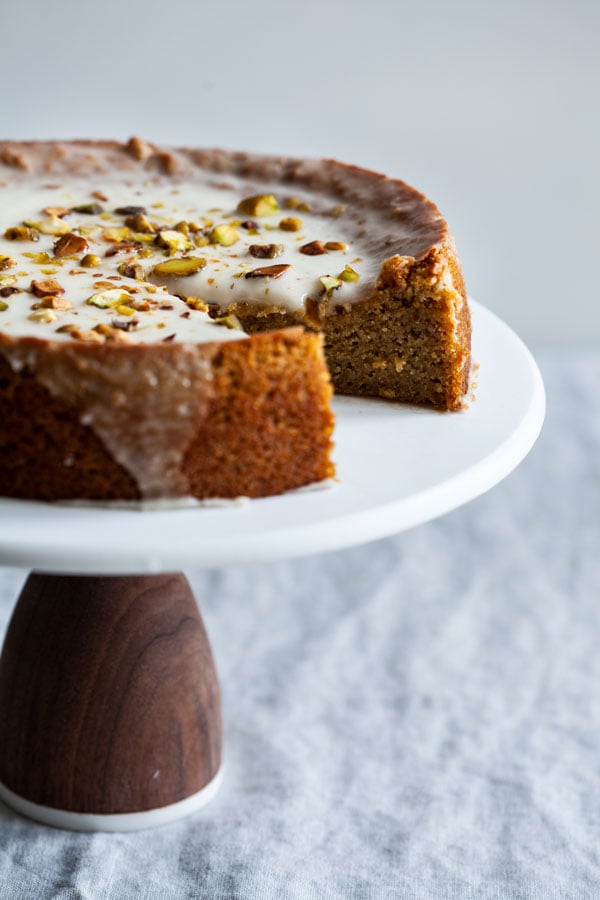 Happy Monday, friends, and I'm so glad that you enjoyed my thoughts on the mini-trip home.
On Friday, I'll be celebrating Passover with some chosen family: my closest friend from college, Jordan, his parents and his siblings. I felt close to Jordy's family even back as an undergraduate, in spite of the fact that I only met them a few times. They were warm and kind and easygoing with invitations and overnight stays. I was young enough and only child enough that the fact of Jordy's having two siblings seemed kind of wonderful to me—three kids under one roof! Over the years I've been lucky enough to become close to his sister and brother, too.
Jordan's parents feel strongly about welcoming, hosting, and building family. Over the years they've had me in their home for countless holidays and gatherings, and now they include my mom, too. As someone who has a small nuclear family, the generosity of spirit never goes unnoticed, and it means more than I can say.
An added bonus of holidays with Jordy's folks is the fact that I'm usually not the only plant-based eater present (his sister-in-law's family is plant-based), and Jordy's mom is especially curious and open-minded about preparing dishes that can suit a wide variety of eating styles. She always welcomes me to contribute a vegan recipe to holidays. At Rosh Hashana, this means a crown-shaped loaf of Isa Chandra's challah. And at Passover, it means the challenge of something plant-based and also grain-free.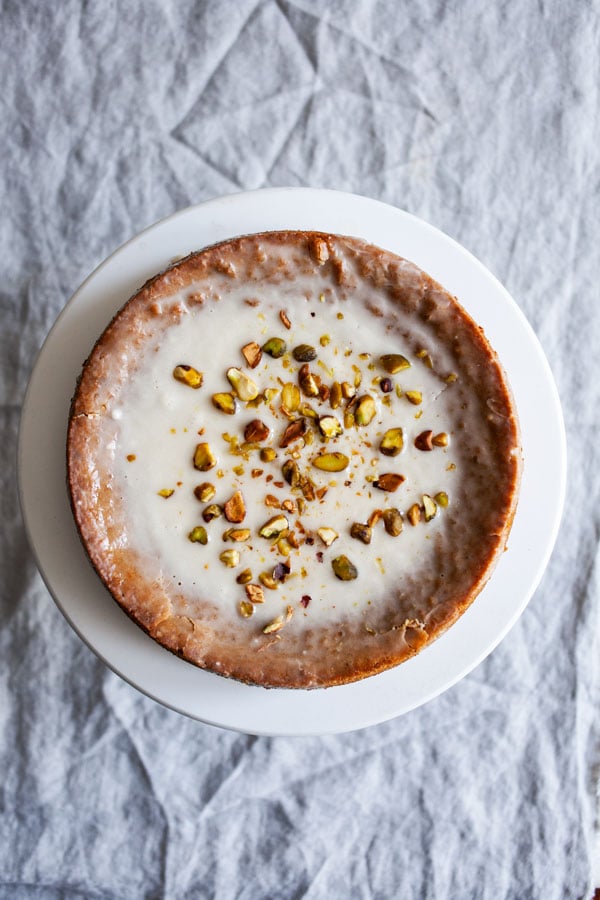 Grain free baking is hardly my specialty; I'm a grain-loving gal, and in spite of being pretty dextrous with gluten-free baking, nut and other grain-free flours aren't my favorite. Still, my love of dessert is much more powerful than my lackluster feelings about baking without grains. I've been experimenting in preparation of the holiday this year, and this grain-free vegan pistachio coconut lemon cake is the result.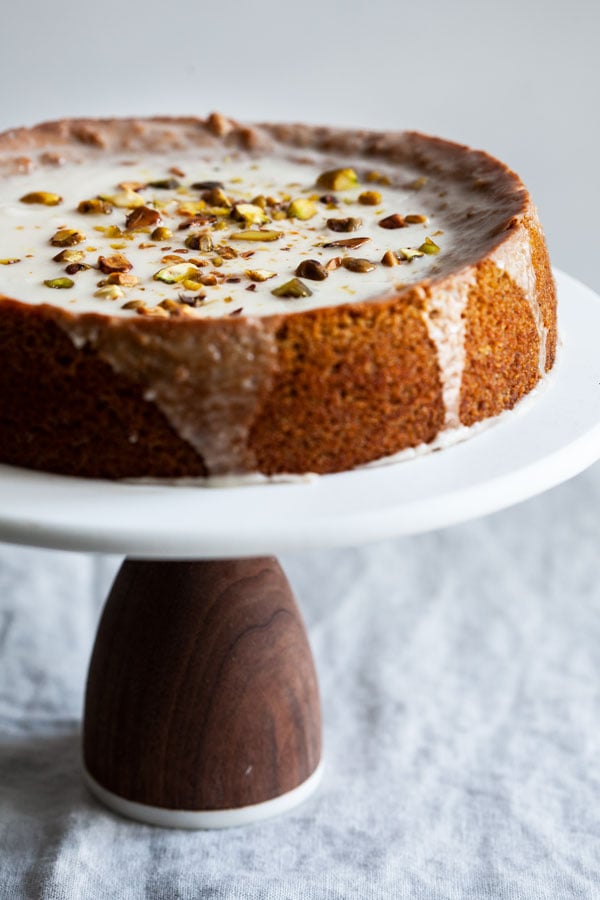 I owe this recipe—pretty much all of it—to the wonderful Lindsay of Cotter Crunch. She's one of my go-to resources for recipes that work for a wide variety of specialized eating styles: hers are always gluten-free, but they're often grain-free and/or plant-based, too.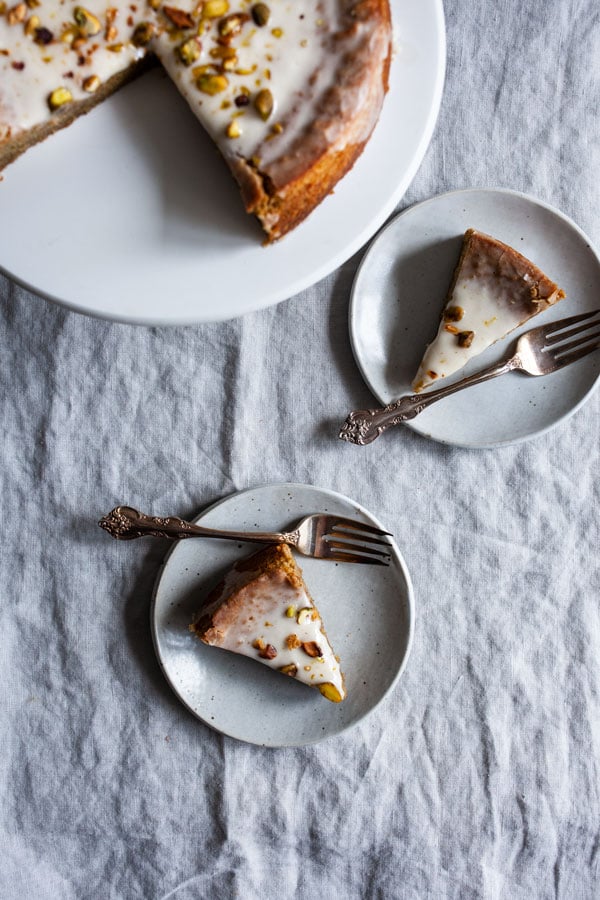 Not too long ago, Lindsay posted a grain free vegan white cake recipe. As someone who has had very little resounding success with grain and egg-free baking, I was super impressed with how fluffy and delicious it looked.
A couple weeks ago, my preceptor and I were chatting about Passover recipes, and she mentioned this pistachio cake by Julie Powell. It looked beautiful, but I knew I'd need to tweak it considerably to make it vegan. I thought back to Lindsay's cake, and I wondered if I couldn't create some sort of amalgam of the two.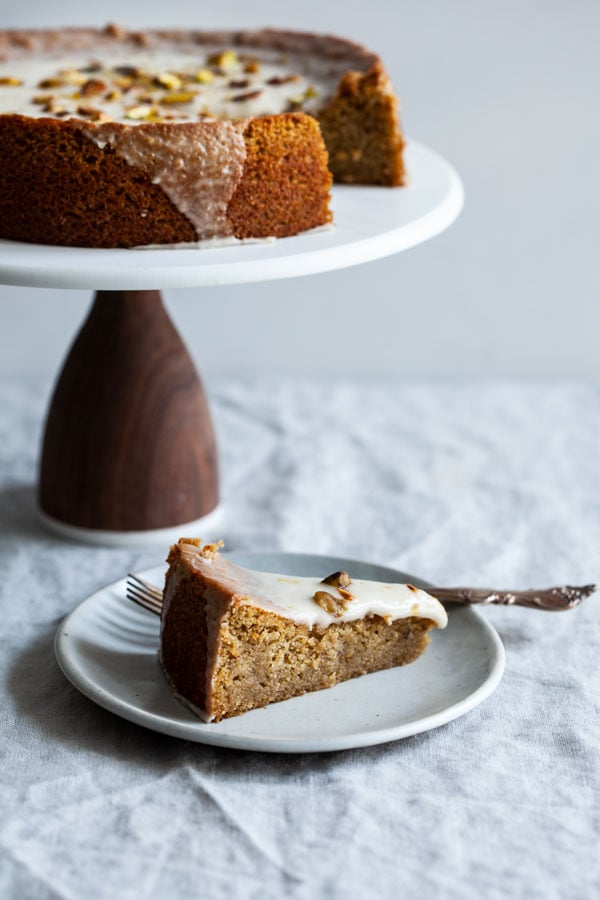 In spite of my limited track record with recipes like this, I'm really happy with how the cake turned out—happy enough that I plan to bring it to the seder this week. Yes, it's got a dense texture, just as I suspected it would. But it's still light and tender enough to work—not gluey, as some of my vegan grain-free experiments have been. The lemon glaze gives it just the right added layer of sweet tartness, and the flavor of both nuts and coconuts really does shine through. Here's the recipe.
Grain Free Vegan Coconut Pistachio Lemon Cake
Ingredients
3/4

cup

sifted coconut flour

3/4

cup

fine almond flour

2/3

cup

very finely ground pistachio nuts (or pistachio flour)

1/3

cup

arrowroot or potato starch

1

teaspoon

baking powder

1/2

teaspoon

baking soda

1/4

teaspoon

fine salt

2/3

cup

coconut or cane sugar

1/4

cup

vegetable oil (such as grapeseed, olive, or coconut)

1/4

cup

freshly squeezed lemon juice

1/4

cup

maple syrup

3/4

cup

cold water

1

teaspoon

vanilla extract

1

cup

confectioners' sugar

2

tablespoons

lemon juice

chopped pistachio nuts, if desired
Instructions
Preheat your oven to 350F and line an 8″ square or springform round pan with parchment.

In a large mixing bowl, whisk together the flours, pistachio nuts, arrowroot, baking powder and soda, salt, and sugar. Separately, whisk together the oil, lemon juice, syrup, water, and vanilla. Add the wet ingredients to dry, and whisk together till the batter is smooth. Immediately pour the batter into the baking dish and transfer to the oven. Bake for 45-50 minutes, or until golden brown.

When the cake is ready, allow it to cool for a few hours on a wire rack. When it's room temperature, whisk together the lemon juice and confectioners' sugar. Pour the glaze over the cake and spread it gently with a spatula, if needed. Top with chopped whole pistachio nuts. Transfer the cake to the fridge and allow it to set for another 2-3 hours (or overnight). Cut and serve!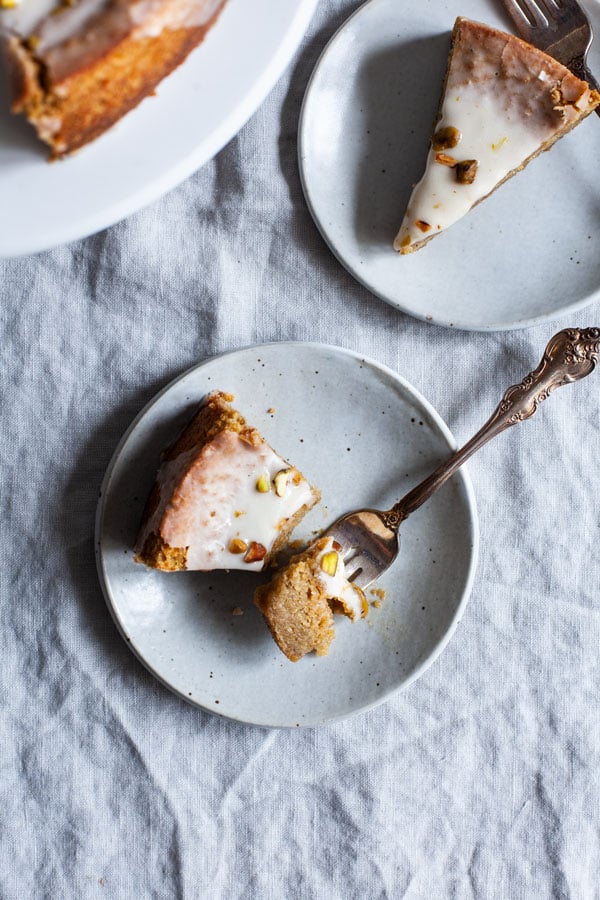 My recipes have been pretty loosey goosey this year, with lots of invitations to modify as you like. I tend to be more precise with baking, but for this recipe—given the considerations of no gluten, egg, or grain—I'd definitely encourage you to follow the recipe precisely if you make it. The one exception is that you can definitely substitute all almond flour for almond+pistachio if that's what you'd like to do, turning it into a coconut almond lemon cake.
And of course, this is a Passover cake for me, but it would be a lovely Easter offering, too, or a good contribution to any spring gathering: shower, brunch, whatever.
In the spirit of chosen families and holidays, I wish you a wonderful week ahead. And if you make this one, happy baking!
xo
Creamy Roasted Garlic & Chickpea Soup
My first boss used to joke that I'd probably be happy on a diet of mostly baby food. He said this because of my obvious love of mushy-textured foods, which I snacked on constantly at work: refried black bean dip, nut pate, and hummus. Especially hummus.
My love of mush hasn't budged as the years go by. If anything, it's gotten deeper. I love not just mushy dips, but also mushy porridge, soft/mushy grain dishes, smashed beans, and mushy soups and stews. This is especially true when it comes to puréed soups: the thicker the better, which means the texture sometimes walks a pretty fine line between soup and mush.
This creamy roasted garlic and chickpea soup isn't offensively thick or mushy, and the addition of tender greens gives it some texture contrast. But it does have that thick, puréed texture that I love so much, and since the base is roasted garlic and chickpeas with a touch of lemon, it's not so different from hummus soup. I've just given it a slightly fancier name 🙂
The soup begins with two whole heads of roasted garlic. It sounds like a ton, but the reason I've called for it is because the first time I made the soup, I only used one head of garlic. I liked the flavor, but I thought it could easily do with double the roasted garlic. Roasted garlic has none of the kick of the raw stuff, and in fact it gives this soup a mellow sweetness. If you're very sensitive to garlic, of course, feel free to reduce the amount, but if your garlic heads are medium or small, I suspect you'll find that two of them is just right.
Otherwise, the soup is super simple. Roasting the garlic is actually the most time-consuming step. Once that's taken care of, you just sauté some chickpeas and onion, add broth and salt, and blend it all up. Here's how it comes together.
Creamy Roasted Garlic & Chickpea Soup
Ingredients
2

heads garlic, top sliced off crosswise to expose the cloves

1

tablespoon

olive oil, plus extra for drizzling

1

white or yellow onion, chopped

3

cups

cooked chickpeas (2 cans, drained and rinsed)

5

cups

low sodium vegetable broth (or 4 cups broth + 1 cup water)

1/2

teaspoon

fine salt, and more to taste

Freshly ground black pepper to taste

1-2

tablespoons

freshly squeezed lemon juice, as desired

4-5

cups

tightly packed chopped spinach, chard, kale, broccoli rabe, or another leafy green
Instructions
Preheat your oven to 400F. Lightly drizzle the garlic heads with olive oil. Wrap each head in foil and roast for 45 minutes, or until the cloves are becoming caramelized and the garlic is very fragrant.

Heat the olive oil in a large pot over medium heat. Add the onion. Cook for 5-7 minutes, stirring often, or until the onion is tender and clear. Add the chickpeas, broth (or broth + water), salt, and pepper. 

Transfer the chickpeas and broth to a powerful blender. Squeeze the roasted garlic cloves from both heads into the blender, too. Blend on high till the mixture is very smooth, taking precaution with spattering (the soup will be very hot). You can do this in batches if your blender is on the small side. You can also use an immersion blender.

Transfer the pureed soup back to the pot and bring to a simmer. Add the greens and cook for another 7-10 minutes, or until the greens are very tender. Stir in the lemon juice. Taste, season as desired, and serve!
Notes
If you like, you can roast the garlic 1-3 days ahead of time and store it in the fridge until you're ready to blend.
When I first made the soup, it was in the middle of a week of seasonal peaks and valleys temperature, sunny days and drizzle. I enjoyed it for many lunches with a hunk of homemade sourdough and a little salad. It felt like the perfect transition meal between winter and spring: still hearty enough to be warming and grounding, thanks to the chickpea base, but the puréed texture, spring greens, and burst of lemon made it feel fresh, too.
I could imagine making it again very soon, as New York continues to ride the customary April weather. And although I love the chickpeas here, I'm also eager to try it with some white beans.
Wishing you an easy transition between seasons this week, and I'll see you back here for the usual roundup on Sunday.
xo
Caramelized Cabbage & Onion Pasta
I'd originally thought of this as being a St. Patrick's Day dish, thanks to the cabbage, but since that day has come and gone I'm just going to file it as another simple, flavorful, internship-inspired dinner idea.
I realized as I was making this caramelized cabbage & onion pasta that I make much more pasta in the summer than in the winter. I guess that's not surprising—pasta lends itself so beautifully to burst fresh tomatoes, zucchini, eggplant, and other summer produce. This dish encouraged me to combine pasta with two vegetables that I don't usually associate with it—onion and cabbage—and I was surprised by how much I loved the results.
The meal is incredibly easy to make. Simply caramelize some onions and cabbage (I started by cooking the onions for five minutes, then added the cabbage and allowed the whole thing to simmer for another ten minutes) and add some vegan bacon if you like. Olive oil is fine for caramelizing, but using a little bit of vegan butter definitely takes the meal to the next level.
While you do that, you cook the pasta, and at the end, you mix it all together. If you like, you can even prepare the onions and cabbage ahead of time, and simply boil the pasta and mix it up when you're ready to eat! I've made this dish twice now, and that's how I batch cooked it the second time I tried it.
The pasta is on the smoky/earthy side, so a little bit of fresh parsley and a tiny splash of vinegar are really nice to help brighten it up. The parsley adds color, too. If parsley isn't your favorite, chives would be excellent, too. And, as I disclaim so often these days, you could easily add another chopped vegetable of choice (like leafy greens) to the mix.
Here's the recipe.
Caramelized Cabbage & Onion Pasta
This simple pasta dish is full of smoky, earthy flavors thanks to paprika, cabbage, onion, and an (optional) few slices of vegan bacon. A perfect winter dish!
Prep Time10 mins
Cook Time15 mins
Total Time25 mins
Ingredients
1

tablespoon

olive oil or vegan butter

1

large yellow onion, thinly sliced

1

small head (or 1/2 large head) green cabbage, shredded (about 4-5 cups)

1

cup

low-sodium vegetable or mushroom broth, plus extra as needed

3-4

slices vegan bacon of choice, chopped (optional)

1/2

teaspoon

smoked paprika (or 1 teaspoon sweet paprika)

8

ounces

pasta of choice

Salt, to taste

Freshly ground black pepper, to taste

Small splash red or white balsamic vinegar, optional and to taste

4

tablespoons

chopped parsley, or as desired
Instructions
Heat the oil or butter in a large, roomy skillet over medium-low heat. Add the onion. Cook, stirring every now and then, for 5-7 minutes, or until the onions are gently browning. Add the cabbage, 1 cup vegetable broth, and vegan bacon if using. Continue cooking the vegetables for 10 minutes, stirring often, or until the onions have darkened and the cabbage is very tender. If the vegetables get at all dry, add a few extra splashes of broth.

While the onions and cabbage caramelize, cook the pasta according to package instructions. 

When the pasta and vegetables are both ready, drain the pasta and add it to the skillet. Once again, if the mixture gets a little dry, add an extra splash of broth. Warm all ingredients through. Taste, and then add salt, pepper, and/or vinegar to your taste. Serve the pasta right away with chopped parsley on top.
I began an oncology rotation on Monday, and I've already learned so much—clinical knowledge and life lessons both. More on that soon, but for now, rest. Have a wonderful evening, friends.
xo