Creamy Vegan Tuscan White Bean Kale Soup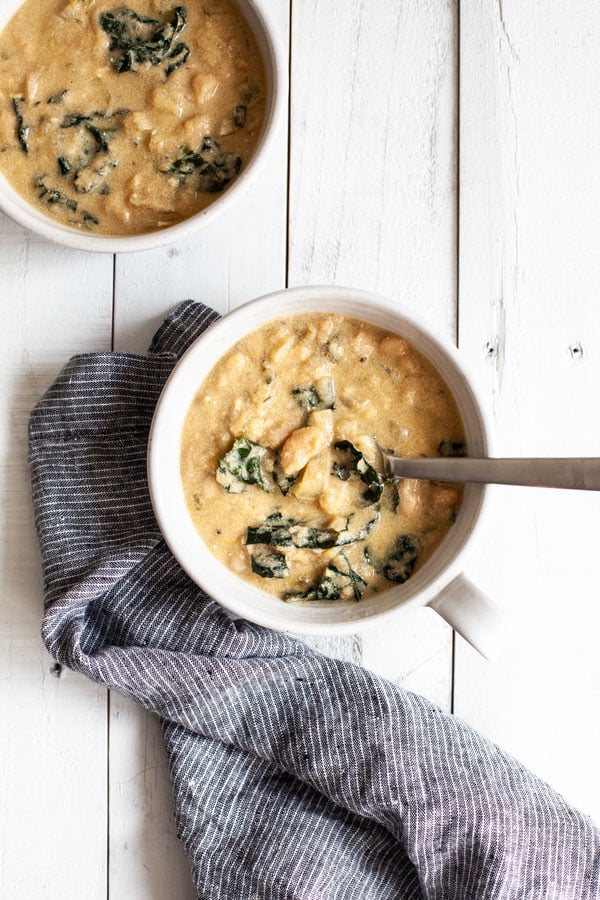 I've never had a hard time encouraging myself to eat soup. I could probably live off of bowls of soup and hunks of bread without many complaints, and I love coming up with new soup recipes, even if many of them start with a recipe I've already made and veer off into new directions.
Lately—since the DI began—soup has become even more of a friend. It's easy to make, and it yields a ton, which means that I can eat it for days during the busy week and freeze even more for weekends when I don't feel like batch cooking as much as usual. This creamy vegan Tuscan white bean kale soup is my latest, cozy, cool-weather favorite.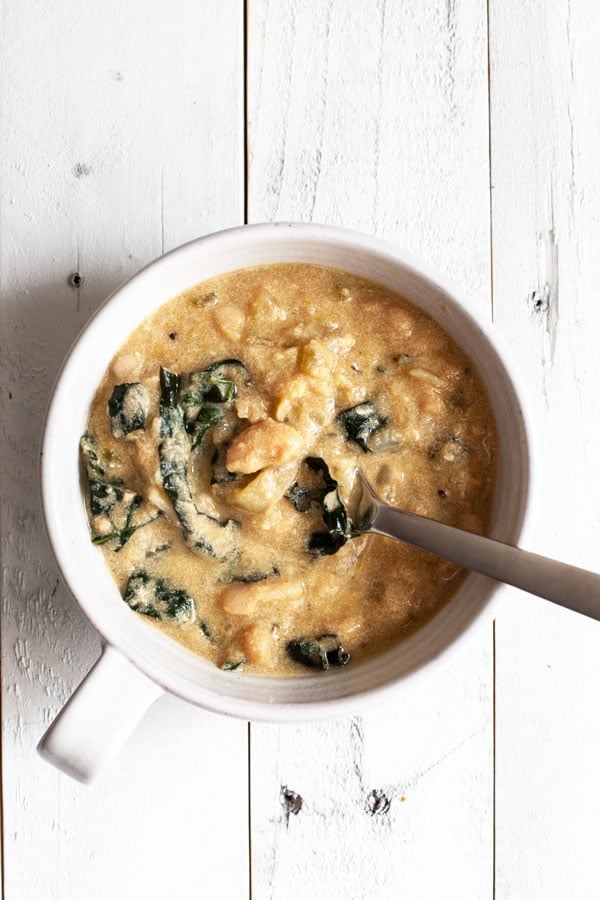 There's no shortage of ways to add creamy texture to vegan soups. You can use whole cashews, cashew cream, a non-dairy milk, or even nut butter—any will create richness. Not all of them, though, add nutritional benefits. Silken tofu is yet another way to create creamy sauces and soups. Unlike many other options, though, it's rich in protein and Omega-3 fatty acids, and it contributes calcium to the dish—in addition to being a good helper in the kitchen!
I've been a fan of Nasoya silken tofu for creating creamy textures for ages. I use it in this recipe, in dressings (like this one), and I've used it in both smoothies and pudding in the past. It comes in a generous, 16-ounce container, which I either use up all at once or blend into cream (just like cashew cream) and freeze. It's a fantastic, all-purpose, nutritive "creamer" for dairy-free cooking.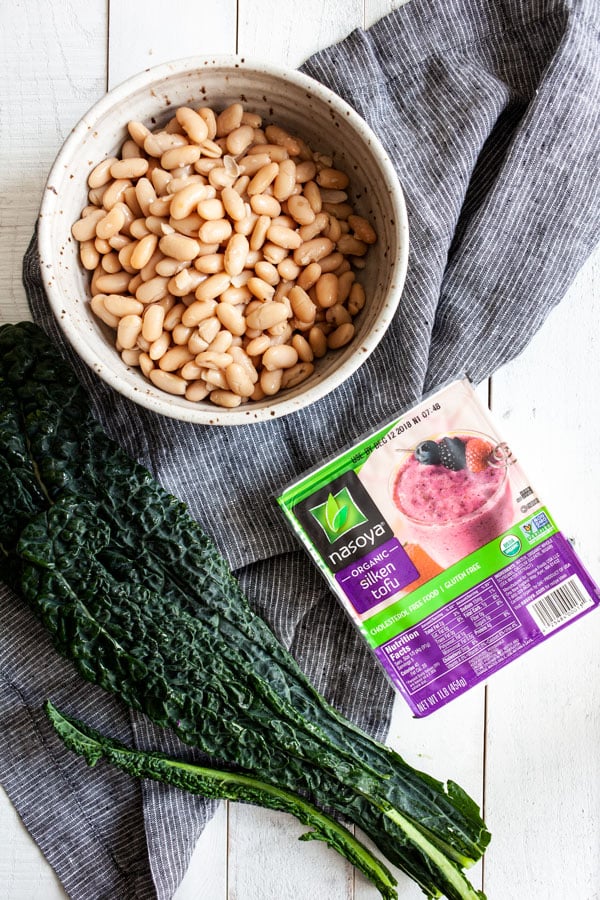 This soup boasts not only the Nasoya silken tofu for protein, but also three cups of cannellini beans, so it's a plant-protein double header. The recipe is simple: sauté onion and celery, add garlic, add beans and herbs. After a little simmering, blend two cups of the soup liquid with silken tofu, add this creamy mixture back to the pot, and add some Tuscan kale (or regular kale). A little more simmering, and the soup is done.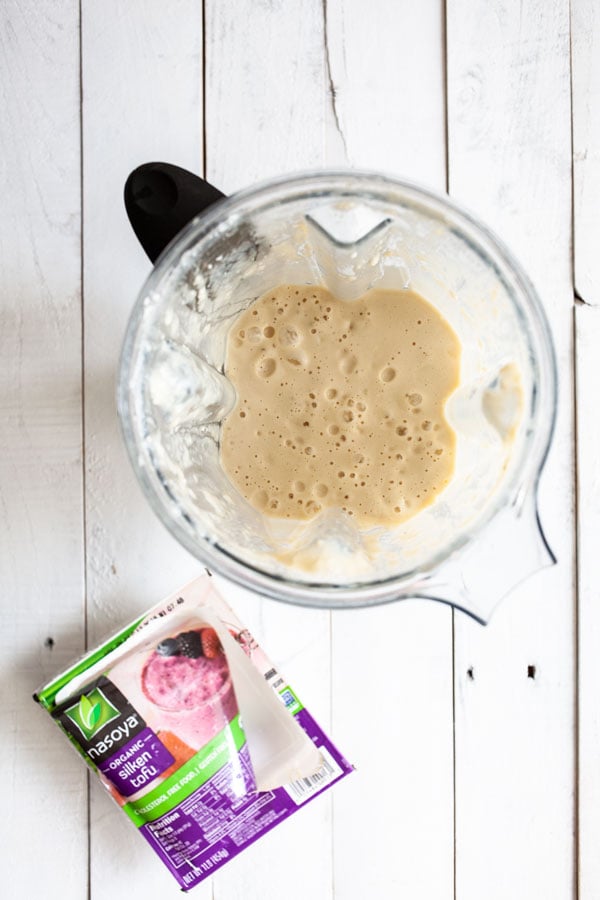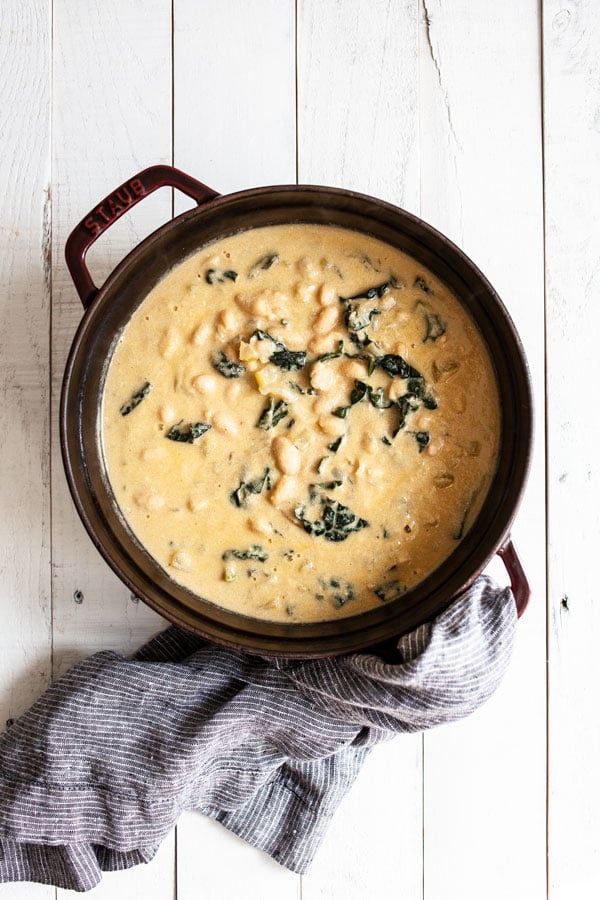 This soup has the advantage of being a crossover between a smooth, thick, blended soup (which I love) and a chunky, textured soup (which I also love). It's a hybrid, with the best of both worlds: a creamy base, but beans and veggies to feast on throughout. The seasoning is simple, and it's just about perfect with a thick slice of bread. Hope you'll like it as much as I do.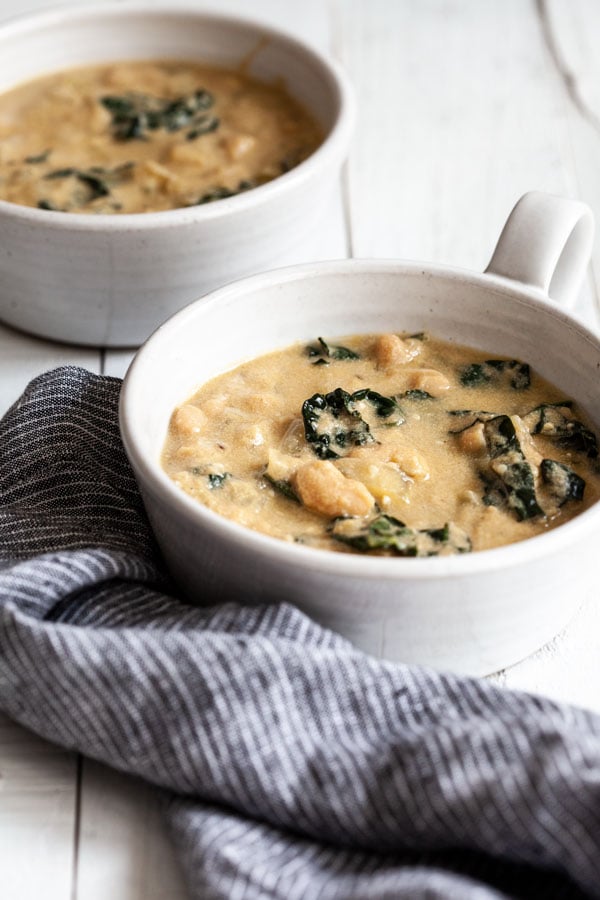 | | | |
| --- | --- | --- |
| Creamy Vegan Tuscan White Bean Kale Soup | | Print |
Recipe type: soup, main dish
Cuisine: vegan, gluten free, tree nut free
Author: Gena Hamshaw
Prep time:
Cook time:
Total time:
Serves: 6 servings
Ingredients
1 tablespoon olive oil
1 large white or yellow onion, chopped
3 stalks celery, chopped
4 large or 6 small cloves garlic, minced
3 cups cooked cannellini beans (2 cans, drained and rinsed)
4 cups low sodium vegetable broth
1 tablespoon chopped fresh rosemary
2 teaspoons fresh thyme
1 teaspoon salt
1 16-ounce container Nasoya Organic Silken Tofu
1 small bunch Tuscan (lacinato) kale, thick stems removed and chopped
2 tablespoons freshly squeezed lemon juice
3 tablespoons vegan parmesan (you can use this recipe, this recipe, or a store-bought version, or you can substitute nutritional yeast)
Freshly ground black pepper to taste
Instructions
Heat the olive oil in a large pot over medium high heat. When the oil is shimmering, add the onion and celery. Cook, stirring occasionally, for 5-8 minutes, or until the onion is soft and clear. Add the garlic and cook another 1-2 minutes, stirring constantly, until the garlic is fragrant.
Add the beans, broth, rosemary, thyme, and salt to the pot. Bring to a boil, then reduce the heat to low. Cover and simmer for 15 minutes. Then, add your silken tofu and 2 cups of the hot soup base to a blender and blend for 1-2 minutes, or until completely smooth. Return this creamy mixture to the pot. Stir in the kale, lemon, and vegan parmesan. Cover and simmer for another 8 minutes. Taste the soup and adjust salt and pepper as needed. Serve!
3.5.3251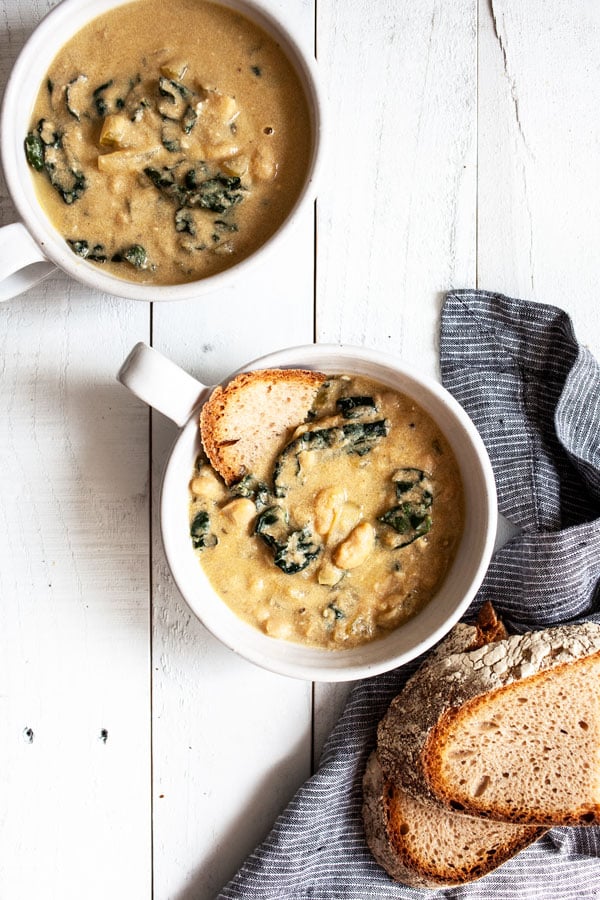 Week two of my clinical rotation is well underway. I'm still getting the hang of things, but comfort food like this is a very good ally. Wishing you a wonderful week, and I'll be back over the weekend with recipes and reads!
xo
This post is sponsored by Nasoya. All opinions are my own, and I love this go-to brand of tofu and other creative soy products! Thanks for your support.
Easy Vegan Sausage Mushroom Marinara Pasta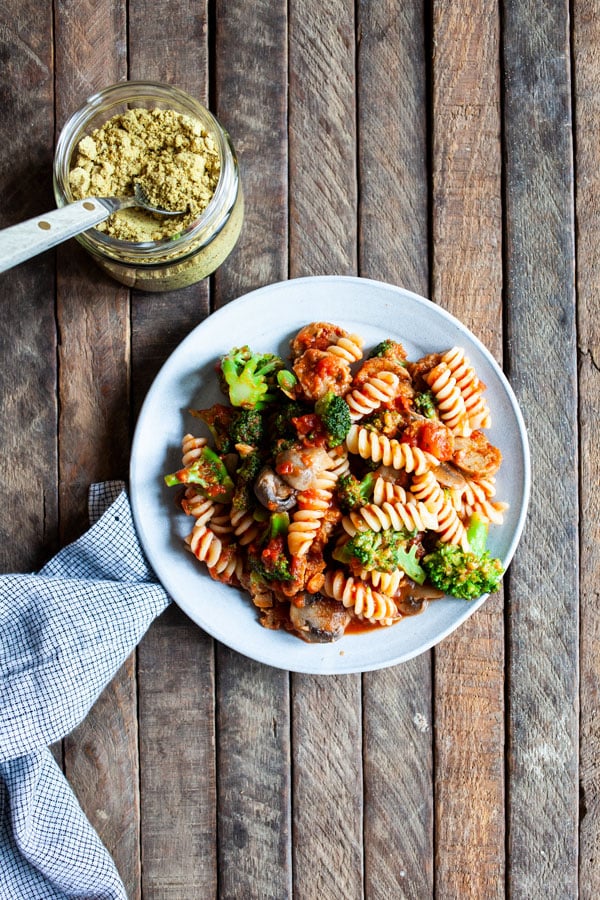 Hi friends!
Sending you into the weekend with one of those meal starter ideas that I keep mentioning this month. This easy vegan sausage mushroom marinara pasta isn't a recipe (and I'm not sure that this share even constitutes a proper blog post!), but it's one of the re-heatable dinners I've made most often for sustenance and comfort food during my DI. On the chance that one of you might come to enjoy it as much as I do, it's worth writing down the process.
This meal definitely gets filed in the "semi-homemade" category. Within that, you're encouraged to use any of the store-bought staples you like: your favorite marinara, your favorite vegan sausage (or you could use crumbled and sautéed tempeh, or cooked lentils), your pasta of choice (I used regular; go ahead and use gluten-free, bean pasta, whole grain—whatever suits you), and your favorite pasta topper. For me, that's this walnut herb parm.
By the time the dish comes together, it's filling, rich in plant-protein, packed with vegetables for nutritional heft, and—I think—pretty tasty for all of its simplicity. Here's how I make it.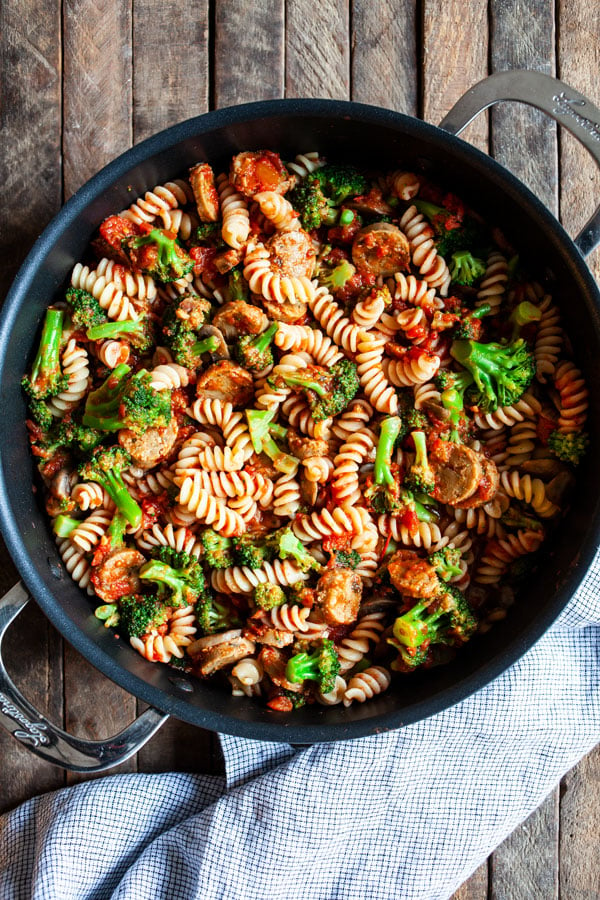 | | | |
| --- | --- | --- |
| Easy Vegan Sausage Mushroom Marinara Pasta | | Print |
Recipe type: main dish
Cuisine: vegan, gluten free option, soy free, no oil option, tree nut free option
Author: Gena Hamshaw
Ingredients
8 ounces pasta of choice
2 teaspoons olive oil (or a few tablespoons vegetable broth)
10 ounces sliced mushrooms (you can use button, portobello, or cremini)
2 vegan sausages of choice (I used Field Roast Italian style), sliced, or 1½ cups vegan beef-style crumbles, tempeh crumbles, or cooked lentils
1 lb bite-sized broccoli florets (or a 1 lb bag of frozen broccoli florets, defrosted according to instructions, which is what I used)
1 25-ounce jar marinara of choice
Vegan parmesan, for topping
Instructions
Bring a large pot of water to a rolling boil. Cook pasta according to package instructions.
While the pasta boils, heat the oil or broth in a large, roomy, deep skillet. Add the mushrooms and sausage slices. Cook, stirring often, for 7-10 minutes, or until the mushrooms have released their juices and are completely tender. Add the broccoli (if fresh) to the skillet, cover, and allow it to steam cook for 3-4 minutes, or until crisp-tender. If using defrosted, add the broccoli to the skillet and heat through.
Add the marinara sauce and pasta to the skillet. Mix everything and heat through. Divide into 4-5 portions and top with vegan parmesan of choice.
3.5.3251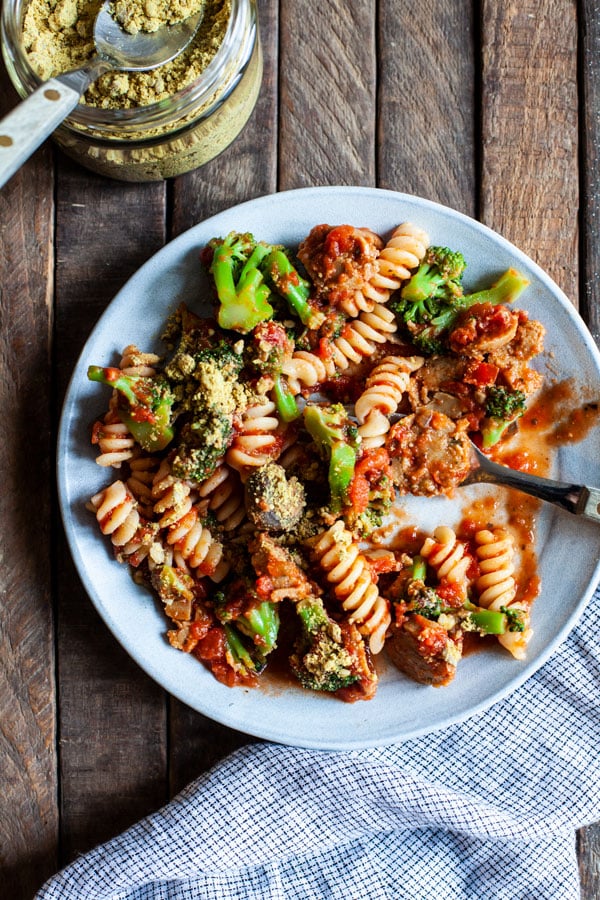 This may well be a lot less inspiring than many of you need, in which case don't worry: I have another easy recipe planned for next week, but it's a little more original than this one!
As I said, for those of you who might love this combination but not necessarily think to throw it together, I hope it's a winning weeknight supper. Thanks for letting me share a low-key favorite with you.
And I'll be back soon, for weekend reading.
xo
Slow Cooker Chipotle Lentils | The Full Helping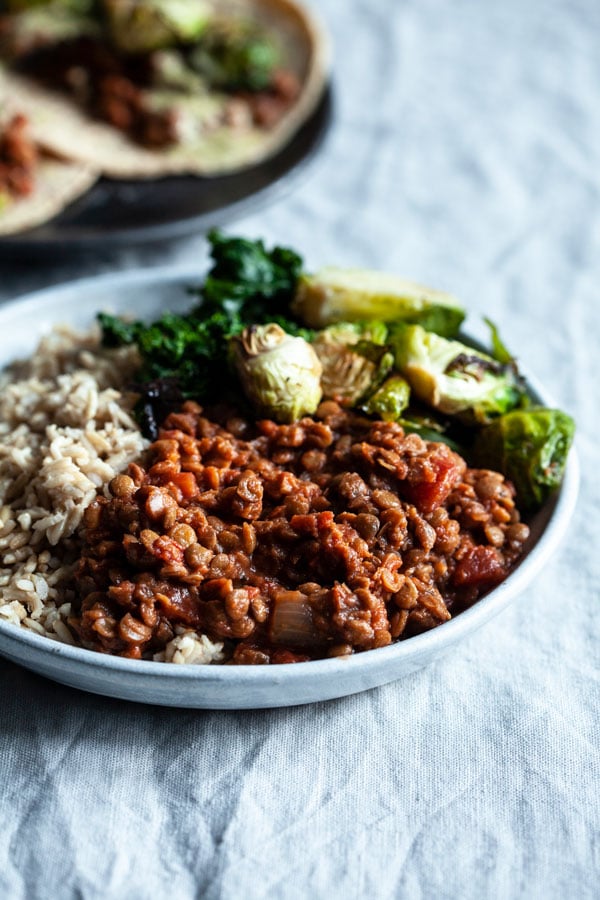 As I mentioned not too long ago, this month of blog posts is dedicated to simple recipes, meal planning, and recipes that aren't really recipes at all: in other words, ways of throwing together ingredients for the sake of quick, tasty, nutritious meals. These slow cooker chipotle lentils are a recipe, but because they're made in the slow cooker, they couldn't be easier.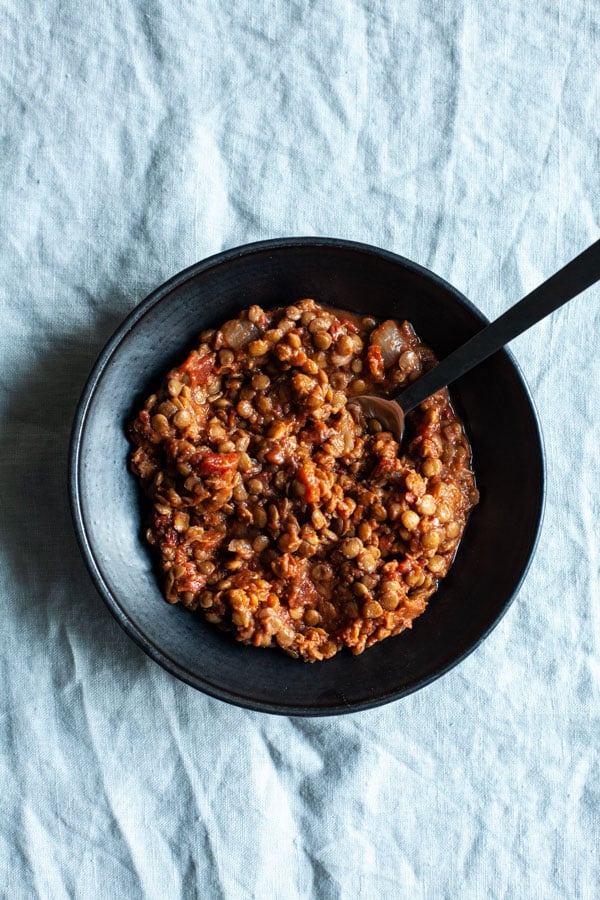 What you do with the lentils? That can absolutely qualify as a non-recipe recipe. I made these over a month ago (I've just been really slow in posting them), and once I had them, I used them in bowls, tacos, on toast, and even tossed them with pasta and some cashew cream to create a quick chili mac.
Of everything I made with the lentils (and with the leftovers, some of which I froze right away, and defrosted in the coming weeks), these quick and easy tacos were my favorite. Lentils, roasted brussels sprouts (steamed would be fine, too), and some of the hemp chimichurri sauce from Power Plates. Easy. Peasy.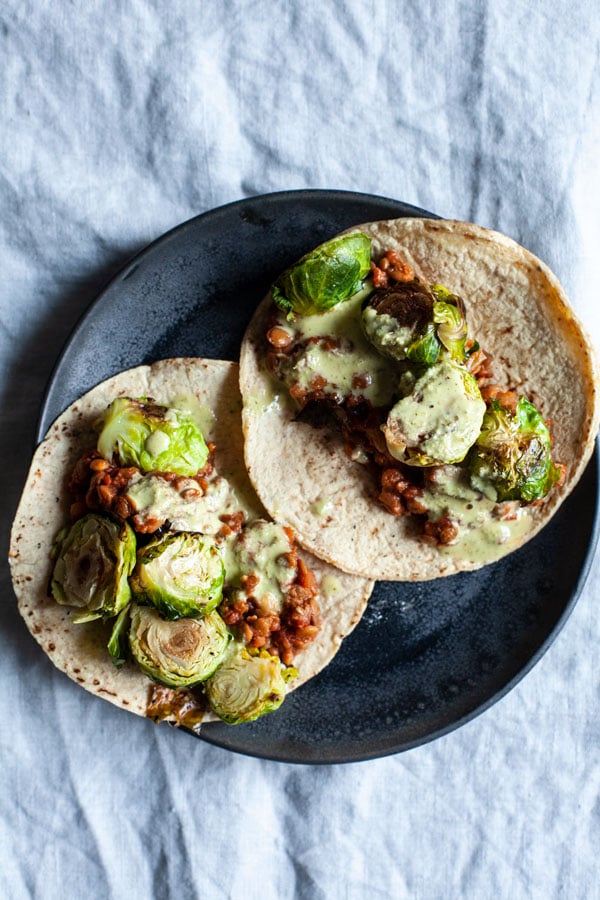 I'm used to adding cabbage slaw or kale to tacos, but I may be a Brussels-sprouts-in-tacos convert! The sprouts are toothsome and hearty, which makes them a good counterpoint to the soft lentils. With that said, you could make something similar with whatever vegetables you've got and would like to use: I think sautéed mushrooms, roasted cauliflower, and any kind of leafy green would be lovely.
Or, if you're not in a taco mood, the lentils work perfectly with any whole grain and green you like. I'm a big fan of the grain + green + bean planning method for super simple vegan meals, and these legumes are a perfectly spicy, flavorful component.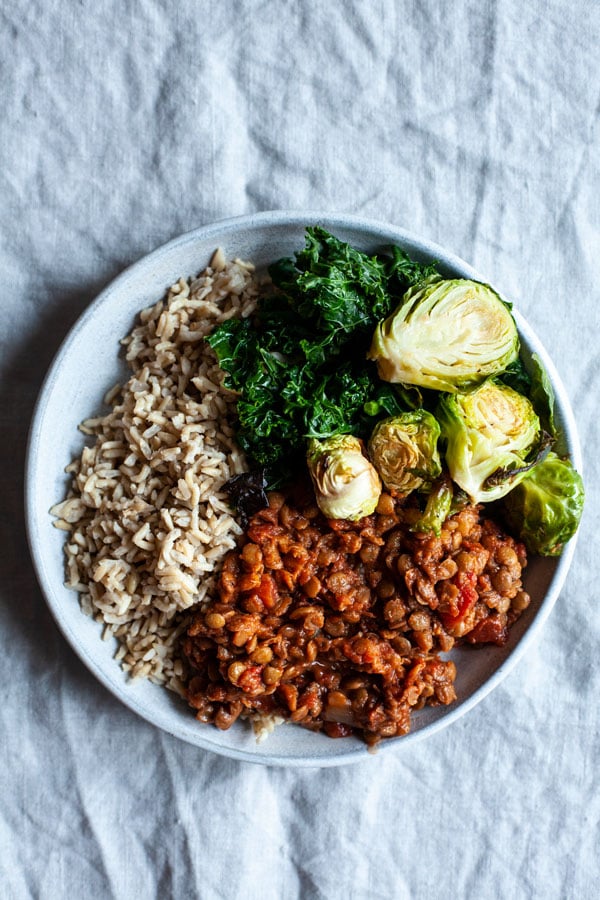 | | | |
| --- | --- | --- |
| Slow Cooker Chipotle Lentils | | Print |
Recipe type: side dish, main dish
Cuisine: vegan, gluten free, soy free, tree nut free, no oil option
Author: Gena Hamshaw
Prep time:
Cook time:
Total time:
Serves: 8-12 servings (recipe can be halved)
Ingredients
1 tablespoon neutral vegetable oil (such as safflower or grapeseed)*
1 large white or yellow onion, chopped
2 stalks celery, chopped
3 cloves garlic, minced
1 28-ounce can fire-roasted, diced tomatoes
¼ cup tomato paste
4 cups water or low-sodium vegetable broth
1 lb brown or green lentils, picked over and rinsed
3 tablespoons chipotle peppers in adobo sauce, chopped (use 2 tablespoons if you prefer less spicy food)
1 teaspoon ground cumin
¾ teaspoon salt, more as needed
2 tablespoons Dijon mustard
1 tablespoon maple syrup or agave syrup (or brown sugar)
1 tablespoon apple cider vinegar
Instructions
For most depth of flavor, begin by heating the oil in a roomy skillet over medium heat. Add the onion and celery. Sauté, stirring occasionally, for 5-7 minutes, or until the onions are gently browning. Add the garlic and sauteé for one minute more. Add this mixture to the slow cooker (or a multi-cooker with a slow cooking function), then add all of the remaining ingredients.
Alternately, add everything but the oil to the slow cooker. Cook on high for 4 hours or low for 7-8 hours. If the lentils are too thick, add extra water to thin them to your liking (I like them to be thick, rather than soupy). Taste and adjust vinegar and salt to taste. Store in an airtight container in the fridge for up to 5 days, or freeze for up to 6 weeks.
3.5.3251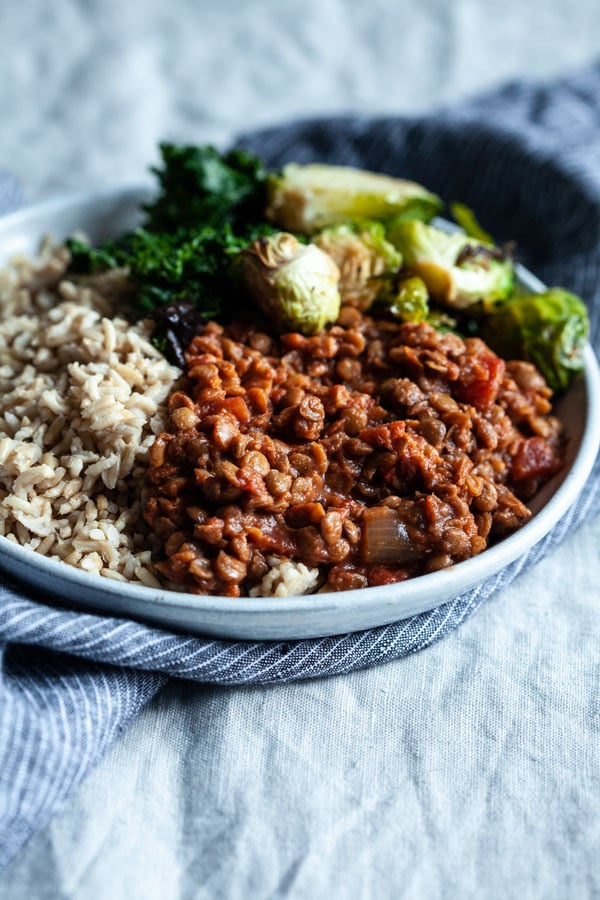 I have a 7 quart slow cooker, so this recipe, like all of my recipes, makes a ton of food. If you have a 2 or 4 quart slow cooker or multi-cooker, feel free to cut the recipe in half! Or put your freezer to good use 😉
Life around here is slow and steady this week. I'm still recovering from a cold, but I'm in a nice place of taking good, mindful, restful care of my body. Sniffles and sleepiness aside, it feels good to move slowly, tune in, and allow myself to truly savor and inhabit the time off. I've got some tasty things planned for next week, including a tasty no-recipe pasta recipe, and a nutritious snack cookie that I can't get enough of these days.
Sending you all love and warmth this week.
xo
Caribbean Black Eyed Pea & Collard Green Curry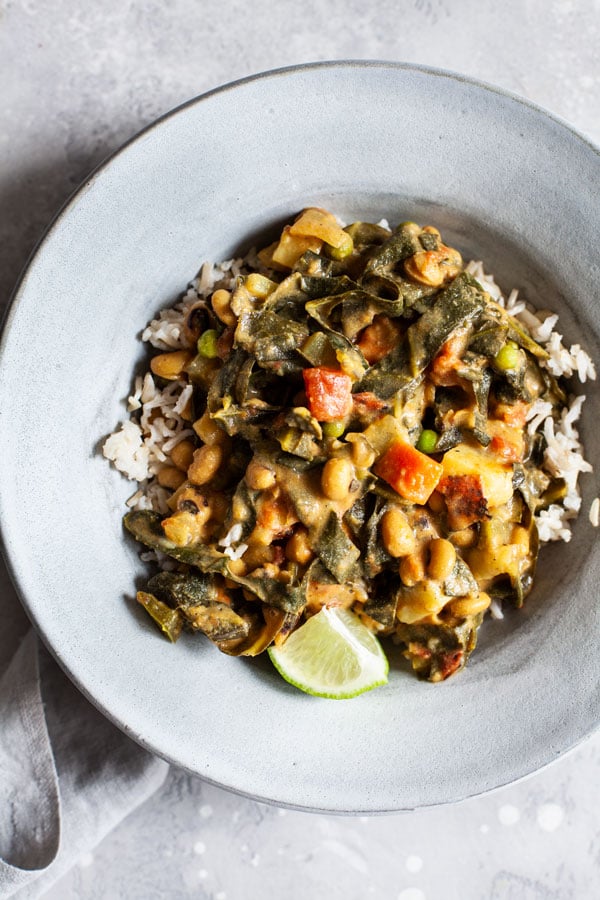 Happy new year, everyone! Hoping that 2019 has gotten off to a gentle start for you all.
As the Eve approached–right after sharing these thoughts about resilience–I found myself feeling a little tender. No amount of resistance to NYE hype stops me from feeling lonely for companionship at this time of year. I started to wonder if maybe my buoyant words had been a stretch.
Then I woke up yesterday, on an unusually warm and winter morning in NYC. I felt keenly aware of how lucky I was to be in the city, facing a new day and even a whole new year. I watched the sunrise–it looked like someone had painted a watercolor outside my window–and took time to reflect on all of the good stuff: family, friendship, connection, words, food. I thought back to some wise words that a close friend had offered me about patience the night before, and to a particularly sweet text exchange I'd had with Ashley. Everything seemed different than it had the night before, which isn't to say that both set of feelings weren't equally OK, or equally true. It felt like resilience in action.
This morning, I got a hilarious comment on my last weekend reading post from a friend and reader who mentioned having a "mini meltdown" over "cornbread technical difficulties." I laughed so hard that I nearly spit out my coffee, thinking back to the many times when cooking glitches have sent me into panic mode. It was such a good reminder that resilience and flexibility are things that many of us have to practice–and that we're all in it together.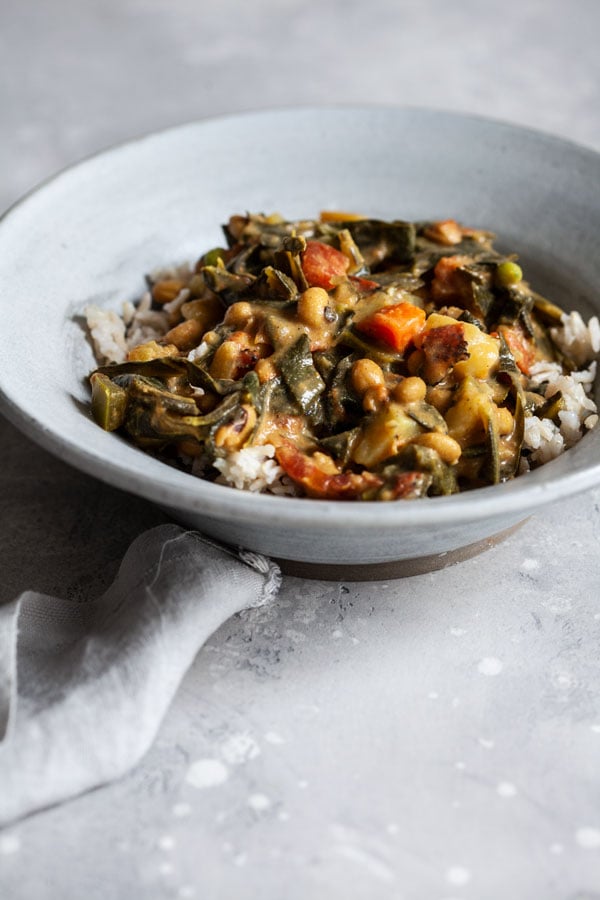 Anyway, moving to the topic of food, this is a recipe that I made over the weekend, so that I'd have it for Jan 1 and beyond (since collards and black-eyed peas are traditional good luck food for a new year, at least in the American South). I wanted to treat the ingredients a little differently this year, so I settled on the idea of a curry. It's a Caribbean inspired curry, which I made with Jamaican curry powder (any curry powder you have is just fine), coconut milk, coriander, and a touch of cinnamon and allspice.
The dish is perfect served over rice, which is how I've been eating it, but like most stew-like food, you could scoop it over any favorite grain, or even serve it over a baked potato (or sweet potato) or with some sort of flatbread. It's flavorful, easy to make more or less hot depending on the type of peppers you used (I used jalapeno) and whether you'd like to add a pinch of cayenne. And it's a one pot dish that freezes well, which, when I recently did an IG poll to see what type of recipe people wanted more of in the new year, was the clear winner. That's good news for me, as it's the type of meal I need most when the DI hours are in full swing!
Here it is.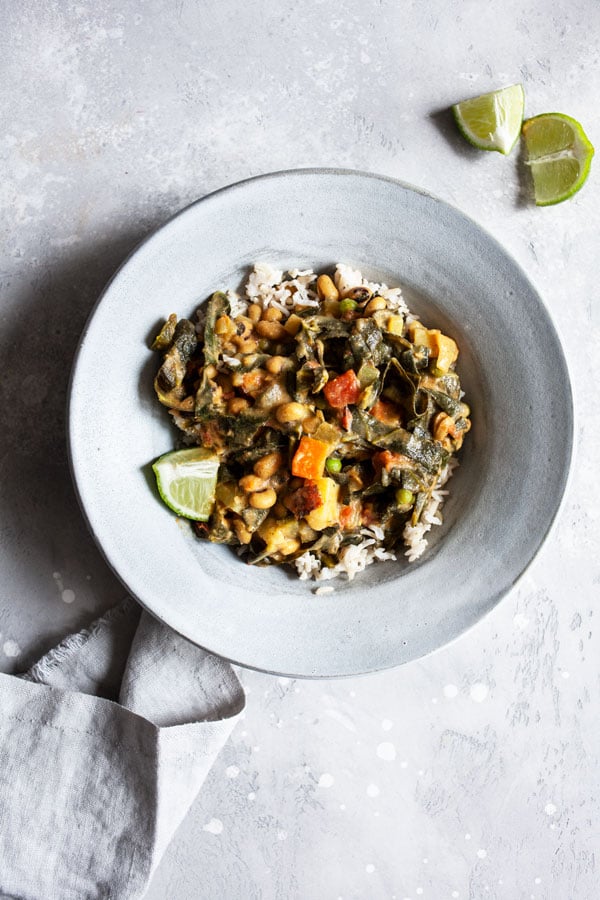 | | | |
| --- | --- | --- |
| Caribbean Black Eyed Pea and Collard Green Curry | | Print |
Recipe type: main dish
Cuisine: gluten free, tree nut free, soy free, no oil option
Author: Gena Hamshaw
Prep time:
Cook time:
Total time:
Serves: 6-8
Ingredients
2 teaspoons neutral vegetable oil (such as safflower or grapeseed)*
1 large white or yellow onion, chopped
2 carrots, peeled and chopped
2 jalapeno peppers, finely chopped (you can use serrano instead, for more heat)
2 cloves garlic, minced
1 tablespoon Jamaican curry (or whatever curry powder you have)
1 teaspoon ground coriander
½ teaspoon ground cinnamon
¼ teaspoon ground allspice
3 cups cooked black-eyed peas (2 cans, drained and rinsed)
1 14.5-ounce can regular or fire roasted, diced tomatoes (substitute 1 large, fresh tomato, chopped)
1 russet potato, peeled and chopped (about 6-7 ounces)
3 cups low-sodium vegetable broth or water
½-3/4 teaspoon salt, or to taste
Pinch of ground cayenne pepper, if desired
1 bunch collard greens, stems removed and sliced into ribbons
1 cup full-fat, canned coconut milk or cashew cream
Fresh lime juice, to taste
Rice, millet, quinoa, or another favorite grain, for serving
Instructions
Heat the oil in a large pot over medium heat. Add the onion, carrots, and peppers. Saute, stirring occasionally, for 5-7 minutes, or until the onions are soft and clear. Add the garlic, curry, coriander, cinnamon, allspice, and a few tablespoons water. Cook, stirring frequently, for another 1-2 minutes, or until the garlic and spices are very fragrant.
Add the black-eyed peas, tomatoes, potato, and broth or water to the pot, along with salt to taste (I used ¾ teaspoon) and cayenne if you'd like. Bring the mixture to a boil. Reduce the heat to low, cover, and simmer for 15 minutes.
Add the coconut milk and collards to the pot. Stir everything well, then re-cover and simmer for another 10 minutes. Taste, add lime juice as desired, and serve over rice or your favorite grain!
Notes
*Substitute a few tablespoons vegetable broth for a no oil version.
3.5.3251
It's been so nice to start 2019 with this flavorful meal (a few servings of which are already in the freezer, where they'll keep for up to six weeks). I haven't been putting much pressure on myself to cook since my hospital rotation wrapped up, but–maybe unsurprisingly–I've been aching to be in the kitchen, especially since I have more time and more space in which to dream up recipe ideas. Hoping I'll be able to revisit some favorites from Power Plates in the next few weeks, along with other, new meals.
Wishing you a wonderful first week of the year, friends. Till Sunday.
xo