Weekend Reading | The Full Helping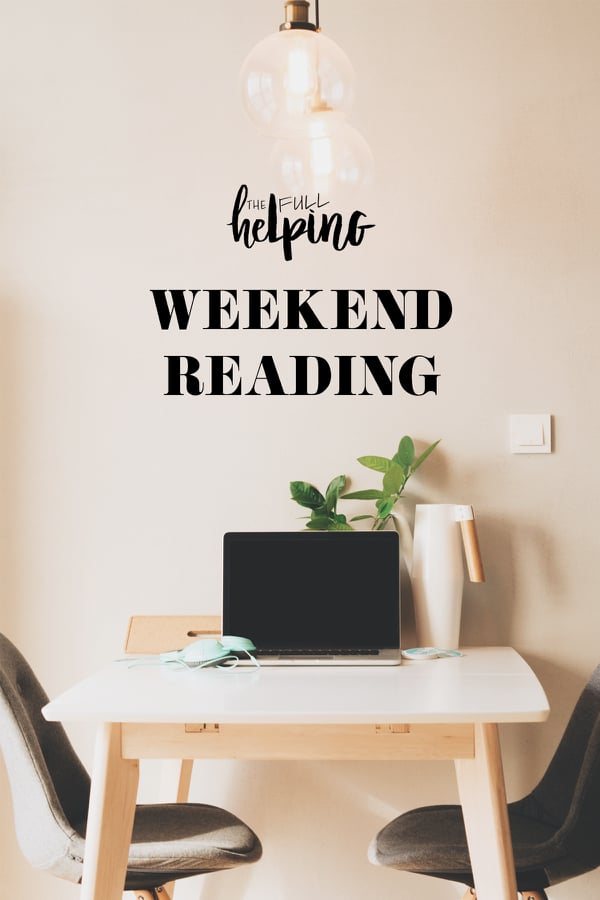 Five or so years ago, I sat in my apartment in DC one late winter evening with my friend Reed. We were surrounded by dirty mugs (we'd actually taken pictures at the number of coffee cups in my dishwasher as a joke, to document how hyper-caffeinated we were), index cards, papers. It was a chaotic scene, and I was adding to the chaos with something resembling a meltdown over not being able to figure out a complicated genetics problem.
We were approaching the second exam in our genetics class. The first exam had taken us all by surprise: at that point I was used to getting Cs on post-bacc tests, but most of my peers weren't, and a hush had fallen over the class when that test was handed back. Few had done well, and some of us had done worse than others.
For me, it wasn't the single grade so much as the prolonged discouragement of feeling as though I couldn't catch a break in the program. And I hated the thought of spending yet another semester with the heavy burden of having to redeem myself on the next test, or else end up with a grade on my transcript that I wouldn't be able to recover from.
Reed and I had been doing our best to prepare ourselves for the test. He was as calm and organized as ever; he'd shown up at my place with an action plan and a stack of neat, detailed flash cards. It was no surprise: Reed was a supernaturally talented student, and in fact, seemed supernaturally talented at everything. He ran weekend marathons and practiced jiu-jitsu at the blackbelt level while achieving near-perfect grades in our program and continuing to work in finance nearly full time. It wasn't even possible to resent all of the talent and ability, because on top of everything he was a really nice person—and an unusually patient study buddy.
Me? I wasn't handling our study session so well. After my fourth or fifth crack at a tricky problem, I was begging Reed to simply give me the answer. "Just tell me how to do it," I moaned. "Once I know, I'll get to the answer and I'll show you."
Reed shook his head firmly. "You have to struggle a little so that you can get to the answer," he said. "You won't figure it out until you do."
I kept trying to convince him that I wasn't game for this struggle, and he kept refusing to buy it. "I'm going to stay here until you work your way through it," he said. (It was past midnight).
I was tired and irritated to be getting this kind of a push from a friend, but Reed's insistence worked. An hour later, I'd solved the problem and explained it to him in my own language. It wasn't a test or a tutoring session, but it was probably the first real learning breakthrough of my post-bacc, and there were more that followed.
I think about Reed's words each time I'm feeling spectacularly ill-equipped to do something. I think about how sure he was that, if I spent enough time with it, I'd figure the problem out. The greatest challenge of my post-bacc wasn't the difficulty of the classes, or the workload, or even the sleep deprivation. It was my belief, which seemed to get affirmed with every poor grade, that I just didn't have the brain for science. Reed believed otherwise, and his faith softened my own lack of confidence.
This week, I began my second clinical rotation. It's at a large hospital, and I'm working in acute care. It's a much faster pace and a more stressful environment than my first rotation. I've learned how to apply clinical judgment in the last seven weeks, but now I'm facing cases that are a lot more medically complex than most of the ones I've seen. It's daunting, and while I haven't completed an assessment on my own yet, I'm wondering if I have the critical thinking skills to do it.
I'm glancing back to that night with Reed and reminding myself that discouragement and self-doubt can be much bigger obstacles than lack of knowledge or practice. I'm keeping in mind that every single dietitian goes through this experience; my current preceptors did it, too. I have to imagine that no one feels prepared, or able, at the start. Interns do their best, and preceptors are there to guide, support and teach them along the way.
At my last rotation, one of my preceptors noted that I was still hesitant to address labs in my assessments. She was right: I still had the feeling that I wasn't ready for the more medical parts of dietetic practice, interpreting bloodwork included. "Take a crack at it," she said. She wasn't being flip; she went on to explain that she'd correct me and explain my mistakes if necessary. But she wanted me to try.
She wanted this, I know, because it was her job to help me become more confident. And confidence, at least in these types of settings, isn't a have or a have not. It's acquired through practice, through trying and sometimes failing and then trying some more. My preceptor gave me the same push that Reed gave me five years ago.
Today, at the start of week 2, I'm giving myself that push. I don't expect to wield perfect clinical judgment this week, but I'll challenge myself to keep trying. That same, excellent preceptor at my last rotation said to me at the beginning, "what we're really looking for is growth." Growth I can handle; growth I can do.
Wishing you all a great Sunday, and a good start to the week. I've got a cozy new soup recipe headed your way in a couple days. For now, here are some links I've been enjoying.
Recipes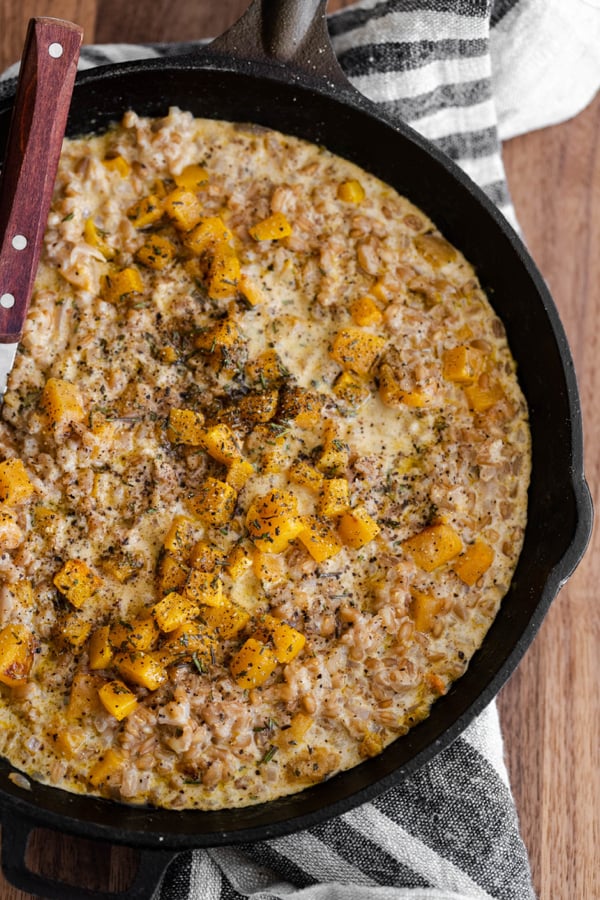 I cook with cashew cream all the time, but walnut cream? What a great idea (and great looking risotto) from my friend Erin!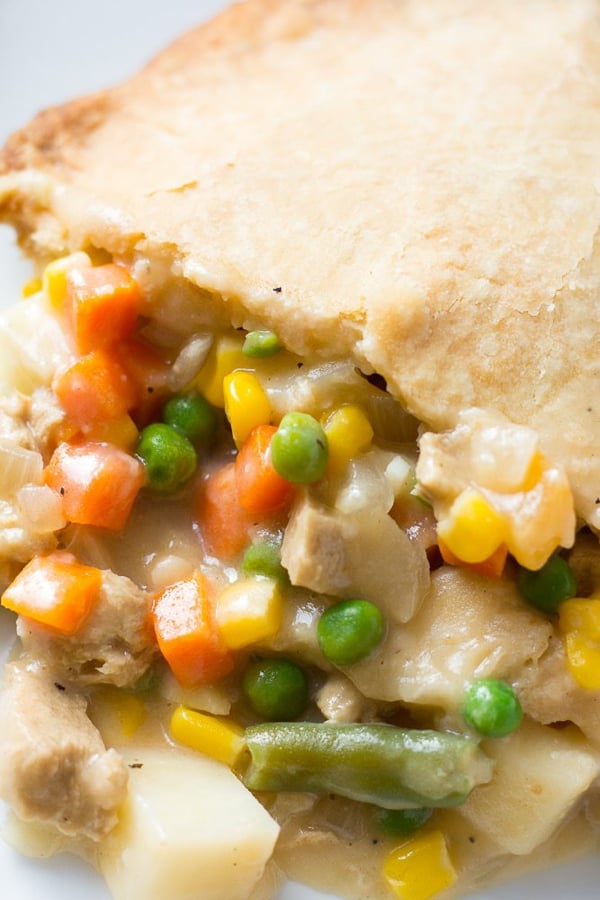 Has anyone else started collecting Thanksgiving recipes yet? This vegan pot pie is going on my list!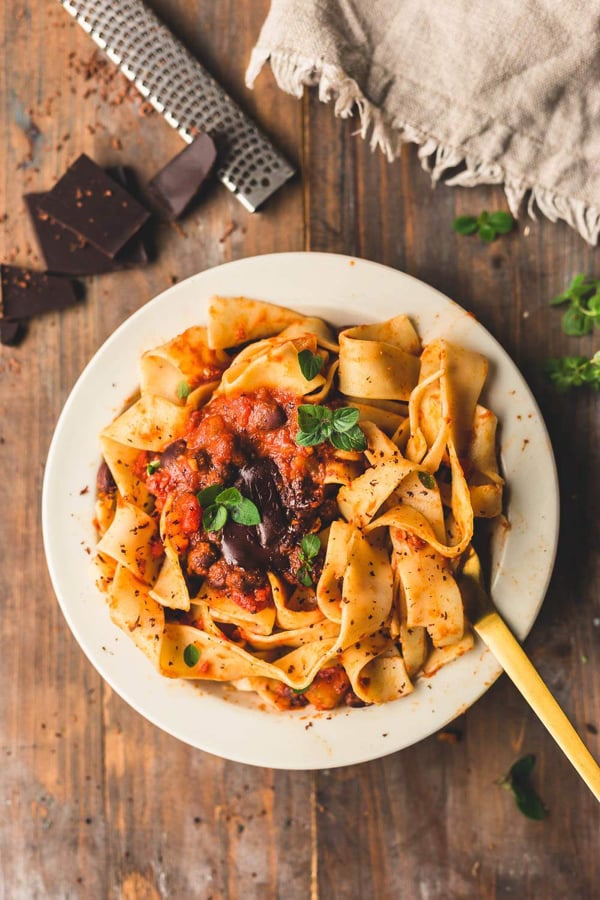 I love the idea of a mole pasta, and this particular one looks so cozy and filling. Bonus points for plant protein from black beans.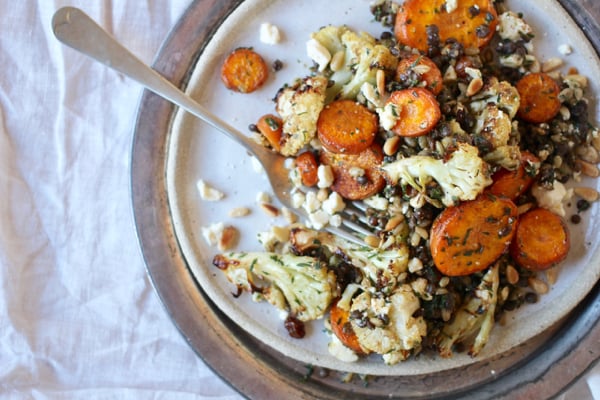 Can't wait to try this wintery cauliflower, black lentil and carrot salad with some of my tofu feta.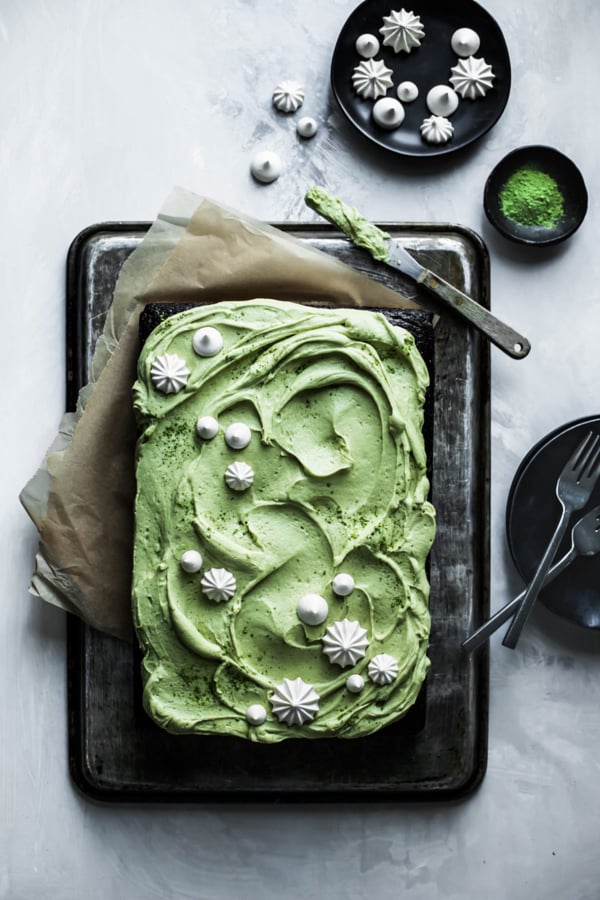 Finally, a stunning dessert: vegan black sesame chocolate cake with matcha cream cheese frosting. I'm not a huge matcha person, but this would be a welcome way to enjoy it 😉
Reads
1. I enjoyed this touching essay by a pediatrician, published in the New York Times, about wearing a hijab around family to help mask the side effects of chemotherapy.
2. An interesting new study, conducted by a doctoral candidate in the UK, associates vegan diet with improved mental and physical health for Type 2 Diabetes patients.
3. I'm sort of fascinated by flow states, and this article touches upon their relationship with the perception of time.
4. Amanda Mull's hard-hitting, insightful perspective on the language and branding of new health/nutrition apps, home testing kits, and other technologies. Her take, which I think is compelling, is that the emphasis that these technologies place on "optimization" echoes and potentially reinforces the perfectionism and rule-bound thinking seen in eating disorders.
5. I'm not a mother, but having had my own brushes with mental illness, I'm really grateful to Alissa Ambrose for this essay on post-partum depression.
Till soon,
xo
Weekend Reading | The Full Helping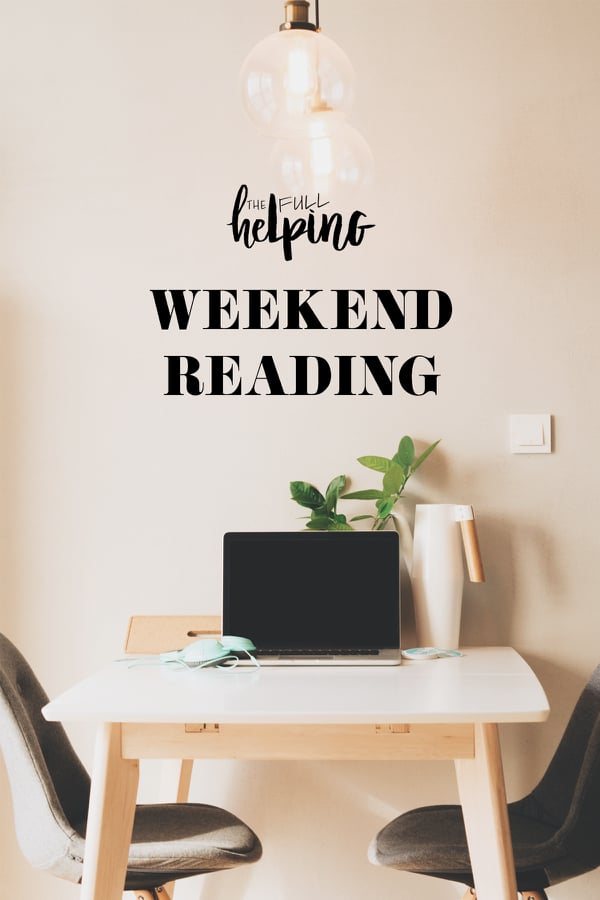 Happy St. Patrick's Day! I probably should have thought to post something festive before today, but instead it's coming to you in a day or two. It's a very tasty cabbage and pasta recipe, which I hope you'll like.
I wrapped up another community rotation of my internship this past week. This rotation included a lot of group education and a little bit of counseling. In both contexts, I was touched, as I always am, to be reminded of how deeply people care about nutrition and what they eat.
It's funny: in my nutrition grad program, we received so much guidance on motivating people and helping them to overcome their ambivalence. Motivational interviewing is virtually the only counseling technique we were taught, which I thought was a disservice. I understand why this was the way it was: our program was geared toward group education, rather than individual counseling, and one of the assumptions made was that we'd be working with groups of people who weren't entirely sold on getting nutrition guidance in the first place–for example, those who have been referred to a dietitian by a primary care provider.
The relentless focus on motivation and "rolling with resistance" always struck me as limited, because my overwhelming experience has been that people are interested in food and strongly motivated to eat better. For a while I wondered if my experience was intrinsically limited by the population of folks I've crossed paths with as a nutritionist, but now that I'm more than halfway into my internship, I've only seen more proof of how much people care and how motivated they are.
From what I can tell, what stands in the way of meaningful change isn't resistance or ambivalence so much as circumstance. It's hard—really hard—to change one's eating habits even when circumstances are working in one's favor. It's even harder in the face of life's many difficulties, including financial hardship, stress, mental illness, family obligations, time constraints, and so on. Even with strong motivation in place, life can and does get in the way.
This isn't to say that incredible dietary transformations aren't possible even when circumstance is stacked up against it, nor to suggest that all nutrition patients and clients are strongly motivated. I guess I'm just struck by often people's desire for change shines through to me.
I've seen so many examples in the last week alone, from the patient who broke into tears as she told me about a recent osteoporosis diagnosis (and her confusion about what to eat for bone health) to the patient in her early 90s who explained to me with pride his efforts to cook more vegetarian meals. None of my patients this year have lacked barriers to healthful eating. In spite of that, they care, and they're doing their best.
This all makes me think about an article I read a few weeks ago, which makes important points about the way we construct and label laziness. I'm linking to it in my reads today. It also reminds me to be compassionate to myself when things stand in the way of what I'd like to do. My mind's refrain is always "I could have done more," but it's often the case that I actually couldn't have, because circumstances (fatigue, scarcity of time, being distracted by something more urgent) stood in the way. I wanted to do more, which is fine to acknowledge, but it's different.
Wishing you a peaceful Sunday, with full recognition that you're doing your best. We all are. Here are some recipes and reads.
Recipes
Lauren's split pea soup with cheesy sage dumplings is the definition of comfort food!
I can't get over how authentic Anastasia's vegan tofu benedict looks.
I love the texture and color contrast of Stephanie's smashed chimichurri potatoes.
A perfect weeknight supper recipe for creamy, peanutty noodles and mushrooms.
Finally, how adorable are these bunny-shaped vegan Easter rolls?!
Reads
1. Recent research has called into question the idea that eggs raise blood cholesterol, but a new study affirms the case for dietary moderation.
2. I love variety, but I also know the pleasures of a tried-and-true meal. I smiled to read this article on people who eat the same thing every day.
3. Edith Zimmerman grapples with the awareness that happiness is fleeting.
4. This article about California's wild flower superbloom brought a smile to my face.
5. Finally, Devon Price on why laziness doesn't exist.
Much love to you this evening, friends. A veggie-packed pasta recipe is coming your way in a day or two.
xo
Late Weekend Reading 3.11.19 | The Full Helping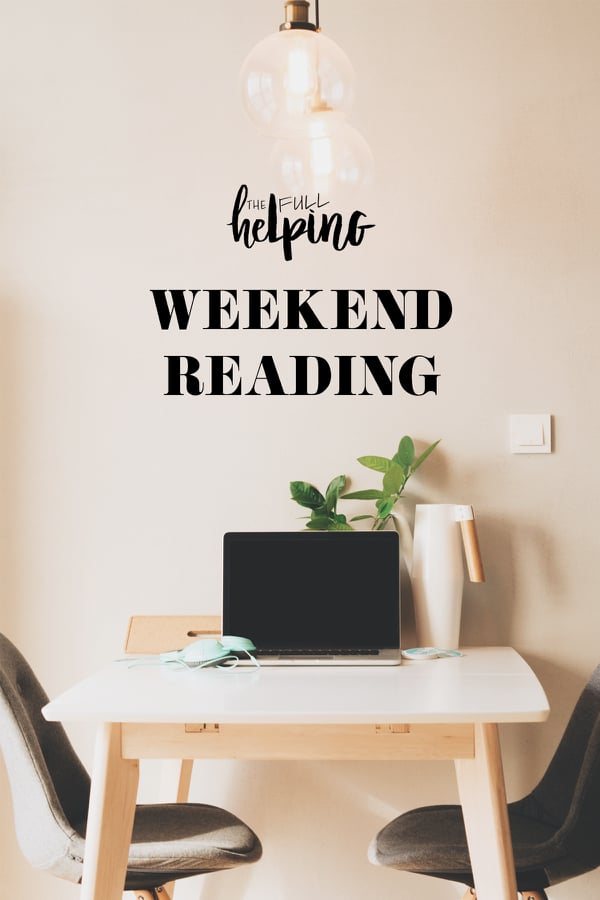 My pattern for the last few weeks has been to feel extremely optimistic about my productivity level on Friday night, when the weekend begins, and completely overwhelmed by midday Sunday. I was so behind on so many things yesterday that I decided to save this blog post for my lunch break today, and I'm glad I did. It feels good to write with a little peace and clarity, even if it's later than I hoped.
It's no secret that Melody Beattie is one of my favorite authors. I've mentioned various books and quotations of hers so many times on this blog that I fear I'm starting to sound like a fangirl (but maybe I am?). I follow Melody on Instagram, too, and she recently posted a quotation that stuck with me:
Work at learning to have fun. Apply yourself with dedication to learning enjoyment. Work as hard at learning to have fun as you did at feeling miserable.
My first reaction to this quote was resistance. It felt a little harsh to me, the idea that people work at being unhappy. But in the few weeks since I first read it, the quote keeps coming back to me. And my inner experience has actually pointed to ways in which it's truthful and relevant.
I don't think I work at being miserable, but I do think that I tend to give painful or frightening experiences disproportionate power in my own narrative. I often assume that the "bad" things that have happened are more likely to happen again than good ones. I dwell a little too much on hurts, not enough on joys. And I've noticed that, when I'm in a new situation in which many outcomes are yet possible, I often tell myself that the one I'd least like to happen is the one that's coming.
I've spent a lot of time trying to challenge this kind of thinking, but it's not easy. A lot of it is learned, picked up long before I could be conscious of the fact that other attitudes are possible. As my therapist pointed out to me a while ago, there's no easy road map for changing a lens we've been seeing through for as long as we can remember.
Time and patience, though, can work their magic in small, gradual ways. In the last few months, I've invited myself to give equal weight to everything I feel and experience. This doesn't mean denying or disavowing the tough stuff, but rather resisting the urge to dwell on it–or to gloss over what's hopeful.
One example of this is my spell of body dysmorphia in September. In the past, I might have been easily thrown off kilter by it, or spent a lot of time obsessing over what it meant. Instead, I told myself that it was like bad weather passing through and encouraged myself to ride it out. When I wrote about it during NEDA week two weeks ago I was struck by how much it already felt like a distant memory. I was conscious of the fact that it happened and curious about why it happened, but I didn't allow the recollection of it to eclipse the many moments of feelings strong and solid in recovery that I've had this year, too.
The other example is a recent visit from loneliness and longing for partnership. My desire to share my life with someone is a constant, but a month or so ago I went through a few weeks of feeling that desire with particular poignancy. In the past, this too might have been something I dwelt on or used as a starting point for all sorts of projections.
Instead, I wrote about it here, which felt like a release. I let myself feel all of the things—frustrated, lonely, mad—and then I invited myself to let the feelings go, so that I could feel other things as well. A month or so later, I feel more at peace in my space and with my life as it is. I'm not minimizing how real my feelings were when I sat down to blog about them, only acknowledging that a change in feelings is real and possible, too. And it can happen quickly–from week to week, even.
I'm not sure if this is what Beattie means when she talks about working at having fun, but I think it's connected. I tend to assume that happiness gets sprinkled onto life experience like pixie dust from time to time. And I've had moments like that: moments so unexpectedly sweet that they feel like an act of grace. But the older I get, the more I see that happiness can be consciously cultivated, too. This involves a willingness to let go of suffering when the time is right, to not regard pain as being any more sticky or powerful than pleasure. It's all part of life, all worthy of attention and acknowledgment. And it all demands a little "work" sometimes.
I'm wishing you a week that makes space for everything: gifts and the struggles, laughter and sadness, pain and pleasure. Each of them just passing through. Here are some recipes and reads.
Recipes
First up, a delightfully simple broccolini side with lemon caper sauce.
A mouthwatering vegan BBQ tempeh burrito. I plan to make all of it, but the tempeh crumbles alone would be a great meal prep staple.
This wintery curried potato, cauliflower and lentil salad has my name on it.
I love the looks of these easy chickpea fritters (and the bowl they're served in).
It's been ages since I made my own seitan, but the universe keeps sending me hints that it's time to start doing that again. This vegan corned beef recipe, which can be made in the slow cooker, is my latest reminder.
Reads
1. A really interesting new review study links low-carb diets to greater risk of atrial fibrillation. Some of the suspected mechanisms for this pattern are reduced electrolyte intake, dehydration, and increased inflammatory response.
2. Jason Saltzman, the successful CEO of Alley, opens up in Entrepreneur about his experience with anxiety. I always love it when this conversation gets attention, and I was particularly struck by Jason's contribution because I don't often read about mental health in the business/entrepreneurship space.
3. On a similar note, CNN published a powerful profile of tennis pioneer Julie Heldman and her experience with bipolar depression. Heldman is able to reflect on her childhood and her experience with mental illness with incredible clarity and peace.
4. It's standard advice not to share too much personal information at work, but does opening up ever bring colleagues closer together? Quartz reports on situations when personal disclosure, especially when it comes to stigmatized identities, may have an overall positive impact on professional culture.
5. Finally, and so sadly: there's only one wild, free-roaming elephant left in the Knysna forest in South Africa.
Alright, friends. Happy Monday, and I'll be back later this week with an easy baked bulgur and chickpea recipe.
xo
Weekend Pause, 3.3.19 | The Full Helping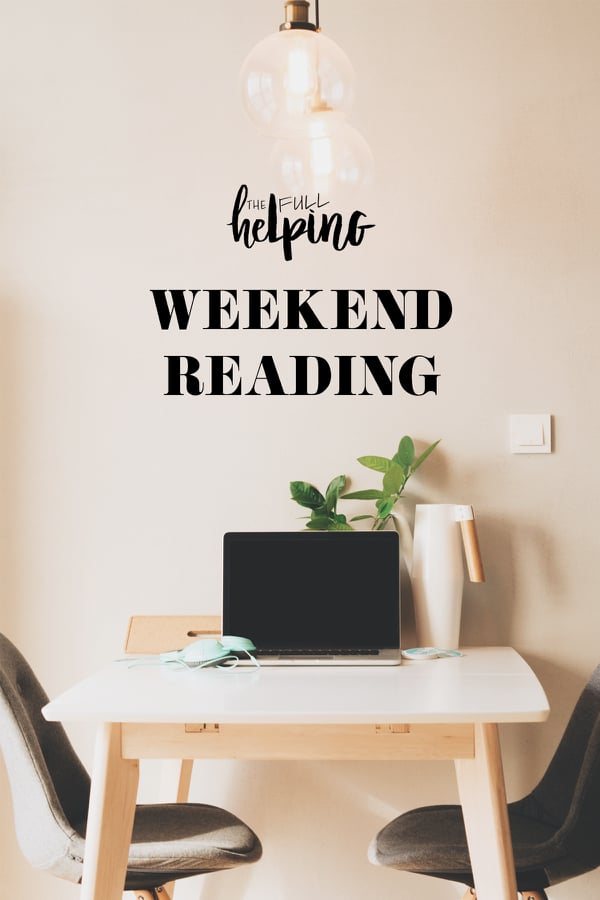 Hi friends! I'm a little short on words after NEDA week and pretty tired besides (I started a new rotation for my dietetic internship this week), so I'm taking a Sunday afternoon pause today.
I want to thank you all from the bottom of my heart for your responses to the last few posts, here on the blog, on Instagram, and over email. It takes courage to share, and this conversation is enriched by every new voice.
Back to business as usual, I'll be posting bright and early tomorrow a simple recipe for ginger baked apples that have been making my winter oatmeal bowls extra special. Till then, have a restful evening.
xo