Weekend Reading | The Full Helping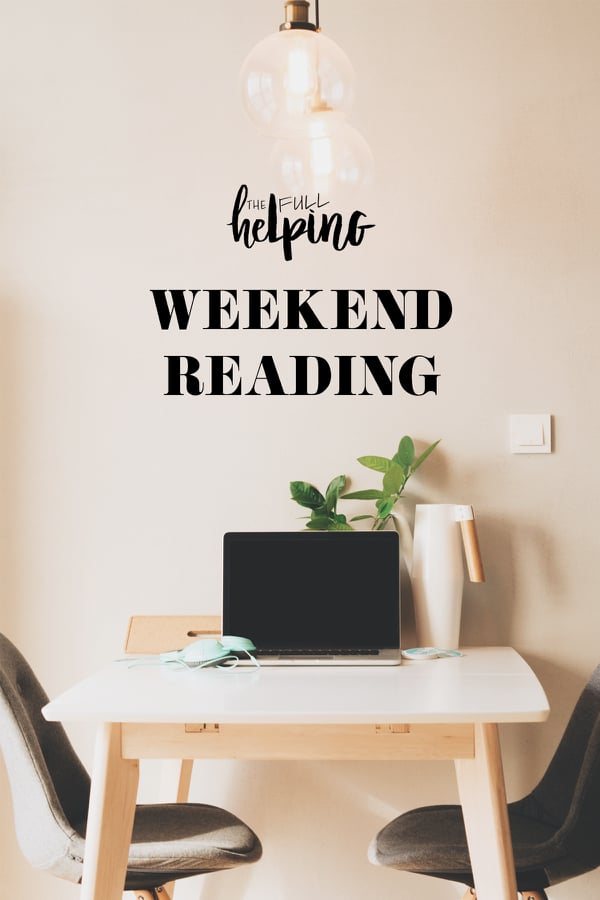 I'm sending this weekend reading out into the world from a hectic Sunday, which also happens to be an underslept Sunday. The combination of those two things means that I'm short on words, but last weekend's post—which wasn't short on words—did leave me with some follow up thoughts.
Two of them aren't my thoughts. They're impressions and observations that readers were kind and good enough to share with me. Libby wrote,
I don't know that we are ever finished with anything. We have growth spurts and setbacks, circle back to something. I think many of us eventually get to a point where some old stuff just can't hurt us anymore. We won't let it. And the part that is heartening and reassuring is that we acquire ways of solving problems and dealing with things along the way so that when we find ourselves back in a bad situation that we thought we conquered, we have new ways of dealing with old problems.
What an honest, humble, and truthful expression of what it means to keep doing our work, recognizing that things may feel cyclical but they never really are. We come back to our stuff with a new perspective, or a part of us becomes tough enough that things that might have felt devastating in the past are less so. Libby's words made me think of a favorite Pema Chödrön quotation (which I'm sure I've shared before, so forgive the reiteration):
We think that the point is to pass the test or overcome the problem, but the truth is that things don't really get solved. They come together and they fall apart. Then they come together again and fall apart again. It's just like that. The healing comes from letting there be room for all of this to happen: room for grief, for relief, for misery, for joy.
Of ED recovery in particular, Rebecca wrote,
For me, the most difficult — but also the most enlightening — part of the process of 'recovery' and 'wellness' has been coming to the understanding that, in fact, recovery and wellness sometimes do involve doing exactly what you describe: putting one foot in front of the other despite the struggle. It's natural to want not to struggle, but it's actually NOT natural NOT to struggle.
So much truth here, too. The further I move into recovery, the more I reckon with how workmanlike it can feel at times, the process of waking up and going about the business of being in my body even if the old voices are screaming at me. It's so much less idealized than what I thought my longterm recovery experience would be, but I'm coming to appreciate how much grit it takes to face the everyday when things feel tough. And I can give myself credit for that—the quiet determination to keep on keeping on.
Right now, I'm experiencing for a second time something that I experienced as a post-bacc student. Back then, for the first time in my life, I simply didn't have the energy to restrict. I didn't really have the impulse or desire, either—I was pretty solid in my recovery then. But even if I'd desperately wanted to flirt with cutting back portions or becoming selective about what I would or wouldn't eat, I actually couldn't. Too much was at stake, and too much was being asked of me, for me to drain my own reserves of energy.
It's the same way now. Even if love of eating didn't keep my feet planted in recovery, the DI is demanding enough that being cavalier about nourishment isn't an option. I need fuel, and I need food as a source of pleasure and relief, too. I'm accustomed to forgoing "control" of what I eat in the service of healing, but right now, control isn't even an option. It's humbling and unnerving, and it's freeing, too.
Those are my thoughts. And speaking of the DI, it's time to get myself ready for a new week of my work and my studies. Wishing you a good one—and here are the recipes and reads that caught my eye in the last seven days.
Recipes
Who doesn't need a ridiculously versatile, savory sweet autumn tahini sauce?
I'm dying to make Jenn's taco spaghetti for my next comfort food supper.
I love the contrast of tender noodles and super crispy tofu in this noodle satay dish.
These black bean jerk tacos are so simple to make. I can definitely imagine them becoming a breakfast staple for me!
And for dessert, 'tis most definitely the season for a pumpkin spice cupcake.
Reads
1. Good perspective on how our well-intentioned efforts to craft perfectly productive, perfectly full days may keep us from touching the deeper rhythms of human experience.
2. A lovely essay on what poetry can teach physicians.
3. An inspiring profile of a psychiatrist who's trying to implement better mental health care around the world.
4. An important reminder—one that I needed this week—on how instrumental imperfection and error (aka the willingness to be "bad" at something) is to learning any new skill set.
5. Finally, track and field athlete Lauren Fleshman's letter to her younger self has been getting a lot of attention. As soon as I read it, I understood why—so self-compassionate and so encouraging to read.
Happy Sunday, friends. This week, a favorite new, savory make-ahead breakfast option!
xo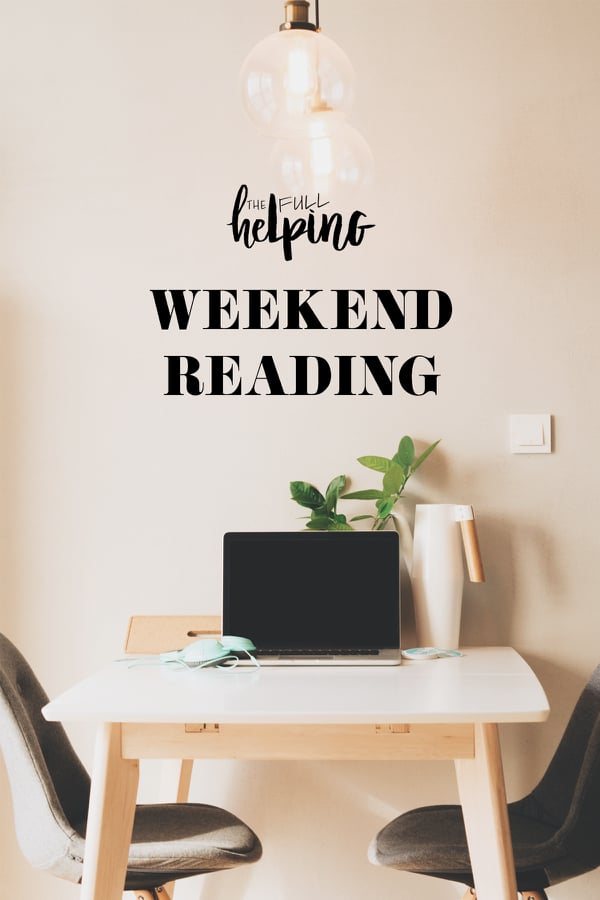 I met on Thursday with a local therapist who specializes in eating disorder treatment. She has a number of vegan patients and wanted to chat with me about some of the nutritional and cultural considerations; I was eager to hear her perspective on treatment as a whole. It was a good conversation, rich and interesting.
Over the course of tea, we kept circling back to the importance of meeting people where they are and offering them full support through the challenges of treatment. My new friend echoed something I've written about often on the blog, which is that leaving behind ED behaviors often unveils underlying issues—personality disorders, compulsions, depression—that the disorder might actually have protected against. In this sense, letting go of the struggle with food is only the first step in a long, complicated process of self-exploration.
No matter how many times I say this, write about it, acknowledge it as a fundamental truth of my own recovery, I'm struck by how important it is and how greatly I wish I'd been prepared for it at the start of my process. Like many people, I had the hope that my disorder was The Problem, and that once I recovered everything would feel better, richer, fuller, happier.
What to say about this? On the one hand, what I hoped for is what I've gotten: an infinitely richer life than the one I had when I was sick. On the other hand, I didn't understand until years into recovery that my ED had actually shielded me from deeper issues that I didn't yet have the capacity to address. I didn't have to; my ED, with all of its daily demands, guaranteed that I wouldn't have the bandwidth for anything else.
In this sense, being "recovered" was the starting point in a long process of excavation. At times, uncovering the stuff that my ED protected me from has been incredibly painful; it's certainly an affront to the tightly controlled identity that anorexia gave me. Recovery, in and of itself, hasn't been wholly curative.
When I told this to my new friend, she nodded her head and took a moment to think. Then she shared how difficult it can be to offer her patients hope while also being truthful about the fact that recovery isn't always going to feel good, or conclusive, or clear.
Yet here's the thing: if you don't let the eating disorder go, you're guaranteed only one reality. It's the reality of living with your disorder, which will eat up your energy, erode the parts of your identity that don't revolve around food, and keep you hidden from the world. You may be function very well; you may work, socialize, achieve, and share parts of yourself with others. Ultimately, though, there will always be the great, invisible barrier that an eating disorder creates between you and a fully realized human experience, with all of its sensuality and surprise.
If you choose recovery, you're choosing a spectrum. That spectrum will include pain, which may for a while feel like an affront to the hard work of getting over your eating disorder. You may wonder how "worth it" all of the effort and persistence has been, if not to delivery you an immediate windfall of happiness.
But if you stick with it, over time, life will unfurl a lot of sweetness that surprises you. Along with the continuing pangs of self-exploration will come unexpected joys. I can't begin to name all of the things that are possible for me now, post-recovery, but I can name some of them: spontaneity, celebration, intimacy. Most of all, a truly pleasurable relationship with food, one sweeter than I ever thought would be possible for someone like me.
Recovery has not felt like salvation. I've got the same internal struggles that I did before—and perhaps a greater awareness that they're there. But recovery has shown me a kind of grace. It's allowed me to appreciate the fullness and complexity of life. To apprehend this fullness, even when it's a challenge, is always more meaningful than my past efforts to control everything I felt and experienced.
Today, on this Easter, I wish you all a sense of hope about whatever you're working through. To work through things is somehow never as straightforward as we hope it'll be, but it holds possibilities that we can never imagine at the outset. It's worth it. Keep going.
Here are some recipes and reads.
Recipes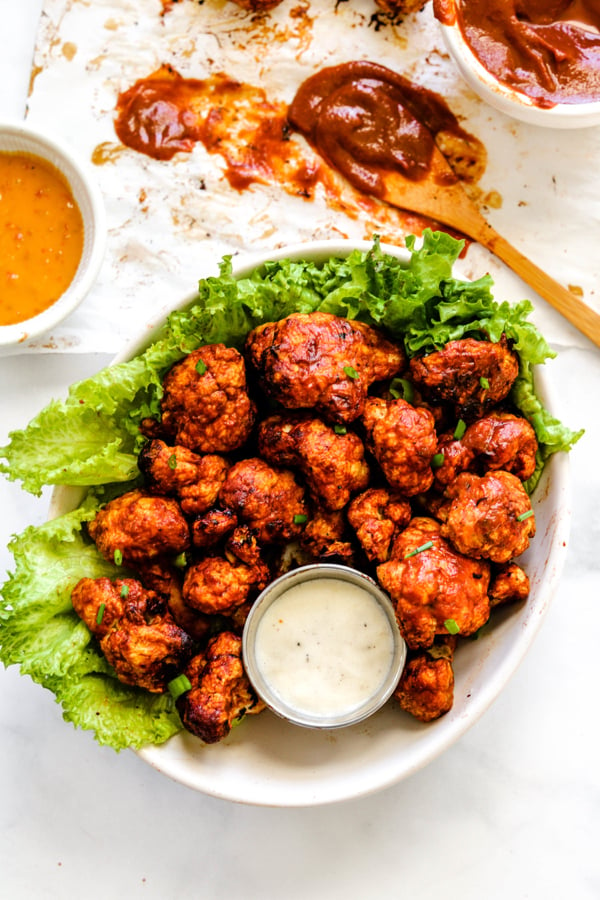 I've had an incredibly limited air fryer repertoire so far, but I love mine, and these vegan cauliflower wings are going on my list of things to try.
Split peas are one of my favorite legumes, but I do tend to use them only in a pretty traditional soup. I love the idea of this celery and split pea dinner.
Grateful to the lovely Shelly for explaining to me the difference between gremolata vs. chimichurri. And for giving me a simple recipe for the former!
Ashley's created a vegan version of the traditional Southern dish of grillades and grits, and it looks awesome.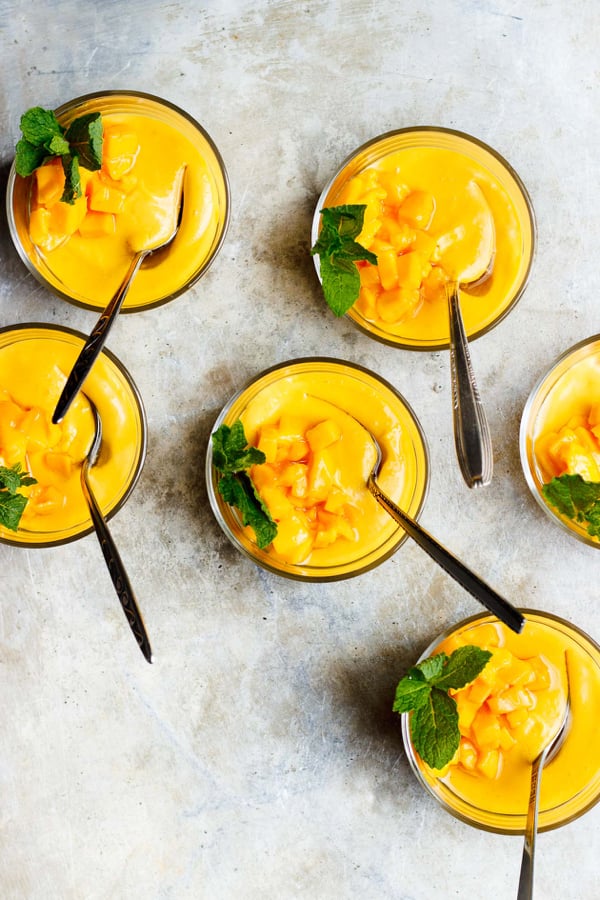 Finally, it's not quite mango season around here, but I'll be making Sherrie's raw vegan mango pudding just as soon as it is.
Reads
1. Mosaic reports on how going hungry in childhood affects children for the rest of their lives—a vital topic, given the prevalence of food insecurity in America.
2. Jed Gottlieb's article on new technologies in hearing aids is also an interesting exploration of the shame that continues to surround hearing loss.
3. Leprosy is on the rise in India, and The New York Times has a thorough report on the fight against its resurgence.
4. Only three years ago, when I was taking medical nutrition therapy, there was a strong suggestion that vegan diets were difficult to reconcile with some of the dietary requirements (low potassium and low phosphorus) of chronic kidney disease. But there's evidence that plant-based eating can be very beneficial for CKD, too, and I'm glad to see it mentioned here.
5. Helen Branswell reports on the new malaria vaccine, and whether or not it can live up to its promise. (I hope so.)
Happy Sunday, happy holidays, and a happy start to the week to you all.
xo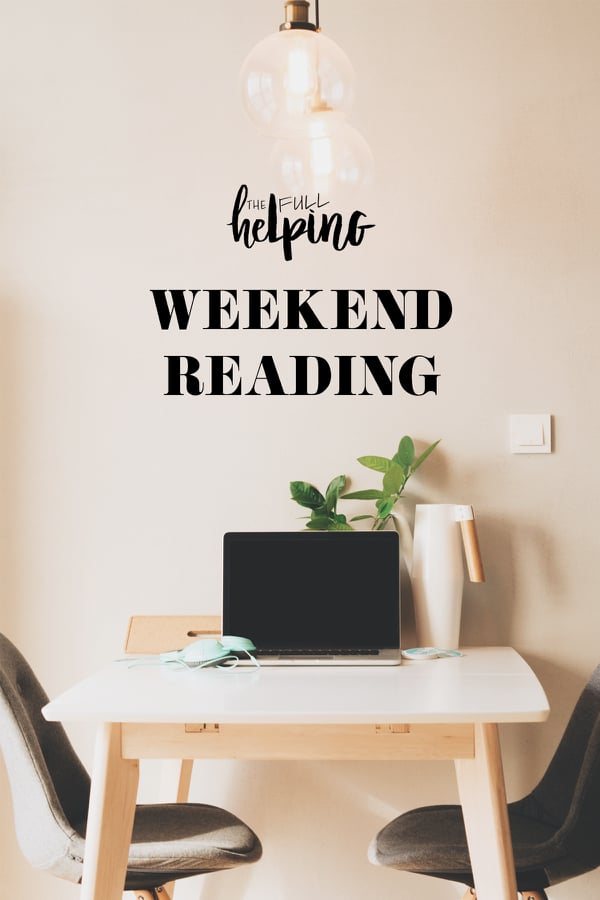 When I was in college, I had a different relationship with "going home" than most of my peers. For them, winter and spring holidays meant booking flights and spending a week someplace else. For me, it meant a subway ride or a walk forty blocks south of campus.
As someone who's chosen to stay in the place she grew up, "going home" has continued to be a matter of shifting neighborhoods, which sometimes means that it feels unremarkable. I'm lucky to be so close to my mom, especially as we both get older. But it certainly changes my experience of "home for the holidays" and other rituals of returning to one's childhood locale.
Occasionally, something compels me to make a visit home ceremoniously; not because I have an extra container of soup or loaf of bread to give my mom, not because there's a book in storage at her place I'd like to read, but because I need my childhood home and everything associated with that. This week was challenging, and Friday was particularly so; I felt more lost in more dimensions that I have in a long time.
So, last night, I came home. I slept at my mom's, and I treated the whole thing as if it were a special thing—a true homecoming—rather than a quick walk to a place that's not so far away from my own. My mom and I didn't do anything special for the occasion, but that wasn't the point. The point was to reconnect with my origins, even if they're only 15 blocks away from my present.
It worked. It was soothing to look at familiar titles on the bookshelves in my room (now my mom's workspace), to smell the familiar smells of my mother's toiletries in the bathroom, to gaze at a few childhood photos. I visit my mom's apartment often enough that it's all incredibly familiar, but when I really pay attention, it's profoundly nostalgic, too.
Nostalgia can be complicated, but on this weekend, it was welcome. I needed to be reminded of past selves and past phases of life. I needed to tell myself that life will continue to pull me through beginnings and endings and tiny, subjective epochs, but that there will always be a strong and fundamental self who bears witness to it all. I suspect I'm not making a whole lot of sense, but what I've experienced in the last 24 hours is less about logic and more about the powerful feelings that accompany homecoming, in every sense of that word.
I recognize that I'm deeply privileged to have a home space—my mom's—that feels safe to me. In the coming week, I wish you all a safe space to connect with and inhabit; a place that makes you feel nourished, loved, and reminded of where you've been and where you'll continue to go.
Here are some recipes and reads.
Recipes
I can never get too many simple tofu recipes, and Katherine's black pepper tofu looks particularly versatile.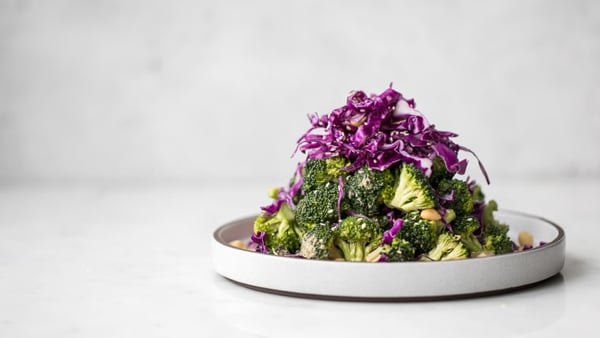 A fresh, crispy, colorful broccoli and red cabbage salad for spring.
I'm loving the looks of Liv's roasted red pepper cheese sauce.
I make a lot of chickpea flour pancakes, but I've yet to make a chickpea waffle. These spicy, savory waffles look so good!
I have yet to perfect my own vegan chocolate chip cookie recipe, let alone a GF and vegan one. But Sarah's on it.
Reads
1. Via Medium, a critical look at "extreme wellness" in both the food and fitness realms. The author interviews RD Emily Fonnesbeck, who has spoken out bravely on this topic before. I always appreciate how candid Emily is about her struggle, which began with elimination diets and resulted in full-blown disordered eating.
2. I like chef Ronna Welsh's musings on how being the parent of a child with special needs humbled and unmoored her, and how her relationship to cooking changed as a result.
3. A reader tipped me off to this ode to arugula. (It's my favorite salad green, too.)
4. A new study points to risks of high animal protein diets.
5. Finally, I was so touched by this Audubon article on an unconventional bald eagle family (two dads and one mom) and how they've braved circumstances together. Be sure to check out the live webcam of the eagles if you have the time!
OK, friends. It's a beautiful spring day in New York, and I'm determined to savor it. Have a great Sunday.
xo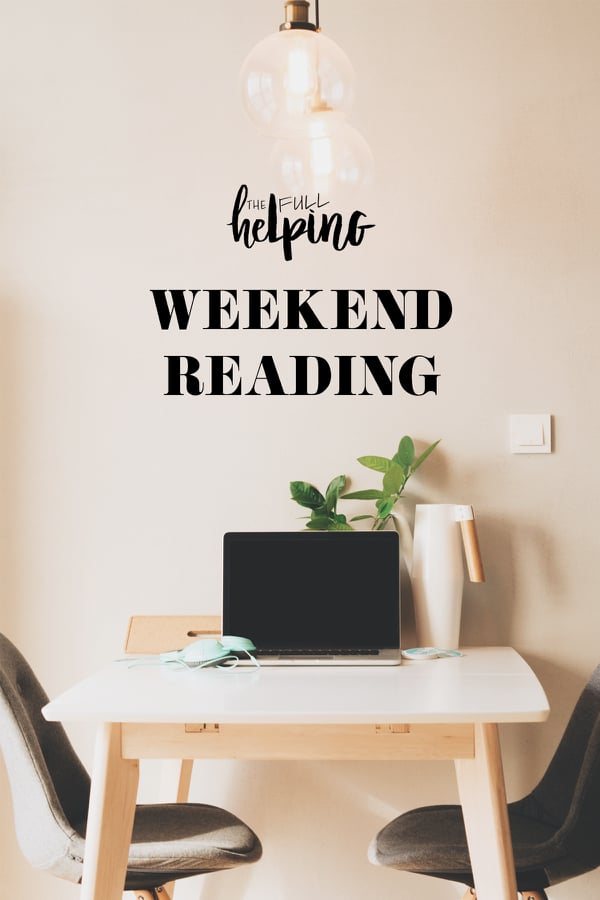 I used to write about digestion all the time on this blog, but it's been a while since the topic came up. It's not that my interest in GI health has waned—it hasn't—but it's become more of a professional focus and less of a personal one, mostly because my own struggles with IBS have receded over the years. Why? Hard to say, but I suspect that consistent eating patterns (as opposed to the extremes of my eating disorder years), plenty of soluble fiber, and better coping skills with stress and anxiety have a lot to do with it.
In recent years, mental health and emotional well-being have been a bigger focus for me than digestion; the physical ailments I cope with often have a strong psychosomatic overlay, which means that mental health gets a lot of my attention even if I'm presented with immediate physical complaints. This is all my way of saying that digestive health has taken a backseat to the stuff that feels more urgent to me, even if my intellectual curiosity about it remains strong.
This week, I started my 5-week GI rotation. I was immediately reminded that the gut is really what sparked my interest in health and healthcare to begin with. I was also reminded of the fact that, to date, supporting people through digestive illness is the counseling work I'm most proud of. I suspect it'll stay that way.
I've learned a lot already; my preceptor is a great dietitian and a true digestive health expert, but she's also an excellent preceptor. She likes teaching, has a knack for it, and is generous with her time and expertise. Writing notes under her tutelage is humbling, but I've learned a lot from it already.
In addition to rekindling my interest in all things gastroenterological, this rotation is also bringing me back to my own experiences as a GI patient: first the long, drawn out struggle with IBS and digestive woes post-anorexia, then the long and mysterious bout of gastroenteritis (or so it was labeled—two GI doctors and I never figured it out) that I had in the years following my post-bacc. It is reminding me of how profound digestive illness is, how vulnerable it has made me and makes anyone who's affected by it.
Digestion is the process that converts food into nourishment; when it's compromised, the whole business of eating becomes vexed. Digestive ailments can cause particular kinds of anguish around food, and the fear and anxiety they cause can linger long after symptoms are actually resolved.
In my own work, I've often seen how digestive struggle and disordered eating are, or become, intertwined; yes, eating disorders usually leave a person with GI trouble, but it can work the other way, too. Years of GI illness can make people prone to all kinds of disordered eating.
Next year and in the years beyond, when I'm working one-on-one with people again, I hope that I can make a small difference in the lives of the many folks who are coping with digestive distress. I hope I can do this not only because I want to make a difference in my clients' day-to-day quality of life, but also because there's symbolic importance in helping people to heal the channels that allow them to take in food.
Here's to four more weeks of learning more about how to do this. And here's to a new week. Here, too, are some recipes and reads.
Recipes
One of my nutrition goals for this year was to get more servings of fruit into my diet. I'm doing a lousy job so far, but at my last rotation a colleague of mine made a fruit salad with mint and ginger that reminded me of what a good vehicle a snazzy fruit salad can be! I love Liz's colorful fruit salad with maple dressing, and she's got some great tips on assembling fruit salads in general.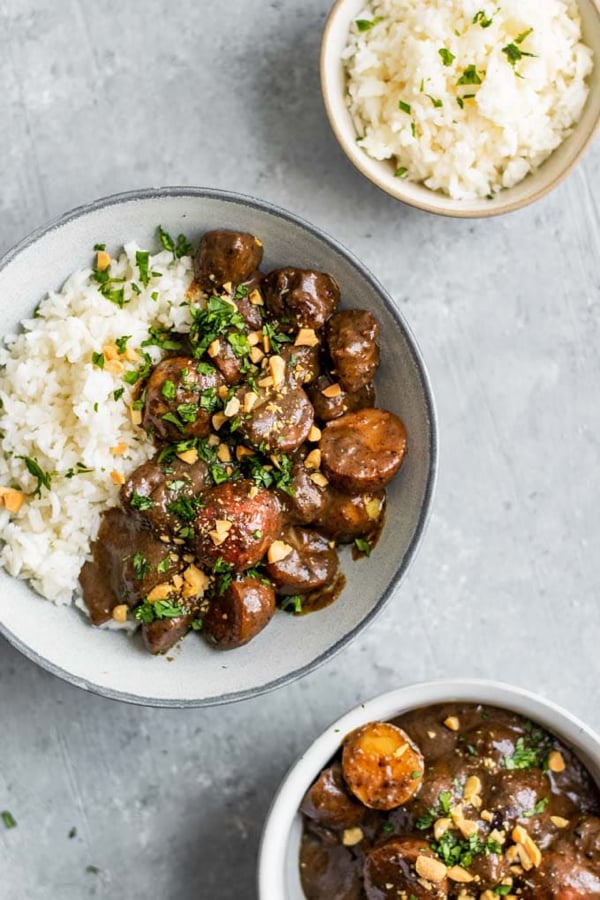 The ever-talented Eva is inspiring me to try my first-ever, vegan Massaman curry.
A delicious vegan pizza with naan as a base. Can't wait to try this, especially once summery produce is in season.
This vegan pasta and bean salad with tahini orange dressing has my name written all over it.
Finally, I make a point of never saying no to a vegan blondie. All the better if "cookies n' cream" is part of the description 🙂
Reads
1. The hospital where I did my oncology rotation was starting to offer CAR T-cell therapy, which is a relatively new treatment for leukemia and multiple myeloma. I found the process—in which the body's own T cells are converted into killer T cells that can attack cancer—fascinating. This article details how it might be an option for the treatment of solid tumors, too.
2. An interesting new report has listed some of the best foods that we can eat regularly in order to promote biodiversity. NPR reports.
3. Speaking of biodiversity, The Atlantic has an interesting article on Bd (Batrachochytrium dendrobatidis), the fungus that has decimated frog populations and condemned more species to extinction than any other pathogen.
4. Very important reporting on how clinical trial data can be misrepresented to patients.
5. I try to remind myself each day that a little bit of kindness never hurt anybody, least of all me. US News & World Report explains how acts of kindness benefit both the giver and the recipient.
In kindness, I'm signing off. I've got a creamy, nutritious, and very simple soup recipe to share with you this coming week!
xo